Apogee Symphony I/O: Digital Audio Interface
Article Content
This past August, Apogee Electronics released the end all of digital audio interfaces: the Symphony I/O. Okay, you got me – it might not actually be the end-all (because nothing ever is), but I for one haven't been more excited about a piece of electronics since the original release of Nintendo 64. I think we can all agree that Apogee produces some of the best digital conversion on the market. I've worked in studios where we have opted to move away from Digidesign's– err Avid's Pro Tools interfaces just for the quality of Apogee's conversion. Additionally, Apogee has always been an innovator, which is apparent to anyone who has looked at their X-HD card, which allows the AD-16X and DA-16X to be seen as Digidesign/Avid interfaces. I love the idea that the Symphony I/O focuses on continuing to improve the quality of conversion and flexibility. This interface may just be the most customizable, expandable and flexible interfaces on the market.
I/O
Having extra card slots on audio gear is nothing new. You may have dealt with the added convenience (and cost) of adding Lightpipe cards to preamp units or even preamps to interfaces a la Metric Halo's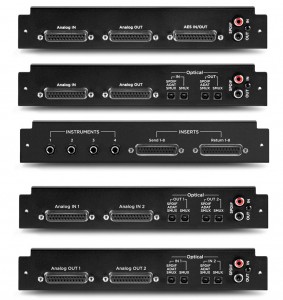 LIO-8.
The Symphony I/O takes this concept to the extreme by providing the user with two empty I/O modules and allowing the user to decide how to distribute their 32 channels of input and output.
The current modules are:
1)  8 Analog I/O + 8 AES I/O
2)  8 Analog I/O + 8 Optical I/O
3)  16 Analog IN + 16 Optical OUT
4)  16 Analog OUT + 16 Optical IN
5)  8 Mic Preamp Module with 4 instrument inputs and 8 insert points
After plenty of criticism from the members of Gearslutz, I noticed that Apogee has announced that they will be releasing a MADI module in the future. I love it when companies listen to their users!
Audio Interface Modes (AIM)
You never know where life will take you, which is why I love to have options. Things can change very quickly in this volatile economic freak-out we like to refer to as the audio/music industry. Large recording studios with analog consoles exist, but as we have all seen a lot of them have been closing and smaller, cheaper setups are emerging. Apogee has come up with Audio Interface Modes (AIM) to make switching the Symphony I/O between its different connections easier. Turn the shiny silver knob on the front to change modes– easy. The unit itself gives you three different types of connections to offer solutions for a broad range of users in many different situations.
PCI Ports
The Symphony PCI Ports are obviously the most well supported. The first port allows the user to hook up the interface to Apogee's own Symphony System PCIe card or a Pro Tools HD core card. Yes– you read correctly. Pro Tools HD compatibility standard. No need for additional cards like the X-HD card used with the old X-series converters. Apogee has discovered a way to combine the Symphony System and Pro Tools HD PCI port into one.  Now before we all get too excited, to utilize the Symphony System and Pro Tools HD you must have both a Symphony System PCIe card and Pro Tools HD Core card installed in your system. Additionally, this solution still requires the user to switch the cable from the Symphony System card to the Pro Tools HD card to use the respective software. This might not seem like a big deal if your computer and Symphony I/O live in the same room as you, but if you have a machine room or an educational facility with a lot of users, you may get tired of switching cables constantly. Wondering why Apogee can't create an external switcher that would allow you to choose which DAW you want to use? Furthermore, the Pro Tools HD compatibility has just been put into Beta along with support for the Symphony Mobile card (used with laptops) at the end of September.  Hopefully, it will receive a proper 1.0 release within the next few weeks.
The second Symphony PCI Port, labeled "Thru" is for connecting to another Symphony I/O unit in order to expand your I/O. In October 2010 Apogee is scheduled to release an update that will allow 4 Symphony I/O's to connect to one Symphony 64 PCI card. For me, I would actually much rather have a dedicated PT HD port than the "Thru" port. 32 I/O is plenty for my purposes and it would solve the issue of changing cables from Symphony System to Pro Tools HD. I don't know if its possible for Apogee to do this, but for the average user with only one unit it would be a phenomenal feature. Imagine opening a writer/producer's Symphony Logic session to reference a sound and quickly changing to Pro Tools HD– a dream.  Basically, the PCI ports are for those users who have the high end Symphony and/or Pro Tools HD systems.
Standalone Mode, USB, and Ethernet
The Standalone mode essentially gives you a box that does what the AD-16X and DA-16X did– converts analog to digital and digital to analog. This is exciting because no matter what happens with Pro Tools HD or Apogee's Symphony systems this box will always be useful as a high quality converter. It also allows Pro Tools LE or M-Powered users to use the Symphony I/O through digital ADAT inputs on their existing interface without the entry cost of an HD system.
The USB 2.0 mode allows you to use 16 channels with sampling rates up to 96kHz. I'm excited about the possibilities of using this function for mobile recording gigs without having to shell out for the Symphony Mobile card. It could also be very useful when visiting producers come to work at your studio and prefer to use their laptop, as long at it is a Mac.
The final connection is an Ethernet port– the wild card. No one knows exactly how this will be implemented because their are no standards yet. Headphone distribution systems, such as the Aviom systems, already make use of Ethernet for audio purposes. It's only a matter of time before manufacturers start utilizing the massive bandwidth provided by gigabyte Ethernet. Most places have Wi-Fi, so why not put that Ethernet port on your computer to good use?
Maestro
Maestro is the software used to control various functions of the Symphony I/O. I'm excited about the possibility of using it as a software monitor controller. Apogee clearly points out the ability to control speaker and headphone volume within Maestro, but does not specify how the signal is being trimmed. This is an important feature to me because as consoles becomes rarer in the studio you need to find a solution to safely and transparently control the volume to your speakers. Many companies have released dedicated monitor controllers (Cranesong Avocet, Presonus Central Station, Coleman CMC4, etc). The Cranesong Avocet, for example, offers an incredibly neutral attenuation of the volume, and also includes talkback, mono summing, and polarity reversing (helpful for listening to what's NOT in the center of a mix). But its nearly impossible to take an Avocet with you to location recordings and it should be feasible to offer full scale monitoring attenuation in an interface.
Metric Halo's ULN-8 offers just this and even gloats about the analog trims on the output, which allow for full scale digital signal to be attenuated rather than attenuating the volume digitally. Unfortunately, Apogee does not specify how the attenuation is happening (DSP vs analog), nor does Maestro have a talkback setting, mono summing, or polarity switching. It seems like at least a few of these things would be possible to implement in the future via a software update. Complaints aside, Maestro adequately does its job of controlling audio routing in the Symphony I/O and displaying clock source, sample rate, and metering information (and looks good doing it).
Recap
While I've only spent half an hour with Apogee's Symphony I/O at Mix Nashville, I am really excited about this interface. It offers a lot of options for many different levels of users. It's one of those products that can really grow with an engineer as they upgrade to a console or downsize to a smaller setup. Starting at $3690 with 1 I/O module, its definitely not cheap, but when compared to Avid's offering of the similar HD I/O 8 x 8 x 8 for $3995 it seems like a no brainer. The Symphony I/O offers expansion options through additional options and numerous ways to use the unit through the Audio Interface Modes. Some people bring up the argument that Avid will find a way to write code that breaks Apogees support for Pro Tools HD. Even if Avid did, they would also be breaking support for their own interfaces and angering many customers. If support was broken I would rather be left with the Symphony I/O. It would easily adapt to using a new piece of software or acting as a stand alone converter for the new Avid interface. Most importantly, I wouldn't be left with an expensive paper weight. This post hasn't event attempted to offer quantifiable data on the sound quality. Why? Quite frankly, I haven't been able to run tests in a controlled environment, but I can say there is a reason why people were replacing their Digidesign 192's with Apogee's AD/DA-16X –it sounds better. Apogee seems to be very committed to making this interface stay relevant for many years. Check out their feature improvement release schedule here.
FREE Masterclass: Low-End Mixing Secrets
Downloaded Over 19,455 times!
Discover how to make your kick and bass hit hard by cutting (NOT boosting) the right frequencies! Plus, more counterintuitive ways to get fuller yet controlled low-end in your mix. Download this 40-minute workshop by Matthew Weiss, now for FREE!