Review: eXplorer5 by Rob Papen
Article Content
Rob Papen is a Netherlands-based developer and electronic music artist that has been making music for nearly 30 years. The newest version of his bundle, eXplorer5 was recently released and definitely worth looking at.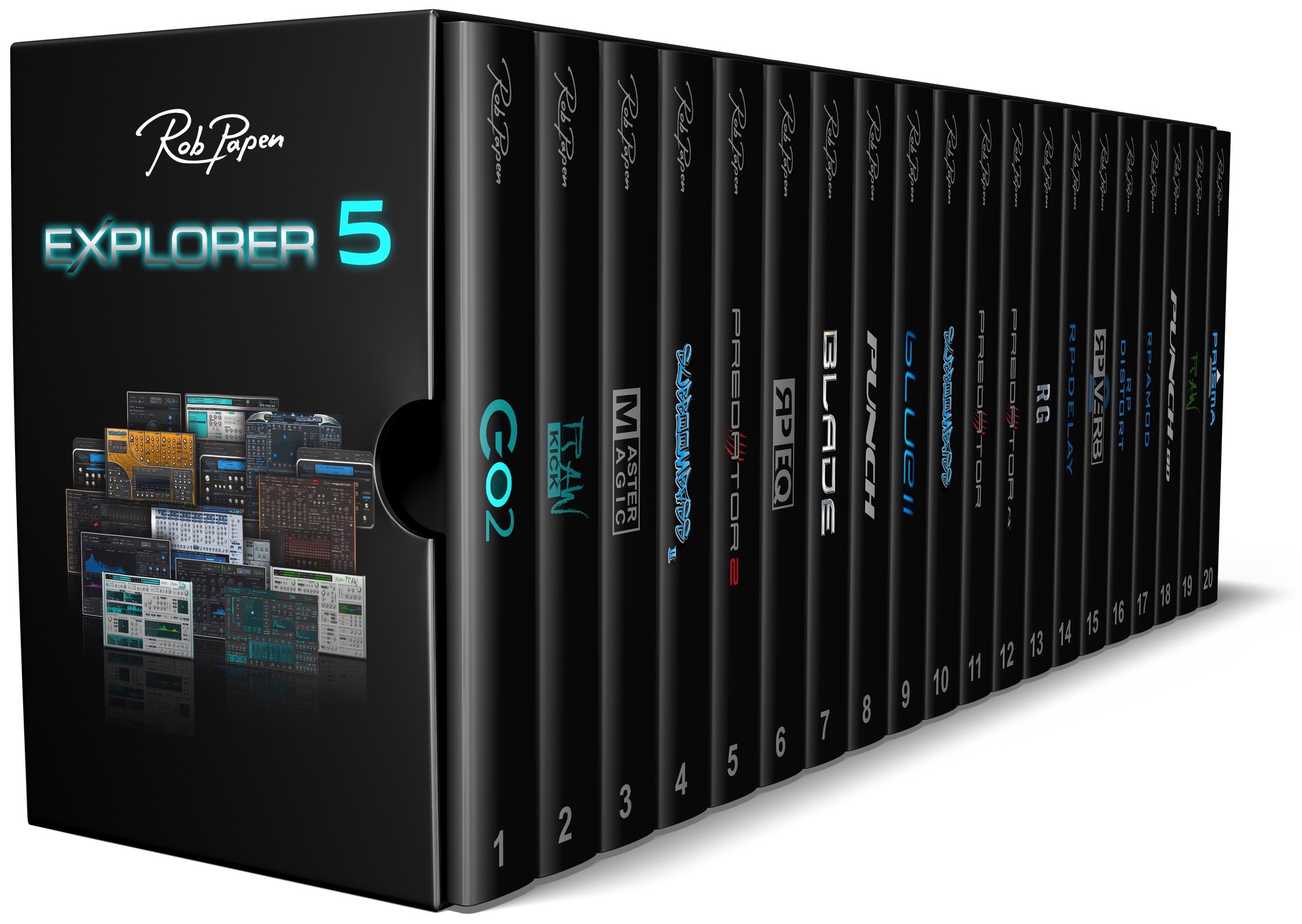 I've worked with a lot of soft synths over the years and there is a lot of competition out there. So my expectations are admittedly elevated as are my suspicions when I read proclamations like, "the cutting edge of contemporary music production," as is displayed on the opening page for Rob Papen's latest release. I think to myself, is this just garden variety promotional propaganda or does it reflect the hubris of the developer. What follows are my conclusions after spending some time with the software.
Blade is the first device I loaded from the bundle and was immediately struck by the elegance of the interface and especially the XY pad which dominates the GUI. Blurry blue blobs are instantiated with each note pressed and movement in the pad can be recorded or played live. It sounds great! The synth has all the typical elements of a subtractive synth plus an arpeggiator. The Harmolator section offers harmonic pitch shifting for timbral variation.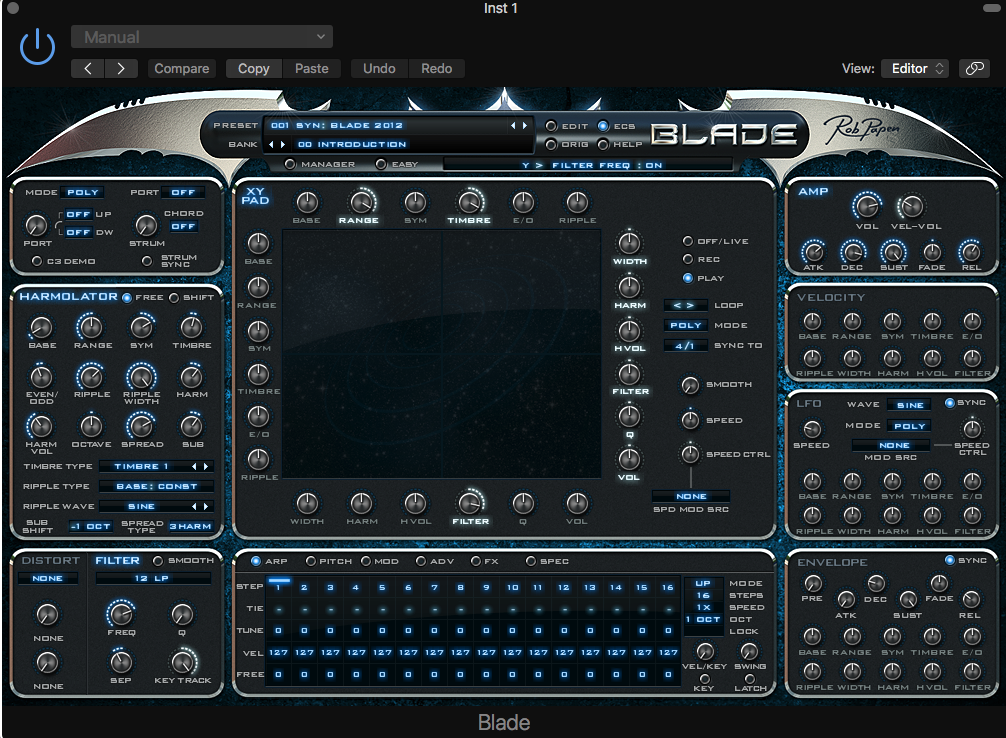 Blue 2 is an additive-based synthesis model that uses standard waveforms as well as samples for building layers and complex sonorities. Nothing special here about the interface. But the thing sounds great! I spent considerable time experimenting with various combinations.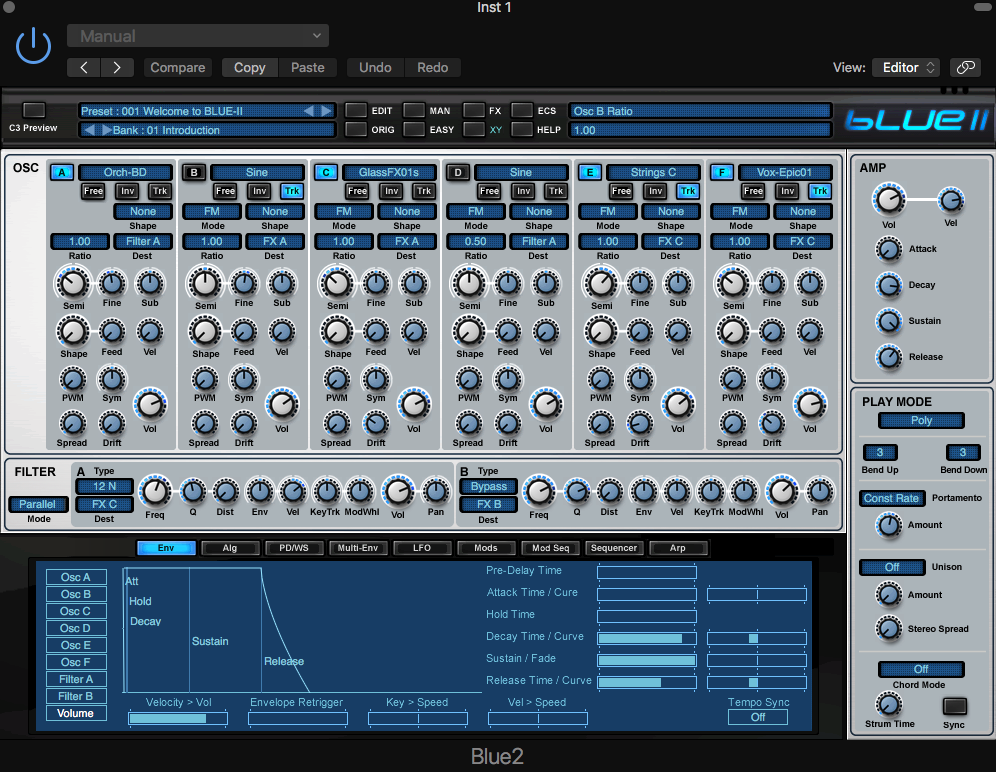 Go2 opens with an amazing GUI that invites the user to explore. An animated waveform is displayed in a morphing XY display. The arpeggiator includes a chord setting so it becomes a generator of harmony as well as rhythm.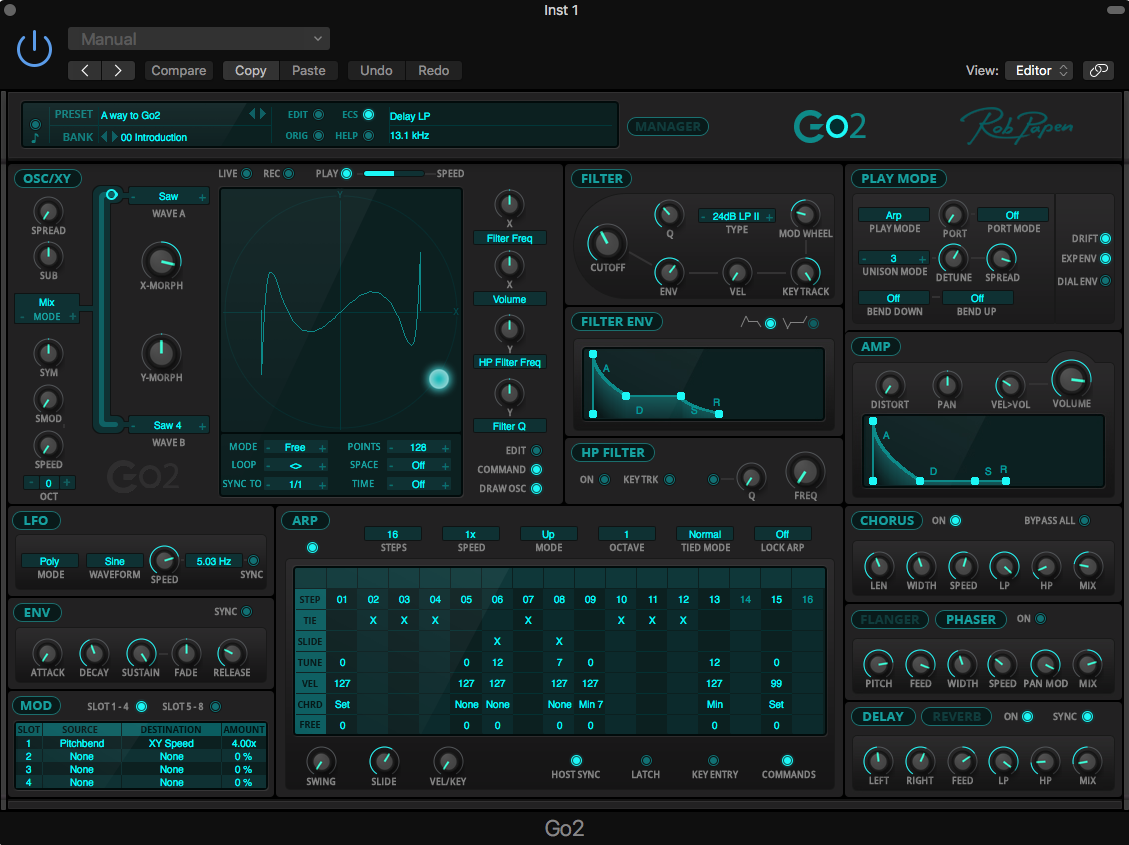 The graphics on the envelope sections are lush and intuitive as are the sounds they generate.
Predator 2 kicks ass from the get-go. Click and drag on any of the three waveform displays to change the shape and the flavor of the sound. The recordable morph pad on the bottom right is an extra bonus.

Punch BD is a kick drum designer that will keep you entertained for a good while. With the possibility of layering up to 6 sounds, you can make this thing do whatever you can imagine and maybe some things you never thought of. Everything from Hip-Hop thumping wheel bouncers to cinematic booms.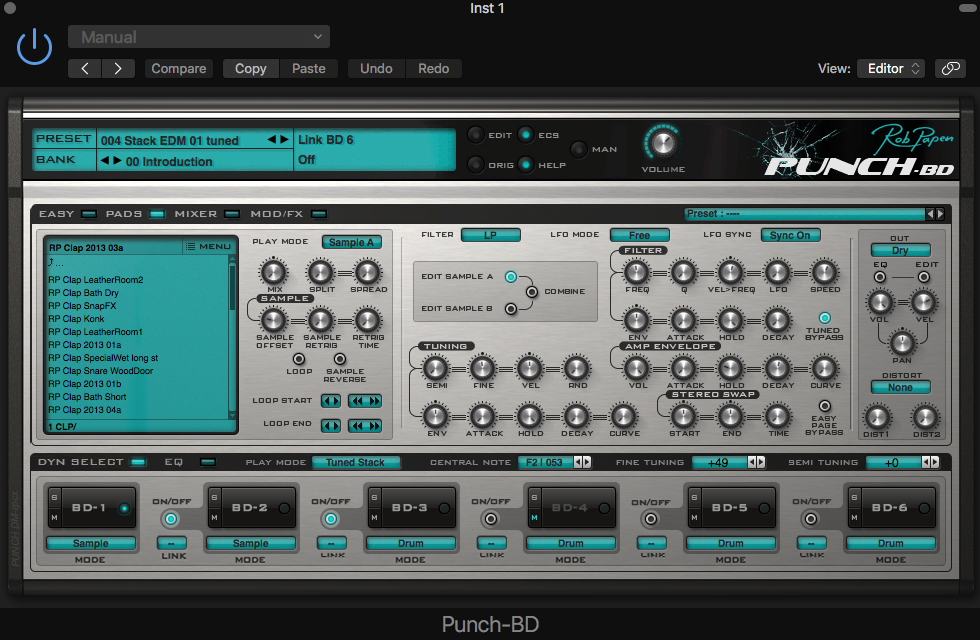 SubBoomBass is aptly named and does not f$#k around. Two oscillators, a filter and an amp section will give everything you need at the bottom and the arpeggiator is icing on the cake.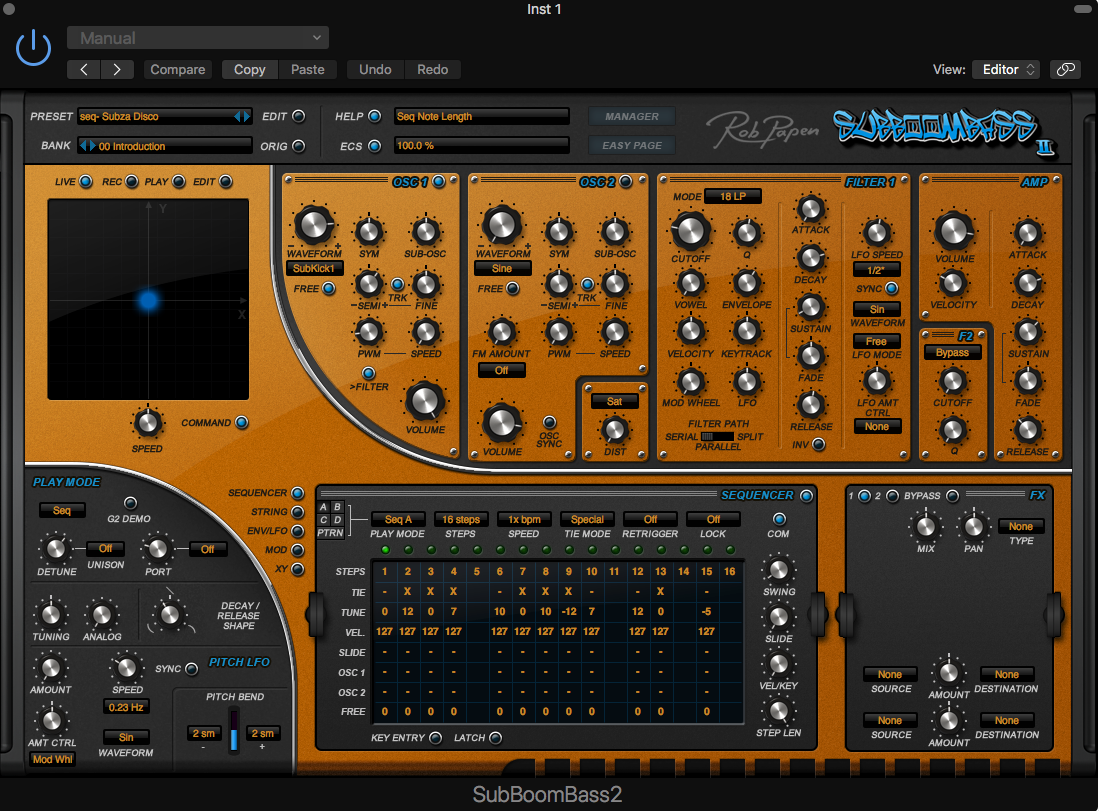 What Else Is Included?
The instruments I mentioned so far definitely make this a worthwhile bundle as-is. But add to that even more synths and some really solid effects and this becomes a great deal. Also included with the bundle not mentioned above:
RAW-Kick: Edgy Kicks for contemporary music.
MasterMagic: Adds a touch of magic for your Mix or Master.
RG: Electric and acoustic guitar grooves.
RP-Verb 2:  Most intriguing in RP-VERB 2 – alongside the great sound – is the new 'Reverser' section!
RP-EQ: Silky smooth sounding channel and mastering EQ.
Punch-BD: Based on the BD module of the multi-award winning Punch virtual drum synth.
RP-Delay: Delay insanity. Reverser, 6 lines, 8 filters, 4 LFOs and more.
RP-Distort: Wicked FX unit that will distort or alter your tracks.
RP-Amod: Spice up your vocal track, liven an instrument and even beef up your drums.
RAW: Cutting edge EDM synthesizer with the focus on 'distorted sounds'
PredatorFX: Filter, modulation, vocoder and effects plugin.
Prisma: Get creative using Rob Papen's take on instrument layering.
More details are available on the product page.
Conclusion
Rob Papen has nailed it with this release. Anyone wanting a comprehensive bundle of pro quality sounds and effects will not be disappointed with eXplorer 5. Right now it's being offered for $499 or roughly 250 cups of overpriced coffee. Is this the cutting edge of contemporary music production? Probably not. Does it sound great? Yes. Do these plugs have the sweetest XY pads ever? Yes. Is Rob Papen a genius? I don't f$#king know. Should you buy this bundle? Yes.
======
Check out my other articles, reviews, interviews and my video tutorial series, Synthesis 101 available exclusively on The Pro Audio Files.
Follow me on Twitter: @PMantione
Instagram: philipmantione