Review: Eventide SP2016 Reverb Plugin
Article Content
The Eventide SP2016 Reverb provides two beautiful emulations in one unassuming plugin. The interface is relatively simple, yet each control seems powerful and necessary. The user manual quotes Einstein stating, "things should be as simple as possible, but no simpler." I would go further to remind the reader of Occam's Razor, the "problem-solving principle that the simplest solution tends to be the right one." (source)
In software design, it is easy to overindulge our naturally voracious appetite for control and parameters regardless of their actual utility. As a Max/MSP programmer, I am as guilty as the next guy. But having been a victim of my own overactive enthusiasm, I can truly appreciate an interface that gives you exactly what you need and nothing else. The SP2016 Reverb does exactly that.
Interface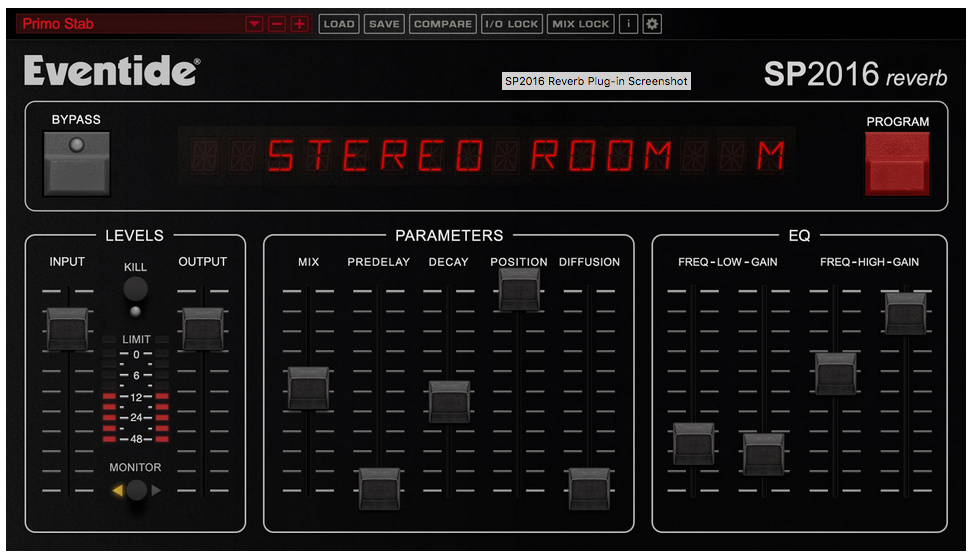 There are the standard must-have reverb controls we should all be familiar with:
Input/Output Levels
Mix (Wet/Dry)
Pre-delay
Decay (RT60)
Diffusion
EQ (High and Low Shelf Filters)
A couple of controls that are not so standard include:
Position: "used to move your "listening position" from the front of the "room" to the rear. You'll find that Position is one of the most useful controls in adjusting the reverb to fit your mix. A simplified explanation: it changes the mix between the early and late reflections; what actually happens in the algorithm is more complex than this, however."
Kill Button: "is a quick way to remove the input from the reverberator so that you can listen to the tail (reflections) caused by your input. The button lights up when it is depressed so that you can tell that the input is interrupted. This button also kills the dry signal to the mix."
Mix Lock: is a button that freezes the Wet/Dry Mix Slider so you can scroll through presets with a fixed wet/dry percentage. This would be useful when using the reverb as an insert directly on a track as opposed to an aux send (which would be 100% wet).
There are three reverb algorithms:  Stereo Room, Room and Hi-Density Plate. The Program Switch allows access to two versions of each:
Vintage algorithms are modeled on the original SP2016's algorithms and hardware, and feature a lower bit depth than the modern versions.
Modern algorithms are modeled on the Reverb 2016 Hardware processor and are "brighter, more diffuse, and use a higher bit depth."
The reduced bit depth is definitely audible in the tail but sounds warmer and less harsh in general. I can see both algorithms having their use in a variety of contexts.
The preset menu includes several useful categories:
Spaces: Small, Medium, Large, Massive
Instruments: Drums/Percussion, Vocals, Guitar Keys, Synth, Strings
Artists: including presets designed by the likes of Dave Pensado, Richard Devine and Joe Chiccarelli among others.
History
"The Eventide SP2016, with its "Stereo Room" and other unique programs rendered possible by DSP, was unleashed on the industry in the first year of the '80s and quickly achieved a legendary status". (source) "It was the "first effects device to publish its SDK so that 3rd party developers could develop 'plug-in' algorithms". (source)
The following from the Eventide History page on their website concisely summarizes the company's early mission:
"Recall the reason we got into the memory business: reverb research. Realistic digital reverb without large mechanical apparatus or enormous spaces was and to some extent remains an unachieved goal.  While our product line emphasized time- and pitch-related effects, the benefit of true digital signal processing, both for reverb and other effects, had not truly been bestowed on the audio industry". (source)
Conclusion
The SP2016 Reverb is on sale as of this writing for $79 and there is a demo version available for download.
This thing simply sounds great! Everything about it is user-friendly and stunning results are possible almost immediately. The Position control, Kill and Mix Lock buttons are particularly well-conceived. If you're looking for a fresh alternative to your typical go-to reverbs, the SP2016 Reverb is a great choice for natural sounding emulations of classic sounds.
Check out my other articles, reviews and interviews
Follow me on Twitter / Instagram / YouTube