Review: Helix Guitar Processor by Line 6
Article Content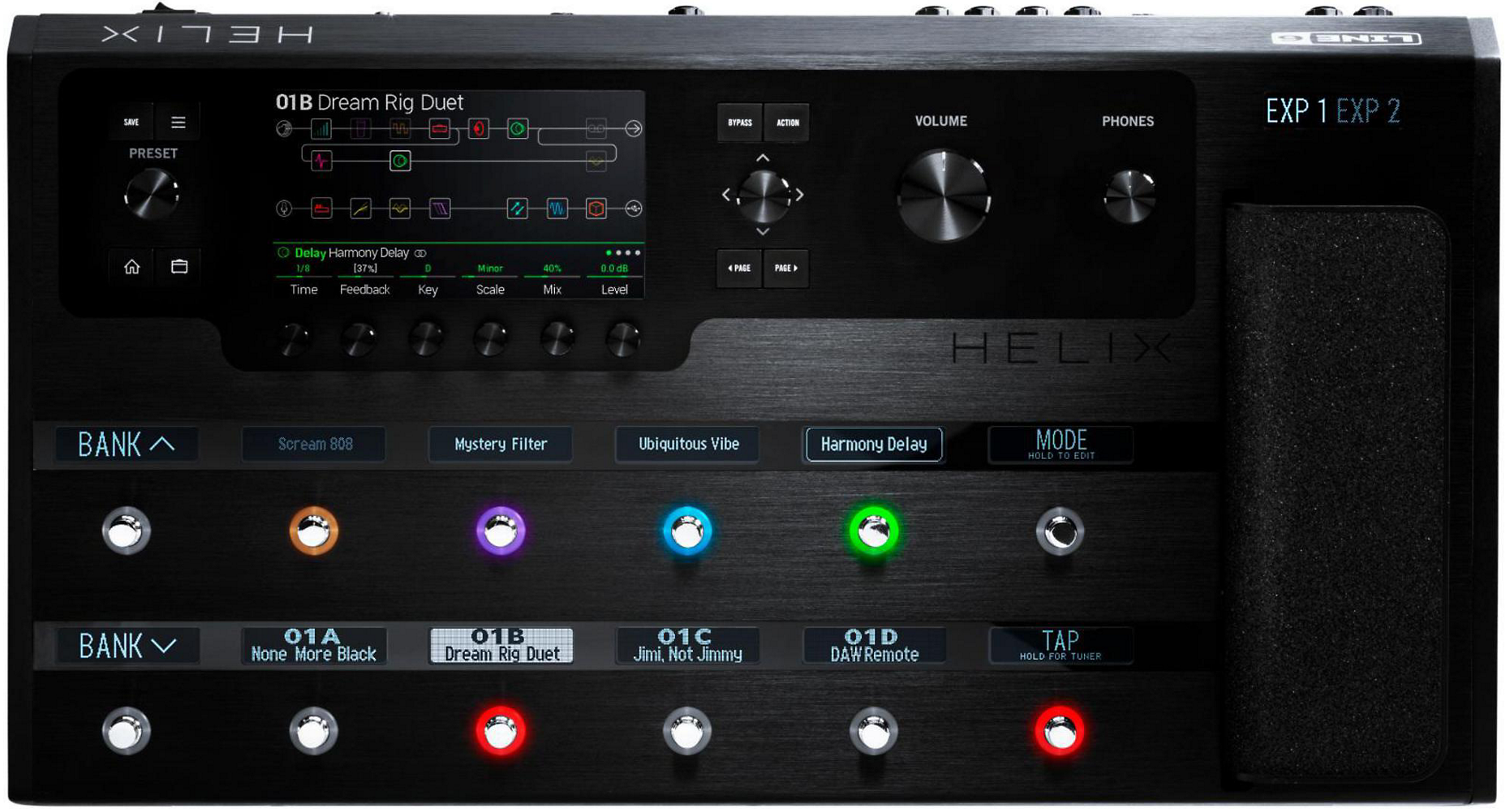 The Helix is the flagship HX Guitar processor from Line 6 that is available in floor and rack models. These feature-packed devices offer a stunning array of amp, cab and effect simulations powered by Dual-DSP that are capable of processing four discrete stereo paths.
Short List of Features
Powerful dual-dSP HX modeling
Large 6.2" LCD screen
62 amps
37 cabs
16 microphones
104 effects
Capacitive footswitches
Customizable scribble strips
Up to three expression pedal inputs
CV/expression output
External amp switching
Deep MIDI control

What impressed me from the outset was the back panel. The unit has enormous connectivity possibilities which makes it ideal for both studio integration and live performance.
I/O
Two expression inputs (in addition to the built-in pedal for a total of three)
CV/expression output (send CV to synths or the expression pedal inputs on other pedals)
External amp (to control switching like reverb on an external amp)
Guitar in (for connecting a guitar or bass — switchable pad and impedance)
Aux input (optimized for connecting a guitar or bass with active pickups)
Mic input (for processing vocals or recording via USB to your DAW — with 48v phantom power)
Four sends and returns (which can be used for integrating external stomp boxes or as additional inputs and also for external gear like keyboards, modular synths, drum machines, etc.)
XLR outs (balanced outputs for connecting to studio monitors or PA mixer)
1/4" outputs (unbalanced outputs can be connected to guitar amp, other pedals or powered speakers)
Headphone output (with independent volume control on the front panel)
Variax input (for connection to Line 6's Variax guitars which offer "…special electronics that model the sound of other specific guitars and instruments, as well as allow for instant retuning of each string.")
MIDI In, Out & Thru (DIN jacks allow for MIDI messages like continuous controller data and program changes — the MIDI Thru capability can be particularly useful in a studio situation)
S/PDIF In, Out (for digital connection to capable gear)
AES/EBU or L6 Link Out (this jack doubles as a standard AES digital connection or for connecting Line 6 StageSource monitors or DT series amplifiers.
USB (the unit can function as an 8 in/8 out 24bit/96k audio interface and can also record to an playback from an iPad with a camera connection kit)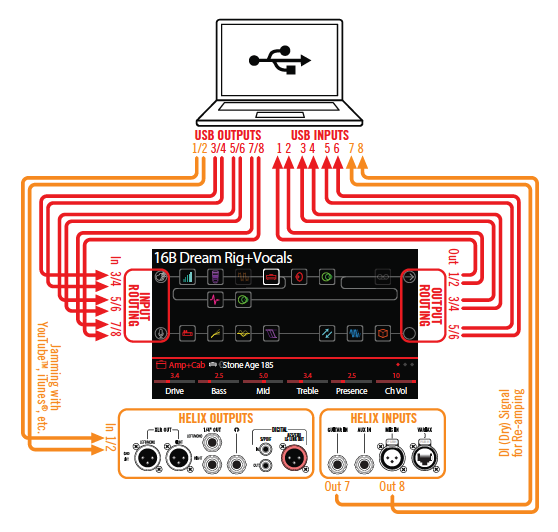 This impressive array of connection choices offers a utility that far surpasses anything I've seen in a "guitar processing" unit. In theory, it has the utility to act as the brain of your set-up, providing low-latency digital audio and MIDI data flow via USB and MIDI DIN connectivity. Connect a MIDI controller, a laptop, some monitors and … oh yes … a guitar and you're ready to go.
The Front Panel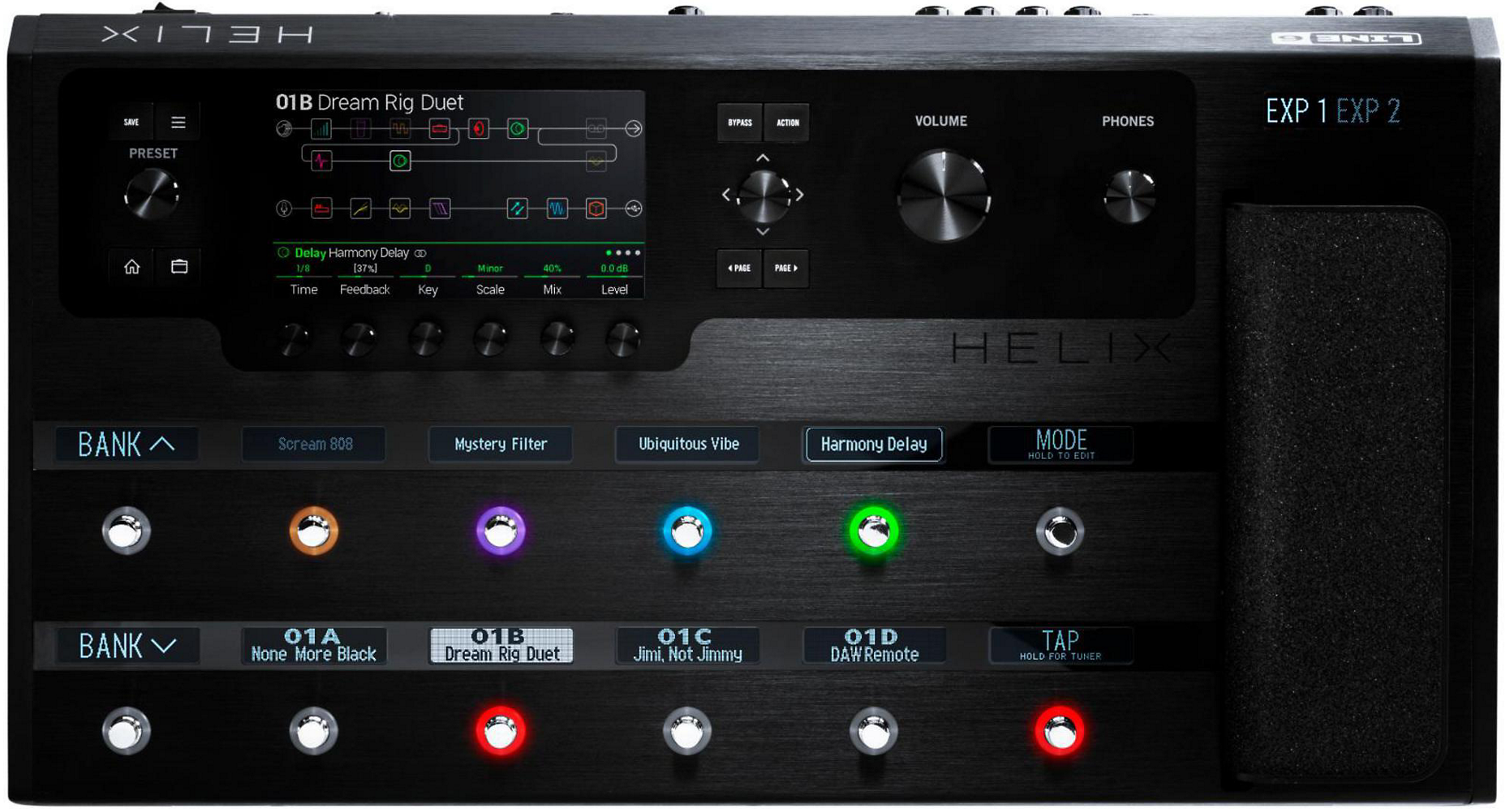 The Helix is built like a tank and housed in a beefy road-ready enclosure. Its appearance is sexy as hell with illuminated footswitch labels that update as preset banks are changed, a high contrast color LCD screen, and a rugged onboard programmable expression/volume pedal. The footswitches are both mechanical and capacitive so parameters become accessible by simply touching the switch.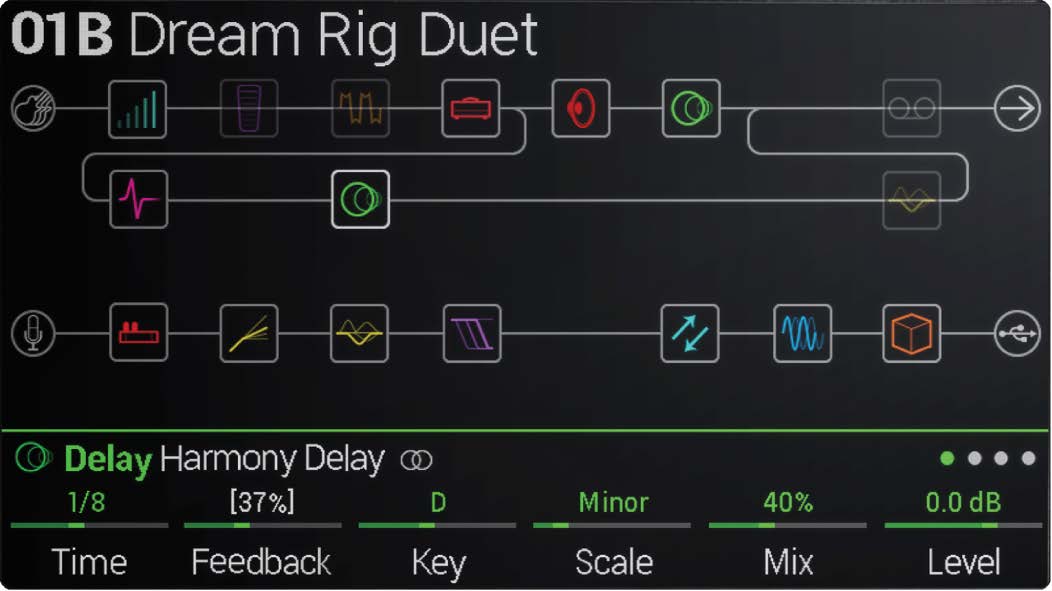 The LCD screen is where the action takes place in terms of programming patches. A block design approach is used to add effects blocks, identify I/O and configure signal paths. The graphics have a clean and elegant look and a legend for the icons used to identify the available blocks (objects that represent various elements such as amps, cabs, effects, splits, loopers, inputs, outputs and impulse responses) are located on the Helix cheat sheet, a large color card that offers a succinct reference for controls and connections as well.
Blocks are organized into three categories:
Input Blocks (which relate to the inputs on the rear panel)
Processing Blocks (which give access to pedal emulations, amp, cab and preamp models, looping, custom or third party impulse responses and send/return configurations)
Output Blocks (which relate to the outputs on the rear panel)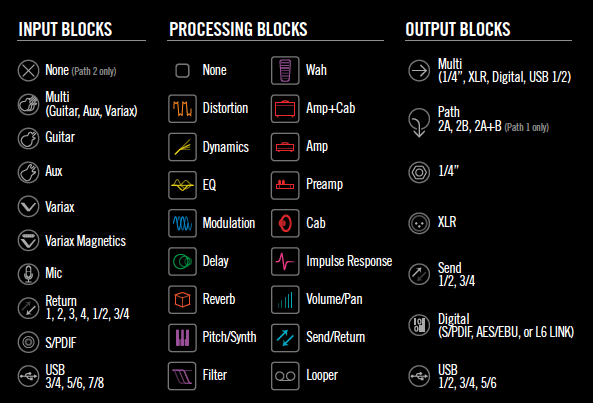 The bottom portion of the LCD display along with the six control knobs below provides access to block parameters, controller assignments, global settings such as EQ, I/O settings like phantom power and pad toggles, MIDI/Tempo settings and other preferences. It is relatively easy to navigate around the screen using a combination of the joystick knob control and page buttons.
Creative Routing
The Helix offers many routing possibilities with up to four stereo paths available. Split and merge points can be placed anywhere in the chain, so setting up a dry and parallel wet path, for instance, is no problem. Or you may want different amp + cab configurations in parallel. While there are four stereo paths to play with, it should be noted that placing mono effects after stereo blocks will cause the signal to be summed back to mono. Some effects are only relevant in stereo so you should be aware of that when setting up your effects chains.
You can create a "Super Serial" routing path by combining all four paths (1A, 1B, 2A, 2B) into one long chain, feeding the output from one to the other, top left to bottom right, with up to 32 active block locations (eight per stereo path). Of course, this would heavily tax the DSP and probably not be very useful.

DSP Tips and Optimization
Some of the modeling done by the Helix require significant DSP resources so Line 6 offers a few words of advice in the manual to keep things running smoothly: "…some rules governing the number of certain types of blocks you can add to a preset:"
Amp+Cab, Amp, or Preamp blocks: Any combination, up to four (two per path)
Cab blocks (includes Amp+Cab blocks): Up to four (two per path; Cab > Dual blocks are considered two)
Impulse Response blocks: Up to four 1024-point IRs (two per path) or two 2048-point IRs (one per path)
Some blocks will use more DSP than others, such as amp and cab models and pitch shifters, and stereo versions of effects blocks will double the CPU usage. It is good practice to use snapshots (discussed below) instead of having effect chain duplicates with different settings since you'll get the same flexibility without the CPU drain.
Line 6 Mac Core Audio Driver
In order to get use the Helix at sampling rates other than 48k you'll have to download the Line 6 Mac Core Audio Driver which will give to access to rates up to 96k or as low as 44.1k. Be forewarned that you'll need to take a few extra steps on a Mac running High Sierra or later to allow the Driver to function. The is due to Apple's hyper-vigilant OS security and the fact even established companies like Line 6 are not considered "a recognized developer". Annoying, but painless. Line 6 has posted the work around here.
Helix Editing
Navigating the Helix from the front panel is intuitive and once you understand how the joystick knob, page and action buttons function, things become pretty clear. The six encoders below the display will control the parameter displayed above each knob at any given time. Touch one of the capacitive footswitches while in edit mode and the parameters for that effect magically appear above the encoders. Hit the little house icon to return to home at any time.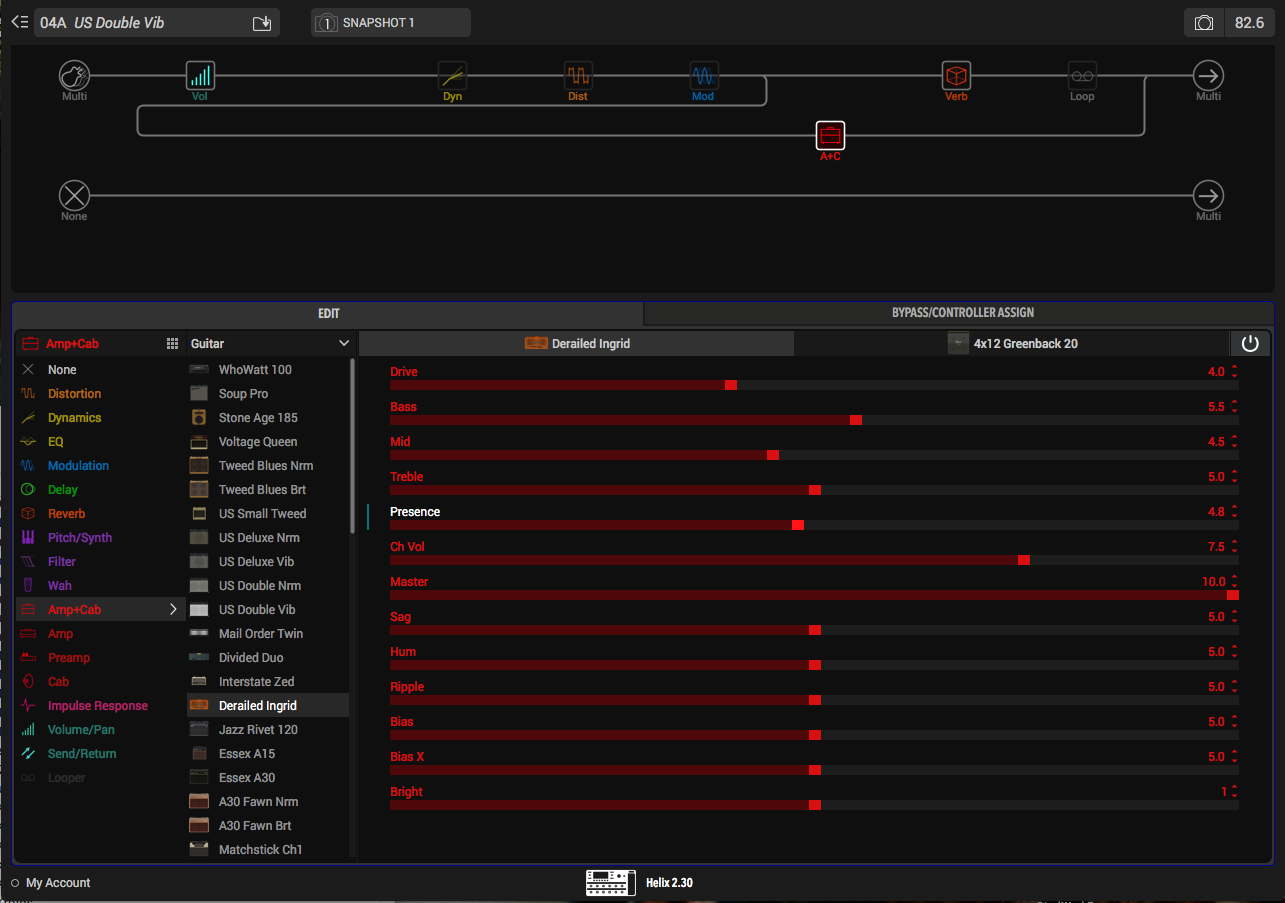 As simple as it is to edit directly on the Helix, programming becomes even easier when you use Helix Edit, the free editing application from Line 6. The interface mimics what you see on the Helix to a large extent, but the parameter controls are accessible via large graphics sliders instead of the physical encoders, and nested menus can show significantly more choices on the computer screen than the LCD. But the biggest advantage is the drag and drop functionality for moving blocks around in the signal path. Much faster than the joystick approach. It seems to me that even if you plan on using the Helix without a computer in practice, editing and programming with Helix Edit is definitely the way to go. Also, you can access the Line 6 site directly from the application to purchase and download additional presets or IRs and change preferences such as patch numbering schemes.
To get a taste of what's out there in terms of third-party patches and IRs, I downloaded a few packs by Glenn DeLaune including: "Stripped Down Helix Amp Patches" and "Custom Artist Patches – Vol 2" which includes patches and IRs relating to the sounds of artists like Billy Gibbons, Eddie Van Halen, Randy Rhoads and others. The first set seemed to be designed as a collection of well-conceived starting points for users to build on while the artist patches are clearly for emulating classic sounds. I contacted Glenn to ask a few questions about his experience with the Helix (see his responses at the end of this review).
In addition to paid options, there is a robust community forum where presets are freely shared on the CustomTone page. This is a great searchable resource with thousands of user-rated patches worth exploring. No previews on the freebies unfortunately and a few that I tried were definitely priced correctly.
Snapshots
Snapshots are a very powerful means to drastically or subtly change the sound of any given patch with up to eight variations on a single preset.
They offer "…a surprising amount of tonal control from within the same preset, and every change happens instantly and seamlessly":
Block Bypass — The bypass (on/off) state of all processing blocks (except Looper), independent of any footswitch assignments.
Parameter Control — The values of any parameters assigned to controllers (up to 64 per preset).
Command Center — The values of any instant MIDI CC, Bank/Prog, MMC, and CV Out messages, plus the state (dim or lit) of any CC Toggle, CV Toggle, and Ext Amp messages.
Tempo — The current system tempo, if Tempo Select is set to "Per Snapshot in the Global settings (By default, it's set to 'Per Preset').
"Depending on how you set them up, snapshots can act as eight variations of the same tone, eight drastically different tones, or any combination thereof — all within the same preset. In many cases, a single preset's snapshots may accommodate all the various tones required for a song".
The Blocks
So what are all these effects blocks and amp/cab/mic models? Below is a complete list: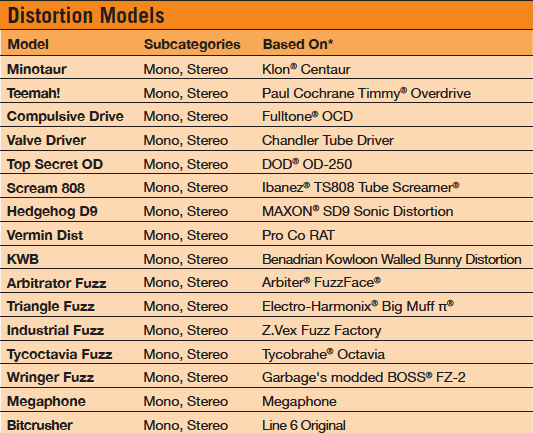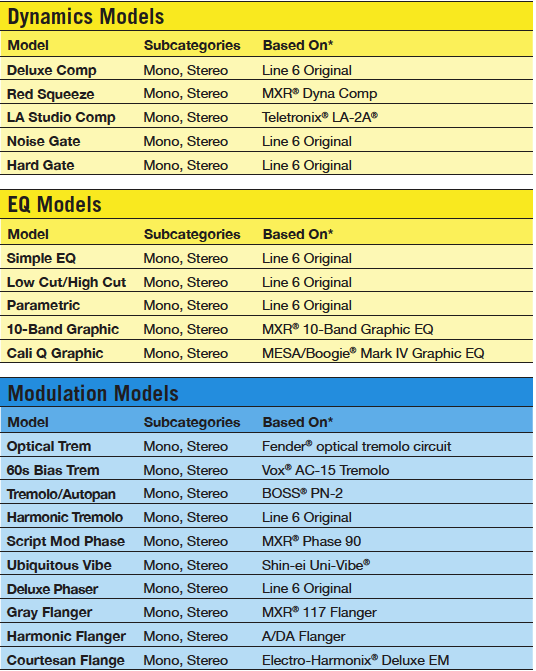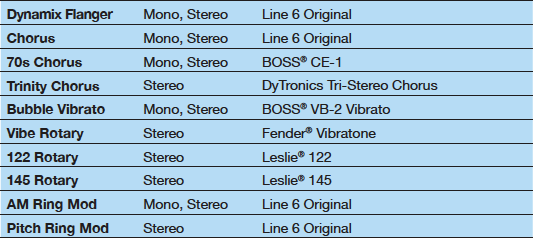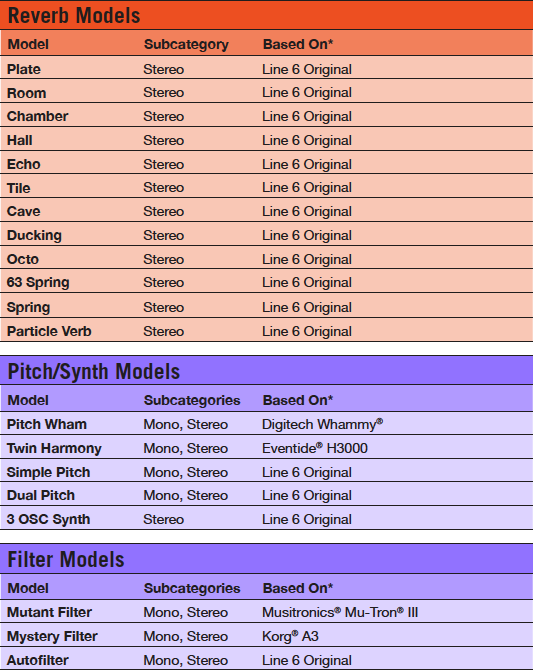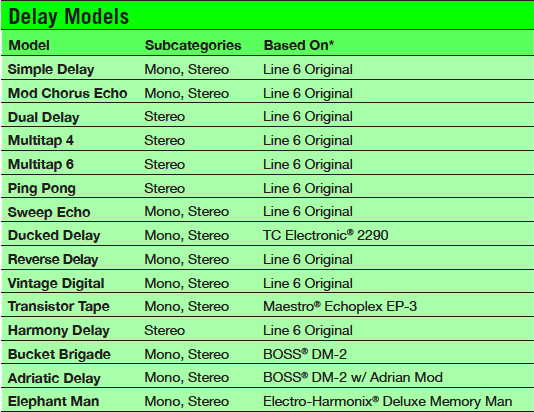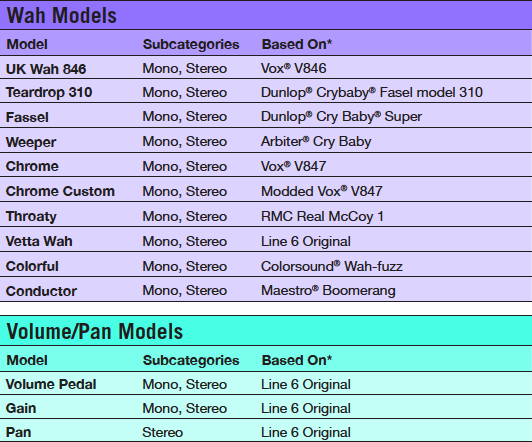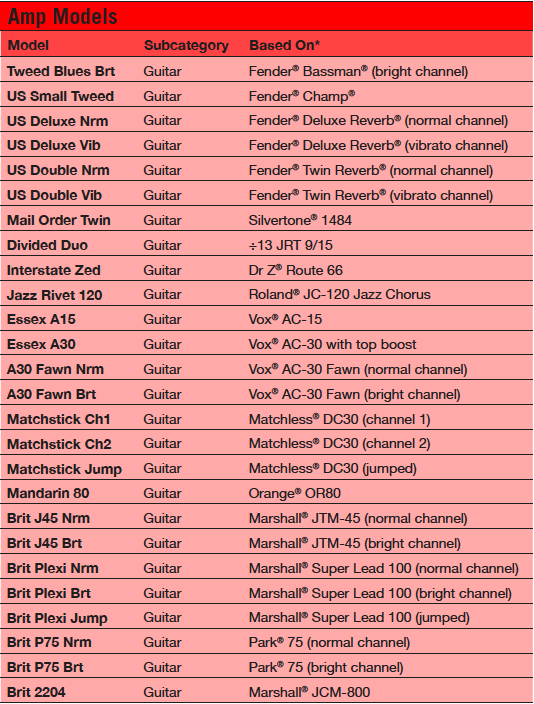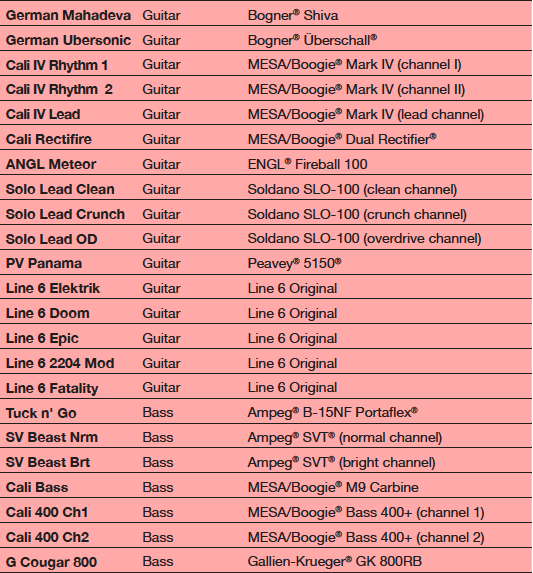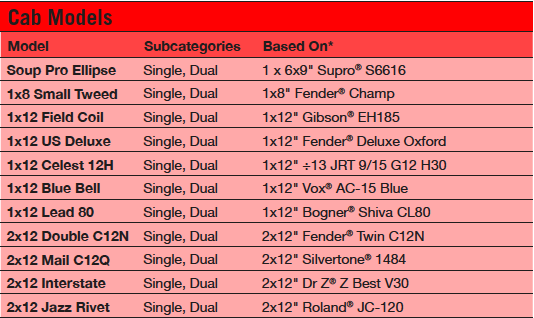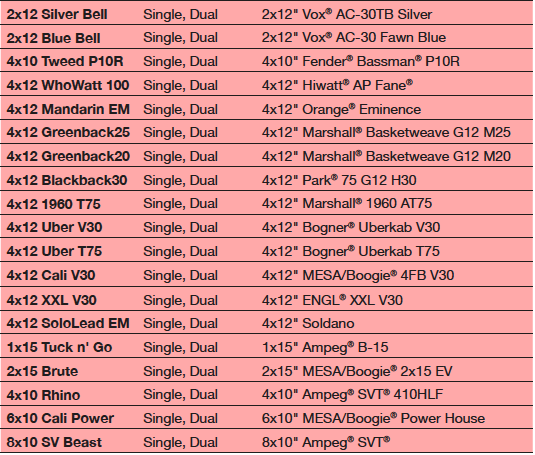 Dry Recording and Re-Amping
As with studio recording, it is certainly possible to record dry tracks while monitoring processed sounds and later re-amp and post-processing recorded dry tracks through the Helix. This approach allows for maximum flexibility and creative choice for the final mix, while providing an inspiring sound for the performer during the recording.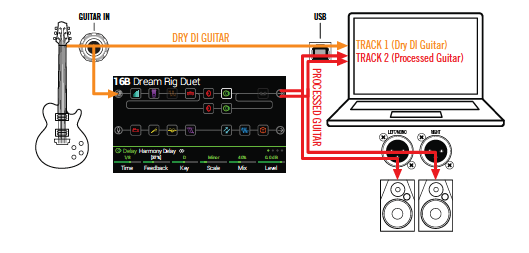 Tuner
Given all the features discussed to this point, the tuner might seem a bit mundane. But it should be noted that there are three choices (fine/coarse/strobe) with adjustable reference pitch, and output is automatically muted when the tuner is engaged.
The Variax
Variax guitars by Line 6 can be integrated with the Helix and other Line 6 processing products in significant ways substantially expanding the utility and sonic potential.
[These guitars] "…feature special electronics that model the sound of other specific guitars and instruments, as well as allow for instant retuning of each string. Helix and Variax work together in powerful and flexible ways. You can:
Store Variax model, tuning, and/or volume and tone knob positions with a Helix preset or snapshot and recall them instantly
Toggle between two Variax models and/or tunings via footswitch or MIDI CC. 

Turn the Variax volume and/or tone knobs to remotely control one or more Helix amp and effects parameters. You could almost think of them as Expression 4 and 5 controls.
Split Variax modeled and magnetic signals, process them separately through independent signal paths, and either mix them together or route them to different Helix outputs
Power the Variax modeling engine via a VDI (CAT-5 or Ethercon) cable, eliminating the need for the removable battery.
Command Center
Line 6 describes the Helix as "…a world-class master remote control for your entire touring or studio rig". Footswitches and the built-in and external expression pedals can send MIDI, CV and control commands to amps, vintage peals, synths and even MIDI controlled lighting! These controls can be configured in the Command Center display accessible from the main menu.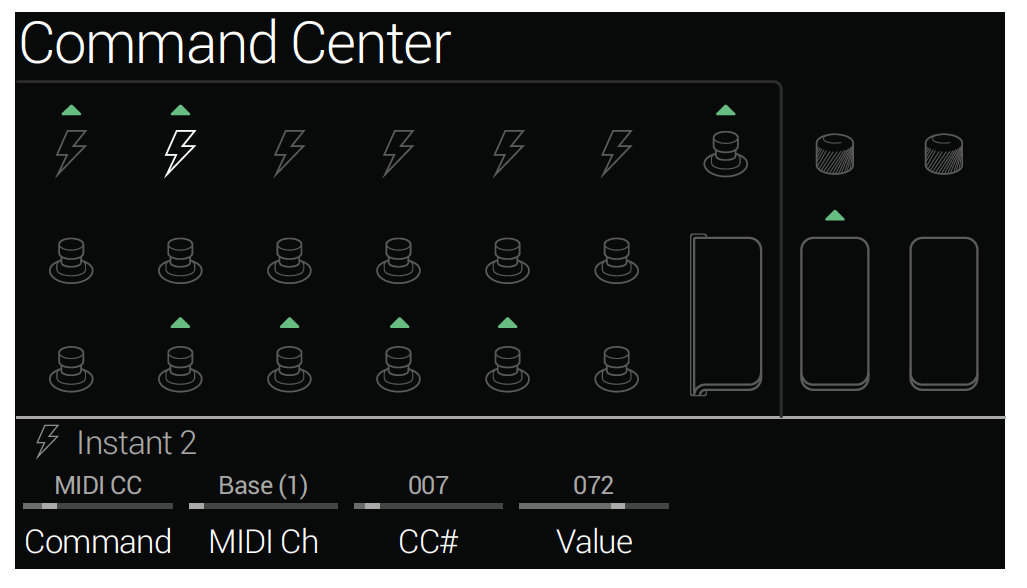 Use of External Pedals
Many guitarists and bassists have their favorite quirky or one-of-a-kind pedals that are part of their creative voice. This is where the send/return options on the Helix can be used to integrate those unique sounds while providing additional control via the Helix footswitches and snapshots not possible with a traditional pedalboard.
Tempo Sync
I was able to Sync the time-related effects in the Helix to the tempo of an Ableton Live session so that the Helix would line up with timing events in Ableton nicely. It would have been nice to see the actually BPM in the Helix when the tempo is changed in Ableton (the Global BPM simply reads "External"). But the TAP tempo footswitch color ring does blink to reflect the tempo in Ableton to indicate things are working. Not having to tap tempo is crucial when using the Helix to process sounds routed through a different audio interface and into a DAW session that has existing tracks or clips with time-based processing as well. It is certainly possible to go the opposite way and have Helix tap tempo send MIDI timing out.
The Sound
This amp and cabinet modeling and the effects emulations in the Helix are world-class and will surprise even the most vociferous skeptic. While I don't have access to a Variax guitar, I can only imagine the possibilities that combination would provide. I would caution any dedicated pedal users out there to not immediately dismiss the Helix before hearing it. This thing sounds incredible and to duplicate the onboard effects in pedal form would far exceed its admittedly steep price. The flexibility in signal routing and connectivity, not to mention its functionality as an audio interface, make it an extremely attractive box.
Generating CV and Processing Synths
In addition to being a guitarist for the last 50 years, I am a hardcore synthesist and my Eurorack rig has grown at a disturbing rate over the last several years. I was curious about how the Helix would process the output of my synths and how I could use the expression pedals to generate CV. I got a simple sequence going using my Metropolis sequencer, Doepfer A110 VCO, A120 VCF and A135-1 VCA. I connected the output of the VCA using a 3.5mm to 1/4" cable and sent it into one the Returns on the back of the Helix, fired up a Randy Rhoads preset designed by Greg DeLaune, and changed the input on the signal chain to Return 1. Three hours later, I woke up drooling in a corner of my studio with my blood dripping from my ears.
Going further, I routed an external expression pedal through the Helix to the CV output and connected that via another 1/4" to 3.5mm cable to the CV1 input of the Doepfer A120 VCF. A little tweaking of the parameter range coming from the pedal and I had instant playable foot control of the cutoff frequency.
The combination of synths and guitar pedals has been used for years of course. But the flexibility of the Helix in terms of instant routing variations, parameter snapshots, and amp+cab modeling make it a formidable device when used for processing digital or analog synths.
The Helix inspires an entirely new way of thinking. The computer-less processing capability of the Helix when paired with a Eurorack system is a delicious combination that exceeded my wildest expectations. I am sure there are purists out there that would immediately prejudge and dismiss the idea of digital modeling as a contaminant to the analog ideal. But even those that develop and build analog equipment agree that there is a place for both analog and digital circuitry in music production. In my article, "Analog, Tubes, Vinyl and the Future of Retro", Dieter Doepfer observed, "The sounds are different but not better or worse. Both worlds have their advantages and disadvantages".
Conclusions
No amount of verbiage on my part will convince the obsessed single-minded person that the Helix is a replacement for traditional and vintage pedals. But as a musician that has lived in both worlds, I can honestly say that the Helix will open up new possibilities and flexibility to even the most devout pedal fanatic. The Helix need not be a replacement to your existing sound or set-up, but more like an extension and facilitator of unexplored territory.
At $1599, the price of the Helix is not for the faint of heart but there are related alternative products offered such as the:
Helix Rack ($1399) – would require the Helix Control ($399) however for full functionality
Helix LT ($1099)
Helix Stomp ($599)
HX Effects ($599)
Helix Control ($399) – works with the Helix Rack
Helix Native ($399) – a new plug-in version
You can assess the differences
here
 to determine what would work for you.
Digital modeling has improved by leaps and bounds over the last 20 years and Line 6 is at the forefront of that technology. The Helix is the pinnacle of their R&D and a road-ready solution for guitarists, bassists and synthesists looking to expand their sound and explore new sonic worlds.
Many video examples can be found here.
---
Short Interview with Guitarist and Helix Patch Designer: Greg DeLaune
PM: Can you describe the way you currently use the Helix in your studio and/or live situations?
Greg DeLaune: In the studio, I always record stereo direct using the XLR outputs of the Helix right into the Audio Interface of the studio system. For Live use, I go XLR Stereo out to FOH and then I use the 1/4″ outs of the Helix and connect to an onstage Firehawk 1500 for my onstage sound source.
PM: Do you incorporate any physical pedals using the send/return capability of the Helix in your creative practice?
GD: When I first got the Helix I did try to incorporate some external drive pedals into the chain. Some really nice ones too!! I came to realize that I didn't need that. The Helix has so many really good sounding drives and effects that any external pedals are not needed in my case.
PM: Have you ever used the Helix to process things other than voice or guitar?
GD: Yes, I use it for bass guitar in my studio all the time. There are some great preamp models that sound killer in the studio.
PM: Are there any things about the Helix you would like to see improved?
GD: Hmmm, that's a tough one. I think the only thing I would like to see is totally seamless switching from preset to preset. I'm not talking about snapshots here. We all know we can have 8 Snapshots within 1 preset and those Snapshots do switch seamlessly. I'm talking about changing from one preset to another. If there would be any way to make that switching totally seamless that would be great!!
PM: What words of advice can you offer to users just getting started in the world of digital modeling and effect emulation?
GD: I would say, don't be intimidated!! Start off slow and simple. Examine some popular presets that are floating around out there and look at how they are programmed. YouTube is the best source for learning materials. Also, don't get discouraged if you don't get a good sound right away, stick with it. Lastly, I would say trust your ears. If something sounds good to you then It Is Good!!
PM: What words of advice would you offer to someone trying to decide between a traditional pedal board and the Helix?
GD: Well, with a "Traditional" pedal board you'll need a basic setup. So let's say an amp, cab, compressor, a drive effect (or two), a modulation, a delay, a reverb and a volume pedal and Wah pedal would be a basic setup. Right away you're pushing the $1K mark. For that same price, you could grab a Helix LT and have all of the amps, cabs and effects you could ever dream of right away. So for someone who's never done either and is getting into it for the first time, I would say go with the Multi-Effects Processor.
_______________________________________
Check out my other articles, reviews and interviews
Follow me on Twitter / Instagram / YouTube