Review: Pyramid mk2 Sequencer by Squarp
Article Content
If you're looking for a sequencer it would make sense to buy it from a company that specializes in sequencers. The Pyramid mk2 hardware sequencer by Squarp is touted as, "the ultimate brain for your setup, from studio to stage". It's the perfect device for computer-less control of your arsenal of mono or polyphonic MIDI keyboards and devices, drum machines and modular gear.
With MIDI DIN jacks, USB and CV connectivity you can control virtually any sound source you can imagine. An SD card slot allows for saving and loading MIDI files.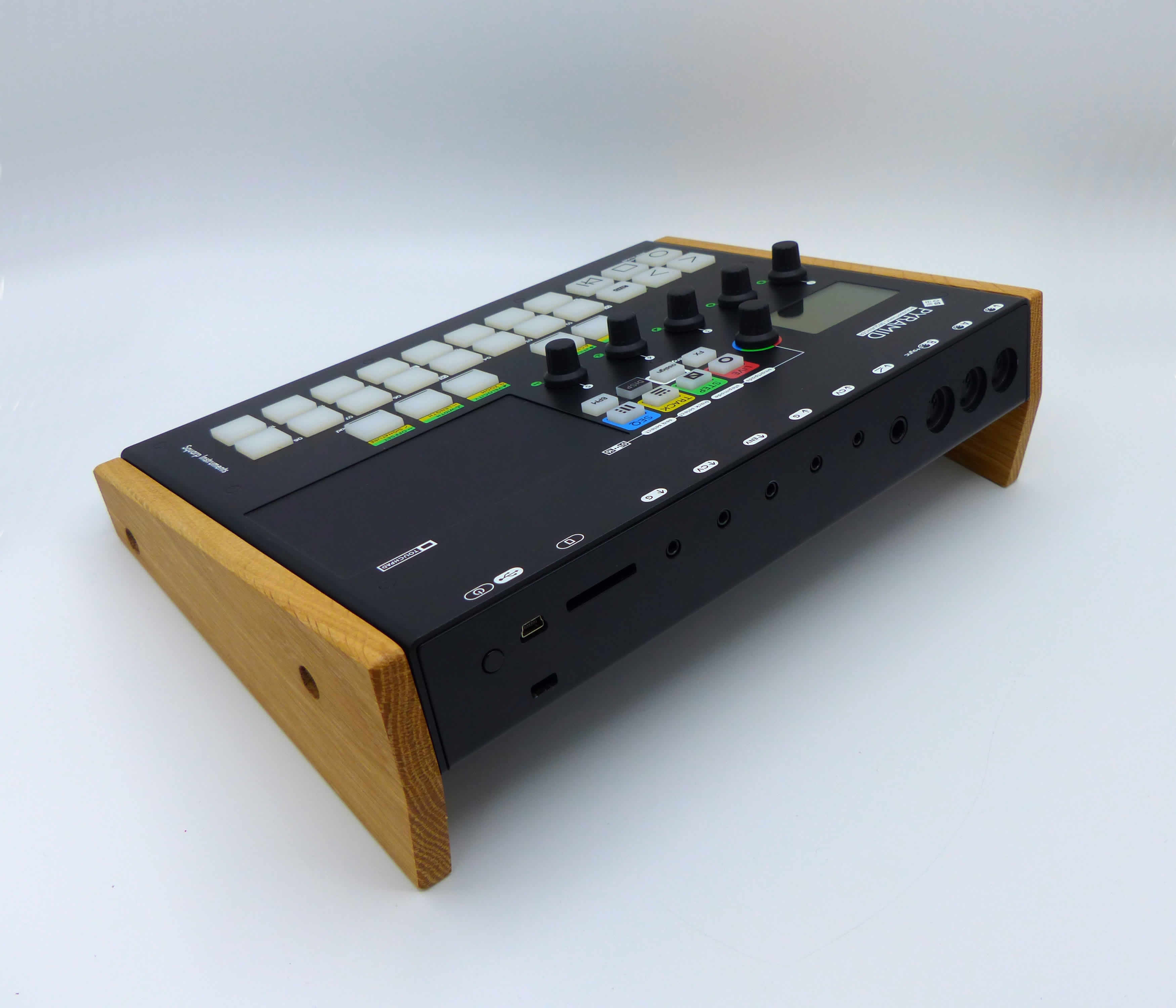 The user interface of the unit features a programmable XY pad, five touch-sensitive encoders, playable pads and several multi-function control switches. The product comes with an overlay that describes the functionality of every control (see below).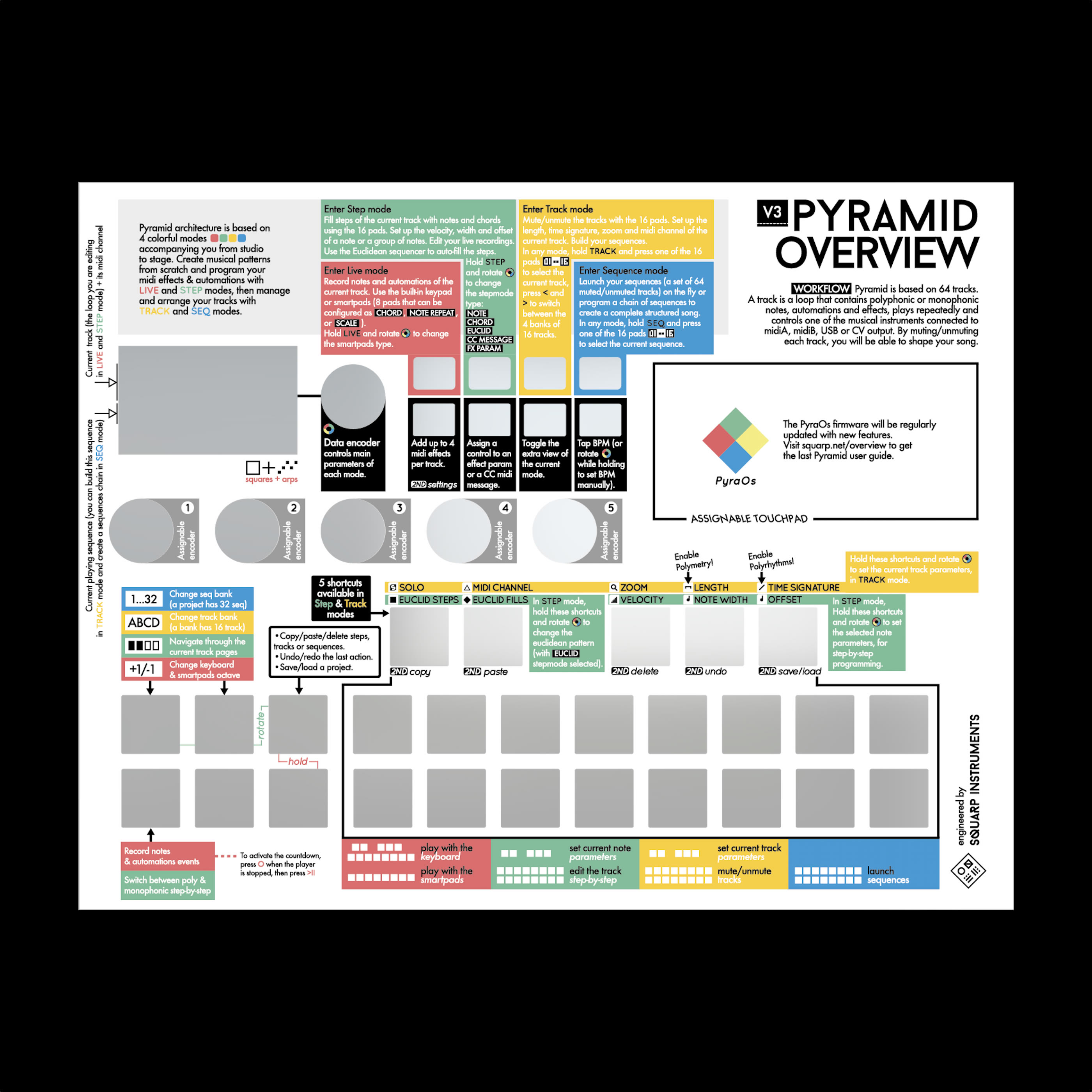 The LCD screen displays relevant information depending on the mode of which there are four:
The Modes
Live: use pads to play notes and automation in real time
Step: use pads to play notes and automation one step at a time
Track: mute and unmute tracks
Sequence: create and manage song structure
In Live Mode, you can create tracks from scratch in real-time using built-in keypads, touchpad and smartpads. You can generate various MIDI effects such as harmonization, chord generation, quantize to scale and record CC data.
Images below are various LCD displays in this mode.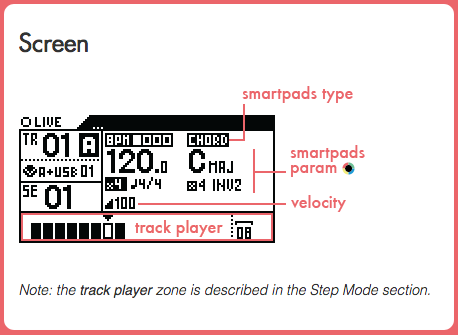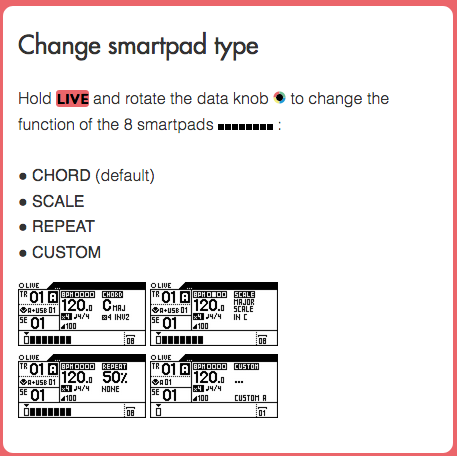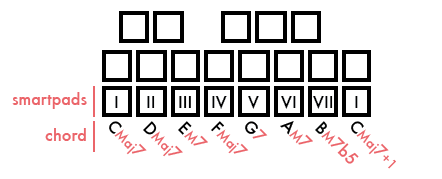 In Step Mode, you can enter events directly into the current track. "Pyramid includes 16-step pads but you are free to extend the length of the track up to 384 bars (measures) and zoom up to x16 (1600%) — the number of steps is almost infinite!"
You can choose note stepmode or chord stepmode and the display includes a piano roll editor. There are also Effects stepmode, CC Messages stepmode, and the very impressive Euclid stepmode which allows for the generation of complex polyrhythms and multiple meters, something not possible with most sequencers.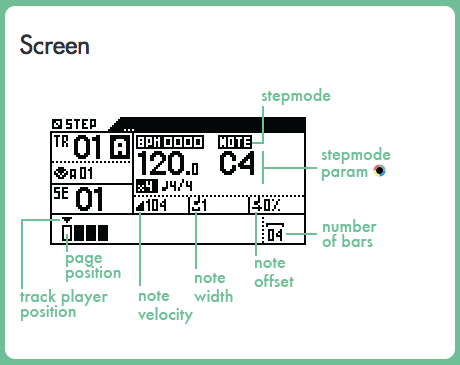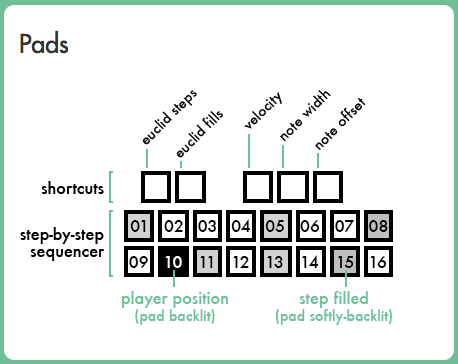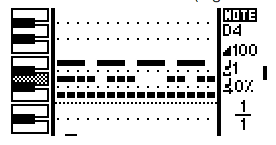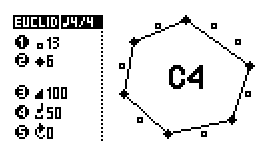 In CC messages stepmode and Effects stepmode you can draw in automation using the the XY pad, another unique feature.

Track mode is mainly used to manage patterns, mute tracks and build sequences. This mode is more about creating structure and form. It also allows for irrational rhythms created by polyrhythmic and polymetric tracks.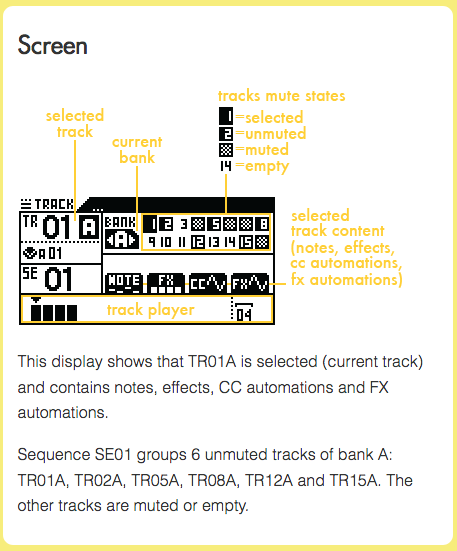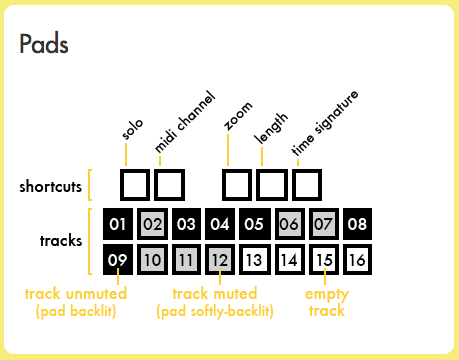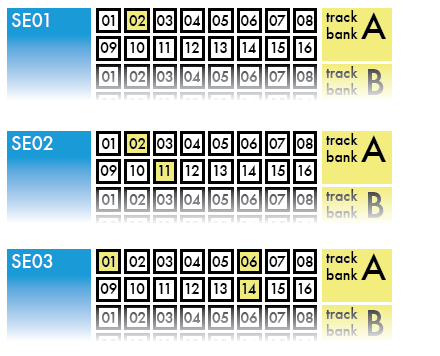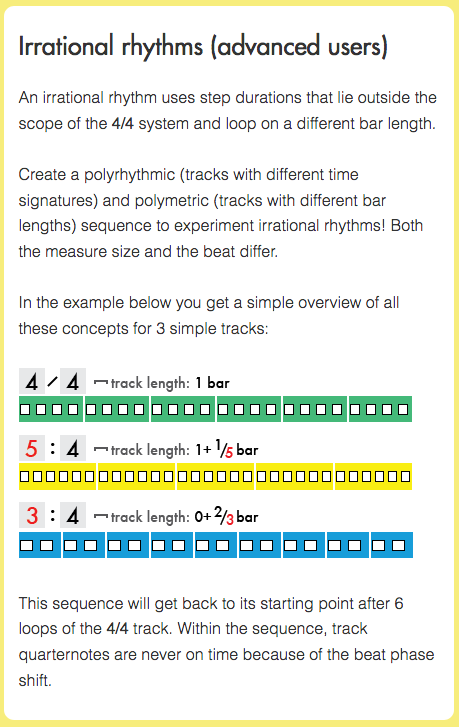 Sequence Mode is for playing pre-built sequences, looping sequences or triggering sequences on the fly.
The Ins and Outs
Below are a few examples of connectivity including MIDI, CV and using the Pyramid as a controller for a virtual synth.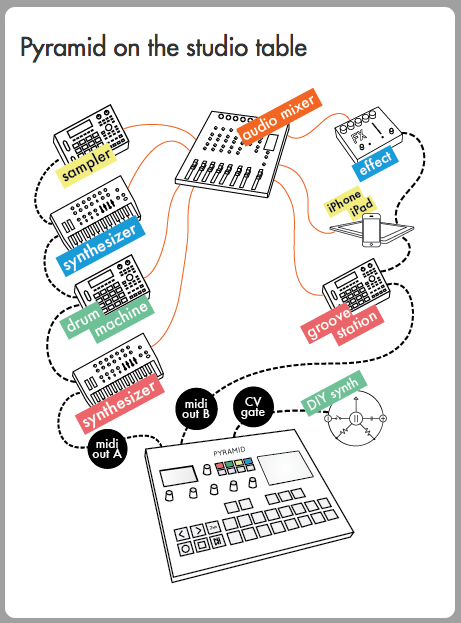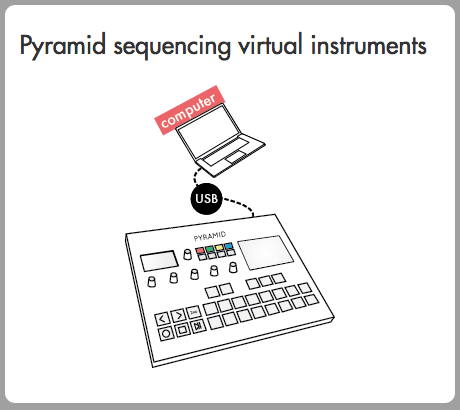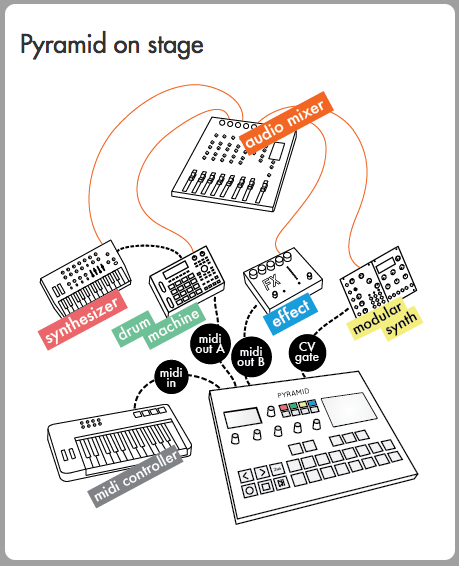 Inputs
● MIDI In (to control Pyramid with a MIDI controller, multitrack or omni input)
● Plug and play mini USB MIDI In
● 4x CV in (jack 3.5mm) [0 to 5V]
● 2x PEDAL in (stereo jack 6.35mm)
Outputs
● MIDI Out A (up to 16 channels = 16 instruments) (turbo MIDI ready)
● MIDI Out B (up to 16 channels = 16 instruments)
● Plug and play mini USB MIDI Out (up to 16 channels = 16 instruments)
● DYN sync out (available on the MIDI out B)
● CV out (jack 3.5mm) [0 to 5V]
● ENV out (secondary CV, e.g. to sequence filters) (jack 3.5mm) [0 to 5V]
● GATE out (jack 3.5mm) [0 to 5V]
The MIDI Effects

MIDI Effects include:


Quantizer / Humanizer
Arpeggiator
Harmonizer
Swing
Randomizer – "Randomly changes notes parameters (velocity, pitch or length)."
Delay – "MIDI delay creates a copy of entered notes, simulating a standard delay effect, but using velocity MIDI data."
Equalizer – "MIDI equalizer changes the velocity of the original notes, simulating a standard EQ effect, but using the velocity MIDI data. It increases or decreases note velocities, according to the note pitch. The EQ slope is linear. You can, for example, increase the velocity of all lowest and highest notes, increase only medium notes, decrease the velocity of highest notes, …"
Scale – "This effect quantizes all note pitches to a defined scale in real time, to refine your melody."
Note to CC – "This effect converts a note parameter value (note pitch or note velocity) to a selected CC message (or to the MIDI "pitch bend", "aftertouch" or " program change"). For example, you can change a synth parameter (like the filter) according to the velocity of a note. It's also very handy to fully control the Korg Volca Sample parameters (pitch, velocity, …) with a keyboard."
BPM – "This effect enables you to create global tempo automation! Very useful for creating BPM changes between two tracks during your live set, automating small BPM variations, creating "bouncing ball" effects in sync."
Chance – "This effect plays or does not play a note based on probability. It's a great way to add variations to drums or melodies."
LFO – "Generate high-resolution CC waveforms in a flash, based on wavetables!"
MIDI Controller
The five encoders, the analog inputs, as well as the touchpad, are able to control CC messages and effect parameters in real-time and to can record automation on the fly.
Other Selected Specs
Core player
Maximum number of tracks played at the same time: 64
Maximum number of patterns per track: 32
Maximum number of sequences (group of tracks & patterns): 32
Maximum number of projects: 256
Maximum number of midi events (notes, CC, …) per project: >8000
Maximum number of effects per project: 320
Track length: 1/4 bar (a quarter note) to 384 bars
Track time signature: 1/1 to 24/16 or 1:1 to 24:16
Recording resolution: 96ppqn
Tempo: 10.0 to 999.9 BPM
Tracks
Maximum number of notes per step (polyphony): unlimited
Maximum number of CC automation per step: unlimited
Maximum number of FX automation per step: unlimited
Maximum number of effects per track: 5
Maximum number of assignations per track: 131
Note pitch: C-1 to G9
Note velocity: 0 to 127
Note width: 1/96th to 384 bars
Note Offset: 0% to 99%
Zoom: /4 (1 step = 4 quarter notes) to x16 (1 step = 1/64th note)
Automation recording, drawing, importing, exporting: CC0 to CC119, pitch, mono pressure, program change, effects parameters, BPM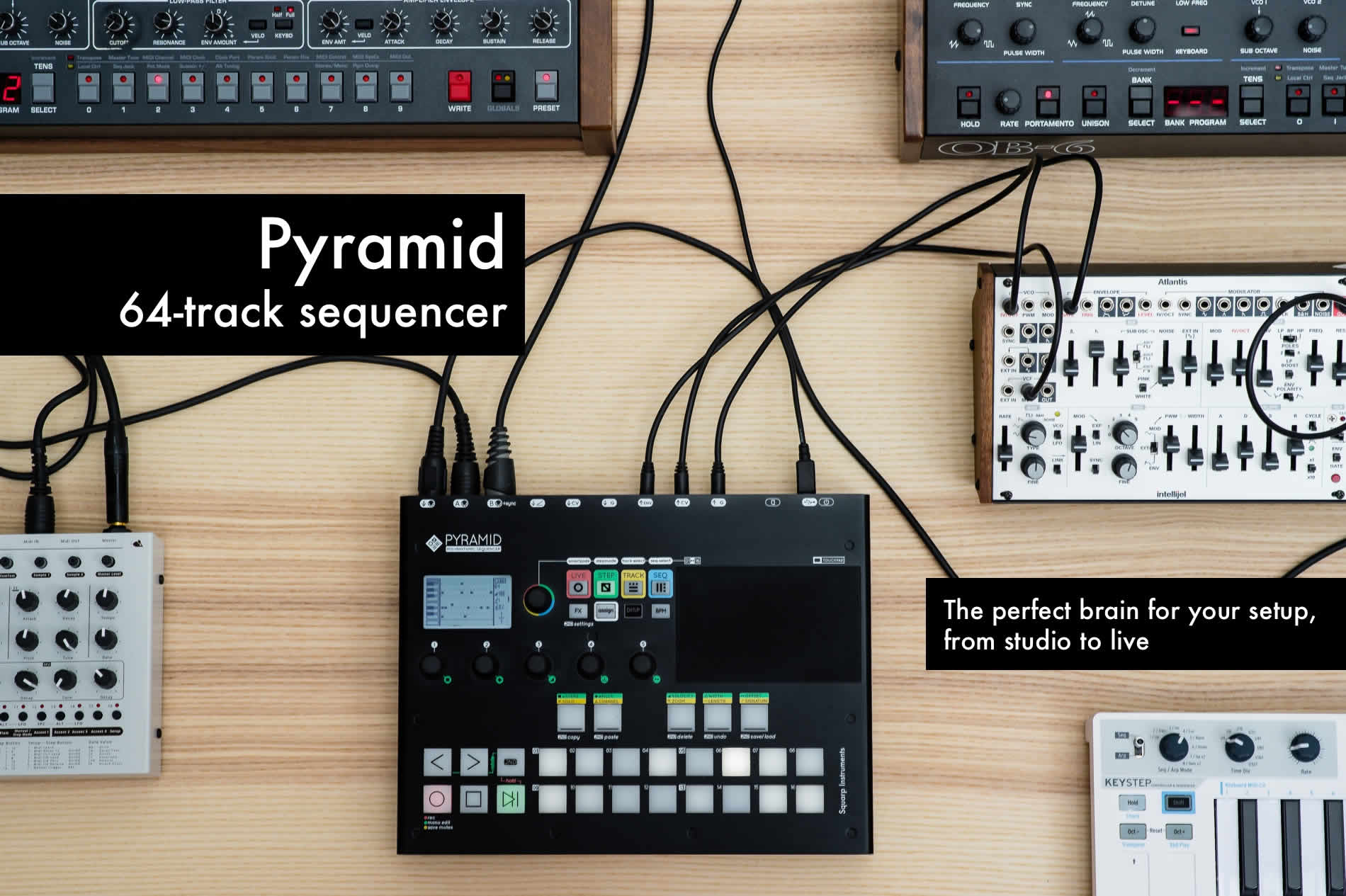 Conclusion
Pros
Solid build
Robust in terms of MIDI effects and memory
SD card slot for loading and saving MIDI files
Connectivity for a variety of applications including CV, standard MIDI and USB
Stand-alone capability — able to manage and control several devices without a computer
Polyrhythmic and polymeter capabilities are impressive
Cons
Steep learning curve
Cost
The Pyramid mk2 is a well-built sequencer by a company that specializes in sequencers. It has very specific applications and would not be the right device for everyone. It's understandable that a device of this level of complexity would have a steep learning curve and substantial price. But if you're a synthesizer junkie with an array of keyboards, drum machines, sound modules, or modular gear and you want one central brain (that is NOT a computer) to control it all — the Pyramid is the perfect solution.
(Also check out the Hermod modular brain, which is an 8 track sequencer for Eurorack).
Price: $709
—–
Check out my other articles, reviews and interviews
Follow me on Twitter / Instagram / YouTube