10 Great Brass Sample Libraries
Article Content
Back in March, I wrote an article highlighting selected string libraries. What follows are some of the best sampled brass libraries currently available. With the exception of one, all of these are Kontakt-based instruments. They are in no particular ranked order, but I have tried to organize them by presenting similar collections consecutively. A few things to consider when choosing a brass library or really any acoustic instrument sample library:
Instrument variety
Multiple mic positions
Round Robin capability
Articulations available
Special FX or Extended playing techniques
Solo and Ensemble choices
Signal Processing capability
Character or Stylistic characteristics
Ultimately, the context in which you are writing will dictate what you need and the more alternatives you can afford to have at your disposal, the better.

This collection sounds incredible from the first note. It is a symphonic collection that features solo horns, trombones (including bass and contrabass), trumpet, tuba, contrabass tuba, and cimbasso (which has become highly desirable in film scoring in the last several years for its raspy quality). The horns, trumpets and trombones include a2 and a6 samples which sound huge and majestic. The contrabass tuba is a nice addition for a beautiful rumbling low-end sustained growl.
There is the standard assortment of articulations available (legato, marcato, tenuto, staccato, trills, rips/falls, flutter, etc.) as well as a few nice additions:
Mariachi – which includes the exaggerated vibrato we all know and love (sometimes).
Multi-tongue – which is described in the manual as a: "…double, triple and quadruple tongued notes. You select which one using the 'variation' slider. If you hit the keyboard hard, you get an accented final note, if you hit more softly, you get a tight 'snatched away' final note".
Add to this Spitfire's familiar interface that allows mic position mixing, round robin selectivity, ostinato section and other tweakable parameters, and you have a set of instruments that will get you brass sounds you need for any scoring, orchestral or chamber music scenario. Price – $699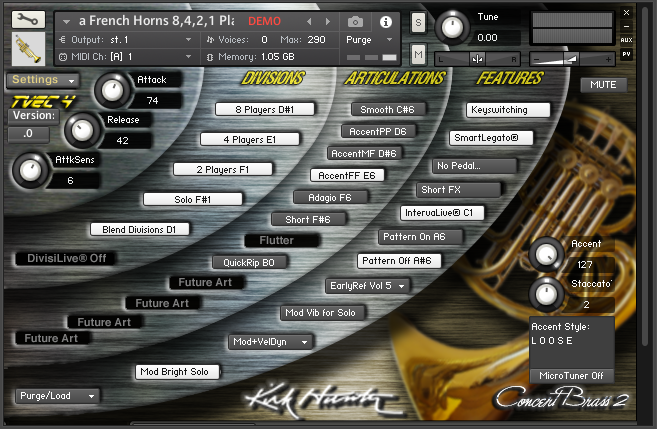 The Kirk Hunter Concert Brass 2 collection is stunning in terms of overall sound and some interesting intelligent processing. While it may lack the mic positioning choices of other libraries, it makes up for it with a great variety of articulations (accents at different dynamic levels for example) and quick changes from the main interface to instrument groups from solo, two, four or eight players.
Some details from the manual:
TVEC 3 – Sophisticated programming behind the Concert Brass II sample library.
Velocity and Modwheel Volume Control – Set custom velocity and modwheel volume control.
DivisiLive® – TVEC 3 can automatically do divisi when you play a chord.
SmartLegato – True legato technology that also lets you play fluid and connected chords.
Select-A-Division – Instantly select from as many as four divisions (sections) in a single instrument on the fly.
Division Blending – Create your own custom division (section) blends from up to four divisions all in one instrument.
IntervaLive® – Automatically plays recorded intervals between note transitions.
Duplets and Triplets – Create amazingly realistic duplets and triplets on release trigger.
Purge – Purge Divisions or Articulations from the huge TVEC 3 instruments to create your own custom smaller instruments.
Impulse Response Concert Hall Reverb and Early Reflections – Optional convolution reverb settings.
Polyphonic Round Robin – Never get the same note played twice in a row, even when playing chords. Eliminates the dreaded "machine gun" effect.
Sustain Pedal Overlapping Notes – Smooth out note transitions and note repetitions. Essential for realistic fluid repeated notes!
Set Instrument Delay Amount – Creates a random delay amount for the instrument's note-on. Great for realism during layering.
Keyswitching On/Off Option – Choose whether or not the instrument uses keyswitching.
Assign Keyswitch Notes – You can choose your own notes to assign the various articulations and features.
Interactive Help Prompting – Hover the mouse over a feature, and the interface will tell you what the feature does.
Attack – Globally control the attack.
Release – Globally control the release.
Velocity Attack Sensitivity – Globally control the attack via velocity.
Accent Levels – Globally control the accent amount.
Automation – Assign MIDI or host automation to any articulation or feature.
This is a great choice if you're looking for that big concert hall sound. Price – $249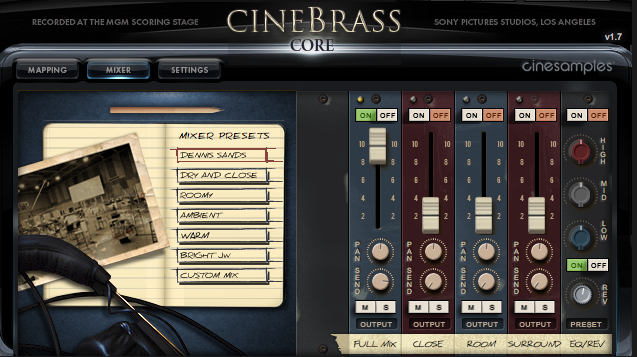 The CineBrass Complete Bundle includes three amazing libraries:
CineBrass Core– "The CineBrass Core Library is Cinesamples' orchestral brass sample library…recorded at the world famous Sony Pictures Scoring Stage in Los Angeles, and mixed by veteran legend Dennis Sands".
CineBrass Pro – is the expansion to the Core library. The company asked users and the film music community for feedback in terms of what sounds should be added and CineBrass PRO is the result.
CineBrass Descant Horn – "…expands the range of the Horn section. Pro horn players often pull out this instrument for delicate higher passages and it's great for soaring solos. Like CineBrass Core and Pro, CineBrass Descant Horn was recorded at the MGM Scoring Stage in Los Angeles".
The bundle is priced at $829 and saves you about $120 when compared to individual purchases.
The first thing you see when you instantiate CineBrass Core is a mixer interface for mic positions with some general presets like ambient, warm, dry and close, bright, etc. Entering the Mapping screen allows key mapping for articulations and the Settings window provides some effects, envelope and dynamics control, as well as some round robin settings. There are plenty of ensemble combinations to choose from and several multis. The Trumpet Ensemble Effects preset is particularly satisfying with short cluster swells or hits available from single keys.
CineBrass Pro is packed with special brass effects for every possible scenario, powerful pre-voiced chords, legato solo instruments, and lush ensembles. The Full Ensemble FX patches are very inspiring!
CineBrass Descant Horns are perfect for the horn lover. But be careful holding those seamlessly sustained horn notes for too long, if you intend to ever have your stuff played by an actual human.
This bundle is one of the best I've heard and I especially liked the whole CineBrass Pro package. I guess it always helps to ask your clientele what they want instead of the opposite scenario. Price (bundle): $829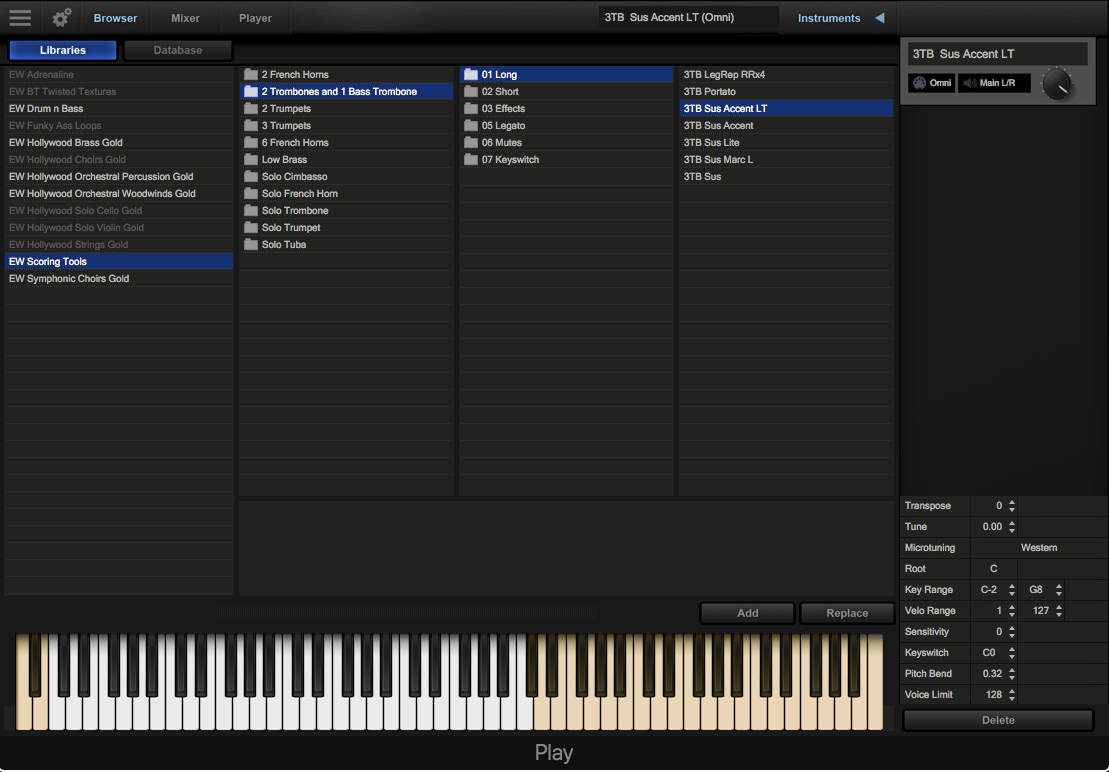 This is the only instrument in this article that is not Kontakt-based. Instead, EastWest supplies its own plugin called Play, to access their sample libraries. They also offer a subscription-based model that can be attractive for those that desire access to an enormous collection of quality samples for a nominal monthly fee (starting at $24 for a ton of libraries). Student pricing is also quite reasonable. If you do decide to get the whole package, I highly recommend getting the samples delivered on the supplied hard drive. Download times are excruciatingly slow (perhaps by design).
The Hollywood Brass GoldX is a comprehensive bundle of solo and grouped brass with plenty of key-switchable articulations and effects. The extended trills, rips, shakes and dynamic swells sound tight and effective. Aside from adding one more monthly bill to your budget, you can't really go wrong with the EastWest stuff. Price: $199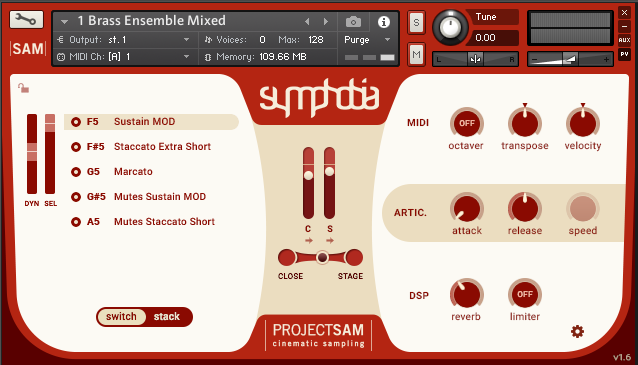 Aside from being a great package of orchestral sounds in general, the brass section in ProjectSAM's Symphobia is particularly good for getting a well-balanced brass ensemble sound really fast. While it may lack the versatility of a full-blown brass library in terms of articulations, instrument groupings and other features, it's incredibly intuitive, offering an Occam's Razor-esque approach that gets you where you want to go without having to wrestle with a myriad of sub-windows.
These are great sounding brass samples and given that the library also includes strings, woodwinds and more, Symphobia is well worth the price. Also available in the series are Symphobia 2 with additional effects and articulations, and Symphobia 3: Lumina for choir and fantasy orchestral textures. Price: $549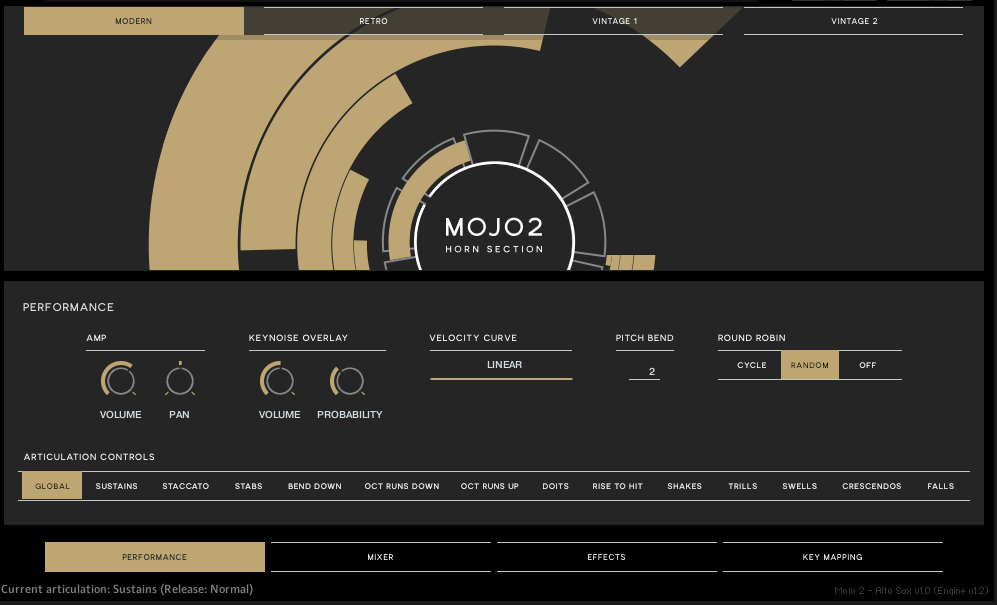 The MOJO 2 Horn Section focuses on solo instruments and includes some woodwinds as well (saxes, clarinet, piccolo). This would be a good choice for those looking to write for unique instrumental combinations. That said, you can create larger groupings in the mixer panel, up to 10 players and through humanization and stereo spreading it's possible to simulate larger sections.
This is the second manifestation of the library with the first version being released in 2009. It includes three mic positions, a decent selection of key-mappable articulations, round robin selections and a thorough array of processing effects that includes a convolution reverb, tape saturation and cabinet emulation. Unique to MOJO 2 is the choice of "Eras." There are four Era settings that alter the output in substantial ways, as described in the manual:
Modern: The Modern day era focuses on current trends in recording with a full frequency spectrum and super high fidelity sound. The horns will have full low-end frequencies and bright airy top end, yet extremely well balanced.
Retro: The Retro era focuses on the rich saturated analog tone of the 60's and 70's. The full extension of the low end is subtly tamed and the rich and slightly gritty harmonics add a warm and overall pleasing tone to the sound.
Vintage 1: The first of the two Vintage era tones focuses around the sound of the 40's and 50's. The tone of the big band era is less full than either retro or modern, with a focus around the 1 kHz range with both the top and bottom frequency ranges significantly cut off. You'll notice less stereo image and a natural and beautiful "dirt" to the sound of these horns.
Vintage 2: Vintage 2 takes us all the way back to the early recording days of the 20's and 30's. The tone has some similar qualities to Vintage 1, but to a more extreme level. You'll hear a much stronger upper midrange focus and even less top and bottom end. What's left of the tone is a gritty saturated character typical of this era of recording.
I believe MOJO 2 is a good choice for solo sounds or big band ensembles, or unusual instrumental combinations. The Era settings are great if you need a particular vintage sound.
Price: Regularly $499 ($424 Intro Offer)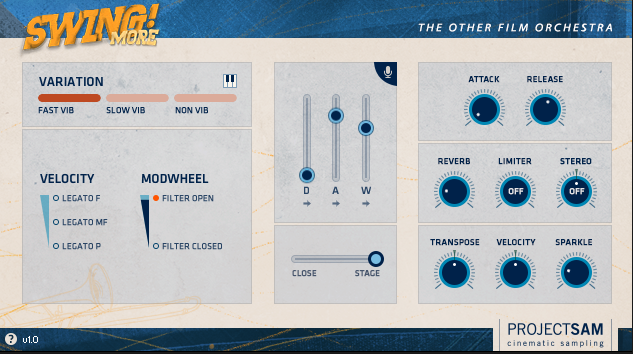 As the names implies, this library is focused on Big Band sounds and ensembles. It features three mic positions, several legato styles and big band chord voicing with inversions. Aside from a full complement of brass samples, it includes saxes, clarinet, guitar, bass, banjo, mandolin, ukulele, drum kit, piano, vibes, percussion, strings and female vocals!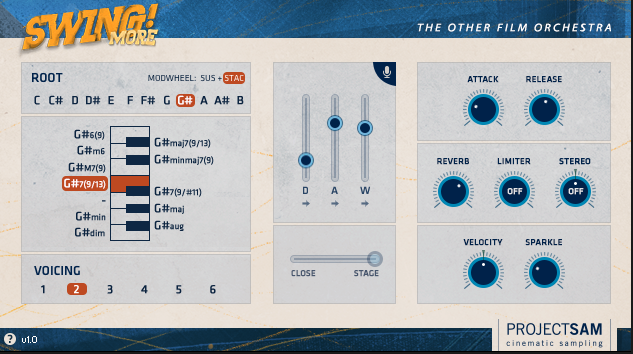 The Full Big Band Chords preset is really fun! Key switchable roots and inversions and modwheel controlled articulation make it a truly playable instrument. The instrument interfaces give instant access to vibrato variation or articulation depending on the preset, mic levels, envelopes, effects and includes a visualization of velocity level and modwheel position. Multi-instruments include a variety of ensembles capable of film noir type textures to Broadway. In terms of brass instruments there are bass and tenor trombones and trumpets. The brass part of the collection is just a small part of this library, but if you want some great big band and small ensemble sounds it has just what you need. The other instruments, especially the sax and woodwinds, are icing on the cake. Price $479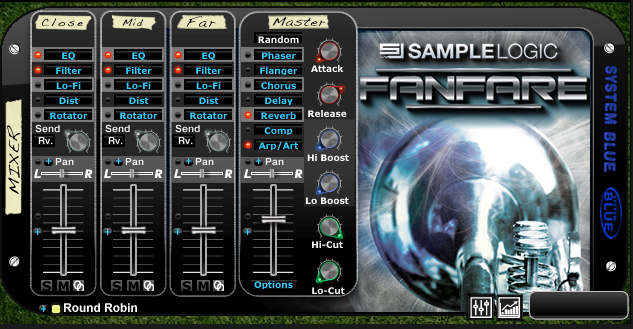 Sample Logic has carved out a distinctive niche in the market with instruments that destroy the line between sound design and acoustic instrumentation. Their interfaces such as those found in Arpology, which I reviewed recently, and Morphestra 2, are visually inspiring which make the instruments that much more fun to explore.
The company proclaims Fanfare to be "…a ground-breaking Kontakt Player virtual instrument pairing the DCI World-Champion Blue Devils marching brass with the award-winning sound design of Sample Logic. From traditional marching brass to full-blown cinematic soundscapes, Fanfare delivers the definitive marching brass library for educators and arrangers, and an extraordinarily versatile and inspiring construction toolkit for film, TV, game composers, producers, and electronic musicians".
Individual instruments include euphonium, mellophone, trombone, trumpet and tuba. The Presets are divided into two major categories – traditional and morphed, which are more sound design-type sounds including atmospheres, impacts and more. Leave it to Sample Logic to combine a marching band with sound design. If you like Fanfare, you will also love their collection called, Stadium Instruments.
Part of this library was recorded at Ralph Wilson Stadium (formerly Rich stadium) and home of the Buffalo Bills. As a native Buffalonian, I've spent many Sunday afternoons in that space experiencing the thrill of victory and the f#%king agony of defeat. I saw the now infamous OJ Simpson run there and was witness to the Rolling Stones concert opened by George Thorogood in 1978. It's ironic and a little weird that 40 years later I find myself in LA writing about sounds recorded in Buffalo! But I digress…
If you want a bizarre collection of brassy textures and sound design weirdness with the flavor of marching band brass, look no further than Fanfare. Price: $299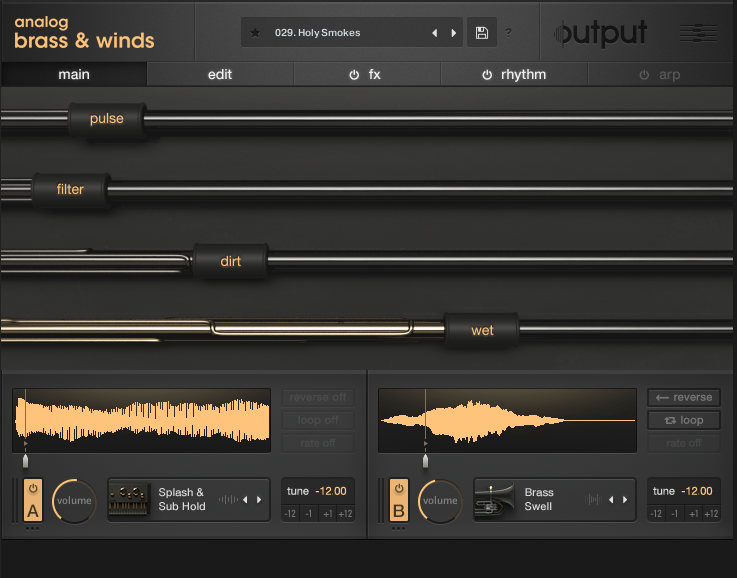 Back in March, I included Analog Brass and Winds in an article called, "12 Awesome Sound Design Tools for Music Production".
The unique qualities of this library make it fit comfortably into sound design or instrumental library categories. I include it in this article because although many of the presets are heavily processed, a large number have brass samples as part of their genesis.
The main interface of this instrument and all of Output's stuff, in general, is elegant and a pleasure to use. Many may argue that the graphic design of an interface is unrelated to the sonic capability or potential. I disagree.
First, I believe a company or developer that values meticulous graphics likely has the same high expectations for what's under the hood. Second, consider this scenario: A user is presented with two instruments that are functionally identical, but one has a stunning interface design and the other sucks. Not only will the user choose the former, but the graphics themselves may inspire the work in ways otherwise not possible.
Four valve-like programmable sliders dominate the main GUI and can radically alter the effect of any given preset. They, of course, can be MIDI mapped and have varying functionality depending on the settings. One of the great attributes of this instrument and others by Output is the searchable menu matrix which expedites the process of finding or getting close to the sound you're after.
This instrument is not about traditional brass articulations or ensemble sounds, but more about brass-like textures and attitudes. If you already have a pure orchestral brass library, this one is the perfect compliment for when things need to get a little weird. Price: $199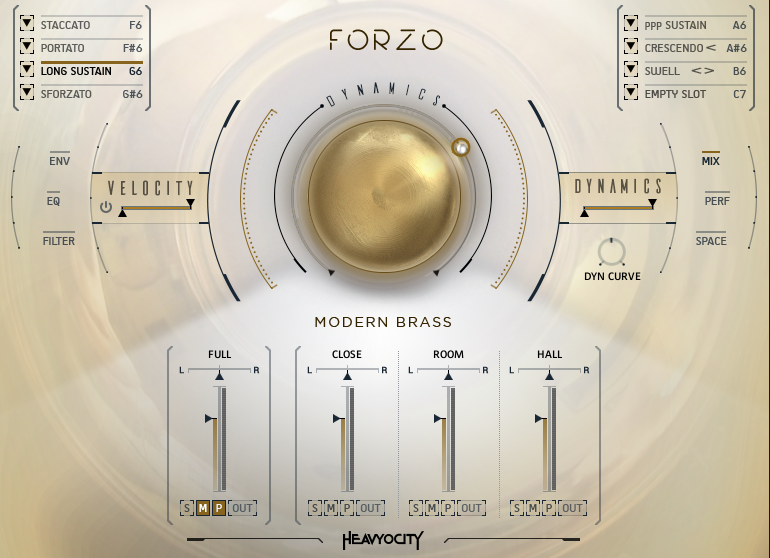 I recently reviewed FORZO in August so I won't repeat myself here. Like Analog Brass, it too can easily be considered a sound design tool as well as a brass library. As with its cousin, NOVO Modern Strings, the interface is stunning and the sonic possibilities are unlimited. See the full review for more details. Price: $549 
Conclusion
You will definitely not be disappointed with any of the libraries mentioned here. It truly is a matter of context and what particular sound you need at any given time. It is not unusual for me to use three different DAWs for any given project, because every application has its strengths. Sample-based instruments and effects processing plugins are no different. In fact, if you find yourself using the same plugins or instruments on every project, it might be time for a change. You'll be surprised how using a different tool can breathe new life into your creative flow.
---
Check out my other articles, reviews and interviews
Follow me on Twitter / Instagram / YouTube