Review: Morphestra 2 by Sample Logic
Article Content
In the next few articles I'll be reviewing some of the most interesting and powerful Kontakt-based sampler instruments and libraries currently on the market. First up is Morphestra 2 by Sample Logic.
Sample Logic's mission statement emphasizes the development of new concepts that focus on "blurring the line between music and sound design." As the name implies, Morphestra 2 includes over 4000 morphed instruments and multis based on orchestral instrument samples. It boasts over 26 gigs of material and includes content from an association with Kirk Hunter Studios (known for their collection of orchestral sample libraries) and all original instruments and multis from Morphestra Generations, a previously released instrument powerful in its own right.
In addition to orchestral samples, the developers use animal sounds, tools, machinery and world instruments among other sounds to create "organic instruments and hybrid ensembles."
The Interface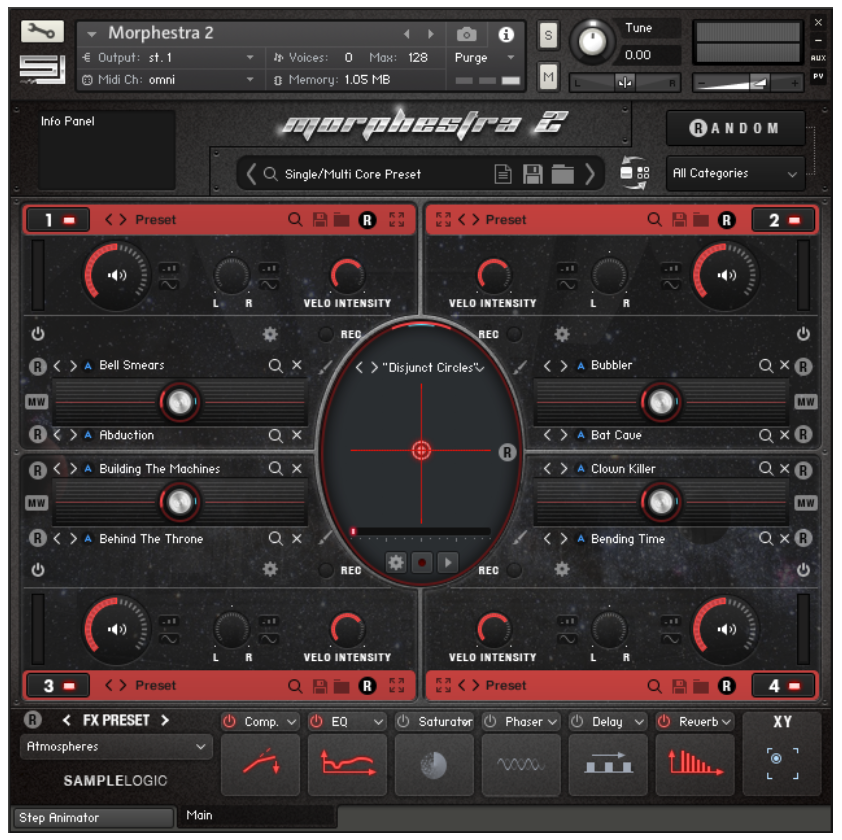 When first launching a new instrument, I like to just dive in and see what I can figure out before being forced to consult the manual. The GUI is a symmetrical design with an egg-shaped XY control in in the center. It becomes immediately clear that there are 4 distinct quadrants and the puck in the XY pad allows the user to morph between sources. Sample Logic refer to these quadrants as soundcores. Each core can playback 2 soundsources for a total of 8 simultaneous layers possible.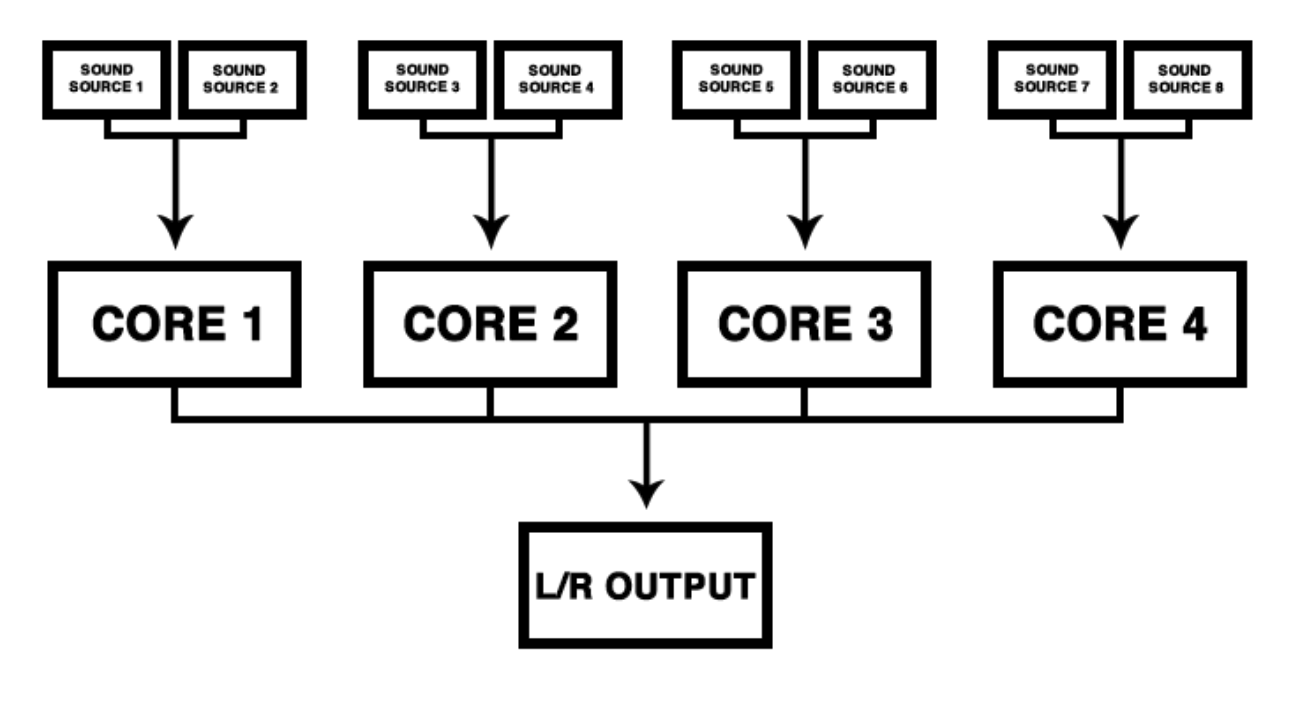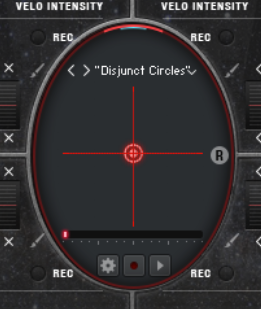 A closer look at the mix pad reveals record and playback controls for automation, a drop menu with preset morphing behavior and a settings window for configuring triggering, looping, speed and MIDI CC mapping. Within literally seconds, I was recording my own morphing paths.
Browser System
There are three variations of Sample Logic's library browser system implemented that are essential to navigating to the right combination of sounds.
Instruments can be single core (2 soundsources) or multi core (up to 8 soundsources). Clicking on the top menu exposes the Instrument Browser which is organized under the main categories: Atmospheres, Instrumentals, Loops and Percussives, with one subcategory column followed by the preset.

The Soundcore and Soundsource Browsers work in a similar fashion and are exposed by clicking the appropriate menu. The Soundsource Browser includes an additional main category called Waveforms, which includes an array of standard and idiosyncratic wave shapes.


Soundcore Control and Modulation
The main controls within each soundcore include volume, panning and velocity intensity (or sensitivity). Volume and panning can be modulated via the LFO section or the FX Animator, essentially a step sequencer capable of 128 steps spread across 8 scenes of 16 steps each.


Although not obvious at first glance, you can also morph between soundsources within each core. The blend can be fixed by adjusting the knob between sources or automated by clicking the edit icon which reveals a bar graph style step sequence display.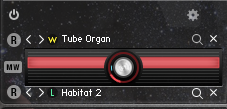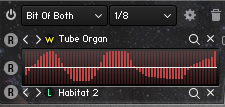 Randomization
Perched ominously in the upper right of the interface lies the all powerful Random button. You can choose to randomize any control in the interface that has an [R] button next to it such as soundcores, soundsources, FX chains and the mixer display. You can exclude any item by deselecting the button and limit choices to certain sound categories from the drop down menu below the Random button. I've always been a big fan of controlled randomization, as it can yield amazing and unique results and provide some relief from the tyranny of the preset.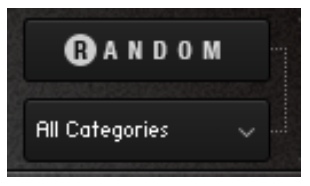 FX Processing
Each soundcore has its own effect section which is revealed by clicking the icon next to the soundcore preset menu.

At the bottom of the interface is the FX section which allows for a chain of up to 6 effects and an XY pad for mixing various FX parameters between soundcores. The effects offered are standard fare and include dynamic, imaging, spectral, and time-based processing. Clicking on an FX box exposes its controls in the center of the GUI.

If eight morphable soundsources and all that control isn't enough to blow your mind, then click on the Step Animator button at the very bottom to expose a powerful sequencer that can control velocity, gate length, transposition, stutter effect, panning, and arpeggiation behavior among other parameters globally or by individual core. Also note the [R] button next to several parameters indicating they can be included in randomization events.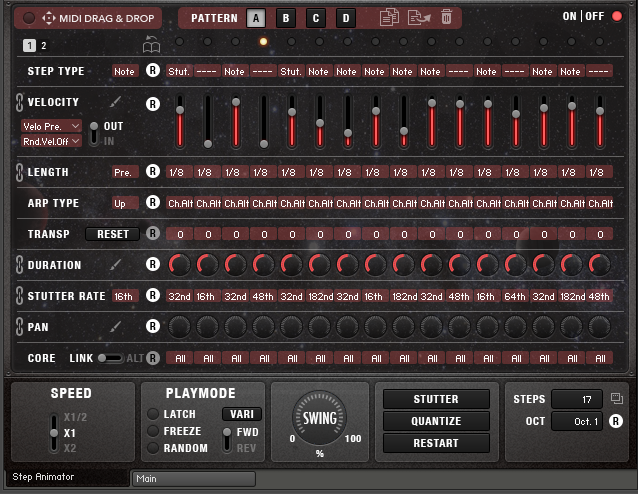 The Sound
There are many examples on the product page to give you an idea of the sonic possibilities of Morphestra 2. You can spend days exploring this instrument and still find new and surprising sounds. The preset library is enormous and happily, the simple yet effective browser system of Sample Logic does well in helping the user navigate to the ideal sound or close to it.
Although the instrument is "geared for film, TV and game composers," the randomization features alone make it a great tool for experimentation in all forms of music making and sound design. Even small tweaks to existing presets or slight alterations of the morph path can yield amazing results. At a list price of $499 the instrument is not cheap. But if you're looking for an instrument that bridges the gap between orchestral sounds and rich unworldly textures that evolve organically, Morphestra 2 is a great choice.
Established by Joseph Trupiano in 2006, Sample Logic's portfolio has grown into a formidable collection of instruments which includes several Ableton Live Packs as well. Information and demos for all products can be found here.
Check out my other articles, reviews and interviews
Follow me on Twitter / Instagram / YouTube