Review: Arpology Cinematic Dimensions by Sample Logic
Article Content
The new release of Arpology from Sample Logic is nothing less than stunning in its comprehensive approach to step sequencing. Dozens of parameters are accessible to the newly revamped, multi-layered sequencing engine.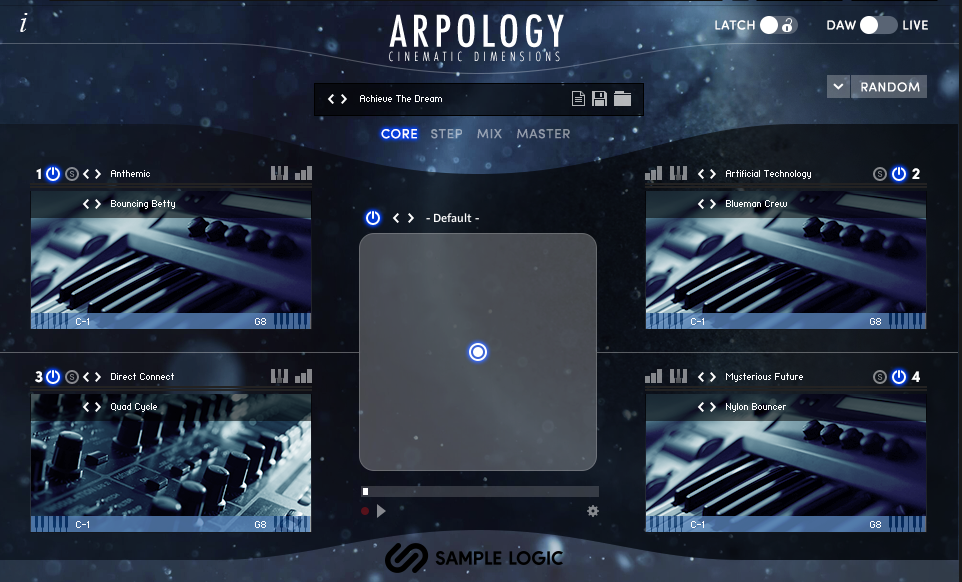 It boasts over 23 GBs of sample content and 1200 presets that are organized in a user-friendly meta-tag browsing system.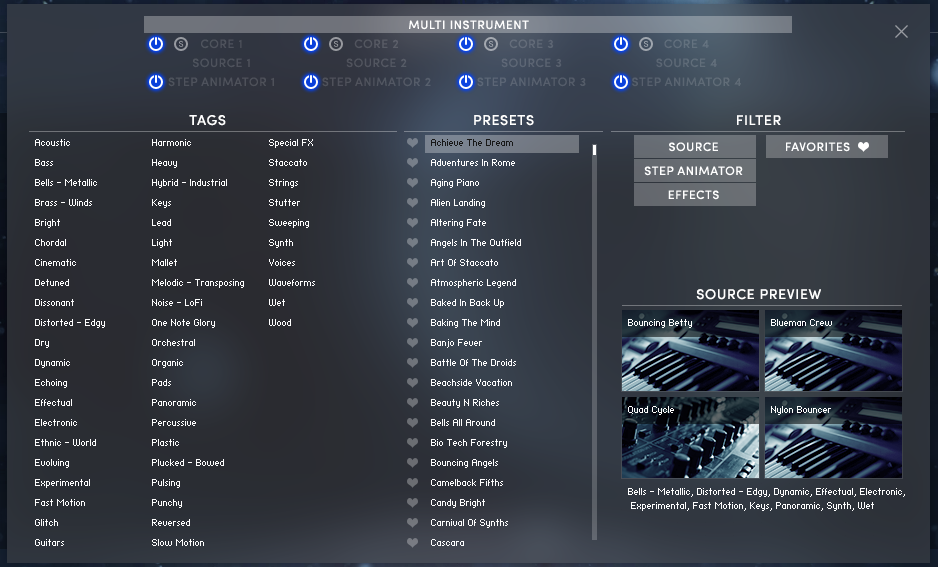 Randomization
The Randomizing function is configurable so you can pick and choose which parameters to randomize. This is great for rolling the dice to find completely unexpected sounds or to introduce slight variations and create interest in a repetitive line or a morphed version of a returning pattern.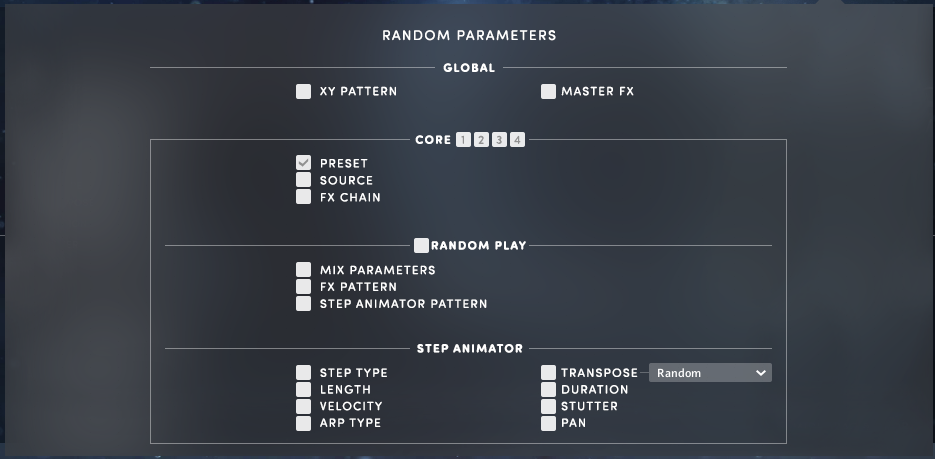 The X-Y Pad
Centered in the Main interface is a programmable X-Y pad in which a puck can be moved to change the mix between the four possible sources or what Sample Logic calls Sound Cores. Movements of the puck can be easily recorded, programmed and replayed as part of a preset. There is a list of pre-programmed movements available from the drop-down menu.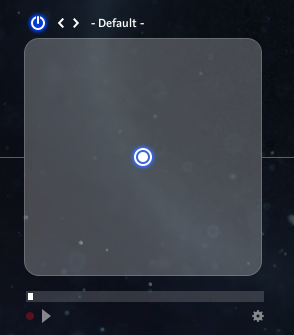 Four Sound Cores
Each of the four Sound Cores has separate presets available for the Source and all the Core settings relating to the step sequencer and effects processing: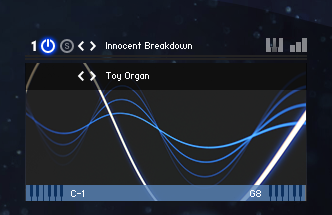 The Sequencers
There is definitely no shortage of presets in Arpology affecting not just sound sources, but most step and effects parameters as well. This makes it really easy and fast to test out rhythmic ideas and processing variations — especially in the Effects section, where effects can be active or bypassed on a particular step as well as having the parameters for the effect sequenced.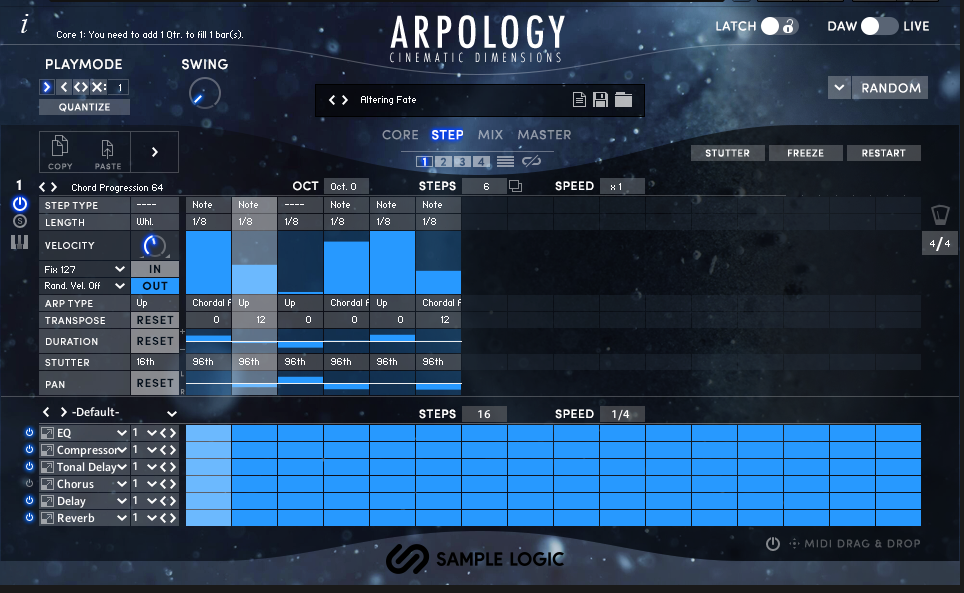 A convenient Copy/Paste located in the Step Window allows you to copy the settings you create from Core to Core.

Effects
With the almost two dozen Effects and with the possibility of step sequencing each parameter there are infinite possibilities. There 20 presets for the Effect section as a whole and preset patterns for the parameter step sequencer.


In addition to the usual parameters one might find in a step sequencer (e.g. duration, velocity, pan, swing, step length, etc. ) there are a few others worth noting:
Step Type includes two flavors of Stutter:

Stutter: "Indicates that a note will be triggered and subdivided at a speed determined by the "Stutter Rate" control below. The total length of the stutter is still equal to the length indicated below (e.g. if Length is set to 1/8 and 32nd stutter rate is set to 32nd, a total of four notes will play on that step)"
Stutter Alternating: "Sets step to stutter through notes being played, alternating between each note similar to an arpeggiator within an arpeggiator. Only works when the step type is set to chordal.''
Freeplay Mode is a nice addition for live playing and interacting with the sequencer:
Freeplay Mode: "Indicates that a step lasting the predetermined length will allow the player to trigger notes of any rhythm and pattern before the arpeggiator resumes at the next step."
As one would expect, you can vary the length in steps for each sequencer independently and the main sequence for each Core is capable of a whopping 128 steps using eight separate screen views for programming.
Global Effects
The Master window includes six possible effect slots and another selection of preconfigured effects chains via the drop-down menu.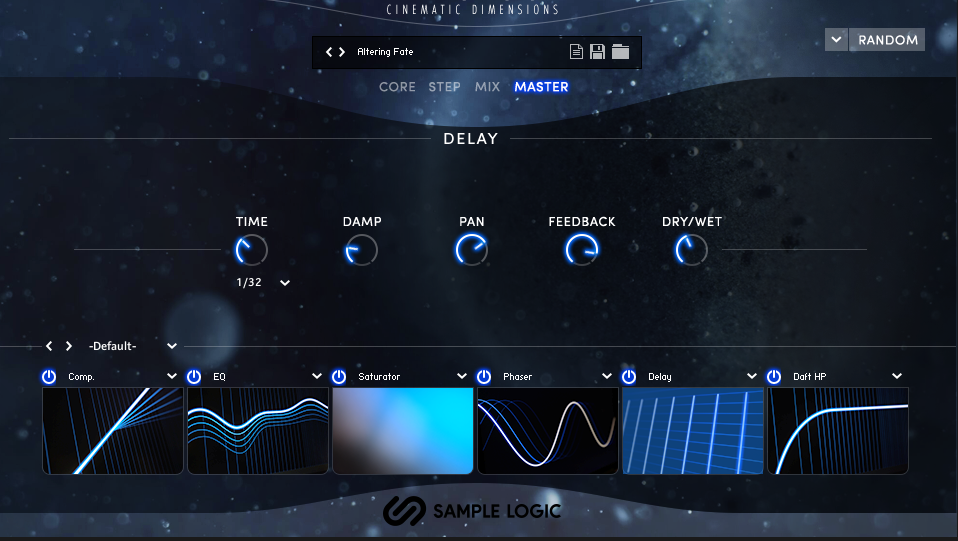 Master Insert Effects include:
DAFT LP – a resonant low-pass filter
DAFT HP – a resonant hi-pass filter
FORMANT – a resonant filter with adjustable harmonics used to adjust the formant of a sound
VOWEL – another resonant filter with adjustable harmonics; can be used to create talking effects
EQ – a standard three-band parametric equalizer
COMPRESSOR – a studio-grade compressor to capture transients or add dynamic motion
SATURATOR – a light distortion effect to add harmonic thickness to the sound
TAPE SAT. – a more distorted saturator that models tape distortion and includes a low-pass filter
SKREAMER – a versatile distortion effect
LO-FI – a digital effect to reduce bitrate and sample rate, or add noise
CABINET – an amp simulator with 11 cabinet models and full EQ control
TWANG – an amp simulator
ROTATOR – a rotating speaker simulator
STE. MOD. – a psychoacoustic stereo field widener
DELAY – a stereo digital delay effect
CHORUS – a digital chorus effect
FLANGER – a digital flanger effect
PHASER – a digital phaser effect
REVERB – a stereo reverb effect
TRANSIENT – a dynamics processor affecting the attack and release for generating transient emphasis
SIMP. L/H – low and high-pass filters
LIMITER – a standard digital limiter for attenuating output
MIDI Drag and Drop
Another nice feature located inconspicuously in the lower right-hand corner of each individual Core's Step view is the MIDI Drag and Drop icon.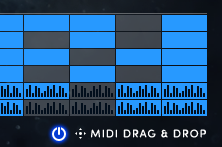 MIDI Drag and Drop allows you to "Click and drag from this icon into a MIDI track in your DAW to use the sequence as a MIDI effect. Your MIDI track will show 1 full sequence of Arpology control. All parameters will be reflected, excluding pan and glide functions, as MIDI data to be used with any MIDI compatible instrument". This can be exceedingly useful if you want to double a sequence with another instrument in your DAW.
Conclusion
Arpology is arguably The Mother of all Sequencers and yet another great instrument from Sample Logic. I found myself experimenting with this thing for hours, toying with the vast array of global and parameter-based presets, trying varying degrees of parameter-specific randomization and browsing the catalog of rich sample content. This device is capable of everything from tight melodic grooves to complex poly-rhythms that evolve in lovely and organic ways. A beautiful piece of software!
Arpology requires the full version of Kontakt 5.8 or higher and is currently offered at an introductory retail price of $349.
Check out my other articles, reviews, interviews and my video tutorial series, Synthesis 101 available exclusively on The Pro Audio Files.
Follow me on Twitter: @PMantione
Instagram: philipmantione