10 Great String Libraries for Your Sample Collection
Article Content
Orchestral strings are widely used in a multitude of contexts from pop music to television, film scores and game audio. You may need a string sample library to create a MIDI mockup for a director before sending the material to an orchestrator or the MIDI version may be intended as the final result.
In some situations, realism is the goal, and numerous deep sampled libraries are available with a variety of articulations and extended contemporary techniques (look for my upcoming article focused on string articulations coming soon to The Pro Audio Files).
Other times, you might want a string-flavored sound, where a heavily processed or hybrid sound fits the situation better than a realistic simulation. Described below (in no particular order) are some of the best string-based libraries offering a variety of approaches to get you the sound and texture appropriate for your particular musical context.
This library is organized into three general folders and five categories of Kontakt instruments: (description from the manual below)
Extended Techniques – contains 'core' and 'decorative' techniques for each section and can be viewed as the next stage in detail up from the 'basic' startup patches.
Individual Articulations – each separate articulation in its own patch.
Other Patches which contains three other articulation types:
Economic – A pre-curated smaller selection of articulations which won't break you RAM bank.
Light – Stripped back articulations that reduce the stresses on your CPU.
Time Machine – These patches contain all of the short articulations fully loaded into RAM so that you are able to vary the length of the short notes via CC.
The Ostinatum section offers a programmable rhythm generator and arpeggiator capable of everything from chaotic textures to precisely defined rhythms.
Articulations include Sul Ponticello, Sul Tasto, Harmonics, various types of Vibrato and several extended techniques like transitional textures (Granular to normal), Spectral Scrubs, Granular Trem, Twitchy and a "unique Detuned Open String" setting for all sections.
Spitfire instruments, in general, have intense functionality and offer the user significant control. Referencing the manual is essential to take full advantage of what is available. This collection is perfect for creating contemporary textures and transitions as well as precisely defined ostinati.
Size (compressed): 26.5 GB
Price: $349
I've included the Symphobia 1 library even though it is not strictly a string collection and includes a full selection of orchestral samples, as well as mixed ensembles. But the string sounds by themselves are excellent and the interface is very user friendly and intuitive, and deserves mention here.
The String-specific instruments include Sul Tasto (by section and ensemble), Long and Short notes, Clusters, Effects, Chords and Octaves among others. There are several standard key-switchable articulations available and some great contemporary transitional effects with a speed control for finding the right duration. The "Wild String Textures" and "Cellos Basses Col Legno" settings are particularly satisfying.
The string section is solid and it's very easy to get a great sound quickly without much fussing around. The price is very reasonable when you consider the full range of orchestral instruments included along with the strings. Although I would love to see and hear a string-specific library from ProjectSAM, this collection is a great foundation for anyone looking to get into orchestral sounds in general.
https://www.youtube.com/watch?v=B1GBmB8hO4M
Size (compressed): 15.8 GB
Price: $549
This library focuses specifically on Violins from an expressive Solo player to a 16 player section. It excels at producing various flavors of vibrato including what the developer calls: Classical, Romantic, Baroque, Celtic, Lush and Western.
It features auto-divisi for chords, a "bow-stop" sound at the end staccato notes (used in Classical and Baroque styles), and intuitive playability that allows immediate control over vibrato. It literally senses and follows your playing style to achieve amazing realism in terms of bowing, dynamics and attacks.
The front end has an attractive wooden look with dials that indicate the current Vibrato, Dynamic level and Velocity. Popping the settings hood give you additional control over Key Switches, Envelopes, Attack Style and other features. There is even a way to control vibrato rate via repeated key presses which I have not seen before. The presets cover a range a ensemble textures, but where this instrument really shines is with the Solo Violin sound.
Size (compressed): 2 GB
Price: $299 (currently offered at an introductory price of $199)
NOVO Modern Strings goes beyond acoustic strings samples, offering a rich effect section, sophisticated sequencer and the ability to layer three channels of audio in its String and Loop Designer instruments.
Also included is a Traditional category of string instruments by section, and high and low ensembles. Articulations are key switchable and include long, legato, tremolo, spiccato, and pizzicato. There is a nicely designed section for adjusting Round Robin playback of staccato/spiccato and up/down bowing modes. As with any feature-rich instrument, it is essential to read the manual in order to discover all its potential.
This instrument enters the realm of sound design in a significant way and holds its own in Heavyocity's innovative collection of libraries. If you're looking to take your string writing into uncharted territory, NOVO Modern Strings is the perfect vessel.
Size (compressed): 38 GB
Price: $549
This new offering by Cinematique is capable of rich textured strings pads right out of the box. The Concept as described by the developers:
"The major principle of Vertigo Strings is to use 16 different sound sources which can be mixed, pitched and paned individually. In addition there are some master tools available for you to refine the individual melange of instruments. Finally we have added 15 inspiring Presets, giving you a powerful set of sounds to base your compositions upon."
While this library does not have the same level of control found in some of the others talked about here, it does offer the possibility of creating beautiful organic textures by combining traditional string sounds with non-orchestral sounds such as bowed guitar, tape effects sounds and vintage harmonium with a clean and intuitive interface and a small storage footprint.
Size (compressed): .5 GB
Price: $150
Morphestra 2 is a full-blown sound design engine that has significant string library content based on their association with Kirk Hunter Studios (see Kirk Hunter Solo Strings library) as well as other orchestral instruments.
This library operates differently from others mentioned here and it is most certainly skewed towards sound design as opposed to traditional orchestral scoring. The main interface uses a four core system of playback engines, each cable of playing two sound sources for a total eight possible layers. For a detailed discussion of this instrument see my full review here.
Size (compressed): 25 GB
Price: $499
Output is one of those companies that is putting out one astounding instrument after another. My review of Analog Strings in January (2018) can be accessed here.
This is a feature-rich instrument with a searchable library of over 500 presets. It's visually stunning main page offers quick access to four programmable parameters that can be used to quickly customize an existing preset and create a unique voice. The sounds possible are hybridizations of acoustic strings and analog electronics, yielding a contemporary sonic palette equally viable for music production and scoring for the moving image.
Size (compressed): 19.7 GB
Price: $199
No discussion of String Libraries would be complete without mentioning Hollywood Strings by EastWest. This iconic collection of samples recorded at renown EastWest Studio One has been heard in a multitude of television and film scores and is still widely used by many A-List composers. The company recently celebrated its 30 year anniversary.
It differs from other products discussed above in two significant ways. First, it is not a Kontakt-based instrument and requires its own plugin called Play to function. Secondly, EastWest has moved to a subscription cloud-based model. Admittedly, the subscription model is not something I'm very fond of. But what EastWest offers seems to be an extraordinary deal. Access to their entire collection for as little as $25/mo (or $15 for students/faculty). The price is higher for the Diamond edition which includes 24-bit samples and more mic positions. Boasting access to over 10,000 instruments this deal seems like a no-brainer.
The String Libraries, included in the EastWest ComposerCloud, which also has an enormous collection of orchestral libraries and other sounds, are fully comprehensive in terms of articulations, solo and ensemble instruments, key switching and MIDI controllability. If you are an orchestral composer you'll find everything you need for traditional string writing. These instruments do have a certain "sound" that's hard to describe and whether it's desirable is a matter of personal taste. But one benefit of the subscription model is the ability cancel without losing a significant investment. Definitely worth a try given the low financial risk.
Size (compressed): HUGE – about 1 TB for everything
(can be purchased on a Hard Drive for an additional cost or downloaded one collection at a time)
Price: $25/month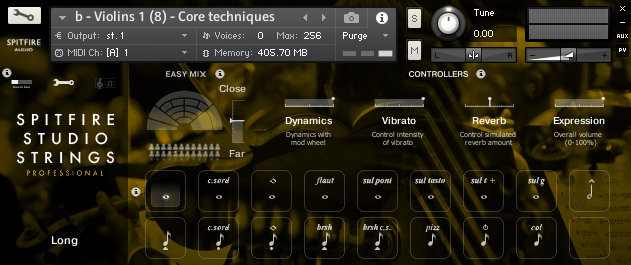 Described by the developers as a "pro end dry stage sample library," this is the perfect library for making realistic MIDI mockups with specific string complements. It's also great for building string arrangements from the ground up based on a specific context. Instruments include a variety of configurations based on standard string compliments:
Violins 1 (16)
Violins 1 (8)
Violins 1 (4A)
Violins 1 (4B)
Violins 2 (12)
Violins 2 (6)
Violins 2 (3A)
Violins 2 (3B)
Violas 1 (12)
Violas 1 (6)
Violas 1 (3A)
Violas 1 (3B)
Celli (12)
Celli (6)
Celli (3A)
Celli (3B)
Basses (4)
There is a full set of standard articulations, bowing and playing techniques as well as a few special effects. As with most Spitfire string libraries, this collection includes multiple mic positions, round robins, expression & dynamic control, onboard reverb and an ostinatum section for building rhythmic and melodic phrases with shorter articulations. I have a lot of string libraries but will often find myself reaching for this one when I want to build a pure string orchestra from scratch. It offers pristinely recorded samples with minimal coloration — great raw material for composing with strings.

This beauty by Orchestral Tools is the perfect choice when you need lush evolving string lines and beds. It has a full selection of orchestral instruments but the String Orchestra category is especially satisfying. The instruments are pre-orchestrated and patches sound immediately rich and full without a lot of fussing. There are some basic articulations and playing styles (e.g. sul tasto, sul pont., col legno, etc.) but also some usual textural effects like trem bursts, where a tremolo texture is periodically interrupted with the sudden emergence of individual voices that subsequently recede back into the group. The pendulum echo patch is another nice effect that creates overlapping dynamic swelling gestures. While this library doesn't have the hyper-control possible with other libraries, it sounds incredibly good for what it does offer, which might be perfect for the situation. And on top of that, you get all the other orchestral sounds as well.
Summation
The other offerings from these library developers go well beyond strings and I encourage you to investigate the wide range and rapidly expanding collections being released on a regular basis.
If you are a little confused by the terminology surrounding playing techniques for strings, watch for my upcoming article on string articulations and playing indications; what they mean and how they affect the sound.
=====
Check out my other articles, reviews and interviews
Follow me on Twitter / Instagram / YouTube