Review: Spitfire Chamber Strings
Article Content
A few months ago I wrote an article on some great string libraries you should consider for your string arsenal. Recently, I got my hands on the Spitfire Chamber Strings Kontakt-based instrument which should be added to that list.
The recently updated library is based on a chamber string ensemble of 16 players in a 4-3-3-3 configuration recorded at Air Studios in London. The samples sounds tight and well-defined and it is possible to achieve subtle and nuanced effects not possible with larger orchestral libraries.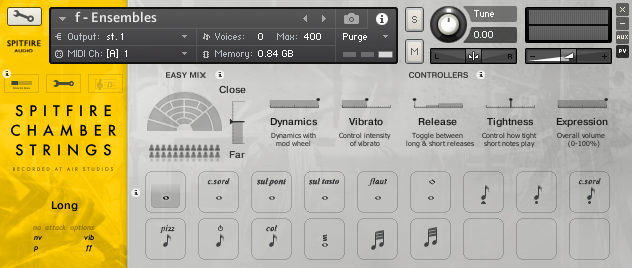 The library comes with "over 244 articulations, including 38 shorts, 53 longs, 19 FX and 45 extraordinary legato patches programmed by Andrew Blaney." Included are multiple round robins and dynamic layering standard with most string libraries.
The standard collection includes three mic positions: close, tree and ambient. The professional upgrade (Spitfire Chamber Strings Professional) adds 4 additional microphones: close Ribbon, close stereo pair, gallery, and outrigger for maximum flexibility.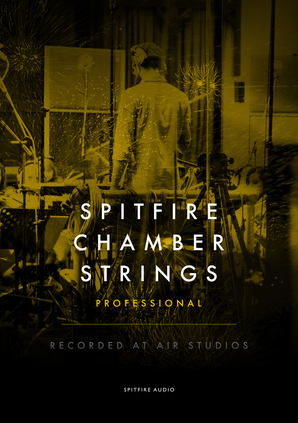 Standard Mic Positions and Types
(as described in the manual)
C – Close
A selection of valve mics placed for optimum focus close to the instruments. This mic control is great to add in for added definition and at times a bit of "rounding of sound", in isolation it can be a way of achieving a more intimate or pop-music style sound.
T – Tree
This refers to the "Decca" tree of three mics placed above the conductors podium. In the case of Sable; three priceless vintage Neumann M50s. These are placed to give the ultimate sound of the band, the hall and are the default mic position that loads in with each patch.
A – Ambient
A set of condenser mics placed high up in the gallery away from the band. This mic position gives a massive amount of stereo spread and room sound over the band. Great mixed in with the other mics but also ideal fed to your Ls & Rs speaker sends for true surround information
Professional Version – Extended Mic Positions

 and Types
O – Outriggers
A set of vintage mics placed wide apart to the left and right of the tree. These give a similar balance of room and band but with a broader stereo spread. The effect of this mic is somewhere between the tree and ambient mics.
ST – Stereo Mic
These are totally different mics in a totally different position to the tree (closer to ground level) and have a more direct and immediate sound than the tree.
G – Gallery
Three mics at the very furthest point from the band way up in the gallery. A true representation of Air-Studios' amazing ambience.
CR – Close ribbons

Placed next to the standard close mics but using a rarefied selection of vintage ribbon mics to add a warm and rounded tone.
Samples can be purged if not being used to save RAM and CPU.
Articulations and Extended Techniques
The myriad articulations (244) include standard legato, long, short, trill and tremolo techniques along with several muted versions (con sord.) which sound particularly sweet. Trills include Major 2nd, Minor 2nd, Minor 3rd and Perfect 4ths. Both measured and unmeasured tremolos are available as well. It is nice they chose to include Sul G and Sul C for violin and viola/cello respectively. But the FX section under extended techniques is what stands out for me. There are several usable techniques that are perfect for creating ethereal textures and subtle timbral shifts. Notable is the "Tense Long" patch, which creates evolving colors that unfold slowly and is particularly satisfying.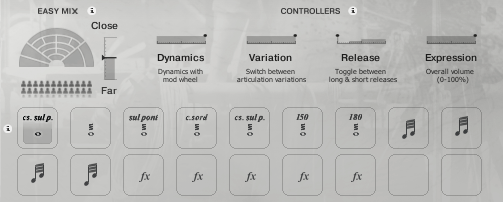 The Ostinatum
The Ostinatum section allows for programmable arpeggiation. Although at first glance it seems a little awkward to use, it quickly becomes clear and its functionality and usefulness apparent.

For those familiar with other Spitfire libraries, the interface, in general, will seem familiar. I appreciate this visual consistency across instruments, as opposed to creating arbitrary interface changes and gratuitous graphics. That said, being as visually challenged as I am, I do wish things were slightly larger.
Conclusion
This library presents a nice contrast to other full scale orchestral string collections. It allows for more subtle yet defined string textures and the legato patches sound smooth and natural as is, without the need for over-processing or excessive MIDI editing. It's not cheap at $699 or $999 for the professional version, but if you have the budget you will not be disappointed.
---
Check out my other articles, reviews, interviews and my video tutorial series, Synthesis 101 available exclusively on The Pro Audio Files.
Twitter: @PMantione
Instagram: philipmantione