Review: 90's Retro Trumpets by Cinesamples
Recently, I included the awesome CineBrass Complete Bundle in my article: 10 Great Brass Libraries.
What's not included in that piece and perhaps should have been, is their 90's Retro Trumpets library. This instrument has a slew of well-conceived user controls and quality samples that warrant serious consideration.
The interface, which I would ordinarily call clunky-looking, completely fits with the underlying retro concept of the library. And don't be deceived by the old-school graphics — the controls are responsive and the sounds are sweet!
There are three main screens:
Performance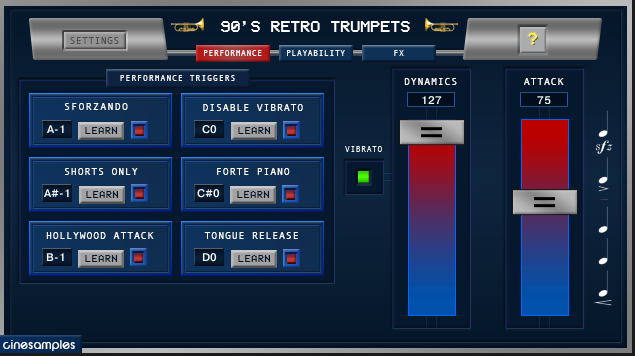 This window (seen above) gives you direct access to velocity sensitive articulations and key mapping. The question mark button toggles help labels to ease the learning curve.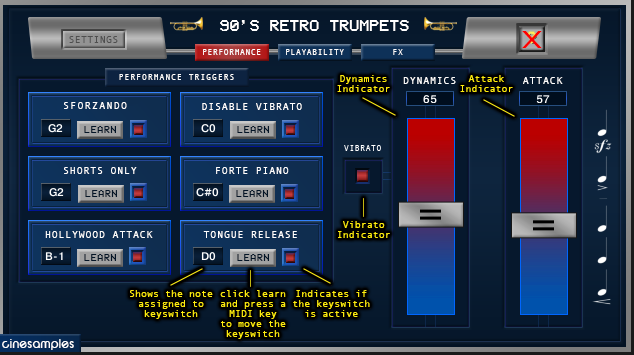 Playability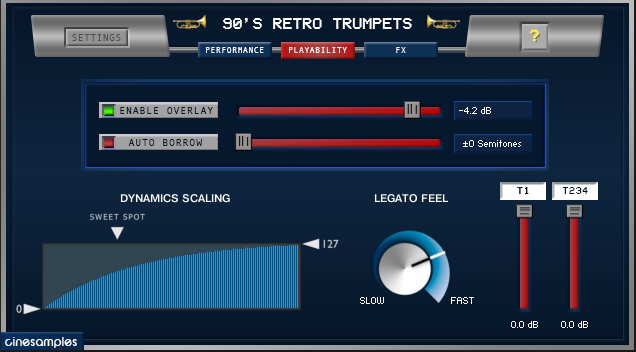 This section has a unique feature for dynamic scaling where you can adjust the sweet spot of the dynamic which is linked to the Modwheel by default. There is also a control for legato feel (slow to fast).
Also found here are:
Auto Borrow – used to make make trills sound more natural.  "During times of low note variation, this function borrows notes from surrounding pitches. Dynamics Scaling: the sweet spot can be moved to accommodate a variety of keyboards and playing styles".
T1 and T234 buttons  – will mute the 1st trumpet and trumpets 2, 3, and 4 respectively.
FX Window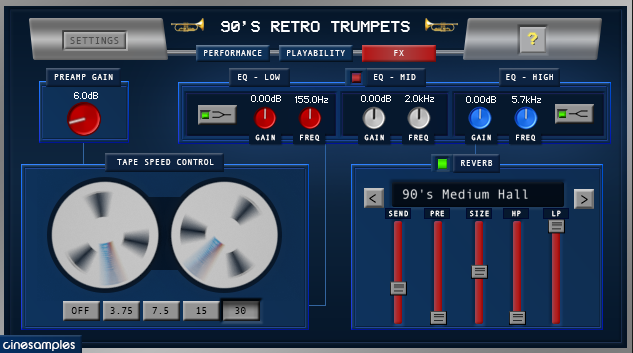 From the manual: "The FX tab contains three basic effects: tape saturation, EQ and reverb. The amount of tape saturation can be adjusted by the preamp gain. We recommend levels at or below 6 dB to prevent unwanted distortion. The reverb contains a few great presets that we sampled from the original Lexicon 480 hardware.  The default setting is the one most commonly used for film score recording from the early 90's. These are user-adjustable".
Retro Sound
So how is the retro sound achieved? Below are some steps taken as described by Cinesamples:
"We rented the three exact modified Neumann M50 microphones used as the Decca Tree on the original sessions. They feature a unique hi-end crispness and transparency that is instantly recognizable. These microphones have mostly been retired since the early 2000's. We matched every other microphone on the recall sheet and set them up in 90's fashion".

"In the control room we patched in the exact preamp settings on the exact same preamps that still are mounted on the studio wall to this day. Most of these are now retired and replaced by cleaner and less colored signal paths by companies that weren't created yet at the time".

"The favored Lexicon 480 hardware reverb unit was taken out of retirement and the exact reverb patch was dialed up. This was "THE" patch of the 90's for most of these recordings — it is so 90's sounding and is also instantly recognizable".

"One of the sonically most interesting parts of the recipe is the use of the Avalon 2055 — a delicate Class A discrete Stereo Hardware EQ that colors the high-end in the most unique and hi-fi way imaginable. Also retired in favor of other mastering EQs, this box is a gem. When used correctly, it gives the most glossy sheen imaginable on the overtones, and when used incorrectly gives the harshest of harshnesses".
Conclusions
Instrument settings that sound particularly good to my ears are the Sforzando and Staccato, but literally, all of them are great and useable sounds. I commend Cinesamples for their commitment to the concept and their use of actual vintage gear and techniques in recording this library. If you need that 90's sound, there is nowhere else to look.
If your memory of the 90's is a little blurry, the sound of 90's Retro Trumpets will bring it all back, for better or worse.
Price $179
—–
Check out my other articles, reviews, interviews and my video tutorial series, Synthesis 101 available exclusively on The Pro Audio Files.
Follow me on:
Twitter: @PMantione

Instagram: philipmantione
Missing our best stuff?
Sign up to be the first to learn about articles, videos, courses, freebies, giveaways, discounts & more. You'll also get a FREE gift today 🙌
3 FREE Max for Live Devices
Download three free Max for Live Devices from Phil Mantione.