Review: PORTAL – Granular FX Plugin by OUTPUT
Article Content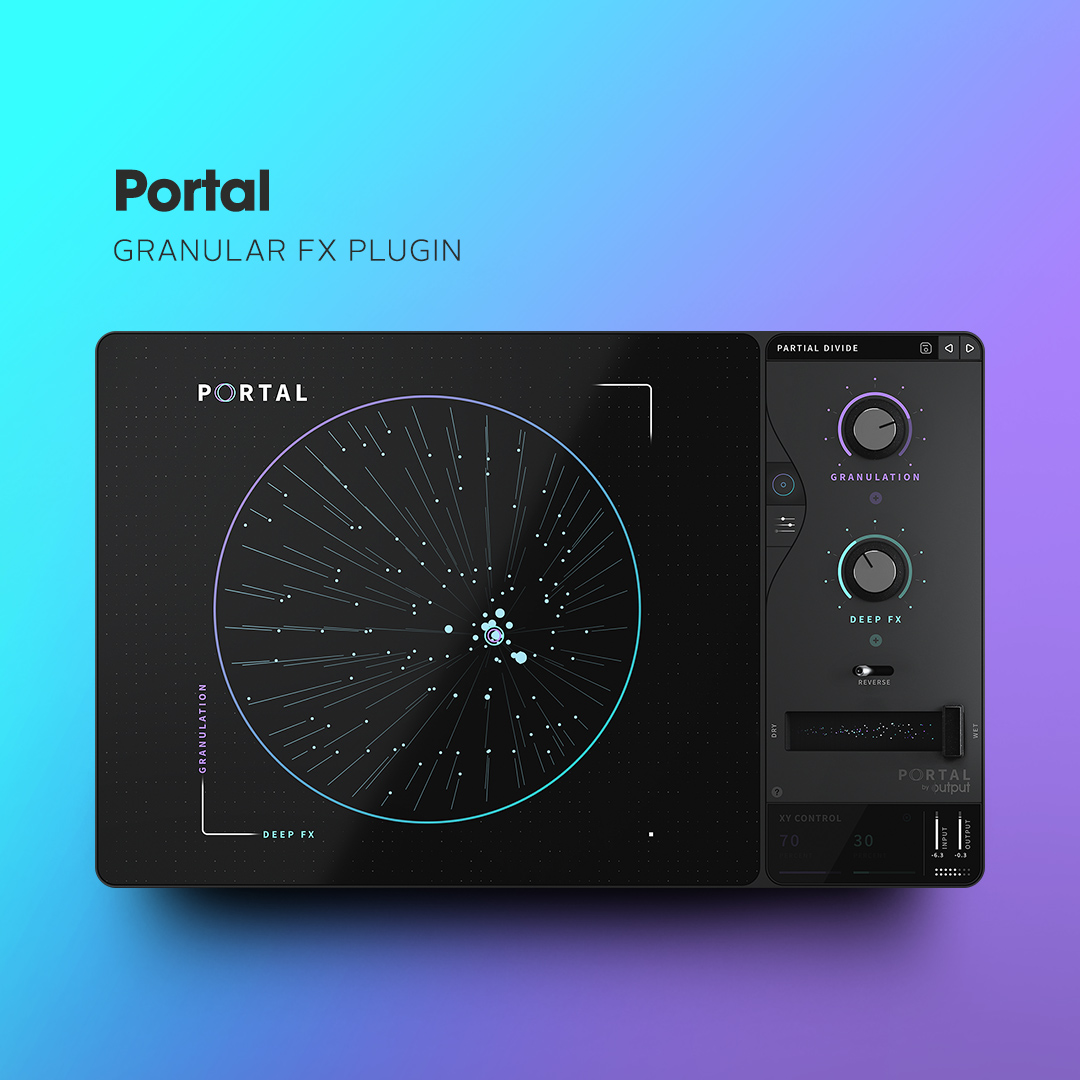 Over the last few years, I've written about several instruments and effects by the innovative Los Angeles-based company – Output. Selected articles that feature some of their offerings include:
Their newest release is called PORTAL and is billed as a granular effects processing plugin. For some background on granular synthesis in general, check out my article: Introduction to Granular Synthesis.
Using granularization as an audio effect involves audio being loaded into the internal memory of the device where it can be processed in a variety of ways. The audio is cut up into slices called grains which can be then be individually pitched, reordered, scale quantized, panned, filtered, stretched, reversed, etc.
The size of each grain is user-defined and can be as short as a millisecond or less. PORTAL allows grain sizes from .50 ms to one second or synced to a tempo from 64th note triplets to one bar. Density is another important control that determines the rate at which grains are generated from the audio buffer.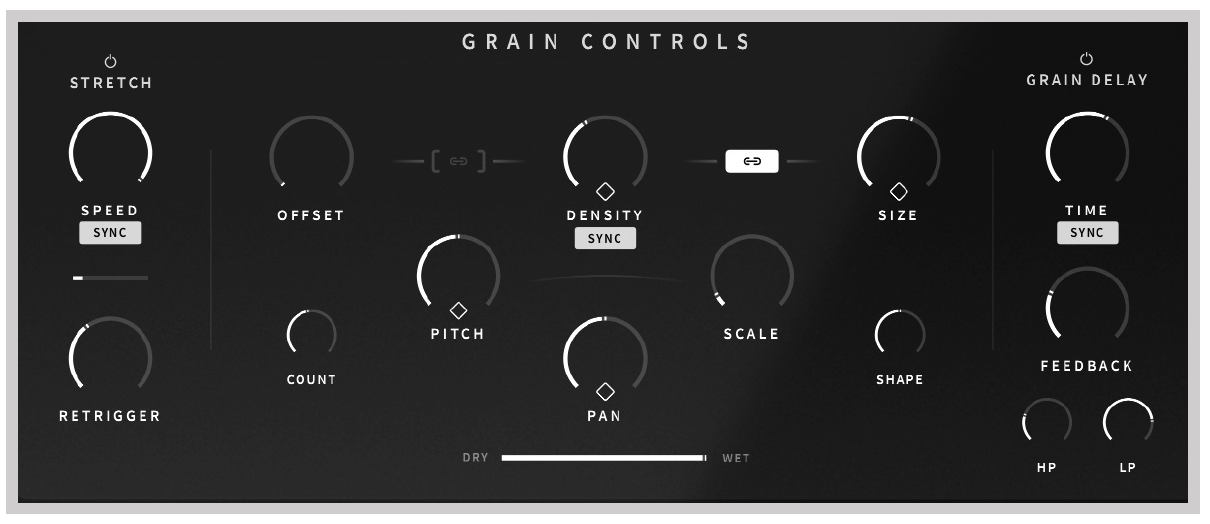 I was immediately impressed with PORTAL within the first minute of operation – which is always a good sign. My past experiments with granular effects have yielded satisfying sonic particle clouds, glitchy crunchiness, dense pads and ethereal swells.
The nature of this sort of processing lends itself to the creation of sounds that are often far removed from the original input. This is not a bad thing, but simply a means to produce new sounds by abstracting content from some audio. But anyone that has used this sort of processing will recognize that granular sound when they hear it.
If there has been a downside to granular processing, it lies in this identifiable sonic character which can undermine the transparency of process and divert the attention of the experienced listener away from the sound itself.
The folks at Output seemed to understand this concern since PORTAL is designed to substantially retain the character of the original sound and is less concerned with abstract fragmentation divorced from the musical intent of the input. That said, there are myriad controls with which to mangle to your heart's content if you are hell-bent on sonic destruction.
Main Display
The GUI of PORTAL is stunning, responsive and consistent with all of Output's devices and instruments. The company's emphasis on meticulous and gorgeous design make using their devices an absolute pleasure. Anyone that says the way a plugin looks is irrelevant is lying. Given the choice between a clunky Windows-style interface and the elegance of an Output device that sounds as good or better is no contest.
Now that CPU load is far less of an issue than it once was, users like myself expect plugins to be both visually and aurally appealing. There is a psychological aspect of good design that makes isomorphic mapping of parameters and controls more intuitive, resulting in a device that inspires creativity and is simply more fun to use. Output has nailed this idea time and time again, and PORTAL is no exception.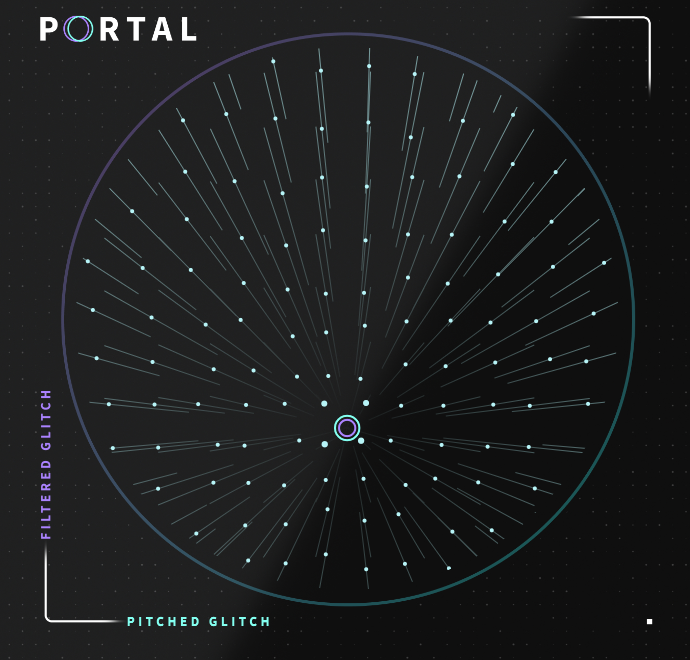 The Main page features an animated XY pad that controls the relation between two macro controls that can be linked to a variety of parameters found on the controls by simply dragging and dropping the plus symbol onto a control.
Modulation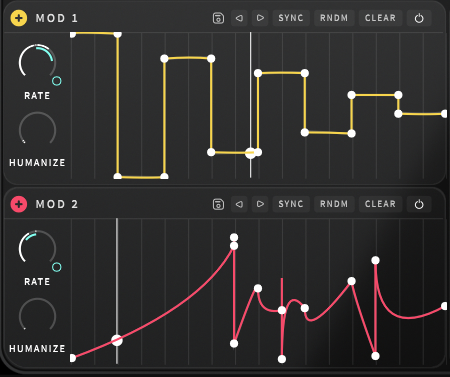 There are two modulation envelopes which can be connected to parameters using the same drag and drop method described above. Envelope shapes can be chosen from a catalog of presets categorized as simple or complex, randomly generated or user created by simply clicking and dragging in the display.
Each has a unique humanizing function which adds a range of random variation around each node – a great way add subtle or extreme variation to an existing shape. Speed can be synced to the tempo (1/64t to 8 Bars) or set freely (.0 – 30 Hz).
Effects
Onboard effects include Multimode Filter, Bit Reducer, Chorus, Distortion, Phaser, Reverb, Delay with HP/LP filters and Compression at the end of the signal chain.

Grain Controls
Grain Controls include several common parameters discussed earlier such as Density, Size, Pitch, Stretch controls, Delay controls, Pan, etc. Some controls such as Density, Pan and Size include an additional parameter indicated by the diamond shape beneath the dial which can be used to add a degree of randomness to the value.
As mentioned earlier, most controls can be linked to a modulating envelope or the XY pad. The Grain Delay Section adds a delay to the incoming audio and feeds the output back into the input to be granulated based on the Feedback amount.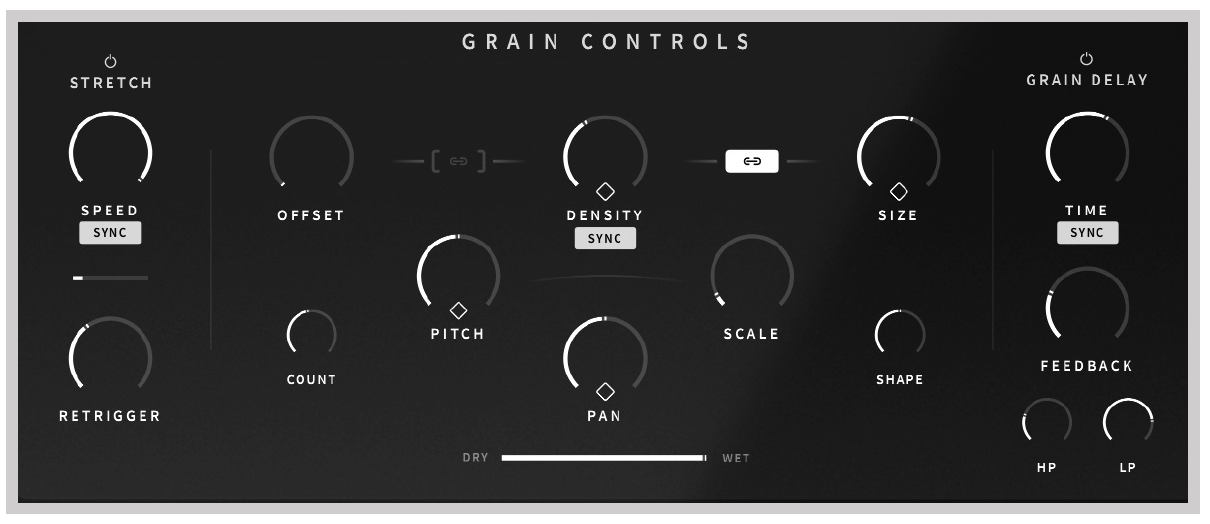 The Sound
I tried PORTAL with a variety of sources and experimented with the provided presets to get a feel for the possibilities. Loading a drum loop to start with, I toyed with some of the settings from the Rhythmic category.
In some cases, the loop seems to be magically transformed into a different, yet related loop. Transients could be shaped in unusual ways while retaining the timbral character of the original. Adjusting the main wet/dry control turned the effect into a unique sort of delay that would have been hard, if not impossible, to duplicate with a traditional delay.
Trying some of the other preset categories with the same drum loop got even more interesting and seemed most effective when using a mix of Wet and Dry on the output. It was sort of like driving a synth using a sidechain input from a rhythm track, but with the result being much more sonically related to the input signal.
With sustained sounds and pads, I was able to add synced rhythmic elements, generated scale and chord quantized melodies and glitchy textures that were true to the musical context. Many presets proved to be good starting points for experimentation. The results were consistently surprising and fresh, and with judicious use of wet/dry controls, it was possible to dial in tight and lucid sonic complexes that enhanced the input in fascinating and engaging ways.
Conclusion
Wet/Dry sliders for all processes, together with modulation depth controls, humanizing functions and the live performance capability of its distinctive XY Macro display pad, make PORTAL a playable effect that can straddle the line between a tight deterministic response and the lure of serendipity. With an extensive collection of over 250 exquisitely designed presets, PORTAL is yet another irresistible plugin from Output.
Price $149 USD
---
Check out my other articles, reviews and interviews
Follow me on Twitter / Instagram / YouTube