12 Sampling Instruments That Morph and Layer Multiple Sources
Article Content
Array
(
    [0] => <p>The term <em>Vector Synthesis</em> refers to a synthesis technique which creates, "&#8230;movement in a sound by providing dynamic cross-fading between (usually) four sound sources. The four sound sources are conceptually arranged as the extreme points of X and Y axes and typically labeled A, B, C and D. A given mix of the four sound sources can be represented by a single point in this &#8216;vector plane' (<a href="https://en.wikipedia.org/wiki/Vector_synthesis" target="_blank" rel="noopener">source)</a>. In Synthesizers like the <a href="https://en.wikipedia.org/wiki/Sequential_Circuits_Prophet-5" target="_blank" rel="noopener">Prophet by Sequential Circuits</a>, the sources are digital wavetable oscillators.
    [1] => 
<p>Many software <a href="https://theproaudiofiles.com/fundamentals-sampling-and-instruments-libraries/" target="_blank" rel="noopener">sampling instruments and sampling libraries</a> have taken a similar approach by allowing for up to eight sources or samples to be played simultaneously on potentially every key. There is usually some sort of mix level control via an X-Y morph pad or simple sliders for each source. In contrast to early vector synthesizers that used simple oscillators or wavetables, the samples being layered can be quite long in duration, having drastically different amplitude and spectral content variation. This can result in lush evolving textures that unfold beautifully over time and all from playing a single note. Or, the samples may be much shorter and capable of producing rich transient sounds that dissolve in unusual ways.
    [2] => 
<p>What follows are some of my favorite Kontakt-based sampling instruments that use this method as the basis for producing sound. Some of these allow the user to load in their own sounds, in addition to coming with enormous onboard libraries.
    [3] => 
<h2><a href="https://cinematique-instruments.com/pages_instr/page_melt.php" target="_blank" rel="noopener">Melt by Cinematique Instruments</a></h2>
<p><strong>Melt</strong> is a stunning instrument that uses an X-Y pad to morph between four possible sources. Sounds are available via a drop-down menu that displays five possible categories: Pure, Floating, Organic, Field Record and Granular. Loading a new sound is fast and easy.
    [4] => 
<p><img decoding="async" class="alignnone wp-image-41093 size-full" src="https://theproaudiofiles.com/wp-content/uploads/2018/07/Screen-Shot-2018-07-22-at-4.37.49-PM.png" alt="12 Sampling Instruments That Morph and Layer Multiple Sources" width="630" height="534" srcset="https://theproaudiofiles.com/wp-content/uploads/2018/07/Screen-Shot-2018-07-22-at-4.37.49-PM.png 630w, https://theproaudiofiles.com/wp-content/uploads/2018/07/Screen-Shot-2018-07-22-at-4.37.49-PM-200x170.png 200w, https://theproaudiofiles.com/wp-content/uploads/2018/07/Screen-Shot-2018-07-22-at-4.37.49-PM-300x254.png 300w, https://theproaudiofiles.com/wp-content/uploads/2018/07/Screen-Shot-2018-07-22-at-4.37.49-PM-400x339.png 400w" sizes="(max-width: 630px) 100vw, 630px" />
    [5] => 
<p>You can also adjust something they call Ratio: "By moving the cursor inside this X-Y pad, MELT calculates its main sound out of this cursor position by the ratios of all four sounds and their individual effect parameters&#8221;.
    [6] => 
<p><img decoding="async" loading="lazy" class="alignnone wp-image-41094 size-full" src="https://theproaudiofiles.com/wp-content/uploads/2018/07/Screen-Shot-2018-07-22-at-4.38.01-PM.png" alt="12 Sampling Instruments That Morph and Layer Multiple Sources" width="622" height="202" srcset="https://theproaudiofiles.com/wp-content/uploads/2018/07/Screen-Shot-2018-07-22-at-4.38.01-PM.png 622w, https://theproaudiofiles.com/wp-content/uploads/2018/07/Screen-Shot-2018-07-22-at-4.38.01-PM-200x65.png 200w, https://theproaudiofiles.com/wp-content/uploads/2018/07/Screen-Shot-2018-07-22-at-4.38.01-PM-300x97.png 300w, https://theproaudiofiles.com/wp-content/uploads/2018/07/Screen-Shot-2018-07-22-at-4.38.01-PM-400x130.png 400w" sizes="(max-width: 622px) 100vw, 622px" />
    [7] => 
<p>You can record your X-Y movements quite easily and those movements will become part of the sound every time you hit a new key.
    [8] => 
<p><strong>Feature Set:</strong>
    [9] => 
<ul>
<li>Blending between four sound layers via X-Y pad</li>
<li>Creation of complex sound structures in an extremely simple way</li>
<li>Nine sound-shaping effects plus eight-step sequencer per instrument</li>
<li>Freeze Mode for global application of all nine sound shaping effects</li>
<li>Ratio table per instrument to adjust the cursor relation</li>
<li>64 inspiring sound sources: 21 ambiances &amp; textures, 16 field recordings, 8 organs and electric pianos, 5 pure synths, 10 organic sounds like guitars and 4 string sounds</li>
<li>Over 120 presets: Basic Sounds, Calm and Quiet, Synthetic, Organic Pieces, Ambiances, Strings, Complex Melts, Ambients, Wide and Open, Shorts, Rhythmic, Experimental</li>
</ul>
<div class="arve wp-block-nextgenthemes-arve arve-hover-effect-none" data-mode="lazyload" data-oembed="1" data-provider="youtube" id="arve-youtube-6yayalkxfbq6421d01102288163510162" data-reset-after-played data-fullscreen="disabled" data-volume="100">
<span class="arve-inner"><br />
<span class="arve-embed arve-embed--has-aspect-ratio" style="aspect-ratio: 610 / 343"><br />
<span class="arve-ar" style="padding-top:56.229508%"></span><noscript class="arve-noscript"><iframe allow="accelerometer; autoplay; clipboard-write; encrypted-media; gyroscope; picture-in-picture" allowfullscreen class="arve-iframe fitvidsignore" data-arve="arve-youtube-6yayalkxfbq6421d01102288163510162" data-src-no-ap="https://www.youtube.com/embed/6yayALkxfbQ?feature=oembed&amp;iv_load_policy=3&amp;modestbranding=1&amp;rel=0&amp;autohide=1&amp;playsinline=0&amp;autoplay=0&amp;enablejsapi=1" frameborder="0" height="0" sandbox="allow-scripts allow-same-origin allow-presentation" scrolling="no" src="https://www.youtube.com/embed/6yayALkxfbQ?feature=oembed&#038;iv_load_policy=3&#038;modestbranding=1&#038;rel=0&#038;autohide=1&#038;playsinline=0&#038;autoplay=1&#038;enablejsapi=1" title="Walkthrough | Melt"></iframe><br />
</noscript><img decoding="async" alt="Walkthrough | Melt" src="https://i.ytimg.com/vi/6yayALkxfbQ/hqdefault.jpg" srcset="https://i.ytimg.com/vi/6yayALkxfbQ/mqdefault.jpg 320w, https://i.ytimg.com/vi/6yayALkxfbQ/hqdefault.jpg 480w, https://i.ytimg.com/vi/6yayALkxfbQ/sddefault.jpg 640w, https://i.ytimg.com/vi/6yayALkxfbQ/maxresdefault.jpg 1280w" class="arve-thumbnail" loading="lazy" width="480" height="360">
    [10] => 
<h5 class="arve-title">
Walkthrough | Melt<br />
</h5>
<p><button role="button" type="button" class="arve-play-btn arve-play-btn--youtube" data-target="#arve-youtube-6yayalkxfbq6421d01102288163510162" aria-label="Play video"><br />
<svg class="arve-play-svg arve-play-svg--youtube" focusable="false" aria-hidden="true" width="68" viewBox="0 0 68 48" xmlns="http://www.w3.org/2000/svg">
	<path fill="#1f1f1e" fill-opacity="0.81" d="m .66,37.62 c 0,0 .66,4.70 2.70,6.77 2.58,2.71 5.98,2.63 7.49,2.91 5.43,.52 23.10,.68 23.12,.68 .00,-1.3e-5 14.29,-0.02 23.81,-0.71 1.32,-0.15 4.22,-0.17 6.81,-2.89 2.03,-2.07 2.70,-6.77 2.70,-6.77 0,0 .67,-5.52 .67,-11.04 l 0,-5.17 c 0,-5.52 -0.67,-11.04 -0.67,-11.04 0,0 -0.66,-4.70 -2.70,-6.77 C 62.03,.86 59.13,.84 57.80,.69 48.28,0 34.00,0 34.00,0 33.97,0 19.69,0 10.18,.69 8.85,.84 5.95,.86 3.36,3.58 1.32,5.65 .66,10.35 .66,10.35 c 0,0 -0.55,4.50 -0.66,9.45 l 0,8.36 c .10,4.94 .66,9.45 .66,9.45 z"></path>
	<path fill="#fff" d="m 26.96,13.67 18.37,9.62 -18.37,9.55 -0.00,-19.17 z" ></path>
	<path fill="#ccc" d="M 45.02,23.46 45.32,23.28 26.96,13.67 43.32,24.34 45.02,23.46 z" ></path>
</svg>
    [11] => 
<p></button>
    [12] => 
<p></span>
    [13] => 
<p></span><br />
<script type="application/ld+json">{"@context":"http:\/\/schema.org\/","@id":"https:\/\/theproaudiofiles.com\/sampling-instruments-that-morph-and-layer-multiple-sources\/#arve-youtube-6yayalkxfbq6421d01102288163510162","type":"VideoObject","embedURL":"https:\/\/www.youtube.com\/embed\/6yayALkxfbQ?feature=oembed&iv_load_policy=3&modestbranding=1&rel=0&autohide=1&playsinline=0&autoplay=1&enablejsapi=1","name":"Walkthrough | Melt","thumbnailUrl":"https:\/\/i.ytimg.com\/vi\/6yayALkxfbQ\/hqdefault.jpg","uploadDate":"2018-07-28T08:22:46+00:00","author":"CINEMATIQUE INSTRUMENTS","description":"The term Vector Synthesis refers to a synthesis technique which creates, \u201c...movement in a sound by providing dynamic cross-fading between (usually) four sound sources. The four sound sources are conceptually arranged as the extreme points of X and Y axes and typically labeled A, B, C and D. A given"}</script>
</div>
<h2><a href="https://www.timespace.com/products/gothic-instruments-dronar-hybrid-module" target="_blank" rel="noopener">Dronar by Gothic Instruments</a></h2>
<p><strong>Dronar</strong> is a collection of modules that work in similar ways but with different content. There are four main source modules called FX, HI, MID, and LO which describe the nature of the source category in terms of spectrum and/or texture.
    [14] => 
<p><img decoding="async" loading="lazy" class="alignnone wp-image-41096 size-full" src="https://theproaudiofiles.com/wp-content/uploads/2018/07/Screen-Shot-2018-07-22-at-4.41.27-PM.png" alt="12 Sampling Instruments That Morph and Layer Multiple Sources" width="626" height="495" srcset="https://theproaudiofiles.com/wp-content/uploads/2018/07/Screen-Shot-2018-07-22-at-4.41.27-PM.png 626w, https://theproaudiofiles.com/wp-content/uploads/2018/07/Screen-Shot-2018-07-22-at-4.41.27-PM-200x158.png 200w, https://theproaudiofiles.com/wp-content/uploads/2018/07/Screen-Shot-2018-07-22-at-4.41.27-PM-300x237.png 300w, https://theproaudiofiles.com/wp-content/uploads/2018/07/Screen-Shot-2018-07-22-at-4.41.27-PM-400x316.png 400w" sizes="(max-width: 626px) 100vw, 626px" />
    [15] => 
<p>Clicking the Expert tab at the bottom of the GUI reveals that each of the four categories can actually have 2 sources blended together, so that up to eight sources may be used at any given time.
    [16] => 
<p><img decoding="async" loading="lazy" class="alignnone wp-image-41097 size-full" src="https://theproaudiofiles.com/wp-content/uploads/2018/07/Screen-Shot-2018-07-22-at-4.41.47-PM.png" alt="12 Sampling Instruments That Morph and Layer Multiple Sources" width="631" height="497" srcset="https://theproaudiofiles.com/wp-content/uploads/2018/07/Screen-Shot-2018-07-22-at-4.41.47-PM.png 631w, https://theproaudiofiles.com/wp-content/uploads/2018/07/Screen-Shot-2018-07-22-at-4.41.47-PM-200x158.png 200w, https://theproaudiofiles.com/wp-content/uploads/2018/07/Screen-Shot-2018-07-22-at-4.41.47-PM-300x236.png 300w, https://theproaudiofiles.com/wp-content/uploads/2018/07/Screen-Shot-2018-07-22-at-4.41.47-PM-400x315.png 400w" sizes="(max-width: 631px) 100vw, 631px" />
    [17] => 
<p>For more on Dronar, check out my review <a href="https://theproaudiofiles.com/review-dronar-gothic-instruments/" target="_blank" rel="noopener">here</a>.
    [18] => 
<div class="arve wp-block-nextgenthemes-arve arve-hover-effect-none" data-mode="lazyload" data-oembed="1" data-provider="youtube" id="arve-youtube-r73jiurbrfs6421d01102d59829389162" data-reset-after-played data-fullscreen="disabled" data-volume="100">
<span class="arve-inner"><br />
<span class="arve-embed arve-embed--has-aspect-ratio" style="aspect-ratio: 610 / 343"><br />
<span class="arve-ar" style="padding-top:56.229508%"></span><noscript class="arve-noscript"><iframe allow="accelerometer; autoplay; clipboard-write; encrypted-media; gyroscope; picture-in-picture" allowfullscreen class="arve-iframe fitvidsignore" data-arve="arve-youtube-r73jiurbrfs6421d01102d59829389162" data-src-no-ap="https://www.youtube.com/embed/R73JiURBRfs?start=2&amp;feature=oembed&amp;iv_load_policy=3&amp;modestbranding=1&amp;rel=0&amp;autohide=1&amp;playsinline=0&amp;autoplay=0&amp;enablejsapi=1" frameborder="0" height="0" sandbox="allow-scripts allow-same-origin allow-presentation" scrolling="no" src="https://www.youtube.com/embed/R73JiURBRfs?start=2&#038;feature=oembed&#038;iv_load_policy=3&#038;modestbranding=1&#038;rel=0&#038;autohide=1&#038;playsinline=0&#038;autoplay=1&#038;enablejsapi=1" title="Gothic Instruments Complete Bundle Trailer"></iframe><br />
</noscript><img decoding="async" alt="Gothic Instruments Complete Bundle Trailer" src="https://i.ytimg.com/vi/R73JiURBRfs/hqdefault.jpg" srcset="https://i.ytimg.com/vi/R73JiURBRfs/mqdefault.jpg 320w, https://i.ytimg.com/vi/R73JiURBRfs/hqdefault.jpg 480w, https://i.ytimg.com/vi/R73JiURBRfs/sddefault.jpg 640w, https://i.ytimg.com/vi/R73JiURBRfs/maxresdefault.jpg 1280w" class="arve-thumbnail" loading="lazy" width="480" height="360">
    [19] => 
<h5 class="arve-title">
Gothic Instruments Complete Bundle Trailer<br />
</h5>
<p><button role="button" type="button" class="arve-play-btn arve-play-btn--youtube" data-target="#arve-youtube-r73jiurbrfs6421d01102d59829389162" aria-label="Play video"><br />
<svg class="arve-play-svg arve-play-svg--youtube" focusable="false" aria-hidden="true" width="68" viewBox="0 0 68 48" xmlns="http://www.w3.org/2000/svg">
	<path fill="#1f1f1e" fill-opacity="0.81" d="m .66,37.62 c 0,0 .66,4.70 2.70,6.77 2.58,2.71 5.98,2.63 7.49,2.91 5.43,.52 23.10,.68 23.12,.68 .00,-1.3e-5 14.29,-0.02 23.81,-0.71 1.32,-0.15 4.22,-0.17 6.81,-2.89 2.03,-2.07 2.70,-6.77 2.70,-6.77 0,0 .67,-5.52 .67,-11.04 l 0,-5.17 c 0,-5.52 -0.67,-11.04 -0.67,-11.04 0,0 -0.66,-4.70 -2.70,-6.77 C 62.03,.86 59.13,.84 57.80,.69 48.28,0 34.00,0 34.00,0 33.97,0 19.69,0 10.18,.69 8.85,.84 5.95,.86 3.36,3.58 1.32,5.65 .66,10.35 .66,10.35 c 0,0 -0.55,4.50 -0.66,9.45 l 0,8.36 c .10,4.94 .66,9.45 .66,9.45 z"></path>
	<path fill="#fff" d="m 26.96,13.67 18.37,9.62 -18.37,9.55 -0.00,-19.17 z" ></path>
	<path fill="#ccc" d="M 45.02,23.46 45.32,23.28 26.96,13.67 43.32,24.34 45.02,23.46 z" ></path>
</svg>
    [20] => 
<p></button>
    [21] => 
<p></span>
    [22] => 
<p></span><br />
<script type="application/ld+json">{"@context":"http:\/\/schema.org\/","@id":"https:\/\/theproaudiofiles.com\/sampling-instruments-that-morph-and-layer-multiple-sources\/#arve-youtube-r73jiurbrfs6421d01102d59829389162","type":"VideoObject","embedURL":"https:\/\/www.youtube.com\/embed\/R73JiURBRfs?start=2&feature=oembed&iv_load_policy=3&modestbranding=1&rel=0&autohide=1&playsinline=0&autoplay=1&enablejsapi=1","name":"Gothic Instruments Complete Bundle Trailer","thumbnailUrl":"https:\/\/i.ytimg.com\/vi\/R73JiURBRfs\/hqdefault.jpg","uploadDate":"2018-07-28T08:22:46+00:00","author":"Time+Space","description":"The term Vector Synthesis refers to a synthesis technique which creates, \u201c...movement in a sound by providing dynamic cross-fading between (usually) four sound sources. The four sound sources are conceptually arranged as the extreme points of X and Y axes and typically labeled A, B, C and D. A given"}</script>
</div>
<h2><a href="https://www.timespace.com/products/gothic-instruments-sculptor-live-impacts-module" target="_blank" rel="noopener">Sculptor by Gothic Instruments</a></h2>
<p><strong>Sculptor</strong> is another great collection of instruments that are more geared towards sound effects: impacts, risers and drops.
    [23] => 
<p><img decoding="async" loading="lazy" class="alignnone wp-image-41098 size-full" src="https://theproaudiofiles.com/wp-content/uploads/2018/07/Screen-Shot-2018-07-22-at-4.54.41-PM.png" alt="12 Sampling Instruments That Morph and Layer Multiple Sources" width="672" height="499" srcset="https://theproaudiofiles.com/wp-content/uploads/2018/07/Screen-Shot-2018-07-22-at-4.54.41-PM.png 672w, https://theproaudiofiles.com/wp-content/uploads/2018/07/Screen-Shot-2018-07-22-at-4.54.41-PM-200x149.png 200w, https://theproaudiofiles.com/wp-content/uploads/2018/07/Screen-Shot-2018-07-22-at-4.54.41-PM-300x223.png 300w, https://theproaudiofiles.com/wp-content/uploads/2018/07/Screen-Shot-2018-07-22-at-4.54.41-PM-400x297.png 400w" sizes="(max-width: 672px) 100vw, 672px" /><br />
<img decoding="async" loading="lazy" class="alignnone wp-image-41099 size-full" src="https://theproaudiofiles.com/wp-content/uploads/2018/07/Screen-Shot-2018-07-22-at-4.55.10-PM.png" alt="12 Sampling Instruments That Morph and Layer Multiple Sources" width="634" height="490" srcset="https://theproaudiofiles.com/wp-content/uploads/2018/07/Screen-Shot-2018-07-22-at-4.55.10-PM.png 634w, https://theproaudiofiles.com/wp-content/uploads/2018/07/Screen-Shot-2018-07-22-at-4.55.10-PM-200x155.png 200w, https://theproaudiofiles.com/wp-content/uploads/2018/07/Screen-Shot-2018-07-22-at-4.55.10-PM-300x232.png 300w, https://theproaudiofiles.com/wp-content/uploads/2018/07/Screen-Shot-2018-07-22-at-4.55.10-PM-400x309.png 400w" sizes="(max-width: 634px) 100vw, 634px" /><br />
<img decoding="async" loading="lazy" class="alignnone wp-image-41100 size-full" src="https://theproaudiofiles.com/wp-content/uploads/2018/07/Screen-Shot-2018-07-22-at-4.55.33-PM.png" alt="12 Sampling Instruments That Morph and Layer Multiple Sources" width="631" height="499" srcset="https://theproaudiofiles.com/wp-content/uploads/2018/07/Screen-Shot-2018-07-22-at-4.55.33-PM.png 631w, https://theproaudiofiles.com/wp-content/uploads/2018/07/Screen-Shot-2018-07-22-at-4.55.33-PM-200x158.png 200w, https://theproaudiofiles.com/wp-content/uploads/2018/07/Screen-Shot-2018-07-22-at-4.55.33-PM-300x237.png 300w, https://theproaudiofiles.com/wp-content/uploads/2018/07/Screen-Shot-2018-07-22-at-4.55.33-PM-400x316.png 400w" sizes="(max-width: 631px) 100vw, 631px" />
    [24] => 
<p>Each instrument allows for multiple sources to be layered in various ways, often dividing the sound into different stages of its <a href="https://theproaudiofiles.com/synthesis-101-envelope-parameters-uses/" target="_blank" rel="noopener">amplitude envelope</a>. Aside from having great animated visuals, these things sound incredible and having the flexibility to construct a unique sound that fits perfectly in a particular context is a welcome alternative to searching through existing FX libraries or trying to modify a sound to make it work.
    [25] => 
<div class="arve wp-block-nextgenthemes-arve arve-hover-effect-none" data-mode="lazyload" data-oembed="1" data-provider="youtube" id="arve-youtube-2scoipnfonk6421d011037cf296866790" data-reset-after-played data-fullscreen="disabled" data-volume="100">
<span class="arve-inner"><br />
<span class="arve-embed arve-embed--has-aspect-ratio" style="aspect-ratio: 610 / 343"><br />
<span class="arve-ar" style="padding-top:56.229508%"></span><noscript class="arve-noscript"><iframe allow="accelerometer; autoplay; clipboard-write; encrypted-media; gyroscope; picture-in-picture" allowfullscreen class="arve-iframe fitvidsignore" data-arve="arve-youtube-2scoipnfonk6421d011037cf296866790" data-src-no-ap="https://www.youtube.com/embed/2sCoiPNfONk?feature=oembed&amp;iv_load_policy=3&amp;modestbranding=1&amp;rel=0&amp;autohide=1&amp;playsinline=0&amp;autoplay=0&amp;enablejsapi=1" frameborder="0" height="0" sandbox="allow-scripts allow-same-origin allow-presentation" scrolling="no" src="https://www.youtube.com/embed/2sCoiPNfONk?feature=oembed&#038;iv_load_policy=3&#038;modestbranding=1&#038;rel=0&#038;autohide=1&#038;playsinline=0&#038;autoplay=1&#038;enablejsapi=1" title="Gothic Instruments Sculptor Live Impacts Module Walkthrough"></iframe><br />
</noscript><img decoding="async" alt="Gothic Instruments Sculptor Live Impacts Module Walkthrough" src="https://i.ytimg.com/vi/2sCoiPNfONk/hqdefault.jpg" srcset="https://i.ytimg.com/vi/2sCoiPNfONk/mqdefault.jpg 320w, https://i.ytimg.com/vi/2sCoiPNfONk/hqdefault.jpg 480w, https://i.ytimg.com/vi/2sCoiPNfONk/sddefault.jpg 640w, https://i.ytimg.com/vi/2sCoiPNfONk/maxresdefault.jpg 1280w" class="arve-thumbnail" loading="lazy" width="480" height="360">
    [26] => 
<h5 class="arve-title">
Gothic Instruments Sculptor Live Impacts Module Walkthrough<br />
</h5>
<p><button role="button" type="button" class="arve-play-btn arve-play-btn--youtube" data-target="#arve-youtube-2scoipnfonk6421d011037cf296866790" aria-label="Play video"><br />
<svg class="arve-play-svg arve-play-svg--youtube" focusable="false" aria-hidden="true" width="68" viewBox="0 0 68 48" xmlns="http://www.w3.org/2000/svg">
	<path fill="#1f1f1e" fill-opacity="0.81" d="m .66,37.62 c 0,0 .66,4.70 2.70,6.77 2.58,2.71 5.98,2.63 7.49,2.91 5.43,.52 23.10,.68 23.12,.68 .00,-1.3e-5 14.29,-0.02 23.81,-0.71 1.32,-0.15 4.22,-0.17 6.81,-2.89 2.03,-2.07 2.70,-6.77 2.70,-6.77 0,0 .67,-5.52 .67,-11.04 l 0,-5.17 c 0,-5.52 -0.67,-11.04 -0.67,-11.04 0,0 -0.66,-4.70 -2.70,-6.77 C 62.03,.86 59.13,.84 57.80,.69 48.28,0 34.00,0 34.00,0 33.97,0 19.69,0 10.18,.69 8.85,.84 5.95,.86 3.36,3.58 1.32,5.65 .66,10.35 .66,10.35 c 0,0 -0.55,4.50 -0.66,9.45 l 0,8.36 c .10,4.94 .66,9.45 .66,9.45 z"></path>
	<path fill="#fff" d="m 26.96,13.67 18.37,9.62 -18.37,9.55 -0.00,-19.17 z" ></path>
	<path fill="#ccc" d="M 45.02,23.46 45.32,23.28 26.96,13.67 43.32,24.34 45.02,23.46 z" ></path>
</svg>
    [27] => 
<p></button>
    [28] => 
<p></span>
    [29] => 
<p></span><br />
<script type="application/ld+json">{"@context":"http:\/\/schema.org\/","@id":"https:\/\/theproaudiofiles.com\/sampling-instruments-that-morph-and-layer-multiple-sources\/#arve-youtube-2scoipnfonk6421d011037cf296866790","type":"VideoObject","embedURL":"https:\/\/www.youtube.com\/embed\/2sCoiPNfONk?feature=oembed&iv_load_policy=3&modestbranding=1&rel=0&autohide=1&playsinline=0&autoplay=1&enablejsapi=1","name":"Gothic Instruments Sculptor Live Impacts Module Walkthrough","thumbnailUrl":"https:\/\/i.ytimg.com\/vi\/2sCoiPNfONk\/hqdefault.jpg","uploadDate":"2018-07-28T08:22:46+00:00","author":"Time+Space","description":"The term Vector Synthesis refers to a synthesis technique which creates, \u201c...movement in a sound by providing dynamic cross-fading between (usually) four sound sources. The four sound sources are conceptually arranged as the extreme points of X and Y axes and typically labeled A, B, C and D. A given"}</script>
</div>
<h2><a href="https://www.native-instruments.com/en/products/komplete/cinematic/rise-hit/" target="_blank" rel="noopener">Rise and Hit by Native Instruments</a></h2>
<p><strong>Rise and Hit</strong> is perhaps the best sound design tool for constructing a rise and hit gesture that needs to be a specific length, either in terms of seconds, division of the beat or measures. The interface is simple and intuitive and you can literally design a sound in seconds even if you've never used the instrument before. That is the sign of a great GUI and concept.
    [30] => 
<p><img decoding="async" loading="lazy" class="alignnone wp-image-41101 size-full" src="https://theproaudiofiles.com/wp-content/uploads/2018/07/Screen-Shot-2018-07-22-at-5.16.26-PM.png" alt="12 Sampling Instruments That Morph and Layer Multiple Sources" width="634" height="568" srcset="https://theproaudiofiles.com/wp-content/uploads/2018/07/Screen-Shot-2018-07-22-at-5.16.26-PM.png 634w, https://theproaudiofiles.com/wp-content/uploads/2018/07/Screen-Shot-2018-07-22-at-5.16.26-PM-200x179.png 200w, https://theproaudiofiles.com/wp-content/uploads/2018/07/Screen-Shot-2018-07-22-at-5.16.26-PM-300x269.png 300w, https://theproaudiofiles.com/wp-content/uploads/2018/07/Screen-Shot-2018-07-22-at-5.16.26-PM-400x358.png 400w" sizes="(max-width: 634px) 100vw, 634px" />
    [31] => 
<p>The instrument allows up to four sources and comes with 8 GB of exclusive content that will keep you busy for a while. The Doppler effects are especially fun.
    [32] => <div class="ad content-ad"><span>ADVERTISEMENT</span><div id="div-gpt-ad-1516673860578-0" style="width:300px; height:250px;"></div><script>googletag.cmd.push(function() { googletag.display('div-gpt-ad-1516673860578-0'); });</script></div>
<div class="arve wp-block-nextgenthemes-arve arve-hover-effect-none" data-mode="lazyload" data-oembed="1" data-provider="youtube" id="arve-youtube-mcw3bhhvkg06421d011041a2386687333" data-reset-after-played data-fullscreen="disabled" data-volume="100">
<span class="arve-inner"><br />
<span class="arve-embed arve-embed--has-aspect-ratio" style="aspect-ratio: 610 / 343"><br />
<span class="arve-ar" style="padding-top:56.229508%"></span><noscript class="arve-noscript"><iframe allow="accelerometer; autoplay; clipboard-write; encrypted-media; gyroscope; picture-in-picture" allowfullscreen class="arve-iframe fitvidsignore" data-arve="arve-youtube-mcw3bhhvkg06421d011041a2386687333" data-src-no-ap="https://www.youtube.com/embed/MCW3bHhvkG0?feature=oembed&amp;iv_load_policy=3&amp;modestbranding=1&amp;rel=0&amp;autohide=1&amp;playsinline=0&amp;autoplay=0&amp;enablejsapi=1" frameborder="0" height="0" sandbox="allow-scripts allow-same-origin allow-presentation" scrolling="no" src="https://www.youtube.com/embed/MCW3bHhvkG0?feature=oembed&#038;iv_load_policy=3&#038;modestbranding=1&#038;rel=0&#038;autohide=1&#038;playsinline=0&#038;autoplay=1&#038;enablejsapi=1" title="Rise &amp; Hit - Cinematic Tension Toolkit | Native Instruments"></iframe><br />
</noscript><img decoding="async" alt="Rise &amp; Hit - Cinematic Tension Toolkit | Native Instruments" src="https://i.ytimg.com/vi/MCW3bHhvkG0/hqdefault.jpg" srcset="https://i.ytimg.com/vi/MCW3bHhvkG0/mqdefault.jpg 320w, https://i.ytimg.com/vi/MCW3bHhvkG0/hqdefault.jpg 480w, https://i.ytimg.com/vi/MCW3bHhvkG0/sddefault.jpg 640w, https://i.ytimg.com/vi/MCW3bHhvkG0/maxresdefault.jpg 1280w" class="arve-thumbnail" loading="lazy" width="480" height="360">
    [33] => 
<h5 class="arve-title">
Rise &amp; Hit &#8211; Cinematic Tension Toolkit | Native Instruments<br />
</h5>
<p><button role="button" type="button" class="arve-play-btn arve-play-btn--youtube" data-target="#arve-youtube-mcw3bhhvkg06421d011041a2386687333" aria-label="Play video"><br />
<svg class="arve-play-svg arve-play-svg--youtube" focusable="false" aria-hidden="true" width="68" viewBox="0 0 68 48" xmlns="http://www.w3.org/2000/svg">
	<path fill="#1f1f1e" fill-opacity="0.81" d="m .66,37.62 c 0,0 .66,4.70 2.70,6.77 2.58,2.71 5.98,2.63 7.49,2.91 5.43,.52 23.10,.68 23.12,.68 .00,-1.3e-5 14.29,-0.02 23.81,-0.71 1.32,-0.15 4.22,-0.17 6.81,-2.89 2.03,-2.07 2.70,-6.77 2.70,-6.77 0,0 .67,-5.52 .67,-11.04 l 0,-5.17 c 0,-5.52 -0.67,-11.04 -0.67,-11.04 0,0 -0.66,-4.70 -2.70,-6.77 C 62.03,.86 59.13,.84 57.80,.69 48.28,0 34.00,0 34.00,0 33.97,0 19.69,0 10.18,.69 8.85,.84 5.95,.86 3.36,3.58 1.32,5.65 .66,10.35 .66,10.35 c 0,0 -0.55,4.50 -0.66,9.45 l 0,8.36 c .10,4.94 .66,9.45 .66,9.45 z"></path>
	<path fill="#fff" d="m 26.96,13.67 18.37,9.62 -18.37,9.55 -0.00,-19.17 z" ></path>
	<path fill="#ccc" d="M 45.02,23.46 45.32,23.28 26.96,13.67 43.32,24.34 45.02,23.46 z" ></path>
</svg>
    [34] => 
<p></button>
    [35] => 
<p></span>
    [36] => 
<p></span><br />
<script type="application/ld+json">{"@context":"http:\/\/schema.org\/","@id":"https:\/\/theproaudiofiles.com\/sampling-instruments-that-morph-and-layer-multiple-sources\/#arve-youtube-mcw3bhhvkg06421d011041a2386687333","type":"VideoObject","embedURL":"https:\/\/www.youtube.com\/embed\/MCW3bHhvkG0?feature=oembed&iv_load_policy=3&modestbranding=1&rel=0&autohide=1&playsinline=0&autoplay=1&enablejsapi=1","name":"Rise &amp; Hit - Cinematic Tension Toolkit | Native Instruments","thumbnailUrl":"https:\/\/i.ytimg.com\/vi\/MCW3bHhvkG0\/hqdefault.jpg","uploadDate":"2018-07-28T08:22:46+00:00","author":"Native Instruments","description":"The term Vector Synthesis refers to a synthesis technique which creates, \u201c...movement in a sound by providing dynamic cross-fading between (usually) four sound sources. The four sound sources are conceptually arranged as the extreme points of X and Y axes and typically labeled A, B, C and D. A given"}</script>
</div>
<h2><a href="https://www.native-instruments.com/en/products/komplete/cinematic/kinetic-metal/" target="_blank" rel="noopener">Kinetic Metal by Native Instruments</a></h2>
<p>Kinetic Metal is another beauty by NI which features intricate clock-like animations and a sort of steampunk aesthetic.
    [37] => 
<p><img decoding="async" loading="lazy" class="alignnone wp-image-41102 size-full" src="https://theproaudiofiles.com/wp-content/uploads/2018/07/Screen-Shot-2018-07-22-at-5.17.42-PM.png" alt="12 Sampling Instruments That Morph and Layer Multiple Sources" width="637" height="452" srcset="https://theproaudiofiles.com/wp-content/uploads/2018/07/Screen-Shot-2018-07-22-at-5.17.42-PM.png 637w, https://theproaudiofiles.com/wp-content/uploads/2018/07/Screen-Shot-2018-07-22-at-5.17.42-PM-200x142.png 200w, https://theproaudiofiles.com/wp-content/uploads/2018/07/Screen-Shot-2018-07-22-at-5.17.42-PM-300x213.png 300w, https://theproaudiofiles.com/wp-content/uploads/2018/07/Screen-Shot-2018-07-22-at-5.17.42-PM-400x284.png 400w" sizes="(max-width: 637px) 100vw, 637px" />
    [38] => 
<p>You can mix up to eight sources from two categories: Metals and Waves. Content changes with each preset and the Forge control creates interesting mixes on the fly. Both main user controls are ripe for MIDI control via CC or automation. This thing is a rabbit hole for anyone that loves sound — and cool visuals.
    [39] => 
<div class="arve wp-block-nextgenthemes-arve arve-hover-effect-none" data-mode="lazyload" data-oembed="1" data-provider="youtube" id="arve-youtube-uw8xumali4w6421d01104c3d629721045" data-reset-after-played data-fullscreen="disabled" data-volume="100">
<span class="arve-inner"><br />
<span class="arve-embed arve-embed--has-aspect-ratio" style="aspect-ratio: 610 / 343"><br />
<span class="arve-ar" style="padding-top:56.229508%"></span><noscript class="arve-noscript"><iframe allow="accelerometer; autoplay; clipboard-write; encrypted-media; gyroscope; picture-in-picture" allowfullscreen class="arve-iframe fitvidsignore" data-arve="arve-youtube-uw8xumali4w6421d01104c3d629721045" data-src-no-ap="https://www.youtube.com/embed/uw8Xumali4w?feature=oembed&amp;iv_load_policy=3&amp;modestbranding=1&amp;rel=0&amp;autohide=1&amp;playsinline=0&amp;autoplay=0&amp;enablejsapi=1" frameborder="0" height="0" sandbox="allow-scripts allow-same-origin allow-presentation" scrolling="no" src="https://www.youtube.com/embed/uw8Xumali4w?feature=oembed&#038;iv_load_policy=3&#038;modestbranding=1&#038;rel=0&#038;autohide=1&#038;playsinline=0&#038;autoplay=1&#038;enablejsapi=1" title="Kinetic Metal - Moving Ethereal Textures | Native Instruments"></iframe><br />
</noscript><img decoding="async" alt="Kinetic Metal - Moving Ethereal Textures | Native Instruments" src="https://i.ytimg.com/vi/uw8Xumali4w/hqdefault.jpg" srcset="https://i.ytimg.com/vi/uw8Xumali4w/mqdefault.jpg 320w, https://i.ytimg.com/vi/uw8Xumali4w/hqdefault.jpg 480w, https://i.ytimg.com/vi/uw8Xumali4w/sddefault.jpg 640w, https://i.ytimg.com/vi/uw8Xumali4w/maxresdefault.jpg 1280w" class="arve-thumbnail" loading="lazy" width="480" height="360">
    [40] => 
<h5 class="arve-title">
Kinetic Metal &#8211; Moving Ethereal Textures | Native Instruments<br />
</h5>
<p><button role="button" type="button" class="arve-play-btn arve-play-btn--youtube" data-target="#arve-youtube-uw8xumali4w6421d01104c3d629721045" aria-label="Play video"><br />
<svg class="arve-play-svg arve-play-svg--youtube" focusable="false" aria-hidden="true" width="68" viewBox="0 0 68 48" xmlns="http://www.w3.org/2000/svg">
	<path fill="#1f1f1e" fill-opacity="0.81" d="m .66,37.62 c 0,0 .66,4.70 2.70,6.77 2.58,2.71 5.98,2.63 7.49,2.91 5.43,.52 23.10,.68 23.12,.68 .00,-1.3e-5 14.29,-0.02 23.81,-0.71 1.32,-0.15 4.22,-0.17 6.81,-2.89 2.03,-2.07 2.70,-6.77 2.70,-6.77 0,0 .67,-5.52 .67,-11.04 l 0,-5.17 c 0,-5.52 -0.67,-11.04 -0.67,-11.04 0,0 -0.66,-4.70 -2.70,-6.77 C 62.03,.86 59.13,.84 57.80,.69 48.28,0 34.00,0 34.00,0 33.97,0 19.69,0 10.18,.69 8.85,.84 5.95,.86 3.36,3.58 1.32,5.65 .66,10.35 .66,10.35 c 0,0 -0.55,4.50 -0.66,9.45 l 0,8.36 c .10,4.94 .66,9.45 .66,9.45 z"></path>
	<path fill="#fff" d="m 26.96,13.67 18.37,9.62 -18.37,9.55 -0.00,-19.17 z" ></path>
	<path fill="#ccc" d="M 45.02,23.46 45.32,23.28 26.96,13.67 43.32,24.34 45.02,23.46 z" ></path>
</svg>
    [41] => 
<p></button>
    [42] => 
<p></span>
    [43] => 
<p></span><br />
<script type="application/ld+json">{"@context":"http:\/\/schema.org\/","@id":"https:\/\/theproaudiofiles.com\/sampling-instruments-that-morph-and-layer-multiple-sources\/#arve-youtube-uw8xumali4w6421d01104c3d629721045","type":"VideoObject","embedURL":"https:\/\/www.youtube.com\/embed\/uw8Xumali4w?feature=oembed&iv_load_policy=3&modestbranding=1&rel=0&autohide=1&playsinline=0&autoplay=1&enablejsapi=1","name":"Kinetic Metal - Moving Ethereal Textures | Native Instruments","thumbnailUrl":"https:\/\/i.ytimg.com\/vi\/uw8Xumali4w\/hqdefault.jpg","uploadDate":"2018-07-28T08:22:46+00:00","author":"Native Instruments","description":"The term Vector Synthesis refers to a synthesis technique which creates, \u201c...movement in a sound by providing dynamic cross-fading between (usually) four sound sources. The four sound sources are conceptually arranged as the extreme points of X and Y axes and typically labeled A, B, C and D. A given"}</script>
</div>
<h2><a href="https://www.samplelogic.com/products/morphestra/" target="_blank" rel="noopener">Morphestra 2 by Sample Logic</a></h2>
<p><strong>Morphestra 2</strong> uses four playback modules (referred to as Cores), each consisting of a mix between two sample sources for a total of eight possible sounds at any given time.
    [44] => 
<h2><img decoding="async" loading="lazy" class="alignnone wp-image-41106 size-full" src="https://theproaudiofiles.com/wp-content/uploads/2018/07/Screen-Shot-2017-12-22-at-7.27.06-PM.png" alt="12 Sampling Instruments That Morph and Layer Multiple Sources" width="842" height="840" srcset="https://theproaudiofiles.com/wp-content/uploads/2018/07/Screen-Shot-2017-12-22-at-7.27.06-PM.png 842w, https://theproaudiofiles.com/wp-content/uploads/2018/07/Screen-Shot-2017-12-22-at-7.27.06-PM-200x200.png 200w, https://theproaudiofiles.com/wp-content/uploads/2018/07/Screen-Shot-2017-12-22-at-7.27.06-PM-300x300.png 300w, https://theproaudiofiles.com/wp-content/uploads/2018/07/Screen-Shot-2017-12-22-at-7.27.06-PM-50x50.png 50w, https://theproaudiofiles.com/wp-content/uploads/2018/07/Screen-Shot-2017-12-22-at-7.27.06-PM-400x399.png 400w" sizes="(max-width: 842px) 100vw, 842px" /></h2>
<p>On top of that, the instruments have incredibly robust FX and step sequencing sections. Read my in-depth review <a href="https://theproaudiofiles.com/sample-logic-morphestra-2-review/" target="_blank" rel="noopener">here</a>.
    [45] => 
<div class="arve wp-block-nextgenthemes-arve arve-hover-effect-none" data-mode="lazyload" data-oembed="1" data-provider="youtube" id="arve-youtube-u6bbhgkcrjy6421d011055ef126688969" data-reset-after-played data-fullscreen="disabled" data-volume="100">
<span class="arve-inner"><br />
<span class="arve-embed arve-embed--has-aspect-ratio" style="aspect-ratio: 610 / 343"><br />
<span class="arve-ar" style="padding-top:56.229508%"></span><noscript class="arve-noscript"><iframe allow="accelerometer; autoplay; clipboard-write; encrypted-media; gyroscope; picture-in-picture" allowfullscreen class="arve-iframe fitvidsignore" data-arve="arve-youtube-u6bbhgkcrjy6421d011055ef126688969" data-src-no-ap="https://www.youtube.com/embed/U6bbhGKCrJY?feature=oembed&amp;iv_load_policy=3&amp;modestbranding=1&amp;rel=0&amp;autohide=1&amp;playsinline=0&amp;autoplay=0&amp;enablejsapi=1" frameborder="0" height="0" sandbox="allow-scripts allow-same-origin allow-presentation" scrolling="no" src="https://www.youtube.com/embed/U6bbhGKCrJY?feature=oembed&#038;iv_load_policy=3&#038;modestbranding=1&#038;rel=0&#038;autohide=1&#038;playsinline=0&#038;autoplay=1&#038;enablejsapi=1" title="MORPHESTRA 2: Instruments In Action"></iframe><br />
</noscript><img decoding="async" alt="MORPHESTRA 2: Instruments In Action" src="https://i.ytimg.com/vi/U6bbhGKCrJY/hqdefault.jpg" srcset="https://i.ytimg.com/vi/U6bbhGKCrJY/mqdefault.jpg 320w, https://i.ytimg.com/vi/U6bbhGKCrJY/hqdefault.jpg 480w, https://i.ytimg.com/vi/U6bbhGKCrJY/sddefault.jpg 640w, https://i.ytimg.com/vi/U6bbhGKCrJY/maxresdefault.jpg 1280w" class="arve-thumbnail" loading="lazy" width="480" height="360">
    [46] => 
<h5 class="arve-title">
MORPHESTRA 2: Instruments In Action<br />
</h5>
<p><button role="button" type="button" class="arve-play-btn arve-play-btn--youtube" data-target="#arve-youtube-u6bbhgkcrjy6421d011055ef126688969" aria-label="Play video"><br />
<svg class="arve-play-svg arve-play-svg--youtube" focusable="false" aria-hidden="true" width="68" viewBox="0 0 68 48" xmlns="http://www.w3.org/2000/svg">
	<path fill="#1f1f1e" fill-opacity="0.81" d="m .66,37.62 c 0,0 .66,4.70 2.70,6.77 2.58,2.71 5.98,2.63 7.49,2.91 5.43,.52 23.10,.68 23.12,.68 .00,-1.3e-5 14.29,-0.02 23.81,-0.71 1.32,-0.15 4.22,-0.17 6.81,-2.89 2.03,-2.07 2.70,-6.77 2.70,-6.77 0,0 .67,-5.52 .67,-11.04 l 0,-5.17 c 0,-5.52 -0.67,-11.04 -0.67,-11.04 0,0 -0.66,-4.70 -2.70,-6.77 C 62.03,.86 59.13,.84 57.80,.69 48.28,0 34.00,0 34.00,0 33.97,0 19.69,0 10.18,.69 8.85,.84 5.95,.86 3.36,3.58 1.32,5.65 .66,10.35 .66,10.35 c 0,0 -0.55,4.50 -0.66,9.45 l 0,8.36 c .10,4.94 .66,9.45 .66,9.45 z"></path>
	<path fill="#fff" d="m 26.96,13.67 18.37,9.62 -18.37,9.55 -0.00,-19.17 z" ></path>
	<path fill="#ccc" d="M 45.02,23.46 45.32,23.28 26.96,13.67 43.32,24.34 45.02,23.46 z" ></path>
</svg>
    [47] => 
<p></button>
    [48] => 
<p></span>
    [49] => 
<p></span><br />
<script type="application/ld+json">{"@context":"http:\/\/schema.org\/","@id":"https:\/\/theproaudiofiles.com\/sampling-instruments-that-morph-and-layer-multiple-sources\/#arve-youtube-u6bbhgkcrjy6421d011055ef126688969","type":"VideoObject","embedURL":"https:\/\/www.youtube.com\/embed\/U6bbhGKCrJY?feature=oembed&iv_load_policy=3&modestbranding=1&rel=0&autohide=1&playsinline=0&autoplay=1&enablejsapi=1","name":"MORPHESTRA 2: Instruments In Action","thumbnailUrl":"https:\/\/i.ytimg.com\/vi\/U6bbhGKCrJY\/hqdefault.jpg","uploadDate":"2018-07-28T08:22:46+00:00","author":"Sample Logic","description":"The term Vector Synthesis refers to a synthesis technique which creates, \u201c...movement in a sound by providing dynamic cross-fading between (usually) four sound sources. The four sound sources are conceptually arranged as the extreme points of X and Y axes and typically labeled A, B, C and D. A given"}</script>
</div>
<h2><a href="https://www.umlautaudio.com/bundles/motors-pads-2" target="_blank" rel="noopener">Pads and Motors by Umlaut</a></h2>
<p>Both of these instruments by Umlaut use a dual layer approach to generate unique textures and/or complex rhythmic content via multiple delays. Motors is especially satisfying if your aim is to create hypnotic loops that can be altered on-the-fly with some cleverly mapped MIDI CC's. I also encourage the use of the Random button, if you've got a few hours to spare.
    [50] => 
<p><img decoding="async" loading="lazy" class="alignnone wp-image-41107 size-full" src="https://theproaudiofiles.com/wp-content/uploads/2018/07/Screen-Shot-2018-07-22-at-7.35.40-PM.png" alt="12 Sampling Instruments That Morph and Layer Multiple Sources" width="629" height="442" srcset="https://theproaudiofiles.com/wp-content/uploads/2018/07/Screen-Shot-2018-07-22-at-7.35.40-PM.png 629w, https://theproaudiofiles.com/wp-content/uploads/2018/07/Screen-Shot-2018-07-22-at-7.35.40-PM-200x141.png 200w, https://theproaudiofiles.com/wp-content/uploads/2018/07/Screen-Shot-2018-07-22-at-7.35.40-PM-300x211.png 300w, https://theproaudiofiles.com/wp-content/uploads/2018/07/Screen-Shot-2018-07-22-at-7.35.40-PM-400x281.png 400w" sizes="(max-width: 629px) 100vw, 629px" />
    [51] => 
<p><img decoding="async" loading="lazy" class="alignnone wp-image-41108 size-full" src="https://theproaudiofiles.com/wp-content/uploads/2018/07/Screen-Shot-2018-07-22-at-7.36.01-PM.png" alt="12 Sampling Instruments That Morph and Layer Multiple Sources" width="632" height="340" srcset="https://theproaudiofiles.com/wp-content/uploads/2018/07/Screen-Shot-2018-07-22-at-7.36.01-PM.png 632w, https://theproaudiofiles.com/wp-content/uploads/2018/07/Screen-Shot-2018-07-22-at-7.36.01-PM-200x108.png 200w, https://theproaudiofiles.com/wp-content/uploads/2018/07/Screen-Shot-2018-07-22-at-7.36.01-PM-300x161.png 300w, https://theproaudiofiles.com/wp-content/uploads/2018/07/Screen-Shot-2018-07-22-at-7.36.01-PM-400x215.png 400w" sizes="(max-width: 632px) 100vw, 632px" />
    [52] => 
<div class="arve wp-block-nextgenthemes-arve arve-hover-effect-none" data-mode="lazyload" data-oembed="1" data-provider="youtube" id="arve-youtube-ffvlxodkhte6421d01105f81226562283" data-reset-after-played data-fullscreen="disabled" data-volume="100">
<span class="arve-inner"><br />
<span class="arve-embed arve-embed--has-aspect-ratio" style="aspect-ratio: 610 / 343"><br />
<span class="arve-ar" style="padding-top:56.229508%"></span><noscript class="arve-noscript"><iframe allow="accelerometer; autoplay; clipboard-write; encrypted-media; gyroscope; picture-in-picture" allowfullscreen class="arve-iframe fitvidsignore" data-arve="arve-youtube-ffvlxodkhte6421d01105f81226562283" data-src-no-ap="https://www.youtube.com/embed/FfVlXODKHTE?feature=oembed&amp;iv_load_policy=3&amp;modestbranding=1&amp;rel=0&amp;autohide=1&amp;playsinline=0&amp;autoplay=0&amp;enablejsapi=1" frameborder="0" height="0" sandbox="allow-scripts allow-same-origin allow-presentation" scrolling="no" src="https://www.youtube.com/embed/FfVlXODKHTE?feature=oembed&#038;iv_load_policy=3&#038;modestbranding=1&#038;rel=0&#038;autohide=1&#038;playsinline=0&#038;autoplay=1&#038;enablejsapi=1" title="Getting Started with PADS by Umlaut Audio"></iframe><br />
</noscript><img decoding="async" alt="Getting Started with PADS by Umlaut Audio" src="https://i.ytimg.com/vi/FfVlXODKHTE/hqdefault.jpg" srcset="https://i.ytimg.com/vi/FfVlXODKHTE/mqdefault.jpg 320w, https://i.ytimg.com/vi/FfVlXODKHTE/hqdefault.jpg 480w, https://i.ytimg.com/vi/FfVlXODKHTE/sddefault.jpg 640w, https://i.ytimg.com/vi/FfVlXODKHTE/maxresdefault.jpg 1280w" class="arve-thumbnail" loading="lazy" width="480" height="360">
    [53] => 
<h5 class="arve-title">
Getting Started with PADS by Umlaut Audio<br />
</h5>
<p><button role="button" type="button" class="arve-play-btn arve-play-btn--youtube" data-target="#arve-youtube-ffvlxodkhte6421d01105f81226562283" aria-label="Play video"><br />
<svg class="arve-play-svg arve-play-svg--youtube" focusable="false" aria-hidden="true" width="68" viewBox="0 0 68 48" xmlns="http://www.w3.org/2000/svg">
	<path fill="#1f1f1e" fill-opacity="0.81" d="m .66,37.62 c 0,0 .66,4.70 2.70,6.77 2.58,2.71 5.98,2.63 7.49,2.91 5.43,.52 23.10,.68 23.12,.68 .00,-1.3e-5 14.29,-0.02 23.81,-0.71 1.32,-0.15 4.22,-0.17 6.81,-2.89 2.03,-2.07 2.70,-6.77 2.70,-6.77 0,0 .67,-5.52 .67,-11.04 l 0,-5.17 c 0,-5.52 -0.67,-11.04 -0.67,-11.04 0,0 -0.66,-4.70 -2.70,-6.77 C 62.03,.86 59.13,.84 57.80,.69 48.28,0 34.00,0 34.00,0 33.97,0 19.69,0 10.18,.69 8.85,.84 5.95,.86 3.36,3.58 1.32,5.65 .66,10.35 .66,10.35 c 0,0 -0.55,4.50 -0.66,9.45 l 0,8.36 c .10,4.94 .66,9.45 .66,9.45 z"></path>
	<path fill="#fff" d="m 26.96,13.67 18.37,9.62 -18.37,9.55 -0.00,-19.17 z" ></path>
	<path fill="#ccc" d="M 45.02,23.46 45.32,23.28 26.96,13.67 43.32,24.34 45.02,23.46 z" ></path>
</svg>
    [54] => 
<p></button>
    [55] => 
<p></span>
    [56] => 
<p></span><br />
<script type="application/ld+json">{"@context":"http:\/\/schema.org\/","@id":"https:\/\/theproaudiofiles.com\/sampling-instruments-that-morph-and-layer-multiple-sources\/#arve-youtube-ffvlxodkhte6421d01105f81226562283","type":"VideoObject","embedURL":"https:\/\/www.youtube.com\/embed\/FfVlXODKHTE?feature=oembed&iv_load_policy=3&modestbranding=1&rel=0&autohide=1&playsinline=0&autoplay=1&enablejsapi=1","name":"Getting Started with PADS by Umlaut Audio","thumbnailUrl":"https:\/\/i.ytimg.com\/vi\/FfVlXODKHTE\/hqdefault.jpg","uploadDate":"2018-07-28T08:22:46+00:00","author":"Umlaut Audio","description":"The term Vector Synthesis refers to a synthesis technique which creates, \u201c...movement in a sound by providing dynamic cross-fading between (usually) four sound sources. The four sound sources are conceptually arranged as the extreme points of X and Y axes and typically labeled A, B, C and D. A given"}</script>
</div>
<div class="arve wp-block-nextgenthemes-arve arve-hover-effect-none" data-mode="lazyload" data-oembed="1" data-provider="youtube" id="arve-youtube-fjrfvy6lahs6421d0110696e747917829" data-reset-after-played data-fullscreen="disabled" data-volume="100">
<span class="arve-inner"><br />
<span class="arve-embed arve-embed--has-aspect-ratio" style="aspect-ratio: 610 / 343"><br />
<span class="arve-ar" style="padding-top:56.229508%"></span><noscript class="arve-noscript"><iframe allow="accelerometer; autoplay; clipboard-write; encrypted-media; gyroscope; picture-in-picture" allowfullscreen class="arve-iframe fitvidsignore" data-arve="arve-youtube-fjrfvy6lahs6421d0110696e747917829" data-src-no-ap="https://www.youtube.com/embed/fjrfvY6lahs?feature=oembed&amp;iv_load_policy=3&amp;modestbranding=1&amp;rel=0&amp;autohide=1&amp;playsinline=0&amp;autoplay=0&amp;enablejsapi=1" frameborder="0" height="0" sandbox="allow-scripts allow-same-origin allow-presentation" scrolling="no" src="https://www.youtube.com/embed/fjrfvY6lahs?feature=oembed&#038;iv_load_policy=3&#038;modestbranding=1&#038;rel=0&#038;autohide=1&#038;playsinline=0&#038;autoplay=1&#038;enablejsapi=1" title="Umlaut Audio MOTORS - Walkthrough"></iframe><br />
</noscript><img decoding="async" alt="Umlaut Audio MOTORS - Walkthrough" src="https://i.ytimg.com/vi/fjrfvY6lahs/hqdefault.jpg" srcset="https://i.ytimg.com/vi/fjrfvY6lahs/mqdefault.jpg 320w, https://i.ytimg.com/vi/fjrfvY6lahs/hqdefault.jpg 480w, https://i.ytimg.com/vi/fjrfvY6lahs/sddefault.jpg 640w, https://i.ytimg.com/vi/fjrfvY6lahs/maxresdefault.jpg 1280w" class="arve-thumbnail" loading="lazy" width="480" height="360">
    [57] => 
<h5 class="arve-title">
Umlaut Audio MOTORS &#8211; Walkthrough<br />
</h5>
<p><button role="button" type="button" class="arve-play-btn arve-play-btn--youtube" data-target="#arve-youtube-fjrfvy6lahs6421d0110696e747917829" aria-label="Play video"><br />
<svg class="arve-play-svg arve-play-svg--youtube" focusable="false" aria-hidden="true" width="68" viewBox="0 0 68 48" xmlns="http://www.w3.org/2000/svg">
	<path fill="#1f1f1e" fill-opacity="0.81" d="m .66,37.62 c 0,0 .66,4.70 2.70,6.77 2.58,2.71 5.98,2.63 7.49,2.91 5.43,.52 23.10,.68 23.12,.68 .00,-1.3e-5 14.29,-0.02 23.81,-0.71 1.32,-0.15 4.22,-0.17 6.81,-2.89 2.03,-2.07 2.70,-6.77 2.70,-6.77 0,0 .67,-5.52 .67,-11.04 l 0,-5.17 c 0,-5.52 -0.67,-11.04 -0.67,-11.04 0,0 -0.66,-4.70 -2.70,-6.77 C 62.03,.86 59.13,.84 57.80,.69 48.28,0 34.00,0 34.00,0 33.97,0 19.69,0 10.18,.69 8.85,.84 5.95,.86 3.36,3.58 1.32,5.65 .66,10.35 .66,10.35 c 0,0 -0.55,4.50 -0.66,9.45 l 0,8.36 c .10,4.94 .66,9.45 .66,9.45 z"></path>
	<path fill="#fff" d="m 26.96,13.67 18.37,9.62 -18.37,9.55 -0.00,-19.17 z" ></path>
	<path fill="#ccc" d="M 45.02,23.46 45.32,23.28 26.96,13.67 43.32,24.34 45.02,23.46 z" ></path>
</svg>
    [58] => 
<p></button>
    [59] => 
<p></span>
    [60] => 
            <div class="ad content-ad content-ad-2"><span>ADVERTISEMENT</span></div>
            <script>
                window.addEventListener("load", () => {
                    if(window.innerWidth > 767) return;

                    window.setTimeout(() => {
                        var ta = jQuery.get(aqvars.ajaxurl, { action: "tpaf_adrotate", group: 1, aid: 22 });
                        ta.then(function(response) {
                            jQuery(".content-ad-2").append(response);
                        });
                    }, 0);
                });
            </script>
        
<p></span><br />
<script type="application/ld+json">{"@context":"http:\/\/schema.org\/","@id":"https:\/\/theproaudiofiles.com\/sampling-instruments-that-morph-and-layer-multiple-sources\/#arve-youtube-fjrfvy6lahs6421d0110696e747917829","type":"VideoObject","embedURL":"https:\/\/www.youtube.com\/embed\/fjrfvY6lahs?feature=oembed&iv_load_policy=3&modestbranding=1&rel=0&autohide=1&playsinline=0&autoplay=1&enablejsapi=1","name":"Umlaut Audio MOTORS - Walkthrough","thumbnailUrl":"https:\/\/i.ytimg.com\/vi\/fjrfvY6lahs\/hqdefault.jpg","uploadDate":"2018-07-28T08:22:46+00:00","author":"Umlaut Audio","description":"The term Vector Synthesis refers to a synthesis technique which creates, \u201c...movement in a sound by providing dynamic cross-fading between (usually) four sound sources. The four sound sources are conceptually arranged as the extreme points of X and Y axes and typically labeled A, B, C and D. A given"}</script>
</div>
<h2><a href="https://output.com/" target="_blank" rel="noopener">Four Instruments by Output</a></h2>
<p>Finally, there are four instruments by <strong>Output</strong> that deserve serious consideration.
    [61] => 
<p><strong>Analog Brass and Winds</strong> utilizes two layers with a feature that allows to two quickly adjust the starting point of each sample, or apply looping or reverse settings to each independently.
    [62] => 
<p><img decoding="async" loading="lazy" class="alignnone wp-image-41103 size-full" src="https://theproaudiofiles.com/wp-content/uploads/2018/07/Screen-Shot-2018-07-22-at-5.59.34-PM.png" alt="12 Sampling Instruments That Morph and Layer Multiple Sources" width="735" height="541" srcset="https://theproaudiofiles.com/wp-content/uploads/2018/07/Screen-Shot-2018-07-22-at-5.59.34-PM.png 735w, https://theproaudiofiles.com/wp-content/uploads/2018/07/Screen-Shot-2018-07-22-at-5.59.34-PM-200x147.png 200w, https://theproaudiofiles.com/wp-content/uploads/2018/07/Screen-Shot-2018-07-22-at-5.59.34-PM-300x221.png 300w, https://theproaudiofiles.com/wp-content/uploads/2018/07/Screen-Shot-2018-07-22-at-5.59.34-PM-400x294.png 400w" sizes="(max-width: 735px) 100vw, 735px" />
    [63] => 
<p>Read more in my article: <a href="https://theproaudiofiles.com/sound-design-tools-for-music-production/" target="_blank" rel="noopener">12 Awesome Sound Design Tools for Music Production</a>
    [64] => 
<div class="arve wp-block-nextgenthemes-arve arve-hover-effect-none" data-mode="lazyload" data-oembed="1" data-provider="youtube" id="arve-youtube-dzhglcy0img6421d0110731b146687575" data-reset-after-played data-fullscreen="disabled" data-volume="100">
<span class="arve-inner"><br />
<span class="arve-embed arve-embed--has-aspect-ratio" style="aspect-ratio: 610 / 343"><br />
<span class="arve-ar" style="padding-top:56.229508%"></span><noscript class="arve-noscript"><iframe allow="accelerometer; autoplay; clipboard-write; encrypted-media; gyroscope; picture-in-picture" allowfullscreen class="arve-iframe fitvidsignore" data-arve="arve-youtube-dzhglcy0img6421d0110731b146687575" data-src-no-ap="https://www.youtube.com/embed/DZHglCy0img?feature=oembed&amp;iv_load_policy=3&amp;modestbranding=1&amp;rel=0&amp;autohide=1&amp;playsinline=0&amp;autoplay=0&amp;enablejsapi=1" frameborder="0" height="0" sandbox="allow-scripts allow-same-origin allow-presentation" scrolling="no" src="https://www.youtube.com/embed/DZHglCy0img?feature=oembed&#038;iv_load_policy=3&#038;modestbranding=1&#038;rel=0&#038;autohide=1&#038;playsinline=0&#038;autoplay=1&#038;enablejsapi=1" title="ANALOG BRASS &amp; WINDS by Output - Walkthrough"></iframe><br />
</noscript><img decoding="async" alt="ANALOG BRASS &amp; WINDS by Output - Walkthrough" src="https://i.ytimg.com/vi/DZHglCy0img/hqdefault.jpg" srcset="https://i.ytimg.com/vi/DZHglCy0img/mqdefault.jpg 320w, https://i.ytimg.com/vi/DZHglCy0img/hqdefault.jpg 480w, https://i.ytimg.com/vi/DZHglCy0img/sddefault.jpg 640w, https://i.ytimg.com/vi/DZHglCy0img/maxresdefault.jpg 1280w" class="arve-thumbnail" loading="lazy" width="480" height="360">
    [65] => 
<h5 class="arve-title">
ANALOG BRASS &amp; WINDS by Output &#8211; Walkthrough<br />
</h5>
<p><button role="button" type="button" class="arve-play-btn arve-play-btn--youtube" data-target="#arve-youtube-dzhglcy0img6421d0110731b146687575" aria-label="Play video"><br />
<svg class="arve-play-svg arve-play-svg--youtube" focusable="false" aria-hidden="true" width="68" viewBox="0 0 68 48" xmlns="http://www.w3.org/2000/svg">
	<path fill="#1f1f1e" fill-opacity="0.81" d="m .66,37.62 c 0,0 .66,4.70 2.70,6.77 2.58,2.71 5.98,2.63 7.49,2.91 5.43,.52 23.10,.68 23.12,.68 .00,-1.3e-5 14.29,-0.02 23.81,-0.71 1.32,-0.15 4.22,-0.17 6.81,-2.89 2.03,-2.07 2.70,-6.77 2.70,-6.77 0,0 .67,-5.52 .67,-11.04 l 0,-5.17 c 0,-5.52 -0.67,-11.04 -0.67,-11.04 0,0 -0.66,-4.70 -2.70,-6.77 C 62.03,.86 59.13,.84 57.80,.69 48.28,0 34.00,0 34.00,0 33.97,0 19.69,0 10.18,.69 8.85,.84 5.95,.86 3.36,3.58 1.32,5.65 .66,10.35 .66,10.35 c 0,0 -0.55,4.50 -0.66,9.45 l 0,8.36 c .10,4.94 .66,9.45 .66,9.45 z"></path>
	<path fill="#fff" d="m 26.96,13.67 18.37,9.62 -18.37,9.55 -0.00,-19.17 z" ></path>
	<path fill="#ccc" d="M 45.02,23.46 45.32,23.28 26.96,13.67 43.32,24.34 45.02,23.46 z" ></path>
</svg>
    [66] => 
<p></button>
    [67] => 
<p></span>
    [68] => 
<p></span><br />
<script type="application/ld+json">{"@context":"http:\/\/schema.org\/","@id":"https:\/\/theproaudiofiles.com\/sampling-instruments-that-morph-and-layer-multiple-sources\/#arve-youtube-dzhglcy0img6421d0110731b146687575","type":"VideoObject","embedURL":"https:\/\/www.youtube.com\/embed\/DZHglCy0img?feature=oembed&iv_load_policy=3&modestbranding=1&rel=0&autohide=1&playsinline=0&autoplay=1&enablejsapi=1","name":"ANALOG BRASS &amp; WINDS by Output - Walkthrough","thumbnailUrl":"https:\/\/i.ytimg.com\/vi\/DZHglCy0img\/hqdefault.jpg","uploadDate":"2018-07-28T08:22:46+00:00","author":"Output","description":"The term Vector Synthesis refers to a synthesis technique which creates, \u201c...movement in a sound by providing dynamic cross-fading between (usually) four sound sources. The four sound sources are conceptually arranged as the extreme points of X and Y axes and typically labeled A, B, C and D. A given"}</script>
</div>
<p><strong>Analog Strings</strong> also uses a two-layer approach and is similar in concept although varying in content.
    [69] => 
<p><img decoding="async" loading="lazy" class="alignnone wp-image-41092 size-full" src="https://theproaudiofiles.com/wp-content/uploads/2018/07/ScreeAnalogStrings_Main.png" alt="12 Sampling Instruments That Morph and Layer Multiple Sources" width="1464" height="1076" srcset="https://theproaudiofiles.com/wp-content/uploads/2018/07/ScreeAnalogStrings_Main.png 1464w, https://theproaudiofiles.com/wp-content/uploads/2018/07/ScreeAnalogStrings_Main-200x147.png 200w, https://theproaudiofiles.com/wp-content/uploads/2018/07/ScreeAnalogStrings_Main-300x220.png 300w, https://theproaudiofiles.com/wp-content/uploads/2018/07/ScreeAnalogStrings_Main-1024x753.png 1024w, https://theproaudiofiles.com/wp-content/uploads/2018/07/ScreeAnalogStrings_Main-400x294.png 400w" sizes="(max-width: 1464px) 100vw, 1464px" />
    [70] => 
<p>Read my complete review <a href="https://theproaudiofiles.com/analog-strings-review/" target="_blank" rel="noopener">here</a>.
    [71] => 
<div class="arve wp-block-nextgenthemes-arve arve-hover-effect-none" data-mode="lazyload" data-oembed="1" data-provider="youtube" id="arve-youtube-uyolm3-xhyo6421d01107d2a134560452" data-reset-after-played data-fullscreen="disabled" data-volume="100">
<span class="arve-inner"><br />
<span class="arve-embed arve-embed--has-aspect-ratio" style="aspect-ratio: 610 / 343"><br />
<span class="arve-ar" style="padding-top:56.229508%"></span><noscript class="arve-noscript"><iframe allow="accelerometer; autoplay; clipboard-write; encrypted-media; gyroscope; picture-in-picture" allowfullscreen class="arve-iframe fitvidsignore" data-arve="arve-youtube-uyolm3-xhyo6421d01107d2a134560452" data-src-no-ap="https://www.youtube.com/embed/UYOlM3-XhYo?start=16&amp;feature=oembed&amp;iv_load_policy=3&amp;modestbranding=1&amp;rel=0&amp;autohide=1&amp;playsinline=0&amp;autoplay=0&amp;enablejsapi=1" frameborder="0" height="0" sandbox="allow-scripts allow-same-origin allow-presentation" scrolling="no" src="https://www.youtube.com/embed/UYOlM3-XhYo?start=16&#038;feature=oembed&#038;iv_load_policy=3&#038;modestbranding=1&#038;rel=0&#038;autohide=1&#038;playsinline=0&#038;autoplay=1&#038;enablejsapi=1" title="ANALOG STRINGS by Output - Walkthrough"></iframe><br />
</noscript><img decoding="async" alt="ANALOG STRINGS by Output - Walkthrough" src="https://i.ytimg.com/vi/UYOlM3-XhYo/hqdefault.jpg" srcset="https://i.ytimg.com/vi/UYOlM3-XhYo/mqdefault.jpg 320w, https://i.ytimg.com/vi/UYOlM3-XhYo/hqdefault.jpg 480w, https://i.ytimg.com/vi/UYOlM3-XhYo/sddefault.jpg 640w, https://i.ytimg.com/vi/UYOlM3-XhYo/maxresdefault.jpg 1280w" class="arve-thumbnail" loading="lazy" width="480" height="360">
    [72] => 
<h5 class="arve-title">
ANALOG STRINGS by Output &#8211; Walkthrough<br />
</h5>
<p><button role="button" type="button" class="arve-play-btn arve-play-btn--youtube" data-target="#arve-youtube-uyolm3-xhyo6421d01107d2a134560452" aria-label="Play video"><br />
<svg class="arve-play-svg arve-play-svg--youtube" focusable="false" aria-hidden="true" width="68" viewBox="0 0 68 48" xmlns="http://www.w3.org/2000/svg">
	<path fill="#1f1f1e" fill-opacity="0.81" d="m .66,37.62 c 0,0 .66,4.70 2.70,6.77 2.58,2.71 5.98,2.63 7.49,2.91 5.43,.52 23.10,.68 23.12,.68 .00,-1.3e-5 14.29,-0.02 23.81,-0.71 1.32,-0.15 4.22,-0.17 6.81,-2.89 2.03,-2.07 2.70,-6.77 2.70,-6.77 0,0 .67,-5.52 .67,-11.04 l 0,-5.17 c 0,-5.52 -0.67,-11.04 -0.67,-11.04 0,0 -0.66,-4.70 -2.70,-6.77 C 62.03,.86 59.13,.84 57.80,.69 48.28,0 34.00,0 34.00,0 33.97,0 19.69,0 10.18,.69 8.85,.84 5.95,.86 3.36,3.58 1.32,5.65 .66,10.35 .66,10.35 c 0,0 -0.55,4.50 -0.66,9.45 l 0,8.36 c .10,4.94 .66,9.45 .66,9.45 z"></path>
	<path fill="#fff" d="m 26.96,13.67 18.37,9.62 -18.37,9.55 -0.00,-19.17 z" ></path>
	<path fill="#ccc" d="M 45.02,23.46 45.32,23.28 26.96,13.67 43.32,24.34 45.02,23.46 z" ></path>
</svg>
    [73] => 
<p></button>
    [74] => 
<p></span>
    [75] => 
<p></span><br />
<script type="application/ld+json">{"@context":"http:\/\/schema.org\/","@id":"https:\/\/theproaudiofiles.com\/sampling-instruments-that-morph-and-layer-multiple-sources\/#arve-youtube-uyolm3-xhyo6421d01107d2a134560452","type":"VideoObject","embedURL":"https:\/\/www.youtube.com\/embed\/UYOlM3-XhYo?start=16&feature=oembed&iv_load_policy=3&modestbranding=1&rel=0&autohide=1&playsinline=0&autoplay=1&enablejsapi=1","name":"ANALOG STRINGS by Output - Walkthrough","thumbnailUrl":"https:\/\/i.ytimg.com\/vi\/UYOlM3-XhYo\/hqdefault.jpg","uploadDate":"2018-07-28T08:22:46+00:00","author":"Output","description":"The term Vector Synthesis refers to a synthesis technique which creates, \u201c...movement in a sound by providing dynamic cross-fading between (usually) four sound sources. The four sound sources are conceptually arranged as the extreme points of X and Y axes and typically labeled A, B, C and D. A given"}</script>
</div>
<p><strong>Substance</strong> combines three layers of synth-based sounds in a rubbery sort of interface design that changes to reflect the nature of each sound source. This approach may be the closest thing to vector-based synthesis discussed so far.
    [76] => 
<p><img decoding="async" loading="lazy" class="alignnone wp-image-41104 size-full" src="https://theproaudiofiles.com/wp-content/uploads/2018/07/Screen-Shot-2018-07-22-at-6.22.53-PM.png" alt="12 Sampling Instruments That Morph and Layer Multiple Sources" width="633" height="539" srcset="https://theproaudiofiles.com/wp-content/uploads/2018/07/Screen-Shot-2018-07-22-at-6.22.53-PM.png 633w, https://theproaudiofiles.com/wp-content/uploads/2018/07/Screen-Shot-2018-07-22-at-6.22.53-PM-200x170.png 200w, https://theproaudiofiles.com/wp-content/uploads/2018/07/Screen-Shot-2018-07-22-at-6.22.53-PM-300x255.png 300w, https://theproaudiofiles.com/wp-content/uploads/2018/07/Screen-Shot-2018-07-22-at-6.22.53-PM-400x341.png 400w" sizes="(max-width: 633px) 100vw, 633px" />
    [77] => 
<p>The sounds are thick, luscious and aggressive, and the modulation, effects and arpeggiation possibilities are limitless.
    [78] => 
<div class="arve wp-block-nextgenthemes-arve arve-hover-effect-none" data-mode="lazyload" data-oembed="1" data-provider="youtube" id="arve-youtube-qq6smkhpi9m6421d011086c8712068344" data-reset-after-played data-fullscreen="disabled" data-volume="100">
<span class="arve-inner"><br />
<span class="arve-embed arve-embed--has-aspect-ratio" style="aspect-ratio: 610 / 343"><br />
<span class="arve-ar" style="padding-top:56.229508%"></span><noscript class="arve-noscript"><iframe allow="accelerometer; autoplay; clipboard-write; encrypted-media; gyroscope; picture-in-picture" allowfullscreen class="arve-iframe fitvidsignore" data-arve="arve-youtube-qq6smkhpi9m6421d011086c8712068344" data-src-no-ap="https://www.youtube.com/embed/qq6SmkHpI9M?feature=oembed&amp;iv_load_policy=3&amp;modestbranding=1&amp;rel=0&amp;autohide=1&amp;playsinline=0&amp;autoplay=0&amp;enablejsapi=1" frameborder="0" height="0" sandbox="allow-scripts allow-same-origin allow-presentation" scrolling="no" src="https://www.youtube.com/embed/qq6SmkHpI9M?feature=oembed&#038;iv_load_policy=3&#038;modestbranding=1&#038;rel=0&#038;autohide=1&#038;playsinline=0&#038;autoplay=1&#038;enablejsapi=1" title="SUBSTANCE by Output"></iframe><br />
</noscript><img decoding="async" alt="SUBSTANCE by Output" src="https://i.ytimg.com/vi/qq6SmkHpI9M/hqdefault.jpg" srcset="https://i.ytimg.com/vi/qq6SmkHpI9M/mqdefault.jpg 320w, https://i.ytimg.com/vi/qq6SmkHpI9M/hqdefault.jpg 480w, https://i.ytimg.com/vi/qq6SmkHpI9M/sddefault.jpg 640w, https://i.ytimg.com/vi/qq6SmkHpI9M/maxresdefault.jpg 1280w" class="arve-thumbnail" loading="lazy" width="480" height="360">
    [79] => 
<h5 class="arve-title">
SUBSTANCE by Output<br />
</h5>
<p><button role="button" type="button" class="arve-play-btn arve-play-btn--youtube" data-target="#arve-youtube-qq6smkhpi9m6421d011086c8712068344" aria-label="Play video"><br />
<svg class="arve-play-svg arve-play-svg--youtube" focusable="false" aria-hidden="true" width="68" viewBox="0 0 68 48" xmlns="http://www.w3.org/2000/svg">
	<path fill="#1f1f1e" fill-opacity="0.81" d="m .66,37.62 c 0,0 .66,4.70 2.70,6.77 2.58,2.71 5.98,2.63 7.49,2.91 5.43,.52 23.10,.68 23.12,.68 .00,-1.3e-5 14.29,-0.02 23.81,-0.71 1.32,-0.15 4.22,-0.17 6.81,-2.89 2.03,-2.07 2.70,-6.77 2.70,-6.77 0,0 .67,-5.52 .67,-11.04 l 0,-5.17 c 0,-5.52 -0.67,-11.04 -0.67,-11.04 0,0 -0.66,-4.70 -2.70,-6.77 C 62.03,.86 59.13,.84 57.80,.69 48.28,0 34.00,0 34.00,0 33.97,0 19.69,0 10.18,.69 8.85,.84 5.95,.86 3.36,3.58 1.32,5.65 .66,10.35 .66,10.35 c 0,0 -0.55,4.50 -0.66,9.45 l 0,8.36 c .10,4.94 .66,9.45 .66,9.45 z"></path>
	<path fill="#fff" d="m 26.96,13.67 18.37,9.62 -18.37,9.55 -0.00,-19.17 z" ></path>
	<path fill="#ccc" d="M 45.02,23.46 45.32,23.28 26.96,13.67 43.32,24.34 45.02,23.46 z" ></path>
</svg>
    [80] => 
<p></button>
    [81] => 
<p></span>
    [82] => 
<p></span><br />
<script type="application/ld+json">{"@context":"http:\/\/schema.org\/","@id":"https:\/\/theproaudiofiles.com\/sampling-instruments-that-morph-and-layer-multiple-sources\/#arve-youtube-qq6smkhpi9m6421d011086c8712068344","type":"VideoObject","embedURL":"https:\/\/www.youtube.com\/embed\/qq6SmkHpI9M?feature=oembed&iv_load_policy=3&modestbranding=1&rel=0&autohide=1&playsinline=0&autoplay=1&enablejsapi=1","name":"SUBSTANCE by Output","thumbnailUrl":"https:\/\/i.ytimg.com\/vi\/qq6SmkHpI9M\/hqdefault.jpg","uploadDate":"2018-07-28T08:22:46+00:00","author":"Output","description":"The term Vector Synthesis refers to a synthesis technique which creates, \u201c...movement in a sound by providing dynamic cross-fading between (usually) four sound sources. The four sound sources are conceptually arranged as the extreme points of X and Y axes and typically labeled A, B, C and D. A given"}</script>
</div>
<p><strong>REV</strong> uses a dual layer approach and also has an extremely robust effects section for each layer as well as global processing. As one would expect, the reverse gesture is a big part of the sounds, and samples included were clearly chosen based on the nature of their natural amplitude envelopes.
    [83] => 
<p><img decoding="async" loading="lazy" class="alignnone wp-image-41105 size-full" src="https://theproaudiofiles.com/wp-content/uploads/2018/07/Screen-Shot-2018-07-22-at-6.23.15-PM.png" alt="12 Sampling Instruments That Morph and Layer Multiple Sources" width="634" height="348" srcset="https://theproaudiofiles.com/wp-content/uploads/2018/07/Screen-Shot-2018-07-22-at-6.23.15-PM.png 634w, https://theproaudiofiles.com/wp-content/uploads/2018/07/Screen-Shot-2018-07-22-at-6.23.15-PM-200x110.png 200w, https://theproaudiofiles.com/wp-content/uploads/2018/07/Screen-Shot-2018-07-22-at-6.23.15-PM-300x165.png 300w, https://theproaudiofiles.com/wp-content/uploads/2018/07/Screen-Shot-2018-07-22-at-6.23.15-PM-400x220.png 400w" sizes="(max-width: 634px) 100vw, 634px" />
    [84] => 
<div class="arve wp-block-nextgenthemes-arve arve-hover-effect-none" data-mode="lazyload" data-oembed="1" data-provider="youtube" id="arve-youtube-fqosmnh4v8y6421d0110908f606051656" data-reset-after-played data-fullscreen="disabled" data-volume="100">
<span class="arve-inner"><br />
<span class="arve-embed arve-embed--has-aspect-ratio" style="aspect-ratio: 610 / 343"><br />
<span class="arve-ar" style="padding-top:56.229508%"></span><noscript class="arve-noscript"><iframe allow="accelerometer; autoplay; clipboard-write; encrypted-media; gyroscope; picture-in-picture" allowfullscreen class="arve-iframe fitvidsignore" data-arve="arve-youtube-fqosmnh4v8y6421d0110908f606051656" data-src-no-ap="https://www.youtube.com/embed/fQOsmnH4V8Y?feature=oembed&amp;iv_load_policy=3&amp;modestbranding=1&amp;rel=0&amp;autohide=1&amp;playsinline=0&amp;autoplay=0&amp;enablejsapi=1" frameborder="0" height="0" sandbox="allow-scripts allow-same-origin allow-presentation" scrolling="no" src="https://www.youtube.com/embed/fQOsmnH4V8Y?feature=oembed&#038;iv_load_policy=3&#038;modestbranding=1&#038;rel=0&#038;autohide=1&#038;playsinline=0&#038;autoplay=1&#038;enablejsapi=1" title="Atmospheric Indie Production using REV"></iframe><br />
</noscript><img decoding="async" alt="Atmospheric Indie Production using REV" src="https://i.ytimg.com/vi/fQOsmnH4V8Y/hqdefault.jpg" srcset="https://i.ytimg.com/vi/fQOsmnH4V8Y/mqdefault.jpg 320w, https://i.ytimg.com/vi/fQOsmnH4V8Y/hqdefault.jpg 480w, https://i.ytimg.com/vi/fQOsmnH4V8Y/sddefault.jpg 640w" class="arve-thumbnail" loading="lazy" width="480" height="360">
    [85] => 
<h5 class="arve-title">
Atmospheric Indie Production using REV<br />
</h5>
<p><button role="button" type="button" class="arve-play-btn arve-play-btn--youtube" data-target="#arve-youtube-fqosmnh4v8y6421d0110908f606051656" aria-label="Play video"><br />
<svg class="arve-play-svg arve-play-svg--youtube" focusable="false" aria-hidden="true" width="68" viewBox="0 0 68 48" xmlns="http://www.w3.org/2000/svg">
	<path fill="#1f1f1e" fill-opacity="0.81" d="m .66,37.62 c 0,0 .66,4.70 2.70,6.77 2.58,2.71 5.98,2.63 7.49,2.91 5.43,.52 23.10,.68 23.12,.68 .00,-1.3e-5 14.29,-0.02 23.81,-0.71 1.32,-0.15 4.22,-0.17 6.81,-2.89 2.03,-2.07 2.70,-6.77 2.70,-6.77 0,0 .67,-5.52 .67,-11.04 l 0,-5.17 c 0,-5.52 -0.67,-11.04 -0.67,-11.04 0,0 -0.66,-4.70 -2.70,-6.77 C 62.03,.86 59.13,.84 57.80,.69 48.28,0 34.00,0 34.00,0 33.97,0 19.69,0 10.18,.69 8.85,.84 5.95,.86 3.36,3.58 1.32,5.65 .66,10.35 .66,10.35 c 0,0 -0.55,4.50 -0.66,9.45 l 0,8.36 c .10,4.94 .66,9.45 .66,9.45 z"></path>
	<path fill="#fff" d="m 26.96,13.67 18.37,9.62 -18.37,9.55 -0.00,-19.17 z" ></path>
	<path fill="#ccc" d="M 45.02,23.46 45.32,23.28 26.96,13.67 43.32,24.34 45.02,23.46 z" ></path>
</svg>
    [86] => 
<p></button>
    [87] => 
<p></span>
    [88] => 
<p></span><br />
<script type="application/ld+json">{"@context":"http:\/\/schema.org\/","@id":"https:\/\/theproaudiofiles.com\/sampling-instruments-that-morph-and-layer-multiple-sources\/#arve-youtube-fqosmnh4v8y6421d0110908f606051656","type":"VideoObject","embedURL":"https:\/\/www.youtube.com\/embed\/fQOsmnH4V8Y?feature=oembed&iv_load_policy=3&modestbranding=1&rel=0&autohide=1&playsinline=0&autoplay=1&enablejsapi=1","name":"Atmospheric Indie Production using REV","thumbnailUrl":"https:\/\/i.ytimg.com\/vi\/fQOsmnH4V8Y\/hqdefault.jpg","uploadDate":"2018-07-28T08:22:46+00:00","author":"Output","description":"The term Vector Synthesis refers to a synthesis technique which creates, \u201c...movement in a sound by providing dynamic cross-fading between (usually) four sound sources. The four sound sources are conceptually arranged as the extreme points of X and Y axes and typically labeled A, B, C and D. A given"}</script>
</div>
<h2>Summary</h2>
<p>If you haven&#8217;t fully explored the potential of morphing and layering samples, you have needlessly deprived yourself of a whole new world of possibilities when it comes to sampling technology. The instruments mentioned in this article are a great place to start your journey.
    [89] => 
<p>Check out my other <a href="https://theproaudiofiles.com/author/philipmantione/" target="_blank" rel="noopener"><strong>articles, reviews, interviews</strong></a> and my video tutorial series, <a href="https://theproaudiofiles.com/synthesis-101/" target="_blank" rel="noopener"><strong>Synthesis 101</strong></a> available exclusively on The Pro Audio Files.
    [90] => 
<p><strong>Follow me on Twitter: <a href="https://twitter.com/PMantione" target="_blank" rel="noopener">@PMantione</a></strong><br />
<strong> Instagram: </strong><a href="https://www.instagram.com/philipmantione/" target="_blank" rel="noopener"><strong>philipmantione</strong></a>
    [91] => 
<div class="arve wp-block-nextgenthemes-arve arve-hover-effect-none" data-mode="lazyload" data-oembed="1" data-provider="youtube" id="arve-youtube-sdp52jdyrio6421d01109a54190031495" data-reset-after-played data-fullscreen="disabled" data-volume="100">
<span class="arve-inner"><br />
<span class="arve-embed arve-embed--has-aspect-ratio" style="aspect-ratio: 610 / 343"><br />
<span class="arve-ar" style="padding-top:56.229508%"></span><noscript class="arve-noscript"><iframe allow="accelerometer; autoplay; clipboard-write; encrypted-media; gyroscope; picture-in-picture" allowfullscreen class="arve-iframe fitvidsignore" data-arve="arve-youtube-sdp52jdyrio6421d01109a54190031495" data-src-no-ap="https://www.youtube.com/embed/Sdp52jdyRIo?feature=oembed&amp;iv_load_policy=3&amp;modestbranding=1&amp;rel=0&amp;autohide=1&amp;playsinline=0&amp;autoplay=0&amp;enablejsapi=1" frameborder="0" height="0" sandbox="allow-scripts allow-same-origin allow-presentation" scrolling="no" src="https://www.youtube.com/embed/Sdp52jdyRIo?feature=oembed&#038;iv_load_policy=3&#038;modestbranding=1&#038;rel=0&#038;autohide=1&#038;playsinline=0&#038;autoplay=1&#038;enablejsapi=1" title="Synthesis 101: 4+ Hours of In-Depth Synth Training"></iframe><br />
</noscript><img decoding="async" alt="Synthesis 101: 4+ Hours of In-Depth Synth Training" src="https://i.ytimg.com/vi/Sdp52jdyRIo/hqdefault.jpg" srcset="https://i.ytimg.com/vi/Sdp52jdyRIo/mqdefault.jpg 320w, https://i.ytimg.com/vi/Sdp52jdyRIo/hqdefault.jpg 480w, https://i.ytimg.com/vi/Sdp52jdyRIo/sddefault.jpg 640w, https://i.ytimg.com/vi/Sdp52jdyRIo/maxresdefault.jpg 1280w" class="arve-thumbnail" loading="lazy" width="480" height="360">
    [92] => 
<h5 class="arve-title">
Synthesis 101: 4+ Hours of In-Depth Synth Training<br />
</h5>
<p><button role="button" type="button" class="arve-play-btn arve-play-btn--youtube" data-target="#arve-youtube-sdp52jdyrio6421d01109a54190031495" aria-label="Play video"><br />
<svg class="arve-play-svg arve-play-svg--youtube" focusable="false" aria-hidden="true" width="68" viewBox="0 0 68 48" xmlns="http://www.w3.org/2000/svg">
	<path fill="#1f1f1e" fill-opacity="0.81" d="m .66,37.62 c 0,0 .66,4.70 2.70,6.77 2.58,2.71 5.98,2.63 7.49,2.91 5.43,.52 23.10,.68 23.12,.68 .00,-1.3e-5 14.29,-0.02 23.81,-0.71 1.32,-0.15 4.22,-0.17 6.81,-2.89 2.03,-2.07 2.70,-6.77 2.70,-6.77 0,0 .67,-5.52 .67,-11.04 l 0,-5.17 c 0,-5.52 -0.67,-11.04 -0.67,-11.04 0,0 -0.66,-4.70 -2.70,-6.77 C 62.03,.86 59.13,.84 57.80,.69 48.28,0 34.00,0 34.00,0 33.97,0 19.69,0 10.18,.69 8.85,.84 5.95,.86 3.36,3.58 1.32,5.65 .66,10.35 .66,10.35 c 0,0 -0.55,4.50 -0.66,9.45 l 0,8.36 c .10,4.94 .66,9.45 .66,9.45 z"></path>
	<path fill="#fff" d="m 26.96,13.67 18.37,9.62 -18.37,9.55 -0.00,-19.17 z" ></path>
	<path fill="#ccc" d="M 45.02,23.46 45.32,23.28 26.96,13.67 43.32,24.34 45.02,23.46 z" ></path>
</svg>
    [93] => 
<p></button>
    [94] => 
<p></span>
    [95] => 
<p></span><br />
<script type="application/ld+json">{"@context":"http:\/\/schema.org\/","@id":"https:\/\/theproaudiofiles.com\/sampling-instruments-that-morph-and-layer-multiple-sources\/#arve-youtube-sdp52jdyrio6421d01109a54190031495","type":"VideoObject","embedURL":"https:\/\/www.youtube.com\/embed\/Sdp52jdyRIo?feature=oembed&iv_load_policy=3&modestbranding=1&rel=0&autohide=1&playsinline=0&autoplay=1&enablejsapi=1","name":"Synthesis 101: 4+ Hours of In-Depth Synth Training","thumbnailUrl":"https:\/\/i.ytimg.com\/vi\/Sdp52jdyRIo\/hqdefault.jpg","uploadDate":"2018-07-28T08:22:46+00:00","author":"Pro Audio Files","description":"The term Vector Synthesis refers to a synthesis technique which creates, \u201c...movement in a sound by providing dynamic cross-fading between (usually) four sound sources. The four sound sources are conceptually arranged as the extreme points of X and Y axes and typically labeled A, B, C and D. A given"}</script>
</div>

    [96] => 
)

Inserting at initial position
Chosen Position: 29
<p></span><br />
<script type="application/ld+json">{"@context":"http:\/\/schema.org\/","@id":"https:\/\/theproaudiofiles.com\/sampling-instruments-that-morph-and-layer-multiple-sources\/#arve-youtube-2scoipnfonk6421d011037cf296866790","type":"VideoObject","embedURL":"https:\/\/www.youtube.com\/embed\/2sCoiPNfONk?feature=oembed&iv_load_policy=3&modestbranding=1&rel=0&autohide=1&playsinline=0&autoplay=1&enablejsapi=1","name":"Gothic Instruments Sculptor Live Impacts Module Walkthrough","thumbnailUrl":"https:\/\/i.ytimg.com\/vi\/2sCoiPNfONk\/hqdefault.jpg","uploadDate":"2018-07-28T08:22:46+00:00","author":"Time+Space","description":"The term Vector Synthesis refers to a synthesis technique which creates, \u201c...movement in a sound by providing dynamic cross-fading between (usually) four sound sources. The four sound sources are conceptually arranged as the extreme points of X and Y axes and typically labeled A, B, C and D. A given"}</script>
</div>
<h2><a href="https://www.native-instruments.com/en/products/komplete/cinematic/rise-hit/" target="_blank" rel="noopener">Rise and Hit by Native Instruments</a></h2>
<p><strong>Rise and Hit</strong> is perhaps the best sound design tool for constructing a rise and hit gesture that needs to be a specific length, either in terms of seconds, division of the beat or measures. The interface is simple and intuitive and you can literally design a sound in seconds even if you've never used the instrument before. That is the sign of a great GUI and concept.</p>
Inserting at initial position
Chosen Position: 58
<h5 class="arve-title">
Umlaut Audio MOTORS &#8211; Walkthrough<br />
</h5>
<p><button role="button" type="button" class="arve-play-btn arve-play-btn--youtube" data-target="#arve-youtube-fjrfvy6lahs6421d0110696e747917829" aria-label="Play video"><br />
<svg class="arve-play-svg arve-play-svg--youtube" focusable="false" aria-hidden="true" width="68" viewBox="0 0 68 48" xmlns="http://www.w3.org/2000/svg">
	<path fill="#1f1f1e" fill-opacity="0.81" d="m .66,37.62 c 0,0 .66,4.70 2.70,6.77 2.58,2.71 5.98,2.63 7.49,2.91 5.43,.52 23.10,.68 23.12,.68 .00,-1.3e-5 14.29,-0.02 23.81,-0.71 1.32,-0.15 4.22,-0.17 6.81,-2.89 2.03,-2.07 2.70,-6.77 2.70,-6.77 0,0 .67,-5.52 .67,-11.04 l 0,-5.17 c 0,-5.52 -0.67,-11.04 -0.67,-11.04 0,0 -0.66,-4.70 -2.70,-6.77 C 62.03,.86 59.13,.84 57.80,.69 48.28,0 34.00,0 34.00,0 33.97,0 19.69,0 10.18,.69 8.85,.84 5.95,.86 3.36,3.58 1.32,5.65 .66,10.35 .66,10.35 c 0,0 -0.55,4.50 -0.66,9.45 l 0,8.36 c .10,4.94 .66,9.45 .66,9.45 z"></path>
	<path fill="#fff" d="m 26.96,13.67 18.37,9.62 -18.37,9.55 -0.00,-19.17 z" ></path>
	<path fill="#ccc" d="M 45.02,23.46 45.32,23.28 26.96,13.67 43.32,24.34 45.02,23.46 z" ></path>
</svg></p>
The term Vector Synthesis refers to a synthesis technique which creates, "…movement in a sound by providing dynamic cross-fading between (usually) four sound sources. The four sound sources are conceptually arranged as the extreme points of X and Y axes and typically labeled A, B, C and D. A given mix of the four sound sources can be represented by a single point in this 'vector plane' (source). In Synthesizers like the Prophet by Sequential Circuits, the sources are digital wavetable oscillators.
Many software sampling instruments and sampling libraries have taken a similar approach by allowing for up to eight sources or samples to be played simultaneously on potentially every key. There is usually some sort of mix level control via an X-Y morph pad or simple sliders for each source. In contrast to early vector synthesizers that used simple oscillators or wavetables, the samples being layered can be quite long in duration, having drastically different amplitude and spectral content variation. This can result in lush evolving textures that unfold beautifully over time and all from playing a single note. Or, the samples may be much shorter and capable of producing rich transient sounds that dissolve in unusual ways.
What follows are some of my favorite Kontakt-based sampling instruments that use this method as the basis for producing sound. Some of these allow the user to load in their own sounds, in addition to coming with enormous onboard libraries.
Melt is a stunning instrument that uses an X-Y pad to morph between four possible sources. Sounds are available via a drop-down menu that displays five possible categories: Pure, Floating, Organic, Field Record and Granular. Loading a new sound is fast and easy.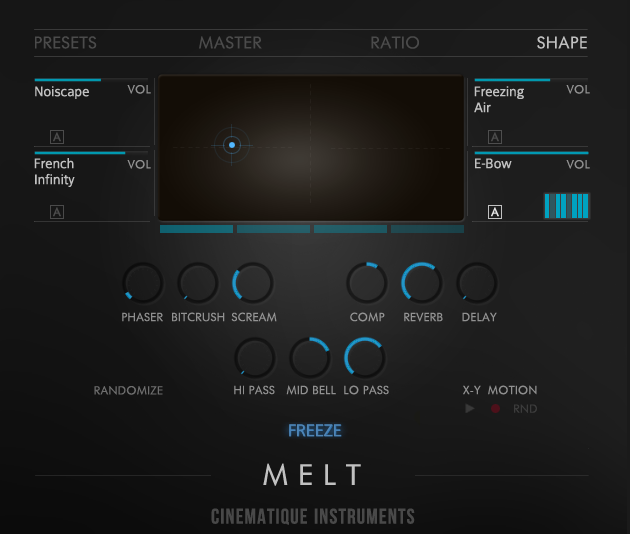 You can also adjust something they call Ratio: "By moving the cursor inside this X-Y pad, MELT calculates its main sound out of this cursor position by the ratios of all four sounds and their individual effect parameters".

You can record your X-Y movements quite easily and those movements will become part of the sound every time you hit a new key.
Feature Set:
Blending between four sound layers via X-Y pad
Creation of complex sound structures in an extremely simple way
Nine sound-shaping effects plus eight-step sequencer per instrument
Freeze Mode for global application of all nine sound shaping effects
Ratio table per instrument to adjust the cursor relation
64 inspiring sound sources: 21 ambiances & textures, 16 field recordings, 8 organs and electric pianos, 5 pure synths, 10 organic sounds like guitars and 4 string sounds
Over 120 presets: Basic Sounds, Calm and Quiet, Synthetic, Organic Pieces, Ambiances, Strings, Complex Melts, Ambients, Wide and Open, Shorts, Rhythmic, Experimental
Dronar is a collection of modules that work in similar ways but with different content. There are four main source modules called FX, HI, MID, and LO which describe the nature of the source category in terms of spectrum and/or texture.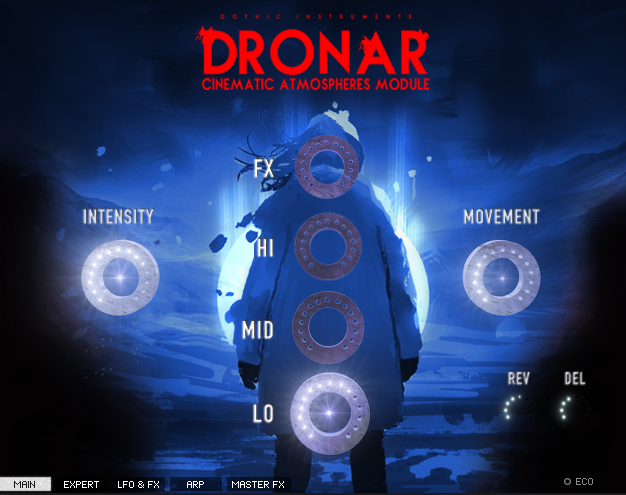 Clicking the Expert tab at the bottom of the GUI reveals that each of the four categories can actually have 2 sources blended together, so that up to eight sources may be used at any given time.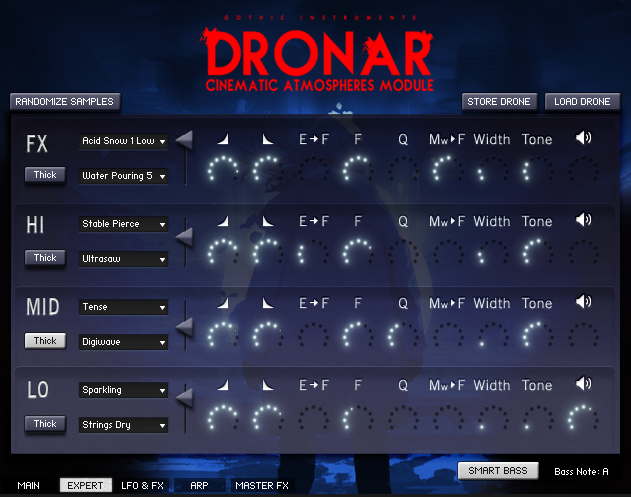 For more on Dronar, check out my review here.
Sculptor is another great collection of instruments that are more geared towards sound effects: impacts, risers and drops.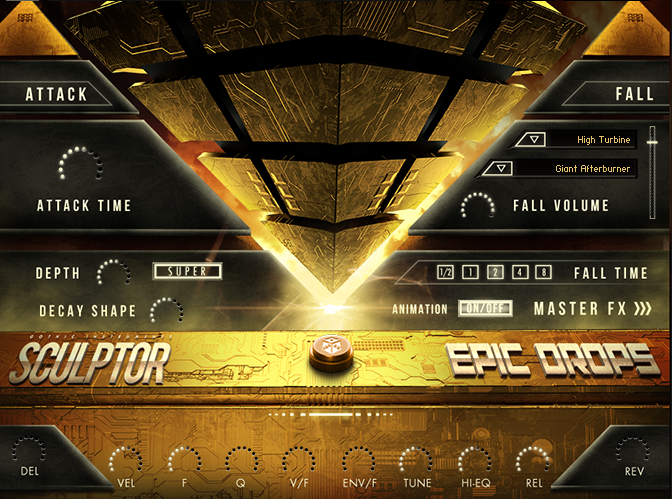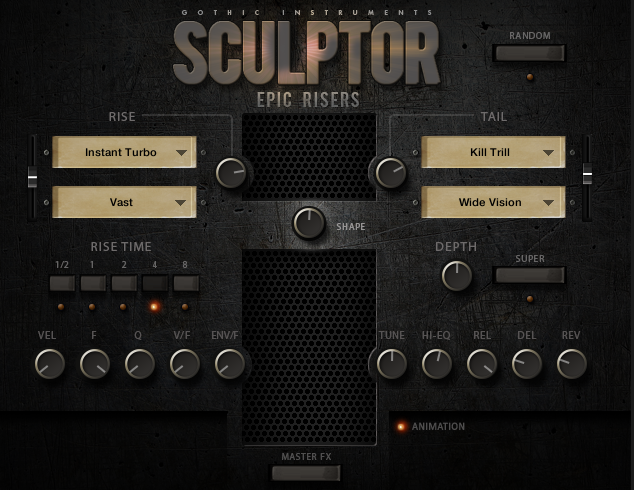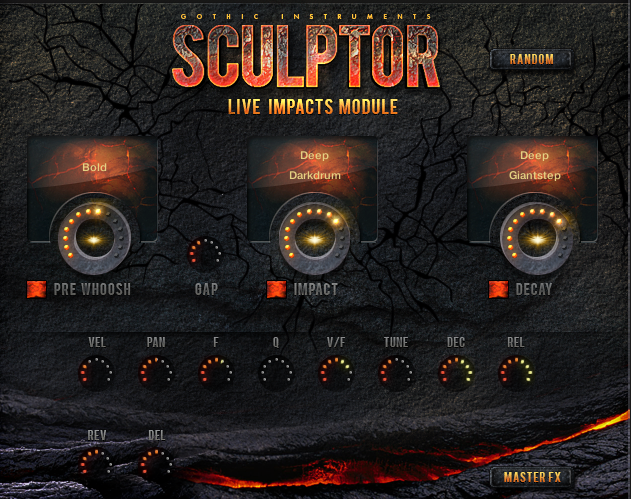 Each instrument allows for multiple sources to be layered in various ways, often dividing the sound into different stages of its amplitude envelope. Aside from having great animated visuals, these things sound incredible and having the flexibility to construct a unique sound that fits perfectly in a particular context is a welcome alternative to searching through existing FX libraries or trying to modify a sound to make it work.
Rise and Hit is perhaps the best sound design tool for constructing a rise and hit gesture that needs to be a specific length, either in terms of seconds, division of the beat or measures. The interface is simple and intuitive and you can literally design a sound in seconds even if you've never used the instrument before. That is the sign of a great GUI and concept.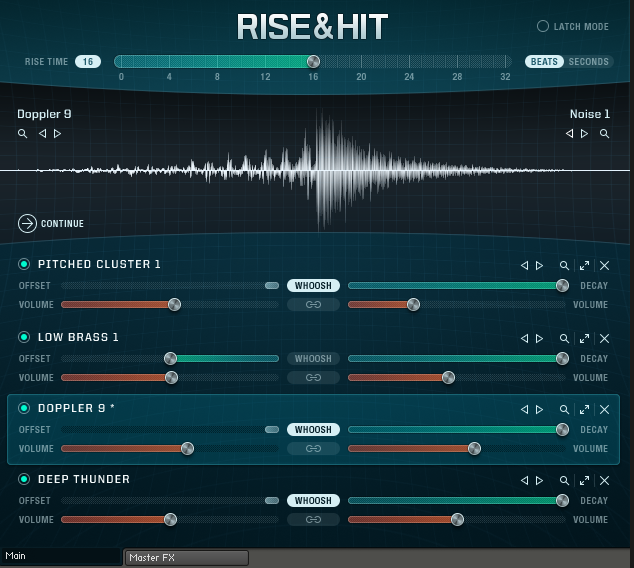 The instrument allows up to four sources and comes with 8 GB of exclusive content that will keep you busy for a while. The Doppler effects are especially fun.
Kinetic Metal is another beauty by NI which features intricate clock-like animations and a sort of steampunk aesthetic.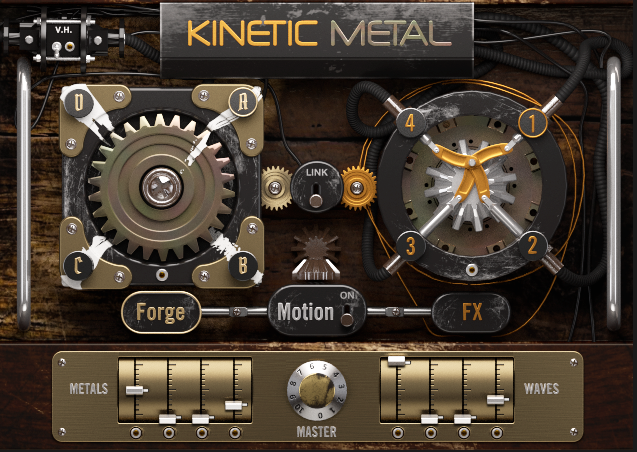 You can mix up to eight sources from two categories: Metals and Waves. Content changes with each preset and the Forge control creates interesting mixes on the fly. Both main user controls are ripe for MIDI control via CC or automation. This thing is a rabbit hole for anyone that loves sound — and cool visuals.
Morphestra 2 uses four playback modules (referred to as Cores), each consisting of a mix between two sample sources for a total of eight possible sounds at any given time.

On top of that, the instruments have incredibly robust FX and step sequencing sections. Read my in-depth review here.
Both of these instruments by Umlaut use a dual layer approach to generate unique textures and/or complex rhythmic content via multiple delays. Motors is especially satisfying if your aim is to create hypnotic loops that can be altered on-the-fly with some cleverly mapped MIDI CC's. I also encourage the use of the Random button, if you've got a few hours to spare.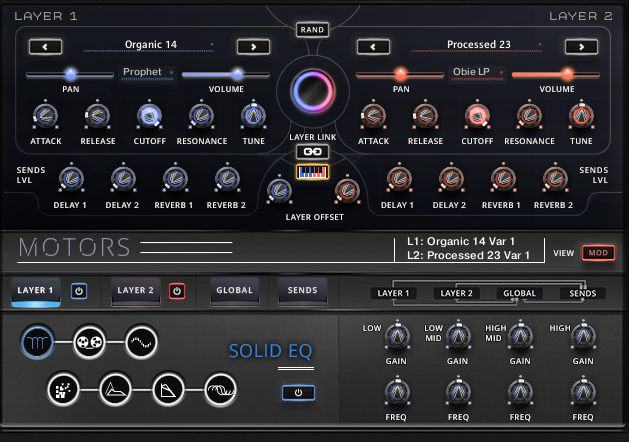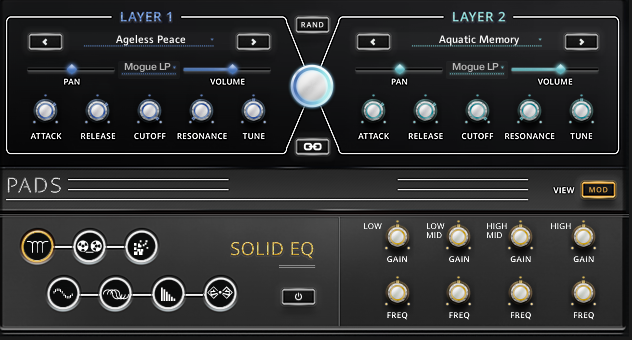 Finally, there are four instruments by Output that deserve serious consideration.
Analog Brass and Winds utilizes two layers with a feature that allows to two quickly adjust the starting point of each sample, or apply looping or reverse settings to each independently.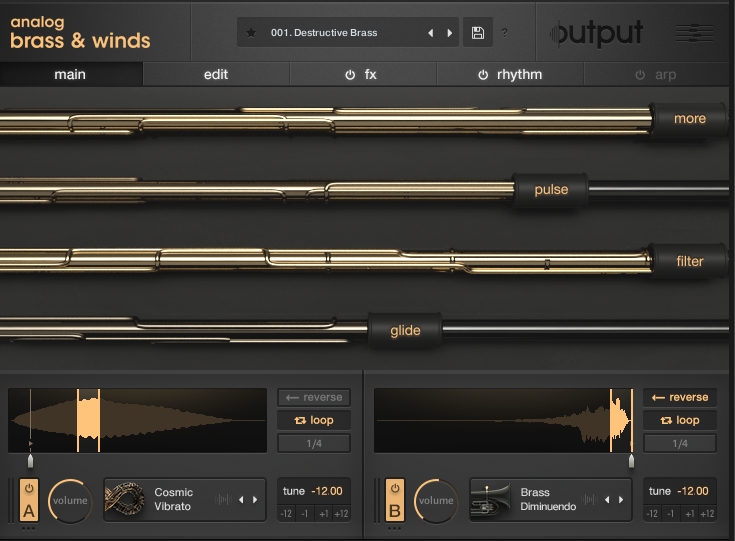 Read more in my article: 12 Awesome Sound Design Tools for Music Production
Analog Strings also uses a two-layer approach and is similar in concept although varying in content.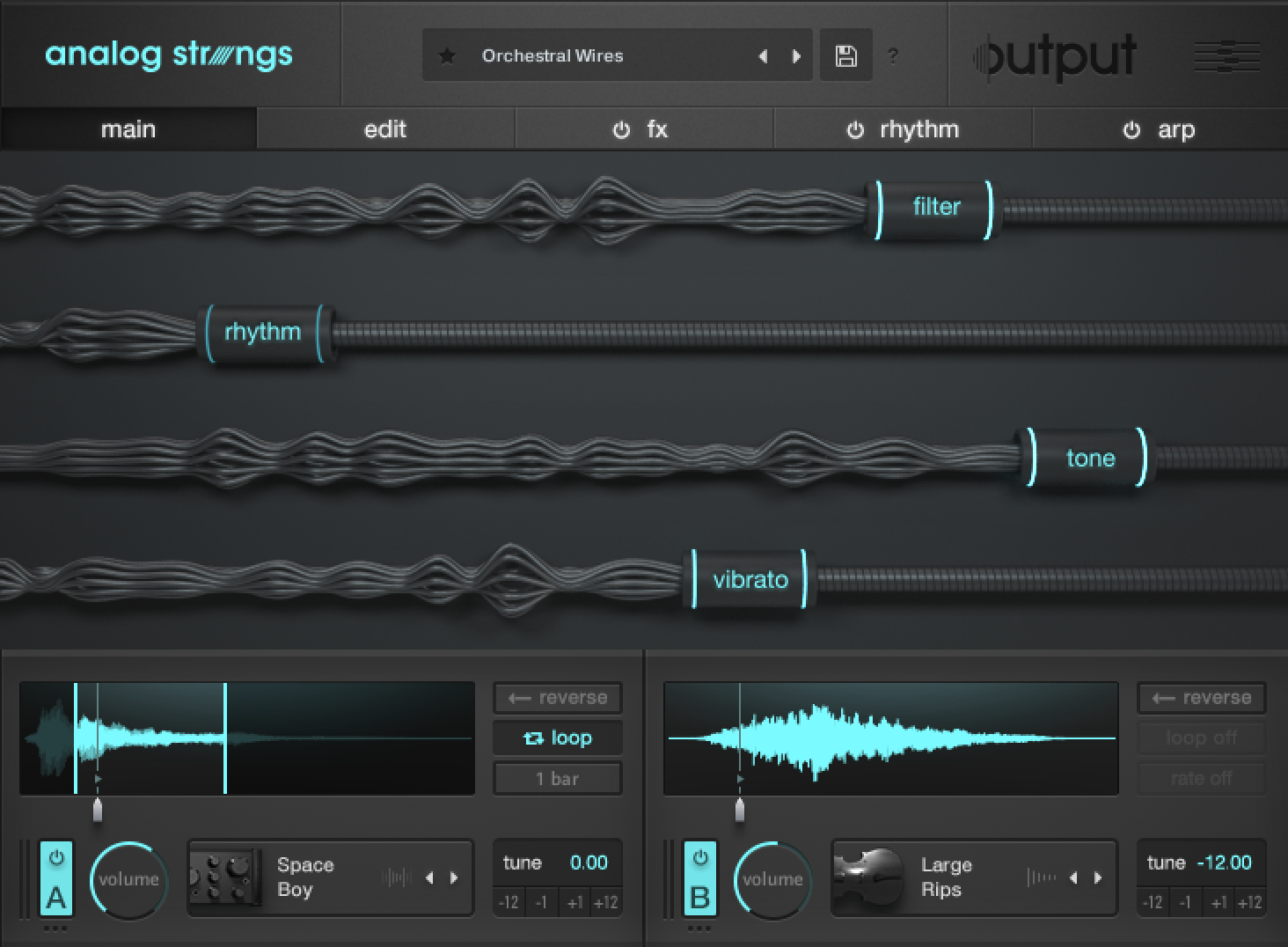 Read my complete review here.
Substance combines three layers of synth-based sounds in a rubbery sort of interface design that changes to reflect the nature of each sound source. This approach may be the closest thing to vector-based synthesis discussed so far.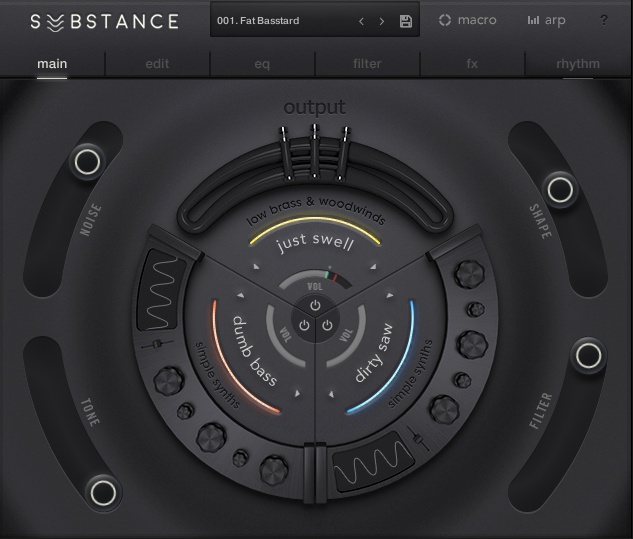 The sounds are thick, luscious and aggressive, and the modulation, effects and arpeggiation possibilities are limitless.
REV uses a dual layer approach and also has an extremely robust effects section for each layer as well as global processing. As one would expect, the reverse gesture is a big part of the sounds, and samples included were clearly chosen based on the nature of their natural amplitude envelopes.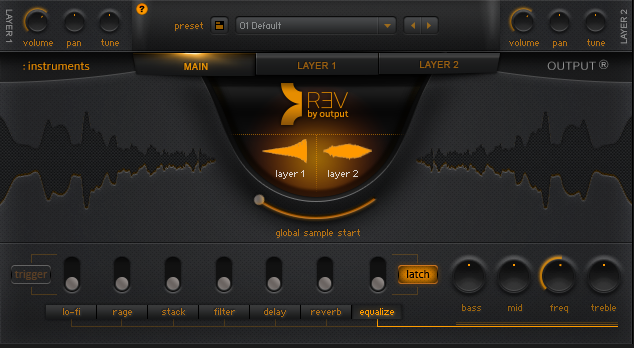 Summary
If you haven't fully explored the potential of morphing and layering samples, you have needlessly deprived yourself of a whole new world of possibilities when it comes to sampling technology. The instruments mentioned in this article are a great place to start your journey.
Check out my other articles, reviews, interviews and my video tutorial series, Synthesis 101 available exclusively on The Pro Audio Files.
Follow me on Twitter: @PMantione
Instagram: philipmantione
Array
(
    [0] => <p>The term <em>Vector Synthesis</em> refers to a synthesis technique which creates, "&#8230;movement in a sound by providing dynamic cross-fading between (usually) four sound sources. The four sound sources are conceptually arranged as the extreme points of X and Y axes and typically labeled A, B, C and D. A given mix of the four sound sources can be represented by a single point in this &#8216;vector plane' (<a href="https://en.wikipedia.org/wiki/Vector_synthesis" target="_blank" rel="noopener">source)</a>. In Synthesizers like the <a href="https://en.wikipedia.org/wiki/Sequential_Circuits_Prophet-5" target="_blank" rel="noopener">Prophet by Sequential Circuits</a>, the sources are digital wavetable oscillators.
    [1] => 
<p>Many software <a href="https://theproaudiofiles.com/fundamentals-sampling-and-instruments-libraries/" target="_blank" rel="noopener">sampling instruments and sampling libraries</a> have taken a similar approach by allowing for up to eight sources or samples to be played simultaneously on potentially every key. There is usually some sort of mix level control via an X-Y morph pad or simple sliders for each source. In contrast to early vector synthesizers that used simple oscillators or wavetables, the samples being layered can be quite long in duration, having drastically different amplitude and spectral content variation. This can result in lush evolving textures that unfold beautifully over time and all from playing a single note. Or, the samples may be much shorter and capable of producing rich transient sounds that dissolve in unusual ways.
    [2] => 
<p>What follows are some of my favorite Kontakt-based sampling instruments that use this method as the basis for producing sound. Some of these allow the user to load in their own sounds, in addition to coming with enormous onboard libraries.
    [3] => 
<h2><a href="https://cinematique-instruments.com/pages_instr/page_melt.php" target="_blank" rel="noopener">Melt by Cinematique Instruments</a></h2>
<p><strong>Melt</strong> is a stunning instrument that uses an X-Y pad to morph between four possible sources. Sounds are available via a drop-down menu that displays five possible categories: Pure, Floating, Organic, Field Record and Granular. Loading a new sound is fast and easy.
    [4] => 
<p><img decoding="async" loading="lazy" class="alignnone wp-image-41093 size-full" src="https://theproaudiofiles.com/wp-content/uploads/2018/07/Screen-Shot-2018-07-22-at-4.37.49-PM.png" alt="12 Sampling Instruments That Morph and Layer Multiple Sources" width="630" height="534" srcset="https://theproaudiofiles.com/wp-content/uploads/2018/07/Screen-Shot-2018-07-22-at-4.37.49-PM.png 630w, https://theproaudiofiles.com/wp-content/uploads/2018/07/Screen-Shot-2018-07-22-at-4.37.49-PM-200x170.png 200w, https://theproaudiofiles.com/wp-content/uploads/2018/07/Screen-Shot-2018-07-22-at-4.37.49-PM-300x254.png 300w, https://theproaudiofiles.com/wp-content/uploads/2018/07/Screen-Shot-2018-07-22-at-4.37.49-PM-400x339.png 400w" sizes="(max-width: 630px) 100vw, 630px" />
    [5] => 
<p>You can also adjust something they call Ratio: "By moving the cursor inside this X-Y pad, MELT calculates its main sound out of this cursor position by the ratios of all four sounds and their individual effect parameters&#8221;.
    [6] => 
<p><img decoding="async" loading="lazy" class="alignnone wp-image-41094 size-full" src="https://theproaudiofiles.com/wp-content/uploads/2018/07/Screen-Shot-2018-07-22-at-4.38.01-PM.png" alt="12 Sampling Instruments That Morph and Layer Multiple Sources" width="622" height="202" srcset="https://theproaudiofiles.com/wp-content/uploads/2018/07/Screen-Shot-2018-07-22-at-4.38.01-PM.png 622w, https://theproaudiofiles.com/wp-content/uploads/2018/07/Screen-Shot-2018-07-22-at-4.38.01-PM-200x65.png 200w, https://theproaudiofiles.com/wp-content/uploads/2018/07/Screen-Shot-2018-07-22-at-4.38.01-PM-300x97.png 300w, https://theproaudiofiles.com/wp-content/uploads/2018/07/Screen-Shot-2018-07-22-at-4.38.01-PM-400x130.png 400w" sizes="(max-width: 622px) 100vw, 622px" />
    [7] => 
<p>You can record your X-Y movements quite easily and those movements will become part of the sound every time you hit a new key.
    [8] => 
<p><strong>Feature Set:</strong>
    [9] => 
<ul>
<li>Blending between four sound layers via X-Y pad</li>
<li>Creation of complex sound structures in an extremely simple way</li>
<li>Nine sound-shaping effects plus eight-step sequencer per instrument</li>
<li>Freeze Mode for global application of all nine sound shaping effects</li>
<li>Ratio table per instrument to adjust the cursor relation</li>
<li>64 inspiring sound sources: 21 ambiances &amp; textures, 16 field recordings, 8 organs and electric pianos, 5 pure synths, 10 organic sounds like guitars and 4 string sounds</li>
<li>Over 120 presets: Basic Sounds, Calm and Quiet, Synthetic, Organic Pieces, Ambiances, Strings, Complex Melts, Ambients, Wide and Open, Shorts, Rhythmic, Experimental</li>
</ul>
<div class="arve wp-block-nextgenthemes-arve arve-hover-effect-none" data-mode="lazyload" data-oembed="1" data-provider="youtube" id="arve-youtube-6yayalkxfbq6421d0111fdbb194856474" data-reset-after-played data-fullscreen="disabled" data-volume="100">
<span class="arve-inner"><br />
<span class="arve-embed arve-embed--has-aspect-ratio" style="aspect-ratio: 610 / 343"><br />
<span class="arve-ar" style="padding-top:56.229508%"></span><noscript class="arve-noscript"><iframe allow="accelerometer; autoplay; clipboard-write; encrypted-media; gyroscope; picture-in-picture" allowfullscreen class="arve-iframe fitvidsignore" data-arve="arve-youtube-6yayalkxfbq6421d0111fdbb194856474" data-src-no-ap="https://www.youtube.com/embed/6yayALkxfbQ?feature=oembed&amp;iv_load_policy=3&amp;modestbranding=1&amp;rel=0&amp;autohide=1&amp;playsinline=0&amp;autoplay=0&amp;enablejsapi=1" frameborder="0" height="0" sandbox="allow-scripts allow-same-origin allow-presentation" scrolling="no" src="https://www.youtube.com/embed/6yayALkxfbQ?feature=oembed&#038;iv_load_policy=3&#038;modestbranding=1&#038;rel=0&#038;autohide=1&#038;playsinline=0&#038;autoplay=1&#038;enablejsapi=1" title="Walkthrough | Melt"></iframe><br />
</noscript><img decoding="async" alt="Walkthrough | Melt" src="https://i.ytimg.com/vi/6yayALkxfbQ/hqdefault.jpg" srcset="https://i.ytimg.com/vi/6yayALkxfbQ/mqdefault.jpg 320w, https://i.ytimg.com/vi/6yayALkxfbQ/hqdefault.jpg 480w, https://i.ytimg.com/vi/6yayALkxfbQ/sddefault.jpg 640w, https://i.ytimg.com/vi/6yayALkxfbQ/maxresdefault.jpg 1280w" class="arve-thumbnail" loading="lazy" width="480" height="360">
    [10] => 
<h5 class="arve-title">
Walkthrough | Melt<br />
</h5>
<p><button role="button" type="button" class="arve-play-btn arve-play-btn--youtube" data-target="#arve-youtube-6yayalkxfbq6421d0111fdbb194856474" aria-label="Play video"><br />
<svg class="arve-play-svg arve-play-svg--youtube" focusable="false" aria-hidden="true" width="68" viewBox="0 0 68 48" xmlns="http://www.w3.org/2000/svg">
	<path fill="#1f1f1e" fill-opacity="0.81" d="m .66,37.62 c 0,0 .66,4.70 2.70,6.77 2.58,2.71 5.98,2.63 7.49,2.91 5.43,.52 23.10,.68 23.12,.68 .00,-1.3e-5 14.29,-0.02 23.81,-0.71 1.32,-0.15 4.22,-0.17 6.81,-2.89 2.03,-2.07 2.70,-6.77 2.70,-6.77 0,0 .67,-5.52 .67,-11.04 l 0,-5.17 c 0,-5.52 -0.67,-11.04 -0.67,-11.04 0,0 -0.66,-4.70 -2.70,-6.77 C 62.03,.86 59.13,.84 57.80,.69 48.28,0 34.00,0 34.00,0 33.97,0 19.69,0 10.18,.69 8.85,.84 5.95,.86 3.36,3.58 1.32,5.65 .66,10.35 .66,10.35 c 0,0 -0.55,4.50 -0.66,9.45 l 0,8.36 c .10,4.94 .66,9.45 .66,9.45 z"></path>
	<path fill="#fff" d="m 26.96,13.67 18.37,9.62 -18.37,9.55 -0.00,-19.17 z" ></path>
	<path fill="#ccc" d="M 45.02,23.46 45.32,23.28 26.96,13.67 43.32,24.34 45.02,23.46 z" ></path>
</svg>
    [11] => 
<p></button>
    [12] => 
<p></span>
    [13] => 
<p></span><br />
<script type="application/ld+json">{"@context":"http:\/\/schema.org\/","@id":"https:\/\/theproaudiofiles.com\/sampling-instruments-that-morph-and-layer-multiple-sources\/#arve-youtube-6yayalkxfbq6421d0111fdbb194856474","type":"VideoObject","embedURL":"https:\/\/www.youtube.com\/embed\/6yayALkxfbQ?feature=oembed&iv_load_policy=3&modestbranding=1&rel=0&autohide=1&playsinline=0&autoplay=1&enablejsapi=1","name":"Walkthrough | Melt","thumbnailUrl":"https:\/\/i.ytimg.com\/vi\/6yayALkxfbQ\/hqdefault.jpg","uploadDate":"2018-07-28T08:22:46+00:00","author":"CINEMATIQUE INSTRUMENTS","description":"The term Vector Synthesis refers to a synthesis technique which creates, \u201c...movement in a sound by providing dynamic cross-fading between (usually) four sound sources. The four sound sources are conceptually arranged as the extreme points of X and Y axes and typically labeled A, B, C and D. A given"}</script>
</div>
<h2><a href="https://www.timespace.com/products/gothic-instruments-dronar-hybrid-module" target="_blank" rel="noopener">Dronar by Gothic Instruments</a></h2>
<p><strong>Dronar</strong> is a collection of modules that work in similar ways but with different content. There are four main source modules called FX, HI, MID, and LO which describe the nature of the source category in terms of spectrum and/or texture.
    [14] => 
<p><img decoding="async" loading="lazy" class="alignnone wp-image-41096 size-full" src="https://theproaudiofiles.com/wp-content/uploads/2018/07/Screen-Shot-2018-07-22-at-4.41.27-PM.png" alt="12 Sampling Instruments That Morph and Layer Multiple Sources" width="626" height="495" srcset="https://theproaudiofiles.com/wp-content/uploads/2018/07/Screen-Shot-2018-07-22-at-4.41.27-PM.png 626w, https://theproaudiofiles.com/wp-content/uploads/2018/07/Screen-Shot-2018-07-22-at-4.41.27-PM-200x158.png 200w, https://theproaudiofiles.com/wp-content/uploads/2018/07/Screen-Shot-2018-07-22-at-4.41.27-PM-300x237.png 300w, https://theproaudiofiles.com/wp-content/uploads/2018/07/Screen-Shot-2018-07-22-at-4.41.27-PM-400x316.png 400w" sizes="(max-width: 626px) 100vw, 626px" />
    [15] => 
<p>Clicking the Expert tab at the bottom of the GUI reveals that each of the four categories can actually have 2 sources blended together, so that up to eight sources may be used at any given time.
    [16] => 
<p><img decoding="async" loading="lazy" class="alignnone wp-image-41097 size-full" src="https://theproaudiofiles.com/wp-content/uploads/2018/07/Screen-Shot-2018-07-22-at-4.41.47-PM.png" alt="12 Sampling Instruments That Morph and Layer Multiple Sources" width="631" height="497" srcset="https://theproaudiofiles.com/wp-content/uploads/2018/07/Screen-Shot-2018-07-22-at-4.41.47-PM.png 631w, https://theproaudiofiles.com/wp-content/uploads/2018/07/Screen-Shot-2018-07-22-at-4.41.47-PM-200x158.png 200w, https://theproaudiofiles.com/wp-content/uploads/2018/07/Screen-Shot-2018-07-22-at-4.41.47-PM-300x236.png 300w, https://theproaudiofiles.com/wp-content/uploads/2018/07/Screen-Shot-2018-07-22-at-4.41.47-PM-400x315.png 400w" sizes="(max-width: 631px) 100vw, 631px" />
    [17] => 
<p>For more on Dronar, check out my review <a href="https://theproaudiofiles.com/review-dronar-gothic-instruments/" target="_blank" rel="noopener">here</a>.
    [18] => 
<div class="arve wp-block-nextgenthemes-arve arve-hover-effect-none" data-mode="lazyload" data-oembed="1" data-provider="youtube" id="arve-youtube-r73jiurbrfs6421d01120739133680111" data-reset-after-played data-fullscreen="disabled" data-volume="100">
<span class="arve-inner"><br />
<span class="arve-embed arve-embed--has-aspect-ratio" style="aspect-ratio: 610 / 343"><br />
<span class="arve-ar" style="padding-top:56.229508%"></span><noscript class="arve-noscript"><iframe allow="accelerometer; autoplay; clipboard-write; encrypted-media; gyroscope; picture-in-picture" allowfullscreen class="arve-iframe fitvidsignore" data-arve="arve-youtube-r73jiurbrfs6421d01120739133680111" data-src-no-ap="https://www.youtube.com/embed/R73JiURBRfs?start=2&amp;feature=oembed&amp;iv_load_policy=3&amp;modestbranding=1&amp;rel=0&amp;autohide=1&amp;playsinline=0&amp;autoplay=0&amp;enablejsapi=1" frameborder="0" height="0" sandbox="allow-scripts allow-same-origin allow-presentation" scrolling="no" src="https://www.youtube.com/embed/R73JiURBRfs?start=2&#038;feature=oembed&#038;iv_load_policy=3&#038;modestbranding=1&#038;rel=0&#038;autohide=1&#038;playsinline=0&#038;autoplay=1&#038;enablejsapi=1" title="Gothic Instruments Complete Bundle Trailer"></iframe><br />
</noscript><img decoding="async" alt="Gothic Instruments Complete Bundle Trailer" src="https://i.ytimg.com/vi/R73JiURBRfs/hqdefault.jpg" srcset="https://i.ytimg.com/vi/R73JiURBRfs/mqdefault.jpg 320w, https://i.ytimg.com/vi/R73JiURBRfs/hqdefault.jpg 480w, https://i.ytimg.com/vi/R73JiURBRfs/sddefault.jpg 640w, https://i.ytimg.com/vi/R73JiURBRfs/maxresdefault.jpg 1280w" class="arve-thumbnail" loading="lazy" width="480" height="360">
    [19] => 
<h5 class="arve-title">
Gothic Instruments Complete Bundle Trailer<br />
</h5>
<p><button role="button" type="button" class="arve-play-btn arve-play-btn--youtube" data-target="#arve-youtube-r73jiurbrfs6421d01120739133680111" aria-label="Play video"><br />
<svg class="arve-play-svg arve-play-svg--youtube" focusable="false" aria-hidden="true" width="68" viewBox="0 0 68 48" xmlns="http://www.w3.org/2000/svg">
	<path fill="#1f1f1e" fill-opacity="0.81" d="m .66,37.62 c 0,0 .66,4.70 2.70,6.77 2.58,2.71 5.98,2.63 7.49,2.91 5.43,.52 23.10,.68 23.12,.68 .00,-1.3e-5 14.29,-0.02 23.81,-0.71 1.32,-0.15 4.22,-0.17 6.81,-2.89 2.03,-2.07 2.70,-6.77 2.70,-6.77 0,0 .67,-5.52 .67,-11.04 l 0,-5.17 c 0,-5.52 -0.67,-11.04 -0.67,-11.04 0,0 -0.66,-4.70 -2.70,-6.77 C 62.03,.86 59.13,.84 57.80,.69 48.28,0 34.00,0 34.00,0 33.97,0 19.69,0 10.18,.69 8.85,.84 5.95,.86 3.36,3.58 1.32,5.65 .66,10.35 .66,10.35 c 0,0 -0.55,4.50 -0.66,9.45 l 0,8.36 c .10,4.94 .66,9.45 .66,9.45 z"></path>
	<path fill="#fff" d="m 26.96,13.67 18.37,9.62 -18.37,9.55 -0.00,-19.17 z" ></path>
	<path fill="#ccc" d="M 45.02,23.46 45.32,23.28 26.96,13.67 43.32,24.34 45.02,23.46 z" ></path>
</svg>
    [20] => 
<p></button>
    [21] => 
<p></span>
    [22] => 
<p></span><br />
<script type="application/ld+json">{"@context":"http:\/\/schema.org\/","@id":"https:\/\/theproaudiofiles.com\/sampling-instruments-that-morph-and-layer-multiple-sources\/#arve-youtube-r73jiurbrfs6421d01120739133680111","type":"VideoObject","embedURL":"https:\/\/www.youtube.com\/embed\/R73JiURBRfs?start=2&feature=oembed&iv_load_policy=3&modestbranding=1&rel=0&autohide=1&playsinline=0&autoplay=1&enablejsapi=1","name":"Gothic Instruments Complete Bundle Trailer","thumbnailUrl":"https:\/\/i.ytimg.com\/vi\/R73JiURBRfs\/hqdefault.jpg","uploadDate":"2018-07-28T08:22:46+00:00","author":"Time+Space","description":"The term Vector Synthesis refers to a synthesis technique which creates, \u201c...movement in a sound by providing dynamic cross-fading between (usually) four sound sources. The four sound sources are conceptually arranged as the extreme points of X and Y axes and typically labeled A, B, C and D. A given"}</script>
</div>
<h2><a href="https://www.timespace.com/products/gothic-instruments-sculptor-live-impacts-module" target="_blank" rel="noopener">Sculptor by Gothic Instruments</a></h2>
<p><strong>Sculptor</strong> is another great collection of instruments that are more geared towards sound effects: impacts, risers and drops.
    [23] => 
<p><img decoding="async" loading="lazy" class="alignnone wp-image-41098 size-full" src="https://theproaudiofiles.com/wp-content/uploads/2018/07/Screen-Shot-2018-07-22-at-4.54.41-PM.png" alt="12 Sampling Instruments That Morph and Layer Multiple Sources" width="672" height="499" srcset="https://theproaudiofiles.com/wp-content/uploads/2018/07/Screen-Shot-2018-07-22-at-4.54.41-PM.png 672w, https://theproaudiofiles.com/wp-content/uploads/2018/07/Screen-Shot-2018-07-22-at-4.54.41-PM-200x149.png 200w, https://theproaudiofiles.com/wp-content/uploads/2018/07/Screen-Shot-2018-07-22-at-4.54.41-PM-300x223.png 300w, https://theproaudiofiles.com/wp-content/uploads/2018/07/Screen-Shot-2018-07-22-at-4.54.41-PM-400x297.png 400w" sizes="(max-width: 672px) 100vw, 672px" /><br />
<img decoding="async" loading="lazy" class="alignnone wp-image-41099 size-full" src="https://theproaudiofiles.com/wp-content/uploads/2018/07/Screen-Shot-2018-07-22-at-4.55.10-PM.png" alt="12 Sampling Instruments That Morph and Layer Multiple Sources" width="634" height="490" srcset="https://theproaudiofiles.com/wp-content/uploads/2018/07/Screen-Shot-2018-07-22-at-4.55.10-PM.png 634w, https://theproaudiofiles.com/wp-content/uploads/2018/07/Screen-Shot-2018-07-22-at-4.55.10-PM-200x155.png 200w, https://theproaudiofiles.com/wp-content/uploads/2018/07/Screen-Shot-2018-07-22-at-4.55.10-PM-300x232.png 300w, https://theproaudiofiles.com/wp-content/uploads/2018/07/Screen-Shot-2018-07-22-at-4.55.10-PM-400x309.png 400w" sizes="(max-width: 634px) 100vw, 634px" /><br />
<img decoding="async" loading="lazy" class="alignnone wp-image-41100 size-full" src="https://theproaudiofiles.com/wp-content/uploads/2018/07/Screen-Shot-2018-07-22-at-4.55.33-PM.png" alt="12 Sampling Instruments That Morph and Layer Multiple Sources" width="631" height="499" srcset="https://theproaudiofiles.com/wp-content/uploads/2018/07/Screen-Shot-2018-07-22-at-4.55.33-PM.png 631w, https://theproaudiofiles.com/wp-content/uploads/2018/07/Screen-Shot-2018-07-22-at-4.55.33-PM-200x158.png 200w, https://theproaudiofiles.com/wp-content/uploads/2018/07/Screen-Shot-2018-07-22-at-4.55.33-PM-300x237.png 300w, https://theproaudiofiles.com/wp-content/uploads/2018/07/Screen-Shot-2018-07-22-at-4.55.33-PM-400x316.png 400w" sizes="(max-width: 631px) 100vw, 631px" />
    [24] => 
<p>Each instrument allows for multiple sources to be layered in various ways, often dividing the sound into different stages of its <a href="https://theproaudiofiles.com/synthesis-101-envelope-parameters-uses/" target="_blank" rel="noopener">amplitude envelope</a>. Aside from having great animated visuals, these things sound incredible and having the flexibility to construct a unique sound that fits perfectly in a particular context is a welcome alternative to searching through existing FX libraries or trying to modify a sound to make it work.
    [25] => 
<div class="arve wp-block-nextgenthemes-arve arve-hover-effect-none" data-mode="lazyload" data-oembed="1" data-provider="youtube" id="arve-youtube-2scoipnfonk6421d01121052035586552" data-reset-after-played data-fullscreen="disabled" data-volume="100">
<span class="arve-inner"><br />
<span class="arve-embed arve-embed--has-aspect-ratio" style="aspect-ratio: 610 / 343"><br />
<span class="arve-ar" style="padding-top:56.229508%"></span><noscript class="arve-noscript"><iframe allow="accelerometer; autoplay; clipboard-write; encrypted-media; gyroscope; picture-in-picture" allowfullscreen class="arve-iframe fitvidsignore" data-arve="arve-youtube-2scoipnfonk6421d01121052035586552" data-src-no-ap="https://www.youtube.com/embed/2sCoiPNfONk?feature=oembed&amp;iv_load_policy=3&amp;modestbranding=1&amp;rel=0&amp;autohide=1&amp;playsinline=0&amp;autoplay=0&amp;enablejsapi=1" frameborder="0" height="0" sandbox="allow-scripts allow-same-origin allow-presentation" scrolling="no" src="https://www.youtube.com/embed/2sCoiPNfONk?feature=oembed&#038;iv_load_policy=3&#038;modestbranding=1&#038;rel=0&#038;autohide=1&#038;playsinline=0&#038;autoplay=1&#038;enablejsapi=1" title="Gothic Instruments Sculptor Live Impacts Module Walkthrough"></iframe><br />
</noscript><img decoding="async" alt="Gothic Instruments Sculptor Live Impacts Module Walkthrough" src="https://i.ytimg.com/vi/2sCoiPNfONk/hqdefault.jpg" srcset="https://i.ytimg.com/vi/2sCoiPNfONk/mqdefault.jpg 320w, https://i.ytimg.com/vi/2sCoiPNfONk/hqdefault.jpg 480w, https://i.ytimg.com/vi/2sCoiPNfONk/sddefault.jpg 640w, https://i.ytimg.com/vi/2sCoiPNfONk/maxresdefault.jpg 1280w" class="arve-thumbnail" loading="lazy" width="480" height="360">
    [26] => 
<h5 class="arve-title">
Gothic Instruments Sculptor Live Impacts Module Walkthrough<br />
</h5>
<p><button role="button" type="button" class="arve-play-btn arve-play-btn--youtube" data-target="#arve-youtube-2scoipnfonk6421d01121052035586552" aria-label="Play video"><br />
<svg class="arve-play-svg arve-play-svg--youtube" focusable="false" aria-hidden="true" width="68" viewBox="0 0 68 48" xmlns="http://www.w3.org/2000/svg">
	<path fill="#1f1f1e" fill-opacity="0.81" d="m .66,37.62 c 0,0 .66,4.70 2.70,6.77 2.58,2.71 5.98,2.63 7.49,2.91 5.43,.52 23.10,.68 23.12,.68 .00,-1.3e-5 14.29,-0.02 23.81,-0.71 1.32,-0.15 4.22,-0.17 6.81,-2.89 2.03,-2.07 2.70,-6.77 2.70,-6.77 0,0 .67,-5.52 .67,-11.04 l 0,-5.17 c 0,-5.52 -0.67,-11.04 -0.67,-11.04 0,0 -0.66,-4.70 -2.70,-6.77 C 62.03,.86 59.13,.84 57.80,.69 48.28,0 34.00,0 34.00,0 33.97,0 19.69,0 10.18,.69 8.85,.84 5.95,.86 3.36,3.58 1.32,5.65 .66,10.35 .66,10.35 c 0,0 -0.55,4.50 -0.66,9.45 l 0,8.36 c .10,4.94 .66,9.45 .66,9.45 z"></path>
	<path fill="#fff" d="m 26.96,13.67 18.37,9.62 -18.37,9.55 -0.00,-19.17 z" ></path>
	<path fill="#ccc" d="M 45.02,23.46 45.32,23.28 26.96,13.67 43.32,24.34 45.02,23.46 z" ></path>
</svg>
    [27] => 
<p></button>
    [28] => 
<p></span>
    [29] => 
<p></span><br />
<script type="application/ld+json">{"@context":"http:\/\/schema.org\/","@id":"https:\/\/theproaudiofiles.com\/sampling-instruments-that-morph-and-layer-multiple-sources\/#arve-youtube-2scoipnfonk6421d01121052035586552","type":"VideoObject","embedURL":"https:\/\/www.youtube.com\/embed\/2sCoiPNfONk?feature=oembed&iv_load_policy=3&modestbranding=1&rel=0&autohide=1&playsinline=0&autoplay=1&enablejsapi=1","name":"Gothic Instruments Sculptor Live Impacts Module Walkthrough","thumbnailUrl":"https:\/\/i.ytimg.com\/vi\/2sCoiPNfONk\/hqdefault.jpg","uploadDate":"2018-07-28T08:22:46+00:00","author":"Time+Space","description":"The term Vector Synthesis refers to a synthesis technique which creates, \u201c...movement in a sound by providing dynamic cross-fading between (usually) four sound sources. The four sound sources are conceptually arranged as the extreme points of X and Y axes and typically labeled A, B, C and D. A given"}</script>
</div>
<h2><a href="https://www.native-instruments.com/en/products/komplete/cinematic/rise-hit/" target="_blank" rel="noopener">Rise and Hit by Native Instruments</a></h2>
<p><strong>Rise and Hit</strong> is perhaps the best sound design tool for constructing a rise and hit gesture that needs to be a specific length, either in terms of seconds, division of the beat or measures. The interface is simple and intuitive and you can literally design a sound in seconds even if you've never used the instrument before. That is the sign of a great GUI and concept.
    [30] => 
<p><img decoding="async" loading="lazy" class="alignnone wp-image-41101 size-full" src="https://theproaudiofiles.com/wp-content/uploads/2018/07/Screen-Shot-2018-07-22-at-5.16.26-PM.png" alt="12 Sampling Instruments That Morph and Layer Multiple Sources" width="634" height="568" srcset="https://theproaudiofiles.com/wp-content/uploads/2018/07/Screen-Shot-2018-07-22-at-5.16.26-PM.png 634w, https://theproaudiofiles.com/wp-content/uploads/2018/07/Screen-Shot-2018-07-22-at-5.16.26-PM-200x179.png 200w, https://theproaudiofiles.com/wp-content/uploads/2018/07/Screen-Shot-2018-07-22-at-5.16.26-PM-300x269.png 300w, https://theproaudiofiles.com/wp-content/uploads/2018/07/Screen-Shot-2018-07-22-at-5.16.26-PM-400x358.png 400w" sizes="(max-width: 634px) 100vw, 634px" />
    [31] => 
<p>The instrument allows up to four sources and comes with 8 GB of exclusive content that will keep you busy for a while. The Doppler effects are especially fun.
    [32] => <div class="ad content-ad"><span>ADVERTISEMENT</span><div id="div-gpt-ad-1516673860578-0" style="width:300px; height:250px;"></div><script>googletag.cmd.push(function() { googletag.display('div-gpt-ad-1516673860578-0'); });</script></div>
<div class="arve wp-block-nextgenthemes-arve arve-hover-effect-none" data-mode="lazyload" data-oembed="1" data-provider="youtube" id="arve-youtube-mcw3bhhvkg06421d011219e3620645157" data-reset-after-played data-fullscreen="disabled" data-volume="100">
<span class="arve-inner"><br />
<span class="arve-embed arve-embed--has-aspect-ratio" style="aspect-ratio: 610 / 343"><br />
<span class="arve-ar" style="padding-top:56.229508%"></span><noscript class="arve-noscript"><iframe allow="accelerometer; autoplay; clipboard-write; encrypted-media; gyroscope; picture-in-picture" allowfullscreen class="arve-iframe fitvidsignore" data-arve="arve-youtube-mcw3bhhvkg06421d011219e3620645157" data-src-no-ap="https://www.youtube.com/embed/MCW3bHhvkG0?feature=oembed&amp;iv_load_policy=3&amp;modestbranding=1&amp;rel=0&amp;autohide=1&amp;playsinline=0&amp;autoplay=0&amp;enablejsapi=1" frameborder="0" height="0" sandbox="allow-scripts allow-same-origin allow-presentation" scrolling="no" src="https://www.youtube.com/embed/MCW3bHhvkG0?feature=oembed&#038;iv_load_policy=3&#038;modestbranding=1&#038;rel=0&#038;autohide=1&#038;playsinline=0&#038;autoplay=1&#038;enablejsapi=1" title="Rise &amp; Hit - Cinematic Tension Toolkit | Native Instruments"></iframe><br />
</noscript><img decoding="async" alt="Rise &amp; Hit - Cinematic Tension Toolkit | Native Instruments" src="https://i.ytimg.com/vi/MCW3bHhvkG0/hqdefault.jpg" srcset="https://i.ytimg.com/vi/MCW3bHhvkG0/mqdefault.jpg 320w, https://i.ytimg.com/vi/MCW3bHhvkG0/hqdefault.jpg 480w, https://i.ytimg.com/vi/MCW3bHhvkG0/sddefault.jpg 640w, https://i.ytimg.com/vi/MCW3bHhvkG0/maxresdefault.jpg 1280w" class="arve-thumbnail" loading="lazy" width="480" height="360">
    [33] => 
<h5 class="arve-title">
Rise &amp; Hit &#8211; Cinematic Tension Toolkit | Native Instruments<br />
</h5>
<p><button role="button" type="button" class="arve-play-btn arve-play-btn--youtube" data-target="#arve-youtube-mcw3bhhvkg06421d011219e3620645157" aria-label="Play video"><br />
<svg class="arve-play-svg arve-play-svg--youtube" focusable="false" aria-hidden="true" width="68" viewBox="0 0 68 48" xmlns="http://www.w3.org/2000/svg">
	<path fill="#1f1f1e" fill-opacity="0.81" d="m .66,37.62 c 0,0 .66,4.70 2.70,6.77 2.58,2.71 5.98,2.63 7.49,2.91 5.43,.52 23.10,.68 23.12,.68 .00,-1.3e-5 14.29,-0.02 23.81,-0.71 1.32,-0.15 4.22,-0.17 6.81,-2.89 2.03,-2.07 2.70,-6.77 2.70,-6.77 0,0 .67,-5.52 .67,-11.04 l 0,-5.17 c 0,-5.52 -0.67,-11.04 -0.67,-11.04 0,0 -0.66,-4.70 -2.70,-6.77 C 62.03,.86 59.13,.84 57.80,.69 48.28,0 34.00,0 34.00,0 33.97,0 19.69,0 10.18,.69 8.85,.84 5.95,.86 3.36,3.58 1.32,5.65 .66,10.35 .66,10.35 c 0,0 -0.55,4.50 -0.66,9.45 l 0,8.36 c .10,4.94 .66,9.45 .66,9.45 z"></path>
	<path fill="#fff" d="m 26.96,13.67 18.37,9.62 -18.37,9.55 -0.00,-19.17 z" ></path>
	<path fill="#ccc" d="M 45.02,23.46 45.32,23.28 26.96,13.67 43.32,24.34 45.02,23.46 z" ></path>
</svg>
    [34] => 
<p></button>
    [35] => 
<p></span>
    [36] => 
<p></span><br />
<script type="application/ld+json">{"@context":"http:\/\/schema.org\/","@id":"https:\/\/theproaudiofiles.com\/sampling-instruments-that-morph-and-layer-multiple-sources\/#arve-youtube-mcw3bhhvkg06421d011219e3620645157","type":"VideoObject","embedURL":"https:\/\/www.youtube.com\/embed\/MCW3bHhvkG0?feature=oembed&iv_load_policy=3&modestbranding=1&rel=0&autohide=1&playsinline=0&autoplay=1&enablejsapi=1","name":"Rise &amp; Hit - Cinematic Tension Toolkit | Native Instruments","thumbnailUrl":"https:\/\/i.ytimg.com\/vi\/MCW3bHhvkG0\/hqdefault.jpg","uploadDate":"2018-07-28T08:22:46+00:00","author":"Native Instruments","description":"The term Vector Synthesis refers to a synthesis technique which creates, \u201c...movement in a sound by providing dynamic cross-fading between (usually) four sound sources. The four sound sources are conceptually arranged as the extreme points of X and Y axes and typically labeled A, B, C and D. A given"}</script>
</div>
<h2><a href="https://www.native-instruments.com/en/products/komplete/cinematic/kinetic-metal/" target="_blank" rel="noopener">Kinetic Metal by Native Instruments</a></h2>
<p>Kinetic Metal is another beauty by NI which features intricate clock-like animations and a sort of steampunk aesthetic.
    [37] => 
<p><img decoding="async" loading="lazy" class="alignnone wp-image-41102 size-full" src="https://theproaudiofiles.com/wp-content/uploads/2018/07/Screen-Shot-2018-07-22-at-5.17.42-PM.png" alt="12 Sampling Instruments That Morph and Layer Multiple Sources" width="637" height="452" srcset="https://theproaudiofiles.com/wp-content/uploads/2018/07/Screen-Shot-2018-07-22-at-5.17.42-PM.png 637w, https://theproaudiofiles.com/wp-content/uploads/2018/07/Screen-Shot-2018-07-22-at-5.17.42-PM-200x142.png 200w, https://theproaudiofiles.com/wp-content/uploads/2018/07/Screen-Shot-2018-07-22-at-5.17.42-PM-300x213.png 300w, https://theproaudiofiles.com/wp-content/uploads/2018/07/Screen-Shot-2018-07-22-at-5.17.42-PM-400x284.png 400w" sizes="(max-width: 637px) 100vw, 637px" />
    [38] => 
<p>You can mix up to eight sources from two categories: Metals and Waves. Content changes with each preset and the Forge control creates interesting mixes on the fly. Both main user controls are ripe for MIDI control via CC or automation. This thing is a rabbit hole for anyone that loves sound — and cool visuals.
    [39] => 
<div class="arve wp-block-nextgenthemes-arve arve-hover-effect-none" data-mode="lazyload" data-oembed="1" data-provider="youtube" id="arve-youtube-uw8xumali4w6421d01122339226953630" data-reset-after-played data-fullscreen="disabled" data-volume="100">
<span class="arve-inner"><br />
<span class="arve-embed arve-embed--has-aspect-ratio" style="aspect-ratio: 610 / 343"><br />
<span class="arve-ar" style="padding-top:56.229508%"></span><noscript class="arve-noscript"><iframe allow="accelerometer; autoplay; clipboard-write; encrypted-media; gyroscope; picture-in-picture" allowfullscreen class="arve-iframe fitvidsignore" data-arve="arve-youtube-uw8xumali4w6421d01122339226953630" data-src-no-ap="https://www.youtube.com/embed/uw8Xumali4w?feature=oembed&amp;iv_load_policy=3&amp;modestbranding=1&amp;rel=0&amp;autohide=1&amp;playsinline=0&amp;autoplay=0&amp;enablejsapi=1" frameborder="0" height="0" sandbox="allow-scripts allow-same-origin allow-presentation" scrolling="no" src="https://www.youtube.com/embed/uw8Xumali4w?feature=oembed&#038;iv_load_policy=3&#038;modestbranding=1&#038;rel=0&#038;autohide=1&#038;playsinline=0&#038;autoplay=1&#038;enablejsapi=1" title="Kinetic Metal - Moving Ethereal Textures | Native Instruments"></iframe><br />
</noscript><img decoding="async" alt="Kinetic Metal - Moving Ethereal Textures | Native Instruments" src="https://i.ytimg.com/vi/uw8Xumali4w/hqdefault.jpg" srcset="https://i.ytimg.com/vi/uw8Xumali4w/mqdefault.jpg 320w, https://i.ytimg.com/vi/uw8Xumali4w/hqdefault.jpg 480w, https://i.ytimg.com/vi/uw8Xumali4w/sddefault.jpg 640w, https://i.ytimg.com/vi/uw8Xumali4w/maxresdefault.jpg 1280w" class="arve-thumbnail" loading="lazy" width="480" height="360">
    [40] => 
<h5 class="arve-title">
Kinetic Metal &#8211; Moving Ethereal Textures | Native Instruments<br />
</h5>
<p><button role="button" type="button" class="arve-play-btn arve-play-btn--youtube" data-target="#arve-youtube-uw8xumali4w6421d01122339226953630" aria-label="Play video"><br />
<svg class="arve-play-svg arve-play-svg--youtube" focusable="false" aria-hidden="true" width="68" viewBox="0 0 68 48" xmlns="http://www.w3.org/2000/svg">
	<path fill="#1f1f1e" fill-opacity="0.81" d="m .66,37.62 c 0,0 .66,4.70 2.70,6.77 2.58,2.71 5.98,2.63 7.49,2.91 5.43,.52 23.10,.68 23.12,.68 .00,-1.3e-5 14.29,-0.02 23.81,-0.71 1.32,-0.15 4.22,-0.17 6.81,-2.89 2.03,-2.07 2.70,-6.77 2.70,-6.77 0,0 .67,-5.52 .67,-11.04 l 0,-5.17 c 0,-5.52 -0.67,-11.04 -0.67,-11.04 0,0 -0.66,-4.70 -2.70,-6.77 C 62.03,.86 59.13,.84 57.80,.69 48.28,0 34.00,0 34.00,0 33.97,0 19.69,0 10.18,.69 8.85,.84 5.95,.86 3.36,3.58 1.32,5.65 .66,10.35 .66,10.35 c 0,0 -0.55,4.50 -0.66,9.45 l 0,8.36 c .10,4.94 .66,9.45 .66,9.45 z"></path>
	<path fill="#fff" d="m 26.96,13.67 18.37,9.62 -18.37,9.55 -0.00,-19.17 z" ></path>
	<path fill="#ccc" d="M 45.02,23.46 45.32,23.28 26.96,13.67 43.32,24.34 45.02,23.46 z" ></path>
</svg>
    [41] => 
<p></button>
    [42] => 
<p></span>
    [43] => 
<p></span><br />
<script type="application/ld+json">{"@context":"http:\/\/schema.org\/","@id":"https:\/\/theproaudiofiles.com\/sampling-instruments-that-morph-and-layer-multiple-sources\/#arve-youtube-uw8xumali4w6421d01122339226953630","type":"VideoObject","embedURL":"https:\/\/www.youtube.com\/embed\/uw8Xumali4w?feature=oembed&iv_load_policy=3&modestbranding=1&rel=0&autohide=1&playsinline=0&autoplay=1&enablejsapi=1","name":"Kinetic Metal - Moving Ethereal Textures | Native Instruments","thumbnailUrl":"https:\/\/i.ytimg.com\/vi\/uw8Xumali4w\/hqdefault.jpg","uploadDate":"2018-07-28T08:22:46+00:00","author":"Native Instruments","description":"The term Vector Synthesis refers to a synthesis technique which creates, \u201c...movement in a sound by providing dynamic cross-fading between (usually) four sound sources. The four sound sources are conceptually arranged as the extreme points of X and Y axes and typically labeled A, B, C and D. A given"}</script>
</div>
<h2><a href="https://www.samplelogic.com/products/morphestra/" target="_blank" rel="noopener">Morphestra 2 by Sample Logic</a></h2>
<p><strong>Morphestra 2</strong> uses four playback modules (referred to as Cores), each consisting of a mix between two sample sources for a total of eight possible sounds at any given time.
    [44] => 
<h2><img decoding="async" loading="lazy" class="alignnone wp-image-41106 size-full" src="https://theproaudiofiles.com/wp-content/uploads/2018/07/Screen-Shot-2017-12-22-at-7.27.06-PM.png" alt="12 Sampling Instruments That Morph and Layer Multiple Sources" width="842" height="840" srcset="https://theproaudiofiles.com/wp-content/uploads/2018/07/Screen-Shot-2017-12-22-at-7.27.06-PM.png 842w, https://theproaudiofiles.com/wp-content/uploads/2018/07/Screen-Shot-2017-12-22-at-7.27.06-PM-200x200.png 200w, https://theproaudiofiles.com/wp-content/uploads/2018/07/Screen-Shot-2017-12-22-at-7.27.06-PM-300x300.png 300w, https://theproaudiofiles.com/wp-content/uploads/2018/07/Screen-Shot-2017-12-22-at-7.27.06-PM-50x50.png 50w, https://theproaudiofiles.com/wp-content/uploads/2018/07/Screen-Shot-2017-12-22-at-7.27.06-PM-400x399.png 400w" sizes="(max-width: 842px) 100vw, 842px" /></h2>
<p>On top of that, the instruments have incredibly robust FX and step sequencing sections. Read my in-depth review <a href="https://theproaudiofiles.com/sample-logic-morphestra-2-review/" target="_blank" rel="noopener">here</a>.
    [45] => 
<div class="arve wp-block-nextgenthemes-arve arve-hover-effect-none" data-mode="lazyload" data-oembed="1" data-provider="youtube" id="arve-youtube-u6bbhgkcrjy6421d01122c55657562912" data-reset-after-played data-fullscreen="disabled" data-volume="100">
<span class="arve-inner"><br />
<span class="arve-embed arve-embed--has-aspect-ratio" style="aspect-ratio: 610 / 343"><br />
<span class="arve-ar" style="padding-top:56.229508%"></span><noscript class="arve-noscript"><iframe allow="accelerometer; autoplay; clipboard-write; encrypted-media; gyroscope; picture-in-picture" allowfullscreen class="arve-iframe fitvidsignore" data-arve="arve-youtube-u6bbhgkcrjy6421d01122c55657562912" data-src-no-ap="https://www.youtube.com/embed/U6bbhGKCrJY?feature=oembed&amp;iv_load_policy=3&amp;modestbranding=1&amp;rel=0&amp;autohide=1&amp;playsinline=0&amp;autoplay=0&amp;enablejsapi=1" frameborder="0" height="0" sandbox="allow-scripts allow-same-origin allow-presentation" scrolling="no" src="https://www.youtube.com/embed/U6bbhGKCrJY?feature=oembed&#038;iv_load_policy=3&#038;modestbranding=1&#038;rel=0&#038;autohide=1&#038;playsinline=0&#038;autoplay=1&#038;enablejsapi=1" title="MORPHESTRA 2: Instruments In Action"></iframe><br />
</noscript><img decoding="async" alt="MORPHESTRA 2: Instruments In Action" src="https://i.ytimg.com/vi/U6bbhGKCrJY/hqdefault.jpg" srcset="https://i.ytimg.com/vi/U6bbhGKCrJY/mqdefault.jpg 320w, https://i.ytimg.com/vi/U6bbhGKCrJY/hqdefault.jpg 480w, https://i.ytimg.com/vi/U6bbhGKCrJY/sddefault.jpg 640w, https://i.ytimg.com/vi/U6bbhGKCrJY/maxresdefault.jpg 1280w" class="arve-thumbnail" loading="lazy" width="480" height="360">
    [46] => 
<h5 class="arve-title">
MORPHESTRA 2: Instruments In Action<br />
</h5>
<p><button role="button" type="button" class="arve-play-btn arve-play-btn--youtube" data-target="#arve-youtube-u6bbhgkcrjy6421d01122c55657562912" aria-label="Play video"><br />
<svg class="arve-play-svg arve-play-svg--youtube" focusable="false" aria-hidden="true" width="68" viewBox="0 0 68 48" xmlns="http://www.w3.org/2000/svg">
	<path fill="#1f1f1e" fill-opacity="0.81" d="m .66,37.62 c 0,0 .66,4.70 2.70,6.77 2.58,2.71 5.98,2.63 7.49,2.91 5.43,.52 23.10,.68 23.12,.68 .00,-1.3e-5 14.29,-0.02 23.81,-0.71 1.32,-0.15 4.22,-0.17 6.81,-2.89 2.03,-2.07 2.70,-6.77 2.70,-6.77 0,0 .67,-5.52 .67,-11.04 l 0,-5.17 c 0,-5.52 -0.67,-11.04 -0.67,-11.04 0,0 -0.66,-4.70 -2.70,-6.77 C 62.03,.86 59.13,.84 57.80,.69 48.28,0 34.00,0 34.00,0 33.97,0 19.69,0 10.18,.69 8.85,.84 5.95,.86 3.36,3.58 1.32,5.65 .66,10.35 .66,10.35 c 0,0 -0.55,4.50 -0.66,9.45 l 0,8.36 c .10,4.94 .66,9.45 .66,9.45 z"></path>
	<path fill="#fff" d="m 26.96,13.67 18.37,9.62 -18.37,9.55 -0.00,-19.17 z" ></path>
	<path fill="#ccc" d="M 45.02,23.46 45.32,23.28 26.96,13.67 43.32,24.34 45.02,23.46 z" ></path>
</svg>
    [47] => 
<p></button>
    [48] => 
<p></span>
    [49] => 
<p></span><br />
<script type="application/ld+json">{"@context":"http:\/\/schema.org\/","@id":"https:\/\/theproaudiofiles.com\/sampling-instruments-that-morph-and-layer-multiple-sources\/#arve-youtube-u6bbhgkcrjy6421d01122c55657562912","type":"VideoObject","embedURL":"https:\/\/www.youtube.com\/embed\/U6bbhGKCrJY?feature=oembed&iv_load_policy=3&modestbranding=1&rel=0&autohide=1&playsinline=0&autoplay=1&enablejsapi=1","name":"MORPHESTRA 2: Instruments In Action","thumbnailUrl":"https:\/\/i.ytimg.com\/vi\/U6bbhGKCrJY\/hqdefault.jpg","uploadDate":"2018-07-28T08:22:46+00:00","author":"Sample Logic","description":"The term Vector Synthesis refers to a synthesis technique which creates, \u201c...movement in a sound by providing dynamic cross-fading between (usually) four sound sources. The four sound sources are conceptually arranged as the extreme points of X and Y axes and typically labeled A, B, C and D. A given"}</script>
</div>
<h2><a href="https://www.umlautaudio.com/bundles/motors-pads-2" target="_blank" rel="noopener">Pads and Motors by Umlaut</a></h2>
<p>Both of these instruments by Umlaut use a dual layer approach to generate unique textures and/or complex rhythmic content via multiple delays. Motors is especially satisfying if your aim is to create hypnotic loops that can be altered on-the-fly with some cleverly mapped MIDI CC's. I also encourage the use of the Random button, if you've got a few hours to spare.
    [50] => 
<p><img decoding="async" loading="lazy" class="alignnone wp-image-41107 size-full" src="https://theproaudiofiles.com/wp-content/uploads/2018/07/Screen-Shot-2018-07-22-at-7.35.40-PM.png" alt="12 Sampling Instruments That Morph and Layer Multiple Sources" width="629" height="442" srcset="https://theproaudiofiles.com/wp-content/uploads/2018/07/Screen-Shot-2018-07-22-at-7.35.40-PM.png 629w, https://theproaudiofiles.com/wp-content/uploads/2018/07/Screen-Shot-2018-07-22-at-7.35.40-PM-200x141.png 200w, https://theproaudiofiles.com/wp-content/uploads/2018/07/Screen-Shot-2018-07-22-at-7.35.40-PM-300x211.png 300w, https://theproaudiofiles.com/wp-content/uploads/2018/07/Screen-Shot-2018-07-22-at-7.35.40-PM-400x281.png 400w" sizes="(max-width: 629px) 100vw, 629px" />
    [51] => 
<p><img decoding="async" loading="lazy" class="alignnone wp-image-41108 size-full" src="https://theproaudiofiles.com/wp-content/uploads/2018/07/Screen-Shot-2018-07-22-at-7.36.01-PM.png" alt="12 Sampling Instruments That Morph and Layer Multiple Sources" width="632" height="340" srcset="https://theproaudiofiles.com/wp-content/uploads/2018/07/Screen-Shot-2018-07-22-at-7.36.01-PM.png 632w, https://theproaudiofiles.com/wp-content/uploads/2018/07/Screen-Shot-2018-07-22-at-7.36.01-PM-200x108.png 200w, https://theproaudiofiles.com/wp-content/uploads/2018/07/Screen-Shot-2018-07-22-at-7.36.01-PM-300x161.png 300w, https://theproaudiofiles.com/wp-content/uploads/2018/07/Screen-Shot-2018-07-22-at-7.36.01-PM-400x215.png 400w" sizes="(max-width: 632px) 100vw, 632px" />
    [52] => 
<div class="arve wp-block-nextgenthemes-arve arve-hover-effect-none" data-mode="lazyload" data-oembed="1" data-provider="youtube" id="arve-youtube-ffvlxodkhte6421d01123551690685919" data-reset-after-played data-fullscreen="disabled" data-volume="100">
<span class="arve-inner"><br />
<span class="arve-embed arve-embed--has-aspect-ratio" style="aspect-ratio: 610 / 343"><br />
<span class="arve-ar" style="padding-top:56.229508%"></span><noscript class="arve-noscript"><iframe allow="accelerometer; autoplay; clipboard-write; encrypted-media; gyroscope; picture-in-picture" allowfullscreen class="arve-iframe fitvidsignore" data-arve="arve-youtube-ffvlxodkhte6421d01123551690685919" data-src-no-ap="https://www.youtube.com/embed/FfVlXODKHTE?feature=oembed&amp;iv_load_policy=3&amp;modestbranding=1&amp;rel=0&amp;autohide=1&amp;playsinline=0&amp;autoplay=0&amp;enablejsapi=1" frameborder="0" height="0" sandbox="allow-scripts allow-same-origin allow-presentation" scrolling="no" src="https://www.youtube.com/embed/FfVlXODKHTE?feature=oembed&#038;iv_load_policy=3&#038;modestbranding=1&#038;rel=0&#038;autohide=1&#038;playsinline=0&#038;autoplay=1&#038;enablejsapi=1" title="Getting Started with PADS by Umlaut Audio"></iframe><br />
</noscript><img decoding="async" alt="Getting Started with PADS by Umlaut Audio" src="https://i.ytimg.com/vi/FfVlXODKHTE/hqdefault.jpg" srcset="https://i.ytimg.com/vi/FfVlXODKHTE/mqdefault.jpg 320w, https://i.ytimg.com/vi/FfVlXODKHTE/hqdefault.jpg 480w, https://i.ytimg.com/vi/FfVlXODKHTE/sddefault.jpg 640w, https://i.ytimg.com/vi/FfVlXODKHTE/maxresdefault.jpg 1280w" class="arve-thumbnail" loading="lazy" width="480" height="360">
    [53] => 
<h5 class="arve-title">
Getting Started with PADS by Umlaut Audio<br />
</h5>
<p><button role="button" type="button" class="arve-play-btn arve-play-btn--youtube" data-target="#arve-youtube-ffvlxodkhte6421d01123551690685919" aria-label="Play video"><br />
<svg class="arve-play-svg arve-play-svg--youtube" focusable="false" aria-hidden="true" width="68" viewBox="0 0 68 48" xmlns="http://www.w3.org/2000/svg">
	<path fill="#1f1f1e" fill-opacity="0.81" d="m .66,37.62 c 0,0 .66,4.70 2.70,6.77 2.58,2.71 5.98,2.63 7.49,2.91 5.43,.52 23.10,.68 23.12,.68 .00,-1.3e-5 14.29,-0.02 23.81,-0.71 1.32,-0.15 4.22,-0.17 6.81,-2.89 2.03,-2.07 2.70,-6.77 2.70,-6.77 0,0 .67,-5.52 .67,-11.04 l 0,-5.17 c 0,-5.52 -0.67,-11.04 -0.67,-11.04 0,0 -0.66,-4.70 -2.70,-6.77 C 62.03,.86 59.13,.84 57.80,.69 48.28,0 34.00,0 34.00,0 33.97,0 19.69,0 10.18,.69 8.85,.84 5.95,.86 3.36,3.58 1.32,5.65 .66,10.35 .66,10.35 c 0,0 -0.55,4.50 -0.66,9.45 l 0,8.36 c .10,4.94 .66,9.45 .66,9.45 z"></path>
	<path fill="#fff" d="m 26.96,13.67 18.37,9.62 -18.37,9.55 -0.00,-19.17 z" ></path>
	<path fill="#ccc" d="M 45.02,23.46 45.32,23.28 26.96,13.67 43.32,24.34 45.02,23.46 z" ></path>
</svg>
    [54] => 
<p></button>
    [55] => 
<p></span>
    [56] => 
<p></span><br />
<script type="application/ld+json">{"@context":"http:\/\/schema.org\/","@id":"https:\/\/theproaudiofiles.com\/sampling-instruments-that-morph-and-layer-multiple-sources\/#arve-youtube-ffvlxodkhte6421d01123551690685919","type":"VideoObject","embedURL":"https:\/\/www.youtube.com\/embed\/FfVlXODKHTE?feature=oembed&iv_load_policy=3&modestbranding=1&rel=0&autohide=1&playsinline=0&autoplay=1&enablejsapi=1","name":"Getting Started with PADS by Umlaut Audio","thumbnailUrl":"https:\/\/i.ytimg.com\/vi\/FfVlXODKHTE\/hqdefault.jpg","uploadDate":"2018-07-28T08:22:46+00:00","author":"Umlaut Audio","description":"The term Vector Synthesis refers to a synthesis technique which creates, \u201c...movement in a sound by providing dynamic cross-fading between (usually) four sound sources. The four sound sources are conceptually arranged as the extreme points of X and Y axes and typically labeled A, B, C and D. A given"}</script>
</div>
<div class="arve wp-block-nextgenthemes-arve arve-hover-effect-none" data-mode="lazyload" data-oembed="1" data-provider="youtube" id="arve-youtube-fjrfvy6lahs6421d01123e44319396839" data-reset-after-played data-fullscreen="disabled" data-volume="100">
<span class="arve-inner"><br />
<span class="arve-embed arve-embed--has-aspect-ratio" style="aspect-ratio: 610 / 343"><br />
<span class="arve-ar" style="padding-top:56.229508%"></span><noscript class="arve-noscript"><iframe allow="accelerometer; autoplay; clipboard-write; encrypted-media; gyroscope; picture-in-picture" allowfullscreen class="arve-iframe fitvidsignore" data-arve="arve-youtube-fjrfvy6lahs6421d01123e44319396839" data-src-no-ap="https://www.youtube.com/embed/fjrfvY6lahs?feature=oembed&amp;iv_load_policy=3&amp;modestbranding=1&amp;rel=0&amp;autohide=1&amp;playsinline=0&amp;autoplay=0&amp;enablejsapi=1" frameborder="0" height="0" sandbox="allow-scripts allow-same-origin allow-presentation" scrolling="no" src="https://www.youtube.com/embed/fjrfvY6lahs?feature=oembed&#038;iv_load_policy=3&#038;modestbranding=1&#038;rel=0&#038;autohide=1&#038;playsinline=0&#038;autoplay=1&#038;enablejsapi=1" title="Umlaut Audio MOTORS - Walkthrough"></iframe><br />
</noscript><img decoding="async" alt="Umlaut Audio MOTORS - Walkthrough" src="https://i.ytimg.com/vi/fjrfvY6lahs/hqdefault.jpg" srcset="https://i.ytimg.com/vi/fjrfvY6lahs/mqdefault.jpg 320w, https://i.ytimg.com/vi/fjrfvY6lahs/hqdefault.jpg 480w, https://i.ytimg.com/vi/fjrfvY6lahs/sddefault.jpg 640w, https://i.ytimg.com/vi/fjrfvY6lahs/maxresdefault.jpg 1280w" class="arve-thumbnail" loading="lazy" width="480" height="360">
    [57] => 
<h5 class="arve-title">
Umlaut Audio MOTORS &#8211; Walkthrough<br />
</h5>
<p><button role="button" type="button" class="arve-play-btn arve-play-btn--youtube" data-target="#arve-youtube-fjrfvy6lahs6421d01123e44319396839" aria-label="Play video"><br />
<svg class="arve-play-svg arve-play-svg--youtube" focusable="false" aria-hidden="true" width="68" viewBox="0 0 68 48" xmlns="http://www.w3.org/2000/svg">
	<path fill="#1f1f1e" fill-opacity="0.81" d="m .66,37.62 c 0,0 .66,4.70 2.70,6.77 2.58,2.71 5.98,2.63 7.49,2.91 5.43,.52 23.10,.68 23.12,.68 .00,-1.3e-5 14.29,-0.02 23.81,-0.71 1.32,-0.15 4.22,-0.17 6.81,-2.89 2.03,-2.07 2.70,-6.77 2.70,-6.77 0,0 .67,-5.52 .67,-11.04 l 0,-5.17 c 0,-5.52 -0.67,-11.04 -0.67,-11.04 0,0 -0.66,-4.70 -2.70,-6.77 C 62.03,.86 59.13,.84 57.80,.69 48.28,0 34.00,0 34.00,0 33.97,0 19.69,0 10.18,.69 8.85,.84 5.95,.86 3.36,3.58 1.32,5.65 .66,10.35 .66,10.35 c 0,0 -0.55,4.50 -0.66,9.45 l 0,8.36 c .10,4.94 .66,9.45 .66,9.45 z"></path>
	<path fill="#fff" d="m 26.96,13.67 18.37,9.62 -18.37,9.55 -0.00,-19.17 z" ></path>
	<path fill="#ccc" d="M 45.02,23.46 45.32,23.28 26.96,13.67 43.32,24.34 45.02,23.46 z" ></path>
</svg>
    [58] => 
<p></button>
    [59] => 
<p></span>
    [60] => 
            <div class="ad content-ad content-ad-2"><span>ADVERTISEMENT</span></div>
            <script>
                window.addEventListener("load", () => {
                    if(window.innerWidth > 767) return;

                    window.setTimeout(() => {
                        var ta = jQuery.get(aqvars.ajaxurl, { action: "tpaf_adrotate", group: 1, aid: 22 });
                        ta.then(function(response) {
                            jQuery(".content-ad-2").append(response);
                        });
                    }, 0);
                });
            </script>
        
<p></span><br />
<script type="application/ld+json">{"@context":"http:\/\/schema.org\/","@id":"https:\/\/theproaudiofiles.com\/sampling-instruments-that-morph-and-layer-multiple-sources\/#arve-youtube-fjrfvy6lahs6421d01123e44319396839","type":"VideoObject","embedURL":"https:\/\/www.youtube.com\/embed\/fjrfvY6lahs?feature=oembed&iv_load_policy=3&modestbranding=1&rel=0&autohide=1&playsinline=0&autoplay=1&enablejsapi=1","name":"Umlaut Audio MOTORS - Walkthrough","thumbnailUrl":"https:\/\/i.ytimg.com\/vi\/fjrfvY6lahs\/hqdefault.jpg","uploadDate":"2018-07-28T08:22:46+00:00","author":"Umlaut Audio","description":"The term Vector Synthesis refers to a synthesis technique which creates, \u201c...movement in a sound by providing dynamic cross-fading between (usually) four sound sources. The four sound sources are conceptually arranged as the extreme points of X and Y axes and typically labeled A, B, C and D. A given"}</script>
</div>
<h2><a href="https://output.com/" target="_blank" rel="noopener">Four Instruments by Output</a></h2>
<p>Finally, there are four instruments by <strong>Output</strong> that deserve serious consideration.
    [61] => 
<p><strong>Analog Brass and Winds</strong> utilizes two layers with a feature that allows to two quickly adjust the starting point of each sample, or apply looping or reverse settings to each independently.
    [62] => 
<p><img decoding="async" loading="lazy" class="alignnone wp-image-41103 size-full" src="https://theproaudiofiles.com/wp-content/uploads/2018/07/Screen-Shot-2018-07-22-at-5.59.34-PM.png" alt="12 Sampling Instruments That Morph and Layer Multiple Sources" width="735" height="541" srcset="https://theproaudiofiles.com/wp-content/uploads/2018/07/Screen-Shot-2018-07-22-at-5.59.34-PM.png 735w, https://theproaudiofiles.com/wp-content/uploads/2018/07/Screen-Shot-2018-07-22-at-5.59.34-PM-200x147.png 200w, https://theproaudiofiles.com/wp-content/uploads/2018/07/Screen-Shot-2018-07-22-at-5.59.34-PM-300x221.png 300w, https://theproaudiofiles.com/wp-content/uploads/2018/07/Screen-Shot-2018-07-22-at-5.59.34-PM-400x294.png 400w" sizes="(max-width: 735px) 100vw, 735px" />
    [63] => 
<p>Read more in my article: <a href="https://theproaudiofiles.com/sound-design-tools-for-music-production/" target="_blank" rel="noopener">12 Awesome Sound Design Tools for Music Production</a>
    [64] => 
<div class="arve wp-block-nextgenthemes-arve arve-hover-effect-none" data-mode="lazyload" data-oembed="1" data-provider="youtube" id="arve-youtube-dzhglcy0img6421d0112471e447592882" data-reset-after-played data-fullscreen="disabled" data-volume="100">
<span class="arve-inner"><br />
<span class="arve-embed arve-embed--has-aspect-ratio" style="aspect-ratio: 610 / 343"><br />
<span class="arve-ar" style="padding-top:56.229508%"></span><noscript class="arve-noscript"><iframe allow="accelerometer; autoplay; clipboard-write; encrypted-media; gyroscope; picture-in-picture" allowfullscreen class="arve-iframe fitvidsignore" data-arve="arve-youtube-dzhglcy0img6421d0112471e447592882" data-src-no-ap="https://www.youtube.com/embed/DZHglCy0img?feature=oembed&amp;iv_load_policy=3&amp;modestbranding=1&amp;rel=0&amp;autohide=1&amp;playsinline=0&amp;autoplay=0&amp;enablejsapi=1" frameborder="0" height="0" sandbox="allow-scripts allow-same-origin allow-presentation" scrolling="no" src="https://www.youtube.com/embed/DZHglCy0img?feature=oembed&#038;iv_load_policy=3&#038;modestbranding=1&#038;rel=0&#038;autohide=1&#038;playsinline=0&#038;autoplay=1&#038;enablejsapi=1" title="ANALOG BRASS &amp; WINDS by Output - Walkthrough"></iframe><br />
</noscript><img decoding="async" alt="ANALOG BRASS &amp; WINDS by Output - Walkthrough" src="https://i.ytimg.com/vi/DZHglCy0img/hqdefault.jpg" srcset="https://i.ytimg.com/vi/DZHglCy0img/mqdefault.jpg 320w, https://i.ytimg.com/vi/DZHglCy0img/hqdefault.jpg 480w, https://i.ytimg.com/vi/DZHglCy0img/sddefault.jpg 640w, https://i.ytimg.com/vi/DZHglCy0img/maxresdefault.jpg 1280w" class="arve-thumbnail" loading="lazy" width="480" height="360">
    [65] => 
<h5 class="arve-title">
ANALOG BRASS &amp; WINDS by Output &#8211; Walkthrough<br />
</h5>
<p><button role="button" type="button" class="arve-play-btn arve-play-btn--youtube" data-target="#arve-youtube-dzhglcy0img6421d0112471e447592882" aria-label="Play video"><br />
<svg class="arve-play-svg arve-play-svg--youtube" focusable="false" aria-hidden="true" width="68" viewBox="0 0 68 48" xmlns="http://www.w3.org/2000/svg">
	<path fill="#1f1f1e" fill-opacity="0.81" d="m .66,37.62 c 0,0 .66,4.70 2.70,6.77 2.58,2.71 5.98,2.63 7.49,2.91 5.43,.52 23.10,.68 23.12,.68 .00,-1.3e-5 14.29,-0.02 23.81,-0.71 1.32,-0.15 4.22,-0.17 6.81,-2.89 2.03,-2.07 2.70,-6.77 2.70,-6.77 0,0 .67,-5.52 .67,-11.04 l 0,-5.17 c 0,-5.52 -0.67,-11.04 -0.67,-11.04 0,0 -0.66,-4.70 -2.70,-6.77 C 62.03,.86 59.13,.84 57.80,.69 48.28,0 34.00,0 34.00,0 33.97,0 19.69,0 10.18,.69 8.85,.84 5.95,.86 3.36,3.58 1.32,5.65 .66,10.35 .66,10.35 c 0,0 -0.55,4.50 -0.66,9.45 l 0,8.36 c .10,4.94 .66,9.45 .66,9.45 z"></path>
	<path fill="#fff" d="m 26.96,13.67 18.37,9.62 -18.37,9.55 -0.00,-19.17 z" ></path>
	<path fill="#ccc" d="M 45.02,23.46 45.32,23.28 26.96,13.67 43.32,24.34 45.02,23.46 z" ></path>
</svg>
    [66] => 
<p></button>
    [67] => 
<p></span>
    [68] => 
<p></span><br />
<script type="application/ld+json">{"@context":"http:\/\/schema.org\/","@id":"https:\/\/theproaudiofiles.com\/sampling-instruments-that-morph-and-layer-multiple-sources\/#arve-youtube-dzhglcy0img6421d0112471e447592882","type":"VideoObject","embedURL":"https:\/\/www.youtube.com\/embed\/DZHglCy0img?feature=oembed&iv_load_policy=3&modestbranding=1&rel=0&autohide=1&playsinline=0&autoplay=1&enablejsapi=1","name":"ANALOG BRASS &amp; WINDS by Output - Walkthrough","thumbnailUrl":"https:\/\/i.ytimg.com\/vi\/DZHglCy0img\/hqdefault.jpg","uploadDate":"2018-07-28T08:22:46+00:00","author":"Output","description":"The term Vector Synthesis refers to a synthesis technique which creates, \u201c...movement in a sound by providing dynamic cross-fading between (usually) four sound sources. The four sound sources are conceptually arranged as the extreme points of X and Y axes and typically labeled A, B, C and D. A given"}</script>
</div>
<p><strong>Analog Strings</strong> also uses a two-layer approach and is similar in concept although varying in content.
    [69] => 
<p><img decoding="async" loading="lazy" class="alignnone wp-image-41092 size-full" src="https://theproaudiofiles.com/wp-content/uploads/2018/07/ScreeAnalogStrings_Main.png" alt="12 Sampling Instruments That Morph and Layer Multiple Sources" width="1464" height="1076" srcset="https://theproaudiofiles.com/wp-content/uploads/2018/07/ScreeAnalogStrings_Main.png 1464w, https://theproaudiofiles.com/wp-content/uploads/2018/07/ScreeAnalogStrings_Main-200x147.png 200w, https://theproaudiofiles.com/wp-content/uploads/2018/07/ScreeAnalogStrings_Main-300x220.png 300w, https://theproaudiofiles.com/wp-content/uploads/2018/07/ScreeAnalogStrings_Main-1024x753.png 1024w, https://theproaudiofiles.com/wp-content/uploads/2018/07/ScreeAnalogStrings_Main-400x294.png 400w" sizes="(max-width: 1464px) 100vw, 1464px" />
    [70] => 
<p>Read my complete review <a href="https://theproaudiofiles.com/analog-strings-review/" target="_blank" rel="noopener">here</a>.
    [71] => 
<div class="arve wp-block-nextgenthemes-arve arve-hover-effect-none" data-mode="lazyload" data-oembed="1" data-provider="youtube" id="arve-youtube-uyolm3-xhyo6421d01125019499552529" data-reset-after-played data-fullscreen="disabled" data-volume="100">
<span class="arve-inner"><br />
<span class="arve-embed arve-embed--has-aspect-ratio" style="aspect-ratio: 610 / 343"><br />
<span class="arve-ar" style="padding-top:56.229508%"></span><noscript class="arve-noscript"><iframe allow="accelerometer; autoplay; clipboard-write; encrypted-media; gyroscope; picture-in-picture" allowfullscreen class="arve-iframe fitvidsignore" data-arve="arve-youtube-uyolm3-xhyo6421d01125019499552529" data-src-no-ap="https://www.youtube.com/embed/UYOlM3-XhYo?start=16&amp;feature=oembed&amp;iv_load_policy=3&amp;modestbranding=1&amp;rel=0&amp;autohide=1&amp;playsinline=0&amp;autoplay=0&amp;enablejsapi=1" frameborder="0" height="0" sandbox="allow-scripts allow-same-origin allow-presentation" scrolling="no" src="https://www.youtube.com/embed/UYOlM3-XhYo?start=16&#038;feature=oembed&#038;iv_load_policy=3&#038;modestbranding=1&#038;rel=0&#038;autohide=1&#038;playsinline=0&#038;autoplay=1&#038;enablejsapi=1" title="ANALOG STRINGS by Output - Walkthrough"></iframe><br />
</noscript><img decoding="async" alt="ANALOG STRINGS by Output - Walkthrough" src="https://i.ytimg.com/vi/UYOlM3-XhYo/hqdefault.jpg" srcset="https://i.ytimg.com/vi/UYOlM3-XhYo/mqdefault.jpg 320w, https://i.ytimg.com/vi/UYOlM3-XhYo/hqdefault.jpg 480w, https://i.ytimg.com/vi/UYOlM3-XhYo/sddefault.jpg 640w, https://i.ytimg.com/vi/UYOlM3-XhYo/maxresdefault.jpg 1280w" class="arve-thumbnail" loading="lazy" width="480" height="360">
    [72] => 
<h5 class="arve-title">
ANALOG STRINGS by Output &#8211; Walkthrough<br />
</h5>
<p><button role="button" type="button" class="arve-play-btn arve-play-btn--youtube" data-target="#arve-youtube-uyolm3-xhyo6421d01125019499552529" aria-label="Play video"><br />
<svg class="arve-play-svg arve-play-svg--youtube" focusable="false" aria-hidden="true" width="68" viewBox="0 0 68 48" xmlns="http://www.w3.org/2000/svg">
	<path fill="#1f1f1e" fill-opacity="0.81" d="m .66,37.62 c 0,0 .66,4.70 2.70,6.77 2.58,2.71 5.98,2.63 7.49,2.91 5.43,.52 23.10,.68 23.12,.68 .00,-1.3e-5 14.29,-0.02 23.81,-0.71 1.32,-0.15 4.22,-0.17 6.81,-2.89 2.03,-2.07 2.70,-6.77 2.70,-6.77 0,0 .67,-5.52 .67,-11.04 l 0,-5.17 c 0,-5.52 -0.67,-11.04 -0.67,-11.04 0,0 -0.66,-4.70 -2.70,-6.77 C 62.03,.86 59.13,.84 57.80,.69 48.28,0 34.00,0 34.00,0 33.97,0 19.69,0 10.18,.69 8.85,.84 5.95,.86 3.36,3.58 1.32,5.65 .66,10.35 .66,10.35 c 0,0 -0.55,4.50 -0.66,9.45 l 0,8.36 c .10,4.94 .66,9.45 .66,9.45 z"></path>
	<path fill="#fff" d="m 26.96,13.67 18.37,9.62 -18.37,9.55 -0.00,-19.17 z" ></path>
	<path fill="#ccc" d="M 45.02,23.46 45.32,23.28 26.96,13.67 43.32,24.34 45.02,23.46 z" ></path>
</svg>
    [73] => 
<p></button>
    [74] => 
<p></span>
    [75] => 
<p></span><br />
<script type="application/ld+json">{"@context":"http:\/\/schema.org\/","@id":"https:\/\/theproaudiofiles.com\/sampling-instruments-that-morph-and-layer-multiple-sources\/#arve-youtube-uyolm3-xhyo6421d01125019499552529","type":"VideoObject","embedURL":"https:\/\/www.youtube.com\/embed\/UYOlM3-XhYo?start=16&feature=oembed&iv_load_policy=3&modestbranding=1&rel=0&autohide=1&playsinline=0&autoplay=1&enablejsapi=1","name":"ANALOG STRINGS by Output - Walkthrough","thumbnailUrl":"https:\/\/i.ytimg.com\/vi\/UYOlM3-XhYo\/hqdefault.jpg","uploadDate":"2018-07-28T08:22:46+00:00","author":"Output","description":"The term Vector Synthesis refers to a synthesis technique which creates, \u201c...movement in a sound by providing dynamic cross-fading between (usually) four sound sources. The four sound sources are conceptually arranged as the extreme points of X and Y axes and typically labeled A, B, C and D. A given"}</script>
</div>
<p><strong>Substance</strong> combines three layers of synth-based sounds in a rubbery sort of interface design that changes to reflect the nature of each sound source. This approach may be the closest thing to vector-based synthesis discussed so far.
    [76] => 
<p><img decoding="async" loading="lazy" class="alignnone wp-image-41104 size-full" src="https://theproaudiofiles.com/wp-content/uploads/2018/07/Screen-Shot-2018-07-22-at-6.22.53-PM.png" alt="12 Sampling Instruments That Morph and Layer Multiple Sources" width="633" height="539" srcset="https://theproaudiofiles.com/wp-content/uploads/2018/07/Screen-Shot-2018-07-22-at-6.22.53-PM.png 633w, https://theproaudiofiles.com/wp-content/uploads/2018/07/Screen-Shot-2018-07-22-at-6.22.53-PM-200x170.png 200w, https://theproaudiofiles.com/wp-content/uploads/2018/07/Screen-Shot-2018-07-22-at-6.22.53-PM-300x255.png 300w, https://theproaudiofiles.com/wp-content/uploads/2018/07/Screen-Shot-2018-07-22-at-6.22.53-PM-400x341.png 400w" sizes="(max-width: 633px) 100vw, 633px" />
    [77] => 
<p>The sounds are thick, luscious and aggressive, and the modulation, effects and arpeggiation possibilities are limitless.
    [78] => 
<div class="arve wp-block-nextgenthemes-arve arve-hover-effect-none" data-mode="lazyload" data-oembed="1" data-provider="youtube" id="arve-youtube-qq6smkhpi9m6421d011258fc802776250" data-reset-after-played data-fullscreen="disabled" data-volume="100">
<span class="arve-inner"><br />
<span class="arve-embed arve-embed--has-aspect-ratio" style="aspect-ratio: 610 / 343"><br />
<span class="arve-ar" style="padding-top:56.229508%"></span><noscript class="arve-noscript"><iframe allow="accelerometer; autoplay; clipboard-write; encrypted-media; gyroscope; picture-in-picture" allowfullscreen class="arve-iframe fitvidsignore" data-arve="arve-youtube-qq6smkhpi9m6421d011258fc802776250" data-src-no-ap="https://www.youtube.com/embed/qq6SmkHpI9M?feature=oembed&amp;iv_load_policy=3&amp;modestbranding=1&amp;rel=0&amp;autohide=1&amp;playsinline=0&amp;autoplay=0&amp;enablejsapi=1" frameborder="0" height="0" sandbox="allow-scripts allow-same-origin allow-presentation" scrolling="no" src="https://www.youtube.com/embed/qq6SmkHpI9M?feature=oembed&#038;iv_load_policy=3&#038;modestbranding=1&#038;rel=0&#038;autohide=1&#038;playsinline=0&#038;autoplay=1&#038;enablejsapi=1" title="SUBSTANCE by Output"></iframe><br />
</noscript><img decoding="async" alt="SUBSTANCE by Output" src="https://i.ytimg.com/vi/qq6SmkHpI9M/hqdefault.jpg" srcset="https://i.ytimg.com/vi/qq6SmkHpI9M/mqdefault.jpg 320w, https://i.ytimg.com/vi/qq6SmkHpI9M/hqdefault.jpg 480w, https://i.ytimg.com/vi/qq6SmkHpI9M/sddefault.jpg 640w, https://i.ytimg.com/vi/qq6SmkHpI9M/maxresdefault.jpg 1280w" class="arve-thumbnail" loading="lazy" width="480" height="360">
    [79] => 
<h5 class="arve-title">
SUBSTANCE by Output<br />
</h5>
<p><button role="button" type="button" class="arve-play-btn arve-play-btn--youtube" data-target="#arve-youtube-qq6smkhpi9m6421d011258fc802776250" aria-label="Play video"><br />
<svg class="arve-play-svg arve-play-svg--youtube" focusable="false" aria-hidden="true" width="68" viewBox="0 0 68 48" xmlns="http://www.w3.org/2000/svg">
	<path fill="#1f1f1e" fill-opacity="0.81" d="m .66,37.62 c 0,0 .66,4.70 2.70,6.77 2.58,2.71 5.98,2.63 7.49,2.91 5.43,.52 23.10,.68 23.12,.68 .00,-1.3e-5 14.29,-0.02 23.81,-0.71 1.32,-0.15 4.22,-0.17 6.81,-2.89 2.03,-2.07 2.70,-6.77 2.70,-6.77 0,0 .67,-5.52 .67,-11.04 l 0,-5.17 c 0,-5.52 -0.67,-11.04 -0.67,-11.04 0,0 -0.66,-4.70 -2.70,-6.77 C 62.03,.86 59.13,.84 57.80,.69 48.28,0 34.00,0 34.00,0 33.97,0 19.69,0 10.18,.69 8.85,.84 5.95,.86 3.36,3.58 1.32,5.65 .66,10.35 .66,10.35 c 0,0 -0.55,4.50 -0.66,9.45 l 0,8.36 c .10,4.94 .66,9.45 .66,9.45 z"></path>
	<path fill="#fff" d="m 26.96,13.67 18.37,9.62 -18.37,9.55 -0.00,-19.17 z" ></path>
	<path fill="#ccc" d="M 45.02,23.46 45.32,23.28 26.96,13.67 43.32,24.34 45.02,23.46 z" ></path>
</svg>
    [80] => 
<p></button>
    [81] => 
<p></span>
    [82] => 
<p></span><br />
<script type="application/ld+json">{"@context":"http:\/\/schema.org\/","@id":"https:\/\/theproaudiofiles.com\/sampling-instruments-that-morph-and-layer-multiple-sources\/#arve-youtube-qq6smkhpi9m6421d011258fc802776250","type":"VideoObject","embedURL":"https:\/\/www.youtube.com\/embed\/qq6SmkHpI9M?feature=oembed&iv_load_policy=3&modestbranding=1&rel=0&autohide=1&playsinline=0&autoplay=1&enablejsapi=1","name":"SUBSTANCE by Output","thumbnailUrl":"https:\/\/i.ytimg.com\/vi\/qq6SmkHpI9M\/hqdefault.jpg","uploadDate":"2018-07-28T08:22:46+00:00","author":"Output","description":"The term Vector Synthesis refers to a synthesis technique which creates, \u201c...movement in a sound by providing dynamic cross-fading between (usually) four sound sources. The four sound sources are conceptually arranged as the extreme points of X and Y axes and typically labeled A, B, C and D. A given"}</script>
</div>
<p><strong>REV</strong> uses a dual layer approach and also has an extremely robust effects section for each layer as well as global processing. As one would expect, the reverse gesture is a big part of the sounds, and samples included were clearly chosen based on the nature of their natural amplitude envelopes.
    [83] => 
<p><img decoding="async" loading="lazy" class="alignnone wp-image-41105 size-full" src="https://theproaudiofiles.com/wp-content/uploads/2018/07/Screen-Shot-2018-07-22-at-6.23.15-PM.png" alt="12 Sampling Instruments That Morph and Layer Multiple Sources" width="634" height="348" srcset="https://theproaudiofiles.com/wp-content/uploads/2018/07/Screen-Shot-2018-07-22-at-6.23.15-PM.png 634w, https://theproaudiofiles.com/wp-content/uploads/2018/07/Screen-Shot-2018-07-22-at-6.23.15-PM-200x110.png 200w, https://theproaudiofiles.com/wp-content/uploads/2018/07/Screen-Shot-2018-07-22-at-6.23.15-PM-300x165.png 300w, https://theproaudiofiles.com/wp-content/uploads/2018/07/Screen-Shot-2018-07-22-at-6.23.15-PM-400x220.png 400w" sizes="(max-width: 634px) 100vw, 634px" />
    [84] => 
<div class="arve wp-block-nextgenthemes-arve arve-hover-effect-none" data-mode="lazyload" data-oembed="1" data-provider="youtube" id="arve-youtube-fqosmnh4v8y6421d011261c5659288749" data-reset-after-played data-fullscreen="disabled" data-volume="100">
<span class="arve-inner"><br />
<span class="arve-embed arve-embed--has-aspect-ratio" style="aspect-ratio: 610 / 343"><br />
<span class="arve-ar" style="padding-top:56.229508%"></span><noscript class="arve-noscript"><iframe allow="accelerometer; autoplay; clipboard-write; encrypted-media; gyroscope; picture-in-picture" allowfullscreen class="arve-iframe fitvidsignore" data-arve="arve-youtube-fqosmnh4v8y6421d011261c5659288749" data-src-no-ap="https://www.youtube.com/embed/fQOsmnH4V8Y?feature=oembed&amp;iv_load_policy=3&amp;modestbranding=1&amp;rel=0&amp;autohide=1&amp;playsinline=0&amp;autoplay=0&amp;enablejsapi=1" frameborder="0" height="0" sandbox="allow-scripts allow-same-origin allow-presentation" scrolling="no" src="https://www.youtube.com/embed/fQOsmnH4V8Y?feature=oembed&#038;iv_load_policy=3&#038;modestbranding=1&#038;rel=0&#038;autohide=1&#038;playsinline=0&#038;autoplay=1&#038;enablejsapi=1" title="Atmospheric Indie Production using REV"></iframe><br />
</noscript><img decoding="async" alt="Atmospheric Indie Production using REV" src="https://i.ytimg.com/vi/fQOsmnH4V8Y/hqdefault.jpg" srcset="https://i.ytimg.com/vi/fQOsmnH4V8Y/mqdefault.jpg 320w, https://i.ytimg.com/vi/fQOsmnH4V8Y/hqdefault.jpg 480w, https://i.ytimg.com/vi/fQOsmnH4V8Y/sddefault.jpg 640w" class="arve-thumbnail" loading="lazy" width="480" height="360">
    [85] => 
<h5 class="arve-title">
Atmospheric Indie Production using REV<br />
</h5>
<p><button role="button" type="button" class="arve-play-btn arve-play-btn--youtube" data-target="#arve-youtube-fqosmnh4v8y6421d011261c5659288749" aria-label="Play video"><br />
<svg class="arve-play-svg arve-play-svg--youtube" focusable="false" aria-hidden="true" width="68" viewBox="0 0 68 48" xmlns="http://www.w3.org/2000/svg">
	<path fill="#1f1f1e" fill-opacity="0.81" d="m .66,37.62 c 0,0 .66,4.70 2.70,6.77 2.58,2.71 5.98,2.63 7.49,2.91 5.43,.52 23.10,.68 23.12,.68 .00,-1.3e-5 14.29,-0.02 23.81,-0.71 1.32,-0.15 4.22,-0.17 6.81,-2.89 2.03,-2.07 2.70,-6.77 2.70,-6.77 0,0 .67,-5.52 .67,-11.04 l 0,-5.17 c 0,-5.52 -0.67,-11.04 -0.67,-11.04 0,0 -0.66,-4.70 -2.70,-6.77 C 62.03,.86 59.13,.84 57.80,.69 48.28,0 34.00,0 34.00,0 33.97,0 19.69,0 10.18,.69 8.85,.84 5.95,.86 3.36,3.58 1.32,5.65 .66,10.35 .66,10.35 c 0,0 -0.55,4.50 -0.66,9.45 l 0,8.36 c .10,4.94 .66,9.45 .66,9.45 z"></path>
	<path fill="#fff" d="m 26.96,13.67 18.37,9.62 -18.37,9.55 -0.00,-19.17 z" ></path>
	<path fill="#ccc" d="M 45.02,23.46 45.32,23.28 26.96,13.67 43.32,24.34 45.02,23.46 z" ></path>
</svg>
    [86] => 
<p></button>
    [87] => 
<p></span>
    [88] => 
<p></span><br />
<script type="application/ld+json">{"@context":"http:\/\/schema.org\/","@id":"https:\/\/theproaudiofiles.com\/sampling-instruments-that-morph-and-layer-multiple-sources\/#arve-youtube-fqosmnh4v8y6421d011261c5659288749","type":"VideoObject","embedURL":"https:\/\/www.youtube.com\/embed\/fQOsmnH4V8Y?feature=oembed&iv_load_policy=3&modestbranding=1&rel=0&autohide=1&playsinline=0&autoplay=1&enablejsapi=1","name":"Atmospheric Indie Production using REV","thumbnailUrl":"https:\/\/i.ytimg.com\/vi\/fQOsmnH4V8Y\/hqdefault.jpg","uploadDate":"2018-07-28T08:22:46+00:00","author":"Output","description":"The term Vector Synthesis refers to a synthesis technique which creates, \u201c...movement in a sound by providing dynamic cross-fading between (usually) four sound sources. The four sound sources are conceptually arranged as the extreme points of X and Y axes and typically labeled A, B, C and D. A given"}</script>
</div>
<h2>Summary</h2>
<p>If you haven&#8217;t fully explored the potential of morphing and layering samples, you have needlessly deprived yourself of a whole new world of possibilities when it comes to sampling technology. The instruments mentioned in this article are a great place to start your journey.
    [89] => 
<p>Check out my other <a href="https://theproaudiofiles.com/author/philipmantione/" target="_blank" rel="noopener"><strong>articles, reviews, interviews</strong></a> and my video tutorial series, <a href="https://theproaudiofiles.com/synthesis-101/" target="_blank" rel="noopener"><strong>Synthesis 101</strong></a> available exclusively on The Pro Audio Files.
    [90] => 
<p><strong>Follow me on Twitter: <a href="https://twitter.com/PMantione" target="_blank" rel="noopener">@PMantione</a></strong><br />
<strong> Instagram: </strong><a href="https://www.instagram.com/philipmantione/" target="_blank" rel="noopener"><strong>philipmantione</strong></a>
    [91] => 
<div class="arve wp-block-nextgenthemes-arve arve-hover-effect-none" data-mode="lazyload" data-oembed="1" data-provider="youtube" id="arve-youtube-sdp52jdyrio6421d01126ac7553312772" data-reset-after-played data-fullscreen="disabled" data-volume="100">
<span class="arve-inner"><br />
<span class="arve-embed arve-embed--has-aspect-ratio" style="aspect-ratio: 610 / 343"><br />
<span class="arve-ar" style="padding-top:56.229508%"></span><noscript class="arve-noscript"><iframe allow="accelerometer; autoplay; clipboard-write; encrypted-media; gyroscope; picture-in-picture" allowfullscreen class="arve-iframe fitvidsignore" data-arve="arve-youtube-sdp52jdyrio6421d01126ac7553312772" data-src-no-ap="https://www.youtube.com/embed/Sdp52jdyRIo?feature=oembed&amp;iv_load_policy=3&amp;modestbranding=1&amp;rel=0&amp;autohide=1&amp;playsinline=0&amp;autoplay=0&amp;enablejsapi=1" frameborder="0" height="0" sandbox="allow-scripts allow-same-origin allow-presentation" scrolling="no" src="https://www.youtube.com/embed/Sdp52jdyRIo?feature=oembed&#038;iv_load_policy=3&#038;modestbranding=1&#038;rel=0&#038;autohide=1&#038;playsinline=0&#038;autoplay=1&#038;enablejsapi=1" title="Synthesis 101: 4+ Hours of In-Depth Synth Training"></iframe><br />
</noscript><img decoding="async" alt="Synthesis 101: 4+ Hours of In-Depth Synth Training" src="https://i.ytimg.com/vi/Sdp52jdyRIo/hqdefault.jpg" srcset="https://i.ytimg.com/vi/Sdp52jdyRIo/mqdefault.jpg 320w, https://i.ytimg.com/vi/Sdp52jdyRIo/hqdefault.jpg 480w, https://i.ytimg.com/vi/Sdp52jdyRIo/sddefault.jpg 640w, https://i.ytimg.com/vi/Sdp52jdyRIo/maxresdefault.jpg 1280w" class="arve-thumbnail" loading="lazy" width="480" height="360">
    [92] => 
<h5 class="arve-title">
Synthesis 101: 4+ Hours of In-Depth Synth Training<br />
</h5>
<p><button role="button" type="button" class="arve-play-btn arve-play-btn--youtube" data-target="#arve-youtube-sdp52jdyrio6421d01126ac7553312772" aria-label="Play video"><br />
<svg class="arve-play-svg arve-play-svg--youtube" focusable="false" aria-hidden="true" width="68" viewBox="0 0 68 48" xmlns="http://www.w3.org/2000/svg">
	<path fill="#1f1f1e" fill-opacity="0.81" d="m .66,37.62 c 0,0 .66,4.70 2.70,6.77 2.58,2.71 5.98,2.63 7.49,2.91 5.43,.52 23.10,.68 23.12,.68 .00,-1.3e-5 14.29,-0.02 23.81,-0.71 1.32,-0.15 4.22,-0.17 6.81,-2.89 2.03,-2.07 2.70,-6.77 2.70,-6.77 0,0 .67,-5.52 .67,-11.04 l 0,-5.17 c 0,-5.52 -0.67,-11.04 -0.67,-11.04 0,0 -0.66,-4.70 -2.70,-6.77 C 62.03,.86 59.13,.84 57.80,.69 48.28,0 34.00,0 34.00,0 33.97,0 19.69,0 10.18,.69 8.85,.84 5.95,.86 3.36,3.58 1.32,5.65 .66,10.35 .66,10.35 c 0,0 -0.55,4.50 -0.66,9.45 l 0,8.36 c .10,4.94 .66,9.45 .66,9.45 z"></path>
	<path fill="#fff" d="m 26.96,13.67 18.37,9.62 -18.37,9.55 -0.00,-19.17 z" ></path>
	<path fill="#ccc" d="M 45.02,23.46 45.32,23.28 26.96,13.67 43.32,24.34 45.02,23.46 z" ></path>
</svg>
    [93] => 
<p></button>
    [94] => 
<p></span>
    [95] => 
<p></span><br />
<script type="application/ld+json">{"@context":"http:\/\/schema.org\/","@id":"https:\/\/theproaudiofiles.com\/sampling-instruments-that-morph-and-layer-multiple-sources\/#arve-youtube-sdp52jdyrio6421d01126ac7553312772","type":"VideoObject","embedURL":"https:\/\/www.youtube.com\/embed\/Sdp52jdyRIo?feature=oembed&iv_load_policy=3&modestbranding=1&rel=0&autohide=1&playsinline=0&autoplay=1&enablejsapi=1","name":"Synthesis 101: 4+ Hours of In-Depth Synth Training","thumbnailUrl":"https:\/\/i.ytimg.com\/vi\/Sdp52jdyRIo\/hqdefault.jpg","uploadDate":"2018-07-28T08:22:46+00:00","author":"Pro Audio Files","description":"The term Vector Synthesis refers to a synthesis technique which creates, \u201c...movement in a sound by providing dynamic cross-fading between (usually) four sound sources. The four sound sources are conceptually arranged as the extreme points of X and Y axes and typically labeled A, B, C and D. A given"}</script>
</div>

    [96] => 
)

Inserting at initial position
Chosen Position: 29
<p></span><br />
<script type="application/ld+json">{"@context":"http:\/\/schema.org\/","@id":"https:\/\/theproaudiofiles.com\/sampling-instruments-that-morph-and-layer-multiple-sources\/#arve-youtube-2scoipnfonk6421d01121052035586552","type":"VideoObject","embedURL":"https:\/\/www.youtube.com\/embed\/2sCoiPNfONk?feature=oembed&iv_load_policy=3&modestbranding=1&rel=0&autohide=1&playsinline=0&autoplay=1&enablejsapi=1","name":"Gothic Instruments Sculptor Live Impacts Module Walkthrough","thumbnailUrl":"https:\/\/i.ytimg.com\/vi\/2sCoiPNfONk\/hqdefault.jpg","uploadDate":"2018-07-28T08:22:46+00:00","author":"Time+Space","description":"The term Vector Synthesis refers to a synthesis technique which creates, \u201c...movement in a sound by providing dynamic cross-fading between (usually) four sound sources. The four sound sources are conceptually arranged as the extreme points of X and Y axes and typically labeled A, B, C and D. A given"}</script>
</div>
<h2><a href="https://www.native-instruments.com/en/products/komplete/cinematic/rise-hit/" target="_blank" rel="noopener">Rise and Hit by Native Instruments</a></h2>
<p><strong>Rise and Hit</strong> is perhaps the best sound design tool for constructing a rise and hit gesture that needs to be a specific length, either in terms of seconds, division of the beat or measures. The interface is simple and intuitive and you can literally design a sound in seconds even if you've never used the instrument before. That is the sign of a great GUI and concept.</p>
Inserting at initial position
Chosen Position: 58
<h5 class="arve-title">
Umlaut Audio MOTORS &#8211; Walkthrough<br />
</h5>
<p><button role="button" type="button" class="arve-play-btn arve-play-btn--youtube" data-target="#arve-youtube-fjrfvy6lahs6421d01123e44319396839" aria-label="Play video"><br />
<svg class="arve-play-svg arve-play-svg--youtube" focusable="false" aria-hidden="true" width="68" viewBox="0 0 68 48" xmlns="http://www.w3.org/2000/svg">
	<path fill="#1f1f1e" fill-opacity="0.81" d="m .66,37.62 c 0,0 .66,4.70 2.70,6.77 2.58,2.71 5.98,2.63 7.49,2.91 5.43,.52 23.10,.68 23.12,.68 .00,-1.3e-5 14.29,-0.02 23.81,-0.71 1.32,-0.15 4.22,-0.17 6.81,-2.89 2.03,-2.07 2.70,-6.77 2.70,-6.77 0,0 .67,-5.52 .67,-11.04 l 0,-5.17 c 0,-5.52 -0.67,-11.04 -0.67,-11.04 0,0 -0.66,-4.70 -2.70,-6.77 C 62.03,.86 59.13,.84 57.80,.69 48.28,0 34.00,0 34.00,0 33.97,0 19.69,0 10.18,.69 8.85,.84 5.95,.86 3.36,3.58 1.32,5.65 .66,10.35 .66,10.35 c 0,0 -0.55,4.50 -0.66,9.45 l 0,8.36 c .10,4.94 .66,9.45 .66,9.45 z"></path>
	<path fill="#fff" d="m 26.96,13.67 18.37,9.62 -18.37,9.55 -0.00,-19.17 z" ></path>
	<path fill="#ccc" d="M 45.02,23.46 45.32,23.28 26.96,13.67 43.32,24.34 45.02,23.46 z" ></path>
</svg></p>