Introduction to Console Emulation Plugins
Article Content
The recording industry is in a weird place right now. For years, we coveted analog hardware. Walking into a proper studio felt like stepping into the cockpit on an alien spacecraft. There were knobs and switches and gauges everywhere. It felt like a sanctuary for creativity.
Things are different now. Many of us work on our laptops and mix in the box. Hit records are being made using Virtual Recording Studios that emulate the mic lockers of famous studios. Plugins are being made that emulate vintage hardware so closely, they're winning blind shootouts.
But that's the thing — even after 50 years, we're still making emulations of the 1176. Maybe things aren't so different after all…
Just because our studios aren't filled with knobs and switches anymore, this doesn't mean we don't love the sound of analog consoles.
Neve
Neve was one of the first popular console manufacturers. The sound of their early consoles is engrained in countless hit records. Their original preamp, the 1073, is self-described as "the world's most desirable preamp."
Part of the 1073's charm is the built-in EQ. It features a fixed shelf at 12 kHz, two switchable low and midrange bands, and a high-pass filter. Often used for its silky-smooth high end and fat low-mids.
Years later, Neve revamped the design of the beloved preamp to "take the legendary 1073 design to the next level." The newly designed 1084 features an adjustable high-shelf, a "Hi-Q" switch and adjustable slope for the HPF.
Both models featured fixed frequencies on all four bands. Which means you're either boosting 1.6 kHz or 3.2 kHz — not somewhere in between.
Neve 1073/1084s are emulated by Slate Digital, Universal Audio and Waves. 
In 1973, Neve released the 8048 mixing console, which featured a new combined mic/line preamp and equalizer section. These 1081 units featured "remarkable sensitivity and a fast and musical response to transients"
Neve 1081s are emulated by Universal Audio and Waves. 
The Neve 8048 console also included the highly-coveted 2254 Limiter/Compressor units. Known for their "rich, thick, and round" sound, these units are great for fattening up tracks. For years, engineers used two of these units on their stereo buss.
Neve 2254s are emulated by McDSP, Plugin Alliance and Waves.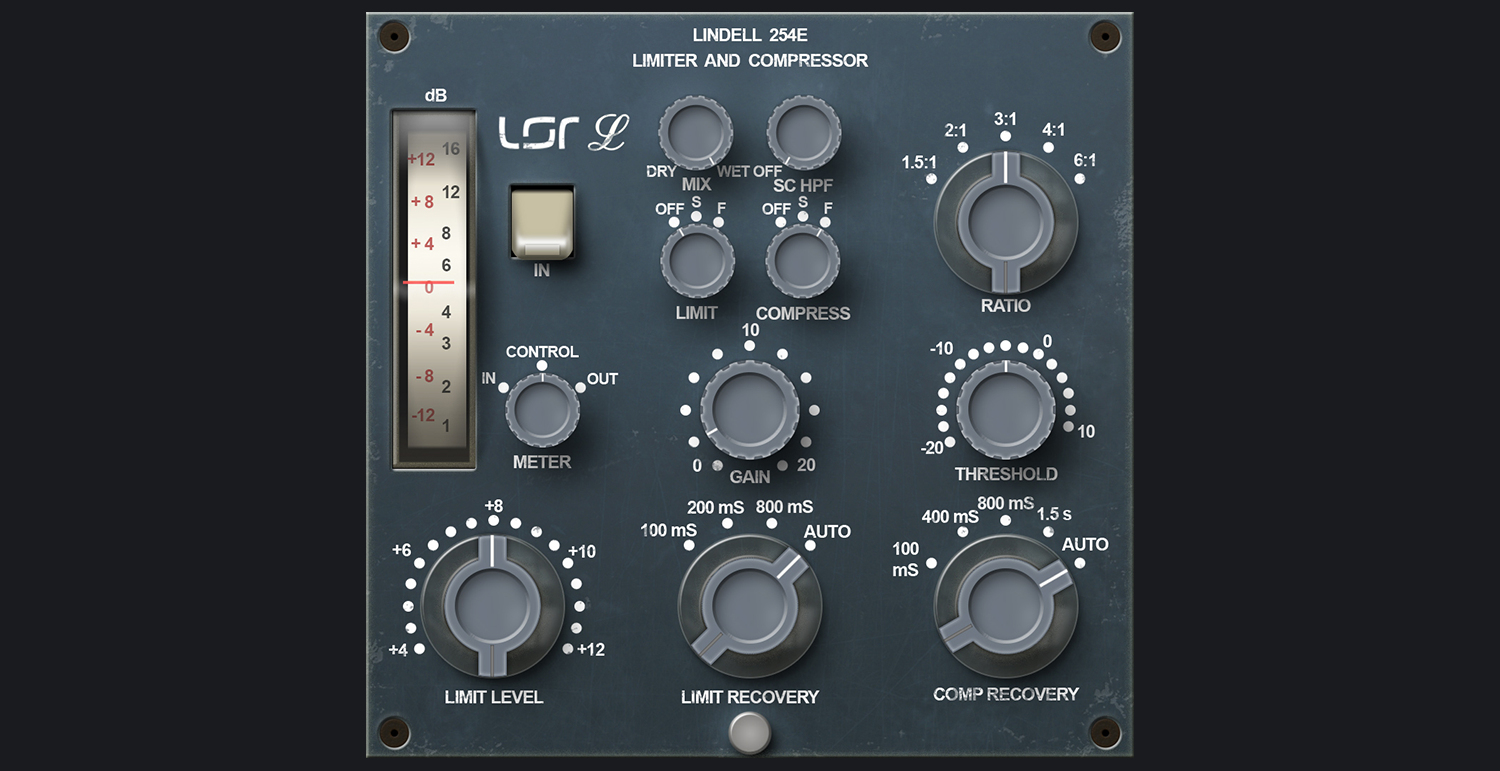 In 1985, Neve released an updated stereo version of the classic 2254 compressor, known as the 33609. Designed as a "modern" compressor at the time, the 33609 is often described as smooth and transparent.
Neve 33609s are emulated by IK Multimedia, McDSP and Universal Audio.
Acustica Audio also has a handful of Neve-modeled plugins.
SSL
Solid State Logic, or SSL, gained popularity as a console manufacture after releasing their SSL 4000E Series console in 1979. But it wasn't until they released their G-Series desks a few years later that engineers like Bob Clearmountain, Chris Lord-Alge and Andy Wallace would start swearing by them.
In addition to colorful, punchy sounding preamps, both desks included a versatile 4-band EQ module. They featured two fully parametric midrange bands, and a bell curve option for the highs and lows.
The E Series desk used brown knobs for the low band, while the G Series used black. While it may not seem like a big difference, they actually used different cards ('02' and '242'), which produced different sounds.
SSL 4000 EQ modules are emulated by Slate, Brainworx (Plugin Alliance) Universal Audio and Waves — many of which offer both the E and G Series models.
Not only were the EQ modules on the SSL 4000G Series awesome, so were the dynamic modules. Fast, punchy, and energetic, these units include an Expander/Gate, as well as a compressor.
SSL 4000 dynamics modules are emulated by Slate, Brainworx (Plugin Alliance), Universal Audio and Waves.
Finally (as if that weren't enough to sell you on a console), the buss compressor on the 4000 consoles has been described as a "holy grail compressor that does both transparency and glue." SSL says it makes mixes sound "bigger, with more power, punch, and drive."
The SSL 4000 buss compressor is emulated by Slate, Universal Audio and Waves.
API
Today, many pieces of outboard gear come in the form of 500 series units. That technology was invented in 1969 by Automated Processes Inc., better known as API. As far back as 1970, API was creating "modular consoles" outfitted with a variety of hand-picked 500 series modules. While many of us think of the lunchbox as a modern invention, production began back in 1985.
Over the years, API has put together a killer channel strip, starting with the 512c mic preamp. Often described as "highly musical and rich-sounding."
Unfortunately, nobody has properly emulated the 512c yet, but Slate has an API setting on their Virtual Console Collection.
In 1971, API developed their 550A EQ module. The 550A features 3 bands with 7 selectable frequencies. The high and low bands can be switched from shelf to bell shapes, and the HPF can be toggled in or out.
One of the coolest features is the "Proportional Q", which increases the Q value the harder you turn the gain knob. Essentially, the bell becomes more narrow the more you cut or boost.
Years later, API developed the 550b, adding a fourth band for more midrange control.
API 550A/b modules are emulated by Antelope Audio, IK Multimedia, Universal Audio and Waves.
In the early 70s, API released the 525 "feedback" compressor/limiter. They featured variable threshold and output levels, a unique "ceiling" control and a de-ess function. So far, the only proper recreation comes from LSR audio.
Finally, one of the most modern entries on the list, the API 2500 is a rack mount buss compressor that's absolutely loaded with features. You can toggle between the old "feedback" or new "feed forward" compression styles. It uses patented THRUST technology to insert a selectable high-pass filter before the detector circuit. Plus, it has auto make-up gain!
The API 2500 is emulated by Universal Audio and Waves.
Other Consoles*
While they aren't modeled as often as Neve, SSL or API, there are a few other console emulations worth mentioning. The UK was pumping out quality records in the 60s and 70s with some pretty unique sounds. Much of that sound can be traced back to two studios.
In 1968 EMI installed a new console at Abbey Roads; the TG12345 console. It was a solid-state replacement for their current "REDD" tube consoles. These consoles had a "cleaner, brighter and punchier" sound. Waves make a plugin emulation of the TG channel strips, EQs and compressors.
In the 1970s, London's Trident Studios built 13 Trident A-Range Consoles. They went on to record hit records for David Bowie, Rod Stewart, and Frank Sinatra. The consoles were described as having a musical, colorful and unusual sound. Slate offers a Trident console emulation plugin, while Softube offers one for the A-Range EQ.
*OK, so these EQs were never part of a console, but they're one of the most popular hardware EQ emulation plugins. Pultecs are often described as natural, and musical.
The EQP-1A works differently than any other EQ — it boosts and cuts at the same time. It features a low-shelf with 4 selectable frequencies, and adjustable boost and attenuation knobs. Similarly, the high-self has 7 selectable frequencies, and 3 separate selectable frequencies for the attention selector.
Yeah, it makes more sense when you see it in action. The MEQ-1 equalizer focuses on the midrange and is just as confusing/pleasant.
Of course, there are many more console manufacturers with their own unique sounds.  SSL alone has over a dozen, each with their own quirks and charms. But these consoles are all highly regarded as some of the greatest ever made. Try them out and see what a difference they can make on your mix!