15 Awesome Transient Designer Plugins
Article Content
Transient Designer plugins are really fun! They can instantly transform a dull and lifeless drum or percussion part into something that really pops, creating a dynamic and living part that can give you that cutting edge you've been looking for. And there is no need to limit their use to percussion parts. I've had great success adding bite and punch to synth parts and truly any transient-based sample can benefit from this sort of processing.
Fundamentally, these effects operate by giving the user separate control over the attack and decay portions of a transient. More feature-rich plugins will add multiband capability or surgical FFT-based manipulation.
If you've neglected using a transient designer in the past, give one a try and I guarantee you'll be hooked. Then it's just a matter of picking the one that suits your needs.
Below are some excellent choices you might consider (in no particular order).
Don't let the low price fool you, this is an extremely responsive and ultra simple plugin with mouse-over help comments that will have you getting great results in seconds. It is part of Kilohearts Snapin Eco-System I recently reviewed here. Price: $39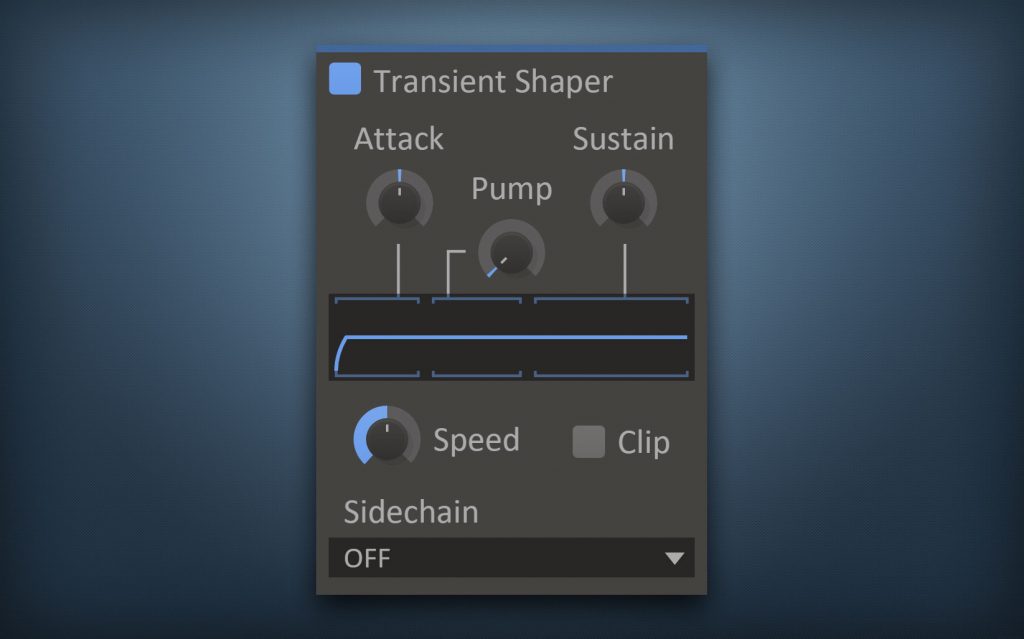 A powerful multiband transient shaper with selectable response curves (sharp, medium, smooth), a summing function that will mono-ize the input, polarity inversion button and three different shaping algorithms:
PRECISE: Fastest recovery time to the next transient. Most accurate and responsive when adding or removing attack to a signal.
BALANCED: Middle ground of the three modes. Fairly quick attack and medium release time when recovering from one transient to the next.
LOOSE: Slowest transient recovery time for all types of material. The best mode for adding large amounts of sustain.
An LFE bypass button appears when Neutron is loaded in either a 5.1 or 7.1 surround configuration. When enabled, the LFE Bypass will ensure that any audio information in the LFE channel is passed through unprocessed, but with the correct latency compensation. In Learn Mode the plugin searches for natural crossover cutoff points using a few criteria, including minima in the spectrum. Once Neutron has found a stable and transparent place for the cutoffs, the Learn function will disable automatically. Price: $299 (bundled with Neutron 2 Standard)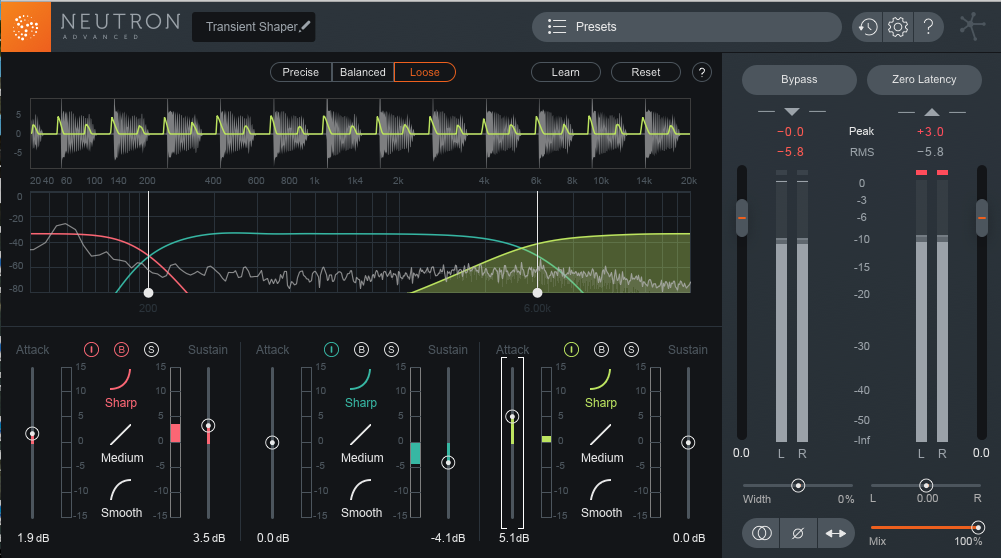 This Ableton Live device offers a few simple controls for shaping. It has built-in overdrive to add some harmonic distortion, a fixed compression setting (on/off), controls for mid and high transient emphasis, and low-end enhancer control. While not strictly a dedicated transient shaper, it may get you where you want to be nonetheless. You will find it as a preset under Audio Effects -> Drum Buss -> Transient Shaping Enhance. Price: (included with Ableton Live)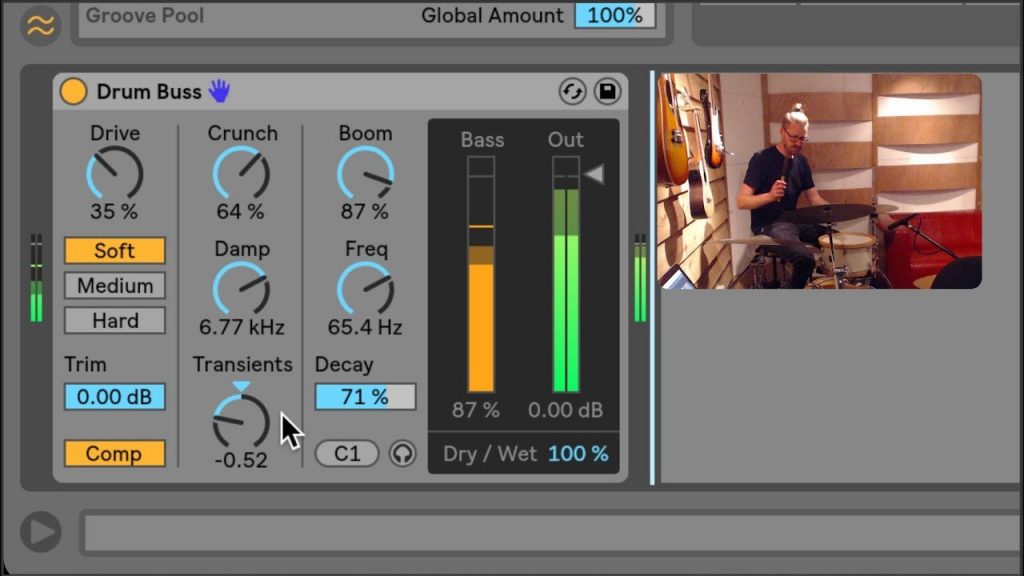 You'd be hard-pressed to find a simpler plugin than this one from NI. It has three controls: Attack, Sustain and Gain as well as Smooth and Limiting toggles. The eight presets cover a surprising variety of effects. I have to admit, I've never been disappointed with an NI plugin and this one is no exception. Price: $99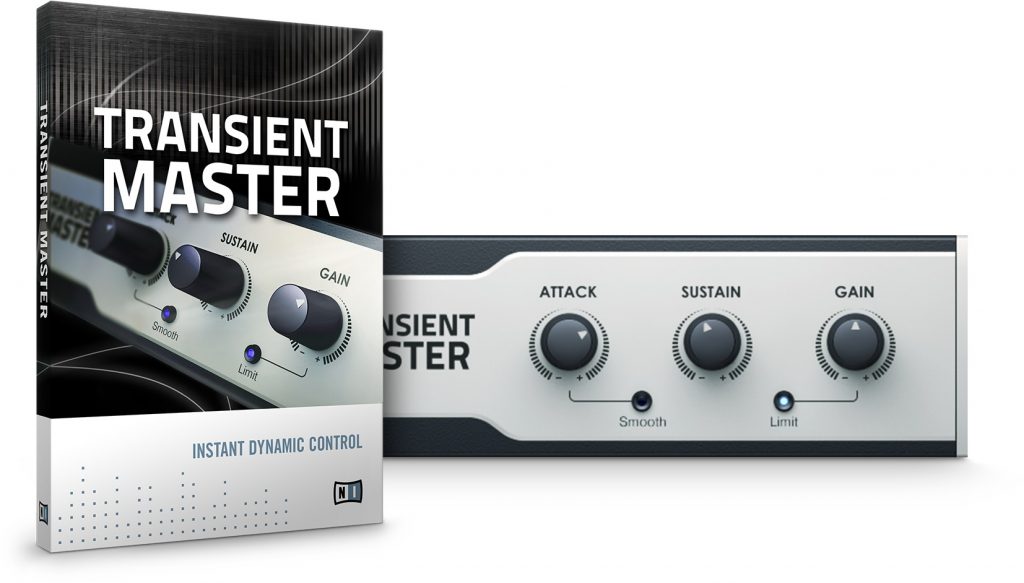 This is another impressive device from the developer of soothe, which has been wildly successful since its release. Billed as "an adaptive transient processor", this FFT-based device can achieve amazing detail and articulation not possible with other plugins. It is a full-featured plug with mid-side processing capability and a nice selection of presets. Because of its underlying FFT-based algorithms, you'll see controls not found in traditional shapers like sensitivity and sharpness. This is truly a novel approach to transient processing and another hit by oeksound. Price: $170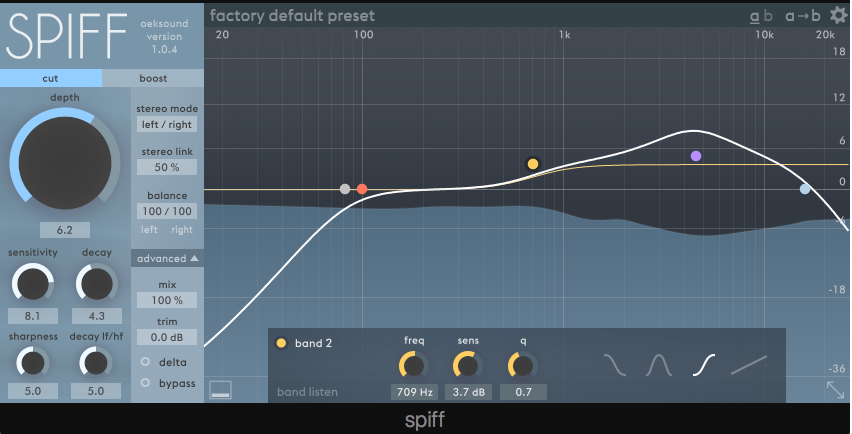 I recently reviewed Sonible's smart:EQ 2 and entropy:EQ⁺ is an earlier release that's intended to allow frequency specific modifications of transient content. Using an EQ graphic and some global controls called Entropy, Strength and Smoothing, you affect frequencies with surgical specificity. Price: $146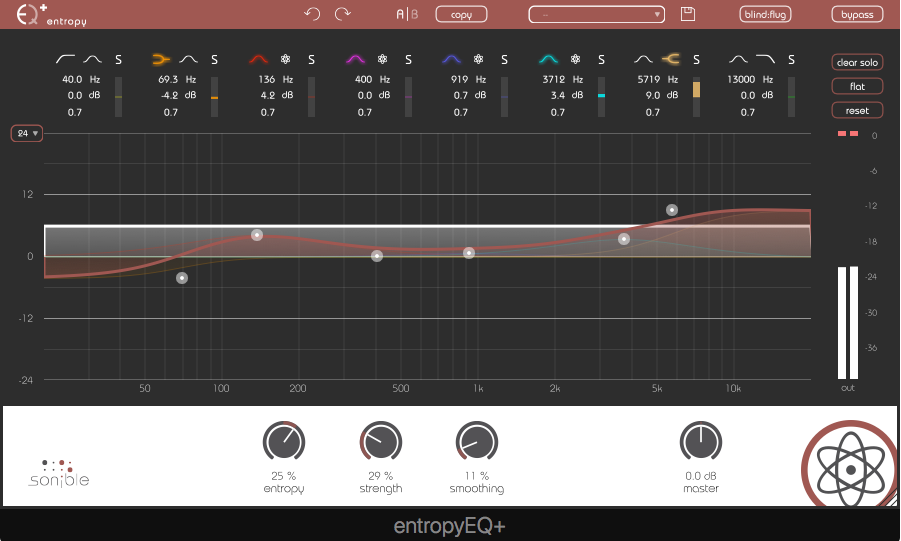 This plugin is part of the Elevate bundle by Eventide/Newfangled Audio that I reviewed last summer. Up to 26 frequency bands can be configured and manipulated independently. This plugin can achieve tight and transparent effects using frequency bands that are derived from the critical bands of human perception. Price: (bundled with Elevate) – $146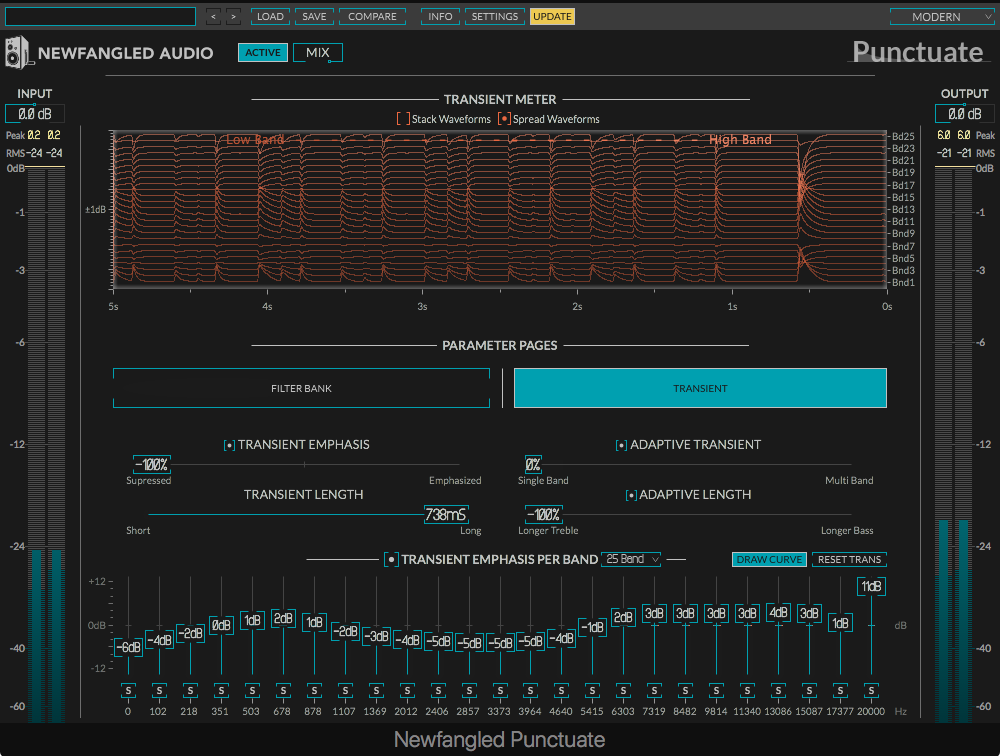 This plugin is billed as a "transient retrieval" processor that acts to remove audio artifacts caused by FFT-based processing like digital denoising and lossy file compression algorithms. Everyone in audio has experienced those gurgling or warbling sounds that emerge from over processing or heavy file compression and Unchirp targets that nastiness quite well. Although not a Transient Designer in the traditional sense, I include it here since it does focus on transient events in a unique way. Worth checking out especially for those doing a lot of post-production work. Also, check out my past review of Zynaptiq's Adaptiverb. Price: $389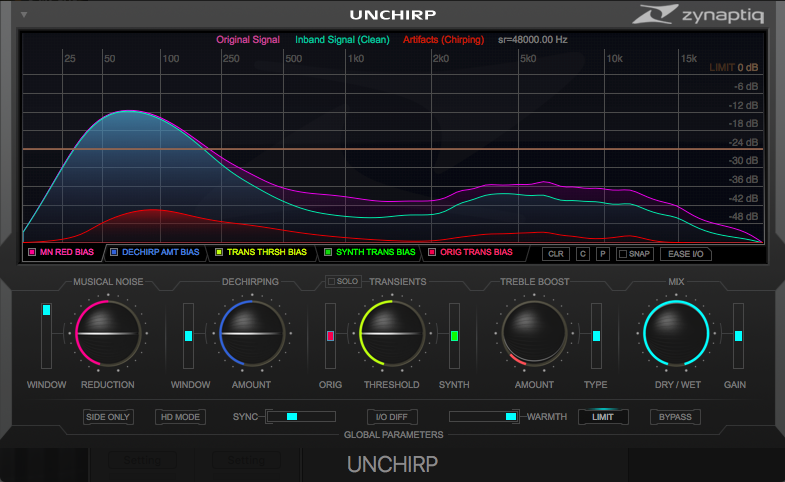 Billed as "the world's first multichannel polyphonic transient designer which processes not only percussion and drums but also detected notes of solo or polyphonic instruments like guitar and piano recordings or complete mixes (from sample-loops or recordings) can be adjusted with filter-effects, common dynamics or an innovative new envelope-overwrite." This plugin has an extensive catalog of presets, a visually stunning GUI, and is definitely capable of some unique effects. Price: $158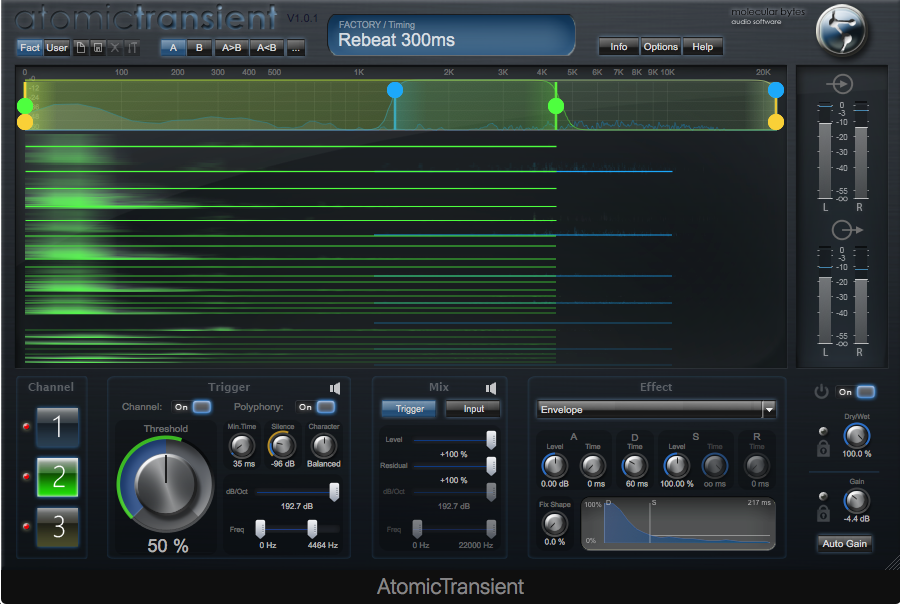 Transector manipulates the signal based on three "transient bands" — attack, release and sustain. The developers explain: "The Sustain band is an adjustable middle band between Attack and Release. By adding a third Transient band, you can use Transector to focus in on different aspects of a track's sound or to smooth the transition between Attack and Release. Increase the body of the sound without over-exaggerating the attack, or roll-off the decay of a sound without removing all of the tone."
The Mid/Side processing capability and ridiculously low price makes this one worth a try. Price: $29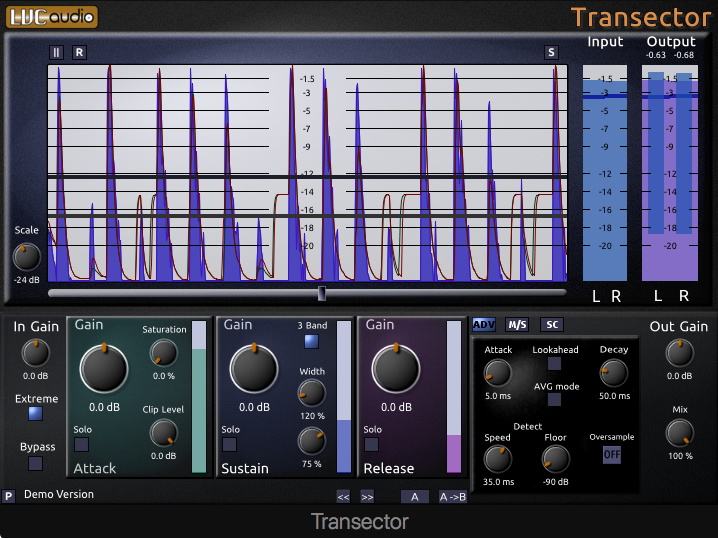 This is a simple device that can get you a punchy sound super fast. Two large knobs dominate the GUI and invite experimentation which was quickly rewarded with a tactile response that is immediately enjoyable. Price: $67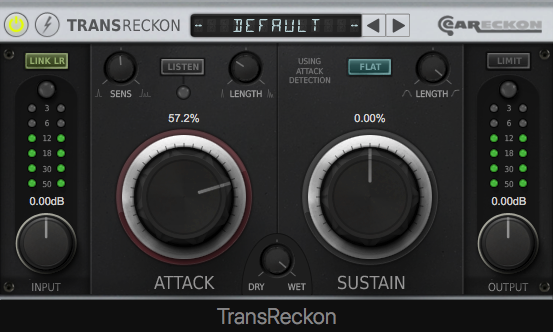 TransMod allows you to soften or harden attacks using a few simple controls, can add harmonic distortion with its Overdrive feature and can reduce the effects of ambience. The effect can be transparent yet powerful. Price: $130 (Native)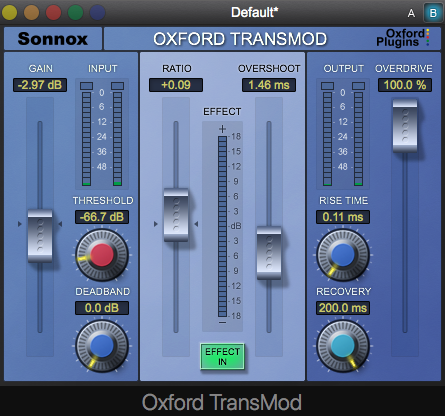 Envolution is more advanced than TransMod and gives you a nice graphic that visualizes the results of the processing. The two main sections are for Transients and Sustain, each with separate envelope settings and controls for frequency-specific processing. A very responsive plugin with 38 well-conceived presets. An interesting feature labeled DIFF, allows you to hear and or extract just the transient events, which might be nice to use as a sidechain input on another track. Price: $193 (Native)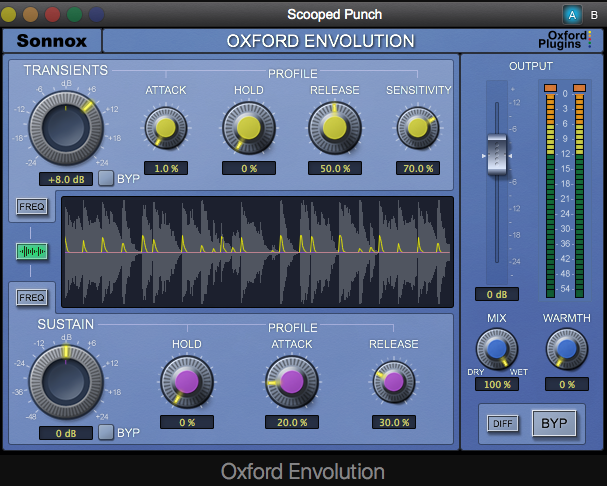 This Waves' transient shaper is simple and effective, and the attractive interface provides excellent visual feedback on the processing. Attack and Sustain have contour settings, duration, level and sensitivity controls. Price: $49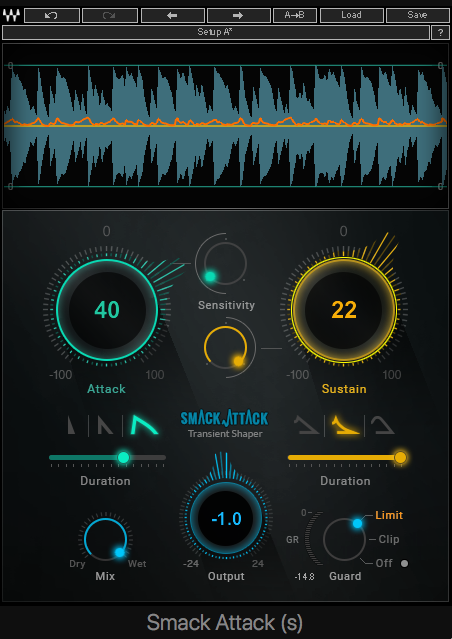 This device separates the transient signal into four frequency bands (Bass, Low-Mid, Mid, Treble) with adjustable cutoff points. The attack and sustain controls can be subtle and transparent or more exaggerated depending on your needs. Price: $65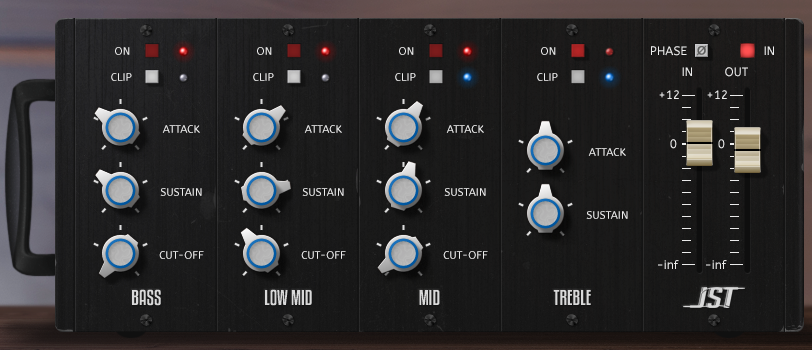 Others
While all the products above I have personally used, there are many others not mentioned here and I encourage reader feedback if there are those with particular favorites. Below is a list of others on the market not listed above:
Conclusions
I have tried to present a variety of plugins that use different approaches to transient designing and feature sets that range from exhaustive to extremely basic. As in most processing categories, certain plugins have unique strengths and the process of transient shaping is definitely context-specific. While M/S processing and multiband capabilities are excellent features, you may not need them for every situation. Sometimes two knobs are better than ten, and other times not. Aside from adding punch and snap, transient designers can be approached like a sound design tool, capable of unusual results not achievable with other sorts of processing. And don't hesitate to use these effects on things other than drums and rhythm parts, you might be surprised at their versatility.
---
Check out my other articles, reviews and interviews
Follow me on Twitter / Instagram / YouTube