Adaptiverb: An Innovative Approach to Reverberation
Article Content
You have undoubtedly used a variety of reverb plugins over the years, including room and ambient simulations, plate and spring simulations, convolution reverbs, etc. But the folks at Zynaptiq have come up with a unique approach you should hear about. Their entry into the reverb plugin arena is called, Adaptiverb.
From the creators:
"Rather than stacking delay/all-pass nodes or convolving the input with an IR, ADAPTIVERB employs machine learning, ray-tracing and source separation techniques to synthesize a reverb tail that automatically adapts to the audio context it is used in — like a chameleon."
This German-based company makes a variety of sound design, signal processing and analytic audio software using artificial intelligence as a generative technique.
The interface is visually striking and responsive. It features an XY pad in the center that controls Sustain and Reverb Mix.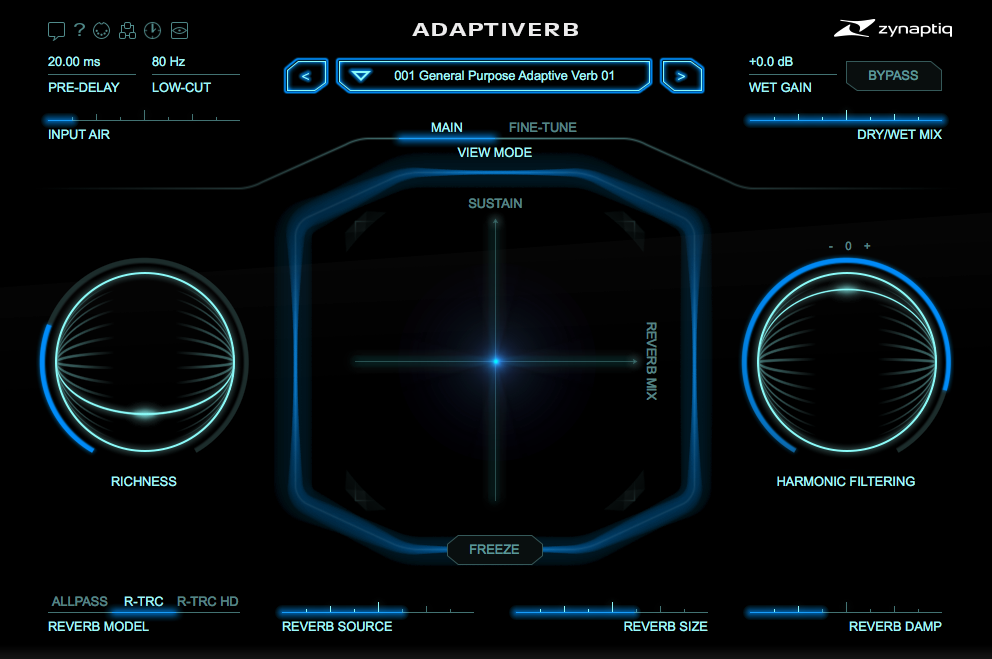 Signal Flow
Below is the signal path taken from the manual:

The Input Section, aside from the common Low-Cut and Pre-Delay controls, includes a high-frequency synthesizer they call Input AIR, which actually adds high-frequency content.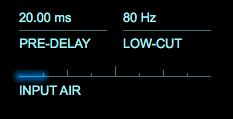 The Freeze Section allows you to hold the current input buffer. Although the source of the input is frozen, the reverb itself and resynthesis remain adjustable. This in effect makes the plugin more of an instrument, in that you can create and manipulate harmonic and droning textures without new input. The manual states:
"If you enable FREEZE, the input buffer (approximately 93 ms) is treated as a static mixture of periodic signals and is continually fed into the ADAPTIVERB network. It's basically looped in a seamless manner, if you will. So the freeze really happens before the actual reverberation synthesis, which lets you change reverberation parameters while freeze is active to get all sorts of interesting effects. It's basically the training signal that gets frozen, and the reverb is then derived from that."
To me, this feature alone makes Adaptiverb worth the price.
The Bionic Sustain Resynth Section filters out noise and transients to generate a smooth and rich harmonic tail which can actually be tuned by interval.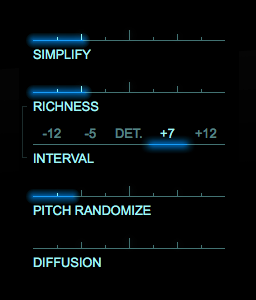 The Reverb Section uses Allpass and two flavors of Raytracing reverb engines. While Allpass models are quite common, Raytracing in a reverb is not. Here are the descriptions given:
"R-TRC (RAYTRACE); in this mode, a 3D simulation of a room is used to calculate reverb by simulating the paths soundwaves take from a virtual sound source to a virtual listening position. This mode is true stereo and uses two sound sources pointed directly away from the listener, for a sound that blends very well in "invisible reverb" scenarios".

"R-TRC HD (RAYTRACE High-Definition); this is a variation on the R-TRC algorithm that uses two sound sources placed at a different angle to the listener (40 degrees of separation), and that has a slightly higher reflectivity index for the simulated room. Compared to R-TRC, this mode "feels" slightly larger and has more "movement".

The Harmonic Contour Filtering Section offers innovations. Here you can "eliminate dissonance between the reverb tail and the input signal." This section is post-reverb processing and includes controls like keyboard tracking, quantized filtering and tuning, and breathiness, which adds noise derived from the Harmonic Contour filtering process itself.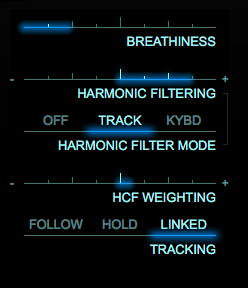 The Output Section offers the customary Dry and Wet gain controls.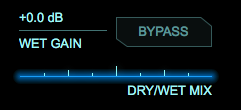 The interface has two main views:
MAIN View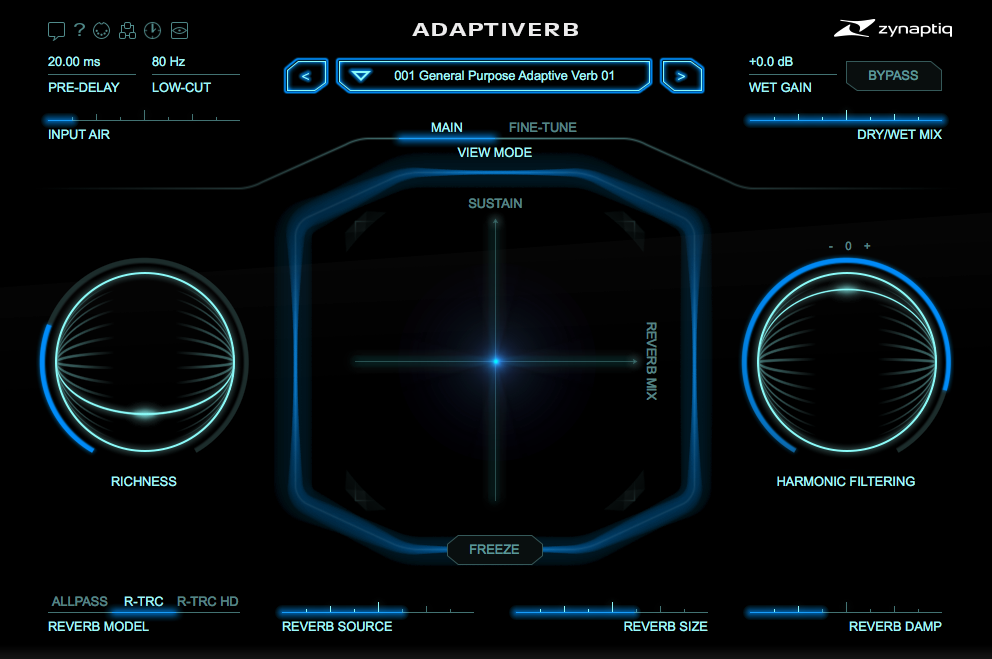 The MAIN view simplifies the controls for both the Bionic Sustain Section and the Harmonic Contour Filter. In this view, two sphere-like controls essentially operate like knobs or sliders.
FINE-TUNE View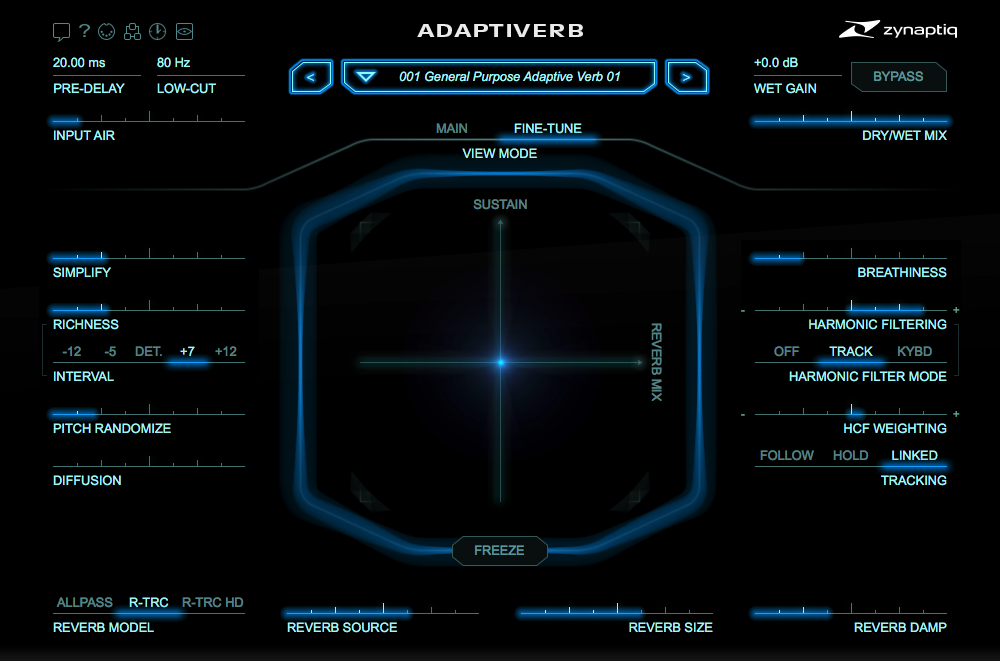 There is an extensive collection of presets that include several unique categories and sub-categories clearly intended for the sound designer or experimentalist.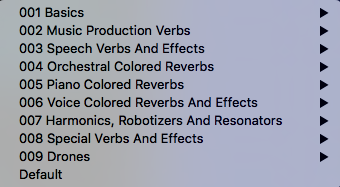 Special Verb and Effects (Submenu):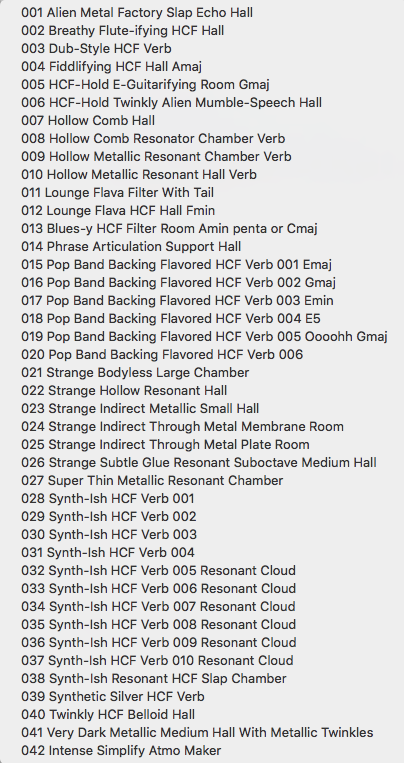 Cons?
If there is a downside to this plug, it would be in terms of CPU usage. To adjust for this, the creators have included a couple of options.
PREVIEW Mode reduces Adaptiverb's internal time resolution, "significantly reducing CPU load while only having a small effect on the sound." I found this claim to be indeed true.
LIVE Mode "reports zero latency to the host and passes the dry signal directly to the dry/wet mix…As a result, the dry path is latency free, and the effect signal will be late by the amount of samples that corresponds to the combination of modules used…"
The company is very upfront about latency and how to deal with it. It states that the minimum latency is 4096 samples and it can be as high as 11264 samples, based on the modules used. But with great power comes great CPU usage (as all super heroes are well aware).
Conclusion
If you're looking for tight reverb that can emulate a small room or realistic reverb that can emulate an actual space, there are plenty out there that will do the job. But Adaptiverb offers things that other reverbs do not. It is a hybrid synthesizer/reverb that can provide lush tunable reverb tails or can be played like an instrument.
Adaptiverb is available separately or as part of their Design Bundle which also includes:
Wormhole, described as an otherworldly audio effects processor, includes pitch shifting, spectral warping, filtering and reverb. And Morph 2, "is a real-time structural audio morphing" plugin that is the audio equivalent of one face morphing into another.
Check out their other products here.
Zynaptiq is a relatively young company founded by Denis H. Goekdag and Stephan M. Bernsee in 2011.
I'm looking forward to more innovative approaches from these guys down the road.
Check out my other articles, reviews and interviews
Follow me on Twitter / Instagram / YouTube