Review: Thorn Synthesizer from DS Audio
Article Content
This article continues my celebration of independent developers with a look at the new synth by DS Audio called Thorn. The DS stands for Dmitry Sches, a software developer based in Minsk, Belarus. I asked him for a brief statement about his motivation and approach in creating Thorn.
"When I started making Thorn, I wanted to create a really easy to use synth with excellent sound. I had been thinking about a synth which could be programmed to produce a usable modern EDM sound in just a few seconds, without the need for post-processing with external effects.  I wanted it to be very aggressive and punchy. However, I also love advanced features that allow me to experiment. So I included additive synthesis, spectral effects and a harmonic filter section. Later, during development, I added a built-in glitch sequencer and the concept of Thorn was complete. The synth turned out to have quite a harsh and aggressive character due to additive synthesis and strong saturation in filters and effects. This thorny sound was exactly what I was after, hence the name." (Dmitry Sches)
My first impressions of Thorn totally coincide with the developer's vision. A quick run through the presets, organized by Bass, Lead, Pad and Sequence categories, yielded amazing sounds right out of the box. The percussive and biting aggressiveness of some the bass and lead tones seem to jump right out of my monitors. The pads include several lovely sounds with slowly evolving textures. The Sequence category features settings the highlight the use of the Glitch Sequencer.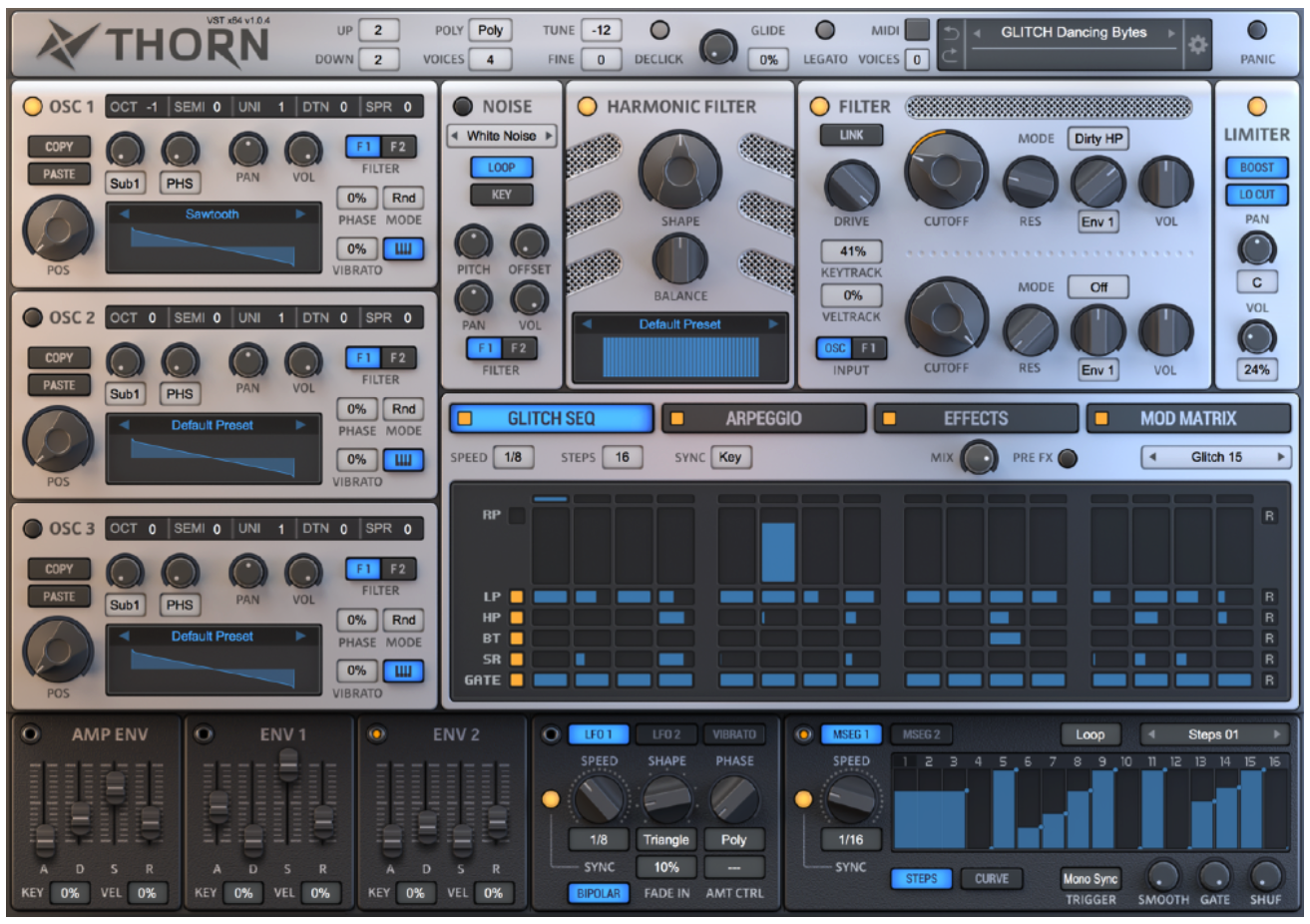 Global Controls
The standard global controls regarding tuning, polyphony, glide and pitch bend can be found along the top of the interface. There is a De-click button that will remove the click often associated with zero attack times. Clicking on the name exposes a drop-down menu where you can select the size of the GUI that includes large, huge and giant settings, a nice feature for the visually-challenged like myself.

Oscillators
The sound generation starts with three Oscillator sections that include some standard controls and some unique ones. From the manual: "All Oscillators generate sounds by utilizing Spectral Synthesis method. This method allows us to define the exact amount of harmonics mixed together in order to produce complex output sound. Oscillators in Thorn use 128 harmonics tables available for editing and processing with a set of spectral effects."
There are Spectral effects right inside each Oscillator section controlled by a single knob. They include:
PHASER. Generates Phaser-like harmonics in the source spectrum
SCREAMER. Rises "screaming" harmonics
WAH. Produces "WAH-WAH" style effect
NOTCH. Makes deep cuts in the source spectrum
SHIFT. Shifts the source spectrum up by the specified amount
COMB. Generates comb-filter-like spectrum
OCTAVES. Duplicates source harmonics, shifts them few octaves up and mix with the source harmonics
PRIMES. Emphasizes prime-numbered harmonics in the source spectrum
FM. Frequency modulation between two oscillators
RM. Ring modulation between two oscillators
SYNC. Synchronize Oscillator's phase with an internal master-oscillator
W-SYNC. The same as Sync mode with an additional window applied
PWM. Applies pulse width modulation to generated signal
Using the Position Knob, the user can generate harmonics by selecting from the 16 frame spectrum tables. The available tables are organized by Basic, Classic, Metallic and Organic. Clicking on the wave table graphic opens an editing window which allows the user to freely edit amplitude (orange) and phase (blue) independently (see below). There is also a nice copy and paste feature that facilities duplicating settings from one oscillator to another, nice for making slight alterations or variations.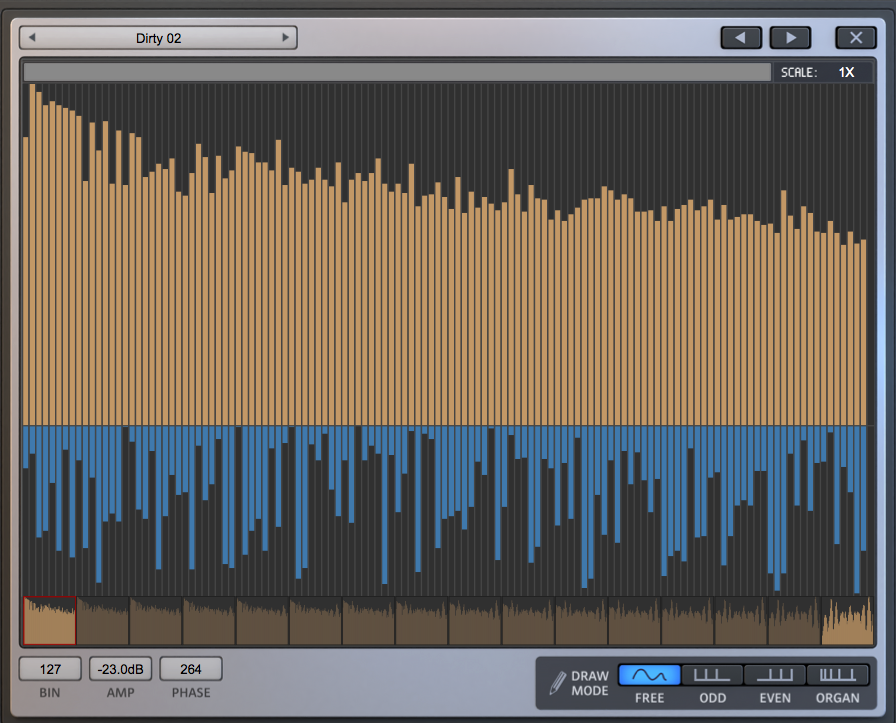 There is a dedicated Noise section that goes well beyond the standard flavors of noise and includes 19 noise varieties and other percussive sounds.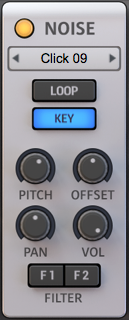 Sound can be routed thru a Harmonic Filter and two Multimode Filters before reaching the Limiter Section.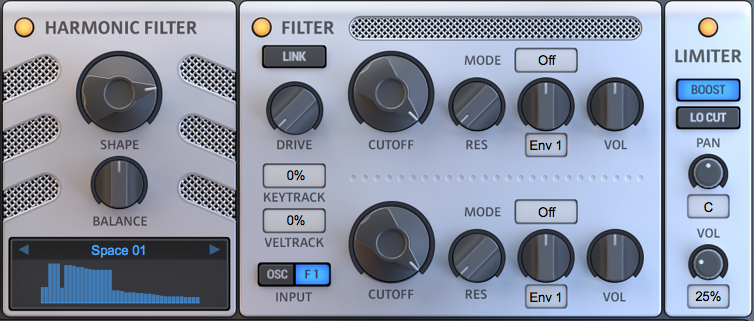 Modulation
There are three standard Envelope Sections, two LFO Sections and a Vibrato Section which could to modulate anything, including Pitch of course. There are also two Multistage Envelope sections with an array of preset patterns including curved functions.

There are at least three ways to map a parameter to a modulation source:
Right or Control-click on a parameter and choose the source
Use the MOD MATRIX section in the middle of the interface
Click on the Socket Icon and drag the mouse to the target parameter (this feature is not at all obvious without reading the manual)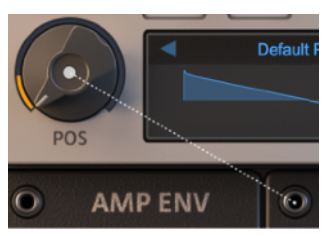 The Glitch Sequencer operates flawlessly and its controls are simple and intuitive. It offers six effects, each of which can be randomized by click the R button on the right of each lane.
RP. Repeater. Latches a part of the input signal and repeats it several times, the value set on the grid determines how many times the signal is repeated
LP. Low-Pass Filter with a cutoff frequency controlled by the grid value
HP. High-Pass Filter with a cutoff frequency controlled by the grid value
BT. Bit Crusher. Reduces bit resolution of the input signal by the amount specified by the grid value
SR. Sample Rate Reducer. Resamples the input signal at a lower sample rate. The grid value defines decimation factor
GATE. Applies a gate effect, the grid value controls how long the input signal is muted
Generating a tasty and crunchy rhythmic loop can be accomplished with relative ease.

There is an Arpeggiator section that offers the usual controls.

Lastly, the onboard Effects section offers nine effects: Distortion, Lo-Fi, Chorus, Phaser, Flanger, Delay, Reverb, EQ and Compression. While there are certainly better effects available in myriad dedicated plugins, these modules sound surprisingly good and seem to include all the essential controls with an emphasis on simplicity. This makes it possible to insure that user presets will sound the same across sessions since they will require minimal post-processing.

Here's an example created by the developer that uses 52 Presets created without any additional processing:
If I have any criticisms of this synth they are truly minor. It would be nice to have more extensive mouse-over hints for the controls. Drawing in the Harmonic Filter display was a bit unresponsive to the ODD and EVEN harmonic drawing modes. But on the whole this is a great instrument that can cut through any mix with ferocity.
For anyone that uses soft synths, this instrument definitely deserves a place in your arsenal. And for the price (currently offered for $69 until the end of the year) you will not be disappointed.
It also might be worth exploring other offerings by DS Audio including: Tantra and Diversion.
Please check out my other articles in The Pro Audio Files. If you're new to synthesis or just want to expand your knowledge and fill in some gaps, consider my video tutorial series Synthesis 101 available exclusively on The Pro Audio Files.