8 Reverb and Delay Plugins Based on Vintage Hardware
Article Content
Reverb and delay plugins are common tools for every modern mixing engineer — most DAWs even include their own effects plugins for free. But up until around the 40s, the only way to apply reverb to a recording was to move the mic further away from the sound source — and the only way to apply delay was by daisy-chaining two tape machines together.
In 1947 Universal Audio's Bill Putnam, Sr. was the first engineer to use "artificial reverb" on a track ("Peg o' My Heart" by The Harmonicats, which was a huge hit). Putnam went on to install reverb chambers in studios all across the country — until outboard reverb and delay units became increasingly available in the late 50s.
Many of these effects units produced have been used on countless hit records over the years. Just like analog EQs and compressors, some engineers still swear by what these hardware units provide, which is why all the following reverb and delay units have plugin emulations.
EMT 140
Elektro-Mess-Technik, better known as EMT, introduced the very first plate reverb in 1957: the EMT 140 Reverberation Unit. It was created by suspending a 6 x 10' sheet of metal inside a giant steel casing. The mic signal was then sent to a transducer attached to the frame, causing it to vibrate, and a small dampening plate controlled by a motor was used to dial in the length of the reverb.
The whole package weighed about 600 pounds, but it was cheaper than building a dedicated reverb chamber. Although they tend to have a rather metallic sound, the EMT 140 is revered as one of the best sounding plate reverbs of all time, and was used on many major records made in the late 50s and early 60s.
Popular emulations of the EMT 140 are available from PSPaudioware, Audio Ease, Slate Digital, Soundtoys, Universal Audio, and Waves.
EMT 250/251
Nearly two decades after the release of the EMT 140, EMT teamed up with Dynatron to create the EMT 250 Electronic Reverberator Unit in 1976. The massive size of the EMT 140 was a common complaint from engineers, so EMT designed the EMT 250 as a floor standing unit with large level and push-button controls.
The EMT 250 included a much more robust feature set than it's predecessor, with pre-delay controls and separate high and low-frequency decay times. It was also one of the first multi-effects processors, and included a built-in delay unit, allowing modulation effects like chorus, phase, and echo.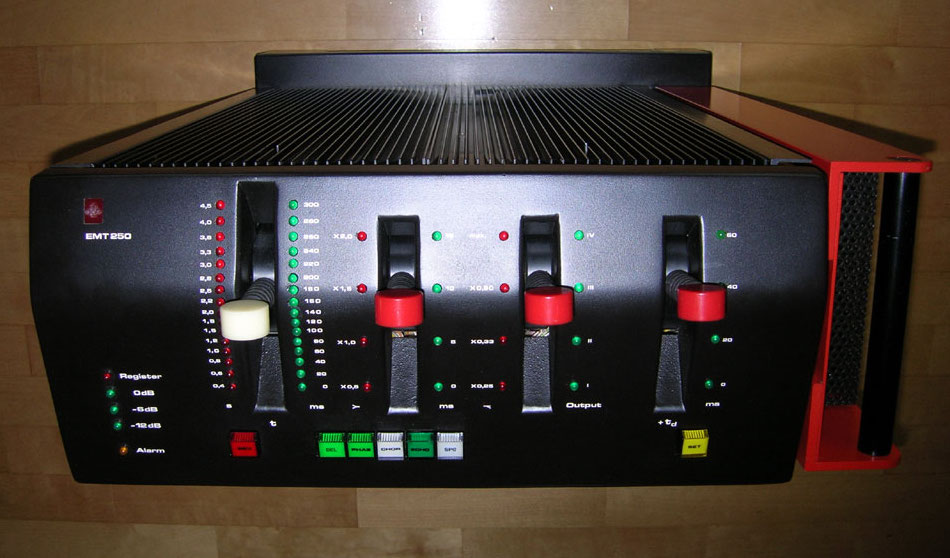 EMT only produced 250 EMT 250 units — although they quickly released the updated EMT 251, which included an expanded feature set.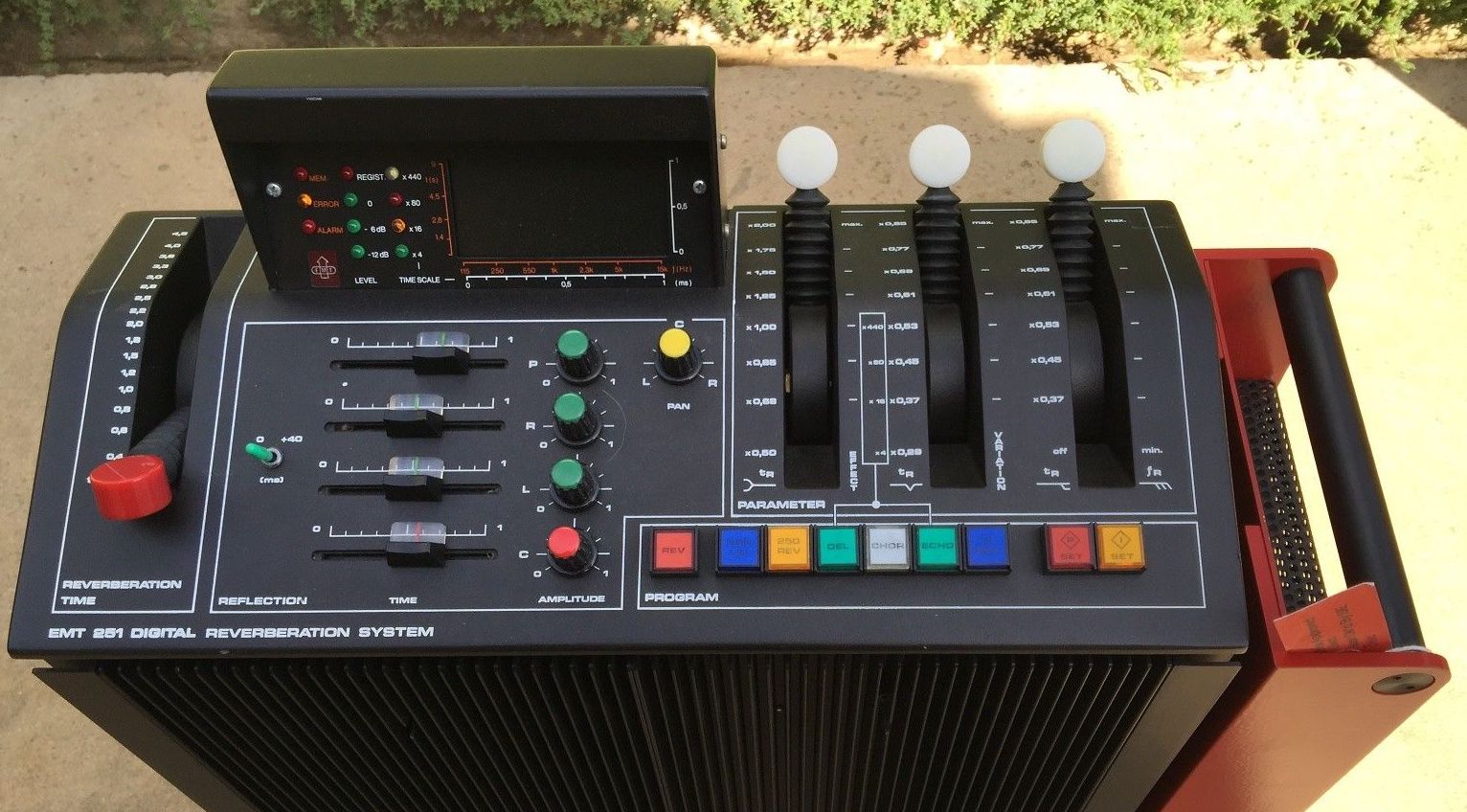 Popular emulations of the EMT 250 and/or 251 are available from Audio Ease, PSPaudioware, SKnote, Slate Digital, Soundtoys, and Universal Audio.
Lexicon 224
Although it's not the first digital reverb, the Lexicon 224 is often considered "the most ubiquitous and popular high-end studio reverb in history." It included many of the same features as it's competitors — plus it was rack mountable, and less than half the cost (although it was still ~$7,500).
The Lexicon 224 featured interchangeable programs to simulate different reverb types such as chambers, plates, and rooms, and is commonly revered for it's rich, lush, natural tone. It also included the iconic LARC (Lexicon Alphanumeric Remote Control) for desktop control.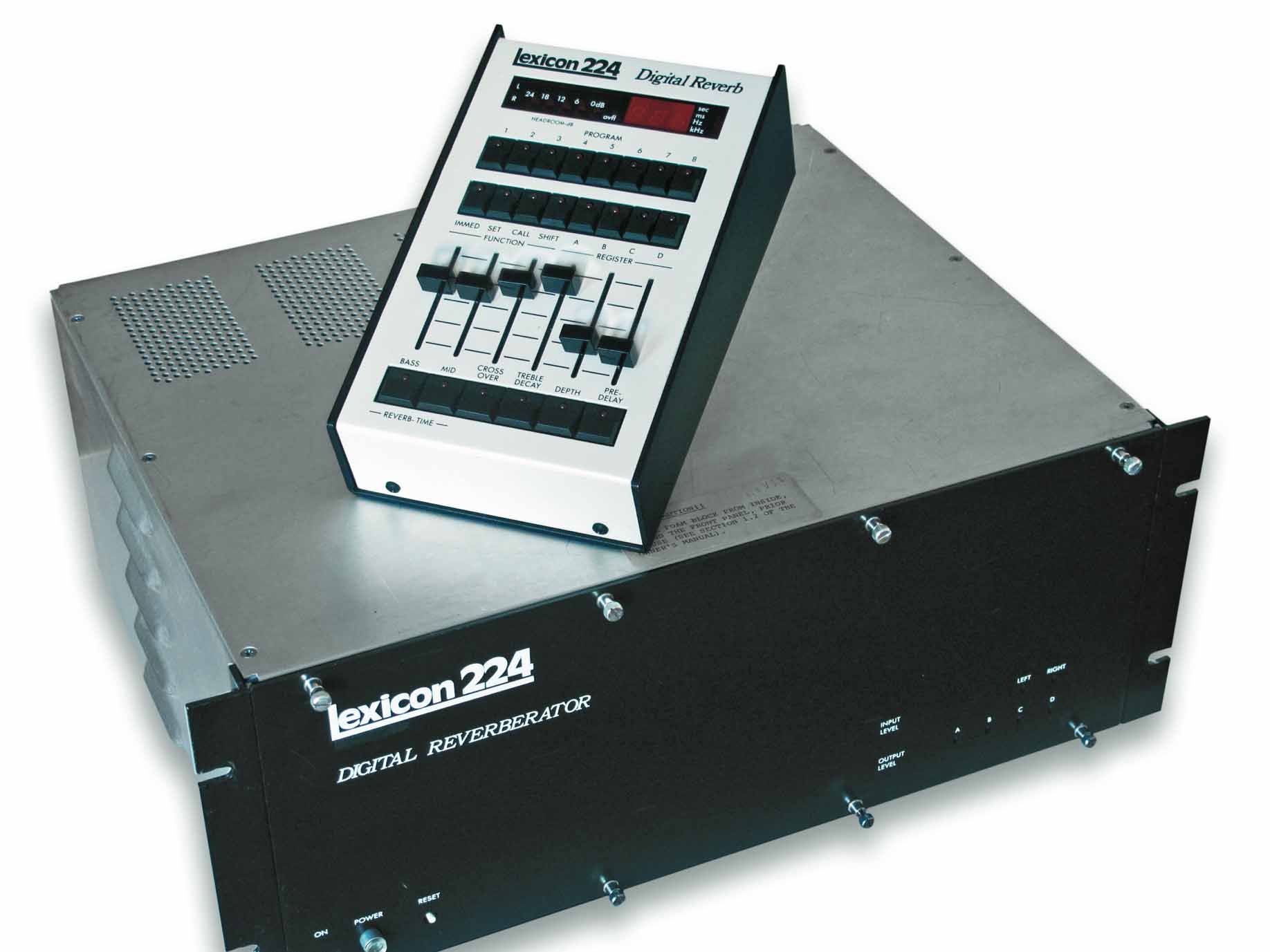 Eventually, new features were added as the unit evolved to the 224X and 224XL models, including improved converters, expanded presets and an updated controller.
Popular emulations of the Lexicon 224 are available from Audio Ease, Lexicon, Native Instruments, Nomad Factory, PSPaudioware, Slate Digital, Soundtoys, and Universal Audio.
Lexicon 480L
In 1986, Lexicon released the successor to their wildly popular 224XL model; the 480L. Although it originally cost more than some cars, the 480L was packed with effects, including digital compression, stereo widening, 40 voice effects, a built-in sampler, doppler and pitch effects, not to mention a variety of realistic sounding reverb algorithms.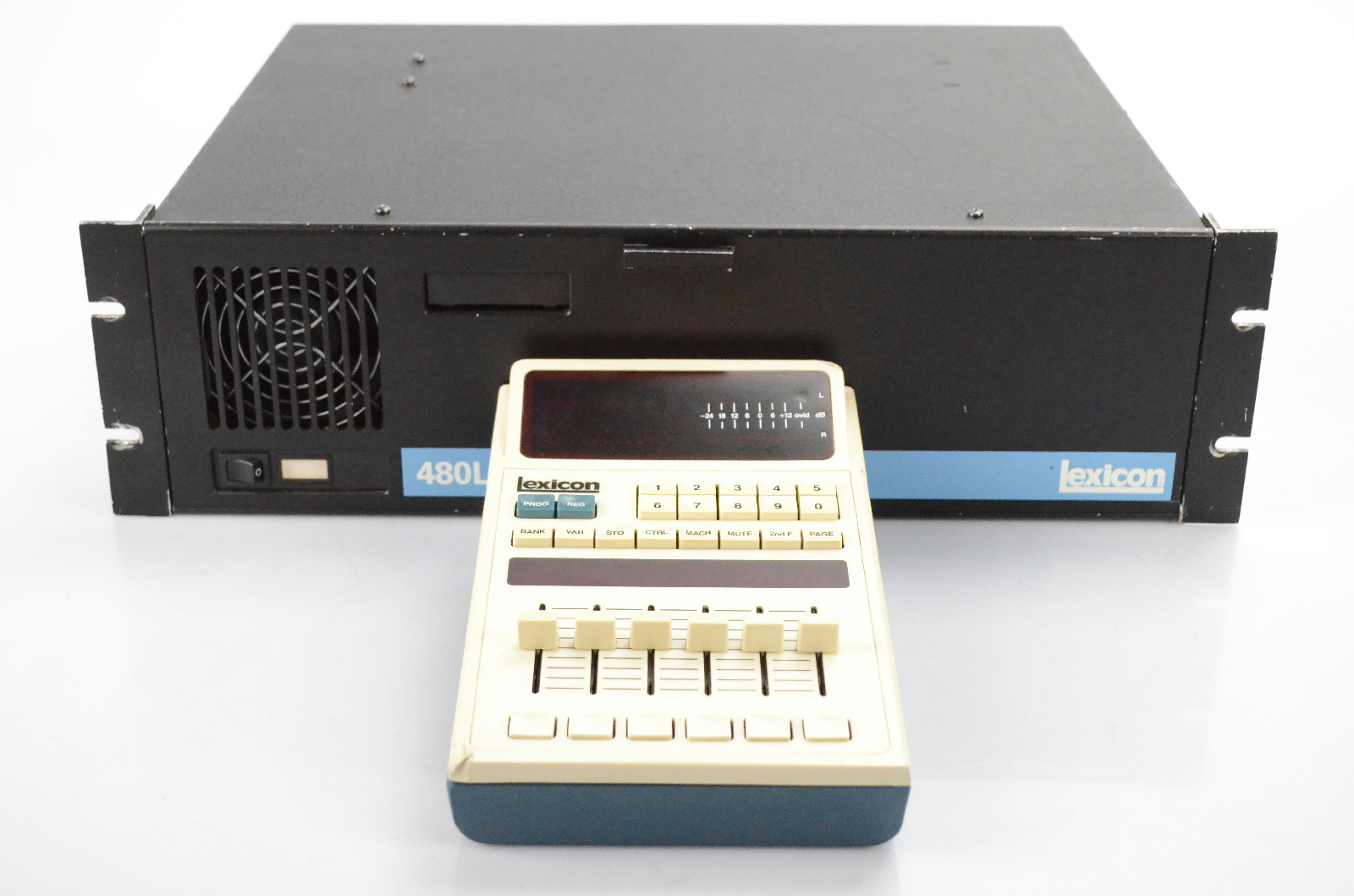 The Lexicon 480L solidfied Lexicon as "the godfather of digital reverb" and would go on to be used on a vast amount of gold and platinum recordings.
Popular emulations of the Lexicon 224 are available from Audio Ease, Lexicon, Native Instruments, Nomad Factory, PSPaudioware, Slate Digital, Soundtoys, and Universal Audio.
AKG BX20
Although AKG is largely thought of as a microphone and headphone manufacturer today, in the late 60s they were responsible for producing one of the most popular spring reverbs of all time. The AKG BX20 was built in a large wooden case and included two sets of spring units suspended in reverb "tanks".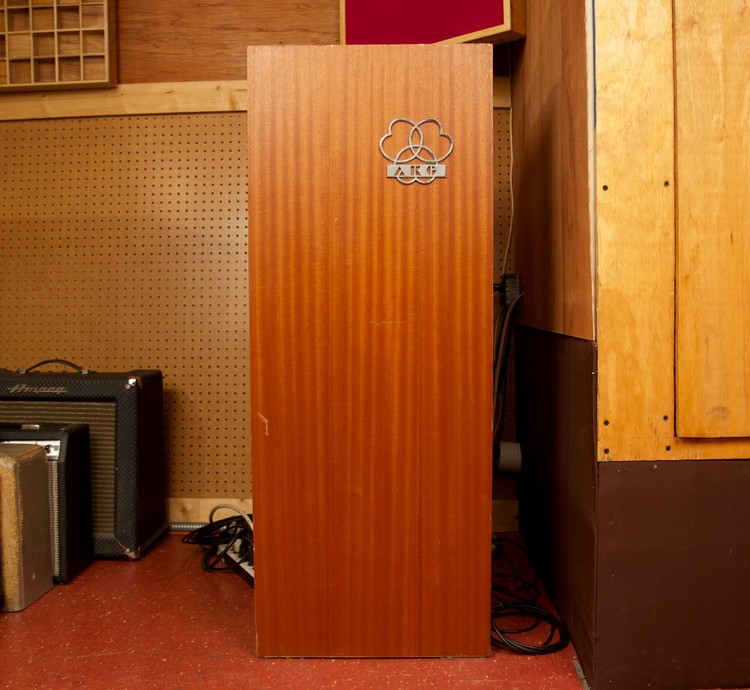 The AKG BX20 utilized clever design techniques and hand-selected springs to minimize the twang commonly associated with spring reverbs, which provided rich, deep, organic reverb tone, unlike the metallic-sounding plate reverbs available at the time.
Popular emulations of the AKG BX20 are available from Audio Ease, Universal Audio, and VNXT.
AMS RMX16
Advanced Music Systems (better known as AMS, of AMS Neve) released the RMX16 digital reverberator in 1981. It became an instant classic and was used on records by U2, Peter Gabriel, and Radiohead for its lush tones and innovative controls.
The AMS RMX16 was also one of the first effects units to include microprocessing, which essentially meant the unit was controlled by tiny computers. Although that's a pretty common practice today, it was mind-blowing in 1981. It also included a remote control, similar to the Lexicon 224.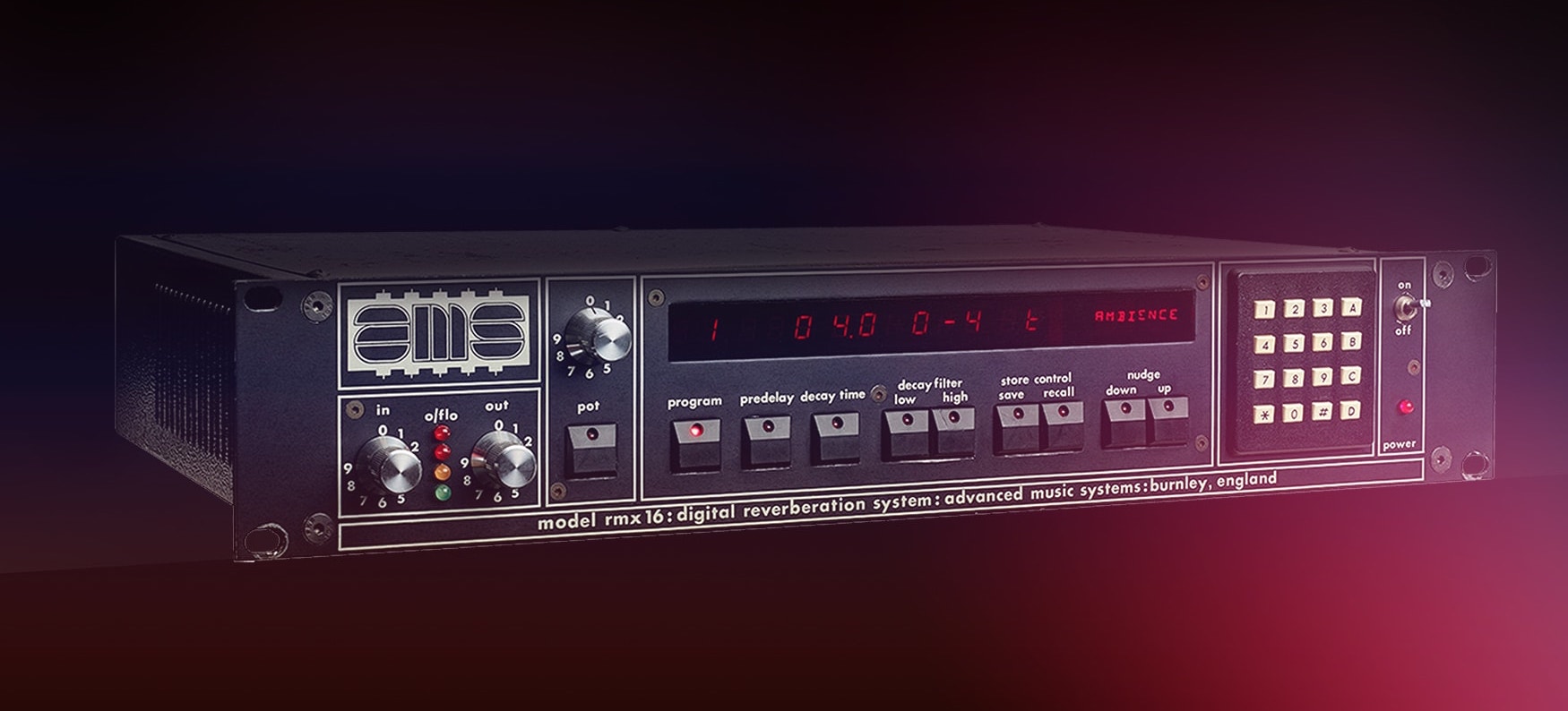 AMS developed 9 separate reverberation algorithms, including rooms, halls, plates, ambiance, and the famous reverse and non-linear reverb used on Phil Collins' "In the Air Tonight".
Popular emulations of the AMS RMX16 are available from Audio Ease, Nomad Factory, Slate Digital, Soundtoys, and Universal Audio.
Roland RE-201 Space Echo
Although engineers had been creating their own analog delays for years using tape machines, the need for a portable, dedicated analog tape delay became more apparent as outboard signal processing was popularized.
In 1974, Roland released the RE-201, better known as the Space Echo. It used standard 1/4" tape to loop incoming signals, which was loosely jumbled together in the tape tank. This is what gave the Space Echo its unique and unpredictable charm.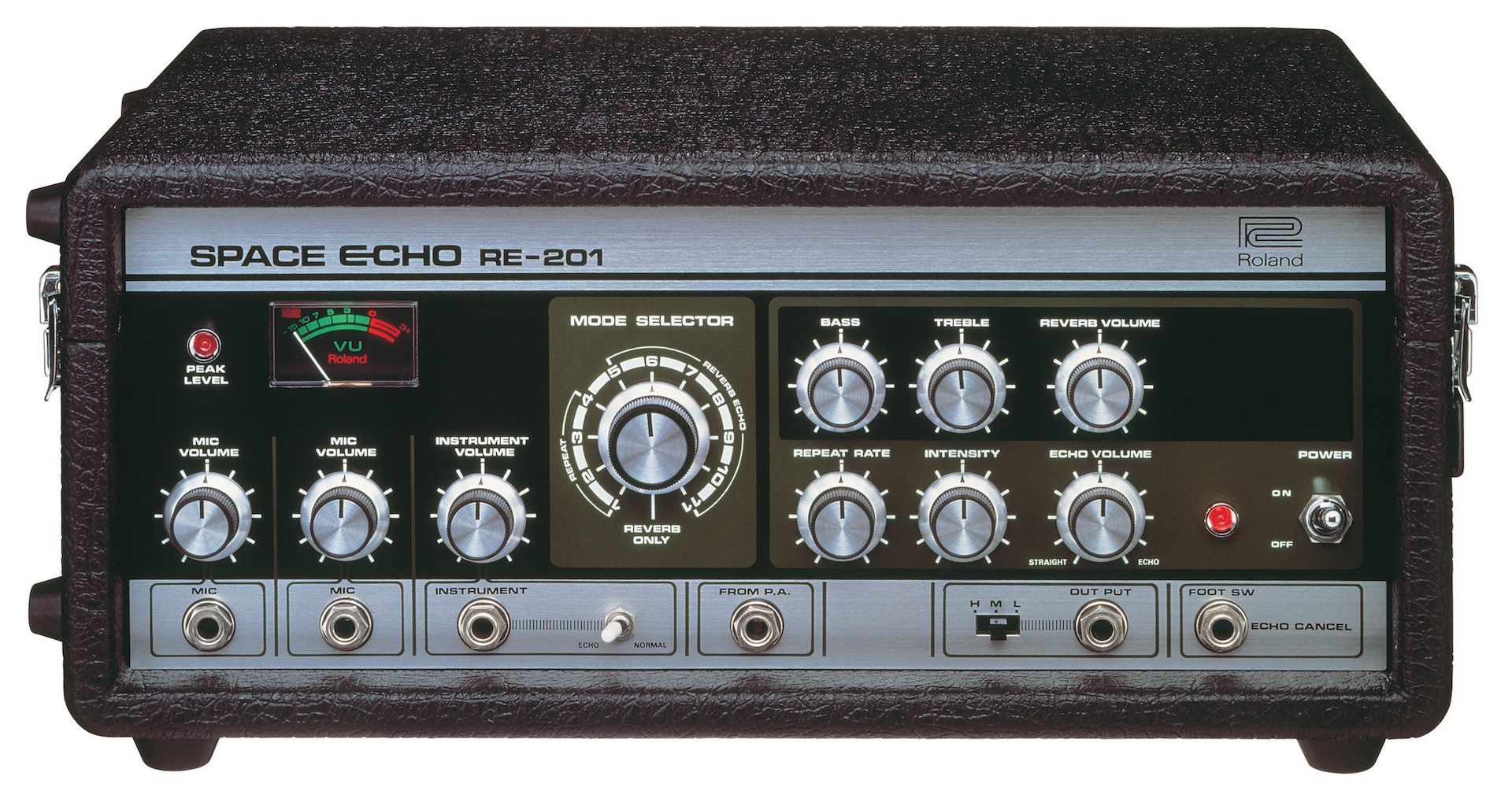 In addition to analog tape delay, the Space Echo included a built-in spring reverb with 12 different operating modes. The RE-201 also included separate controls for the tape delay and spring reverb effects.
Popular emulations of the Roland RE-201 Space Echo are available from Audio Ease, AudioThing, Electro Harmonix, Nomad Factory, Overloud, T-RackS, U-he, and Universal Audio.
Eventide H910 / H3000
Perhaps the most unique effect on this list, the H910 Harmonizer was released by Eventide in 1975. At the time, the only way to alter the pitch of a recording was to speed up or slow down the tape, which obviously affects the timing of the track. Eventide's H910 was the first effects unit capable of shifting pitch without altering the speed of a recording.
The Harmonizer was an instant classic among artists like David Bowie, Tom Petty, and Patti Smith. Eddie Van Halen even created his iconic guitar tone by using two slightly detuned H910s.
In 1986, Eventide released the H3000, which was the first effects unit capable of intelligent, diatonic pitch shifting. The H3000 improved upon the initial design of the H910 and included many of the original presets. The "Ultra Harmonizer" was capable of creating stereo delays, reverbs, pitch-shifters, and harmonizers, and also included a vocoder, string modeler, and sampler.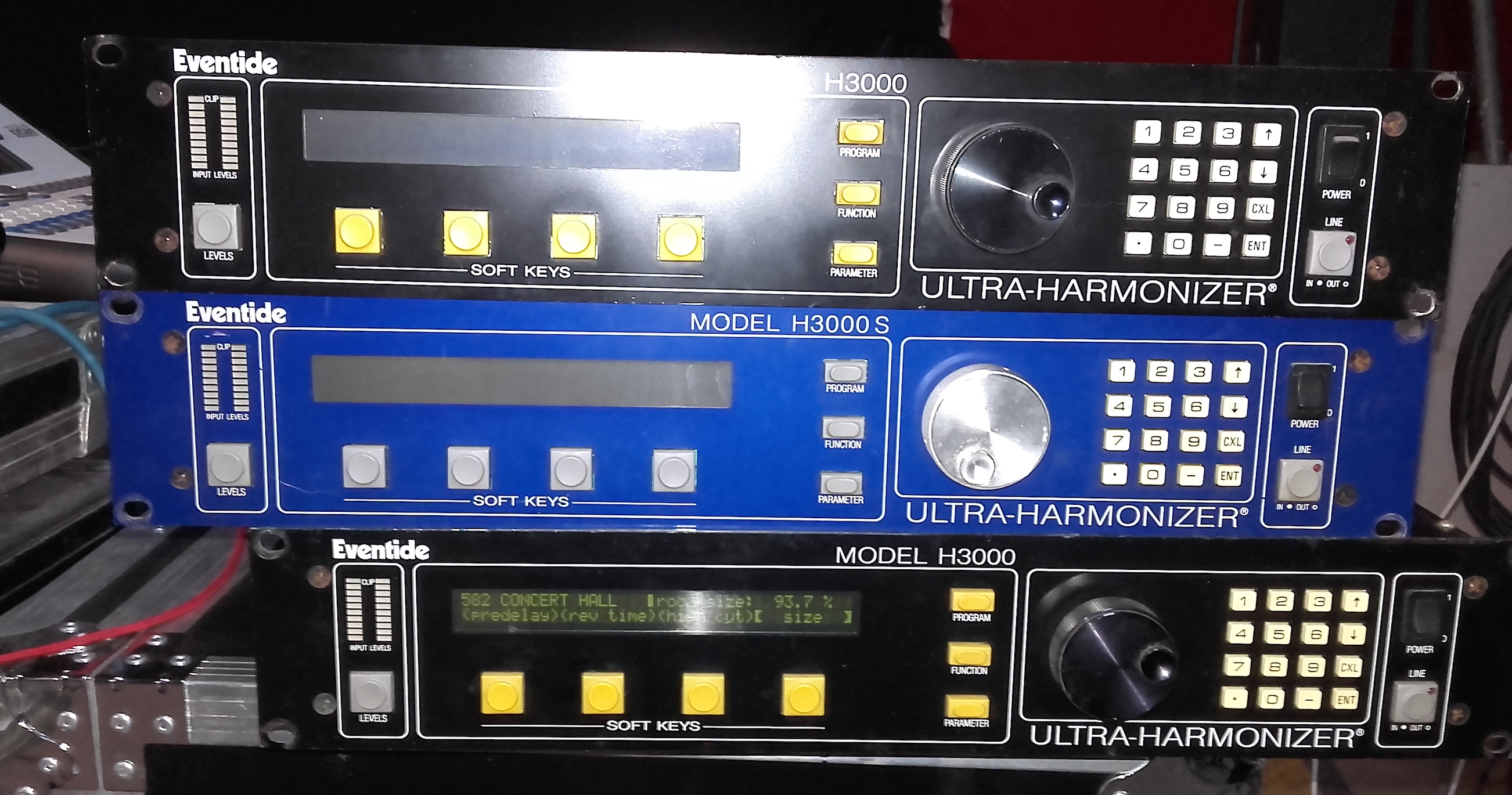 Popular emulations of the Eventide H910 and/or H3000 are available from Eventide, Nomad Factory, Slate Digital, Soundtoys, and STN.
Now that you're familiar with the most popular reverb and delay plugins modeled after analog hardware, there's nothing left to do but try them out! They each have their own special sounds and colors, which is why engineers are still using them to this day. Most manufacturers also offer free demos or trials to get you started, so get in there and see what makes these effects special.