Review: Output Sounds REV
Article Content
In a world filled with endless sample libraries and plugins, it can be hard to find something really unique.
If you are anything like me, you probably have gigabytes worth of sample libraries, some that are useful, and some that just sit, waiting for that one important project where you might need them. The new REV sample library by Output brings something new and interesting to the world of sample libraries, and has quickly become a go-to in my music production.
REV is the first sample library based entirely on reversed sounds, all playable in real time. The library weighs in at 14 GB uncompressed, and contains a wide range of sounds. REV comes with 4 separate engines: Instruments, Timed Instruments, Rises, and Loops.
I'm a big fan of reversing sounds, especially organic, sampled sounds. It has long been one of my go-to sound design tricks.Reversing a guitar line can create a great melodic line, and reversed percussion creates a great riser.
Naturally, I got very excited when I heard about REV. I wasn't expecting just how wide range of sounds REV would be able to produce, though.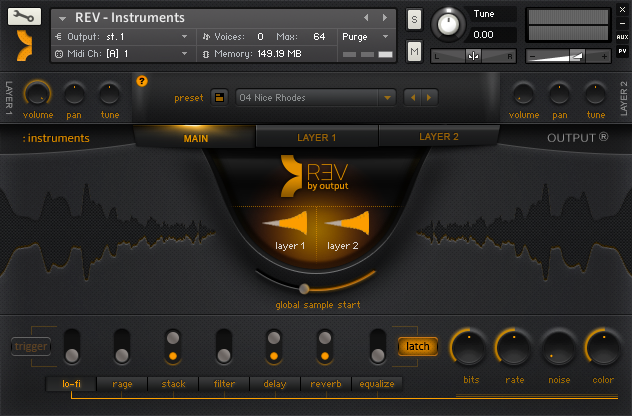 Instrument Engine
The Instrument engine (and its Timed Instrument companion) has been my favorite so far. It works similarly to any sampler instrument you've used before. Starting at the main page, everything looks fairly typical. The standout right away is the effects section.
Most of the time, the effects included in Kontakt libraries are okay, but nothing to write home about. The ones included here sound great, and are actually helpful in creating sounds, which can be the biggest problem with built-in effects. I'm a big fan of the rage effect. Each effect can be triggered by MIDI, which is a great inclusion.
Layers
Each patch can hold two different layers, each with one of the 27 different samples that are included. Most are recorded samples of instruments, ranging from a Rhodes Piano to Bowls, but a sine and sawtooth wave are included as well.
After you load the sample, you can set it either as dry reversed, wet reversed, pad, or forward. The included instrument samples sound really good. Having poorly recorded samples could easily kill the sound, even with this amount of processing, but the folks at Output obviously spent time making sure each sound was properly recorded and edited.
Filter, Envelope, Pitch, Stutter
Beyond the usual filter and envelope sections, each of the aforementioned layers has a dedicated pitch and volume stutter section, along with 6 different effects and an equalizer. These options really give REV its character. The reversed sounds on their own are interesting and useful, but mixing sounds and using different effects can give you sounds ranging from incredibly complex pads to aggressive lead sounds.
Pad
The "pad" setting is one of my favorites. As you might know from one of my previous article, I love creating pad sounds from unusual sound sources. This setting seems to taper off the end of the sample, creating a less obvious reversed sound but still unique. I really enjoy the stutter effects as well. Great fun!
Timed Instrument Engine
The Timed Instrument engine only differs in one way, allowing you to set the reversed sound length by either whole, half, or quarter note, tempo synced to your DAW.
A great inclusion, and I really enjoyed using multiple timed sounds to create rhythmic sequences.
Loop Engine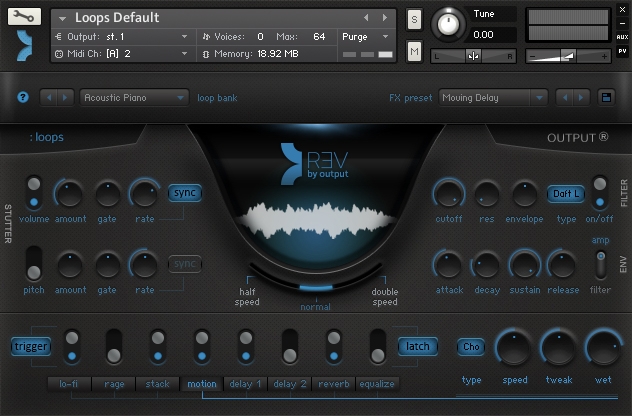 The Loop engine has 15 different loop banks, and includes the same stutter and master effects section as the instruments engine.
The loops all sound great, and it is obvious Output spent a lot of time making sure all loops in the bank complimented each other. Even if you aren't a person who uses loops, you can get some good ideas for how to use the REV instrument from this section.
Riser Engine
Last, but not least, the Riser engine. Most producers and musicians have used a reversed sound as a buildup before. It's a great, tried and true technique for building tension or excitement. However, playing reversed sounds in any sort of sampler has been a problem for me in the past. It can be hard to judge exactly when to start playing the sample unless it is stretched to the tempo you are working at, and REV solves this by providing you with tons of options, divided into 4, 2, 1, 1/2, and 1/4 bar rises, all tempo-synced.
This saves a lot of time, avoiding having to line up buildups and risers by hand.
Full of Suprises
REV ended up being full of surprises. I expected the bunch of the very abrupt reversed sounds that we are all familiar with. Nothing wrong with those, but they will only get you so far.
The folks at Output made something far more musical than that. REV is a great addition to the collection of any musician, producer, or performer.
Click here to learn more about REV