34 Favorite Kontakt Libraries of All Time
Article Content
Kontakt, the sampling instrument from Native Instruments, is arguably the most used sampling platform on the market with hundreds of 3rd party sample libraries available. There is a free version that has limited functionality and the full version which sells for $399. The full version also comes with their entry-level bundle, Komplete 13, currently selling at $599.
There are of course many other options for sampling instruments and libraries including Sampler & Simpler from Ableton and Sampler (formerly EXS24) & Quick Sampler from Logic Pro. If you choose to make your own sampling instruments these are great choices and are definitely more user friendly. Check out my article "The Fundamentals of Sampling Instruments and Libraries" for information on samplers in general. But if you want access to the largest variety of 3rd party libraries you really need to get Kontakt.
I have assembled a list below of my current favorite Kontakt instruments. Unfortunately, I have not had the opportunity to play everything available on the market, and there are many I hope to try in the future that are not on this list. But what is here I can strongly vouch for. I base these recommendations on 12 criteria:
The sounds sound real (if they are intended to, that is). Orchestral instruments and ensembles are the most challenging and expensive libraries to produce, hence the associated prices.
If applicable, the instrument has a wide assortment of articulations, including standard and extended playing techniques.
The instrument is "deep-sampled," a term that might be used a bit often lately. But this refers to each note being sampled with various velocities, articulations, playing techniques, round robins, various mic choices & positioning, etc.
The instrument is playable with a variety of controllable parameters such as dynamics, expression and vibrato that can be mapped to a MIDI controller and automated.
If the instrument is based around sound design, it should include a large variety of samples and means to combine them to ensure the possibility of unique results.
The interface for sound design and electronic-based instruments is important for playability, since with these sorts of sounds it is often more about texture and timbre rather than tonal content. So the existence of a morphing XY pad or other intuitive GUI control that can be MIDI mapped is a desirable feature.
Sound design-based instruments especially need to have an onboard effects section. Robust effects collections will typically include EQ/filtering, distortion/saturation, compression, limiting, delay and reverb. More advanced instruments will also include customized routing capabilities. The closer you can get to the perfect sound using a minimum of external plugins the better.
Electronic and sound design instruments should have a modulation section that might include LFOs, envelopes and step sequencers.
Sound design and hybrid instruments should allow for significant user customization. The library sounds should be unique and well-conceived.
The library should be searchable by keyword or search matrix with presets easily and quickly loaded.
It sounds good immediately! When you're looking for a sound, you want to get there as fast as possible, and clunky or unfriendly interfaces just make the process that much more difficult.
It sounds great, it's is fun to use and gets me the sound I want super fast.
I will admit that not everything listed below checks every box above. But all these instruments hit the last point, and it can be argued that that's the only one that really matters.
It seems appropriate to start with Native Instruments, the developer of Kontakt. The Komplete bundles come with a fairly large selection of instruments, all of which are well-designed and capable of great sounds.
This is a fantastic sounding instrument that can morph between a huge selection of searchable textures derived from orchestral and hybrid sources. The main XY pad control makes this a playable texture-based instrument that fits well with many film genres such as suspense, action, horror and (obviously) thrillers. With some investigation, I found that the XY parameters were controllable via MIDI CCs 2 and 3. So I mapped my Sensel controller, via a little Max/MSP patch, to control the Thrill interface. By the way, the Sensel Morph controller uses replaceable rubberized control surfaces such as drum pad, keys and other overlays and is capable of touch sensitivity and MPE (MIDI Polyphonic Expression, one of the amazing features in MIDI 2.0). It is an incredibly versatile controller with a very small footprint.  My application in this instance is using it without any overlay, as a simple XY controller. I've included a screen-shot of the patch below for those Max-inclined folks.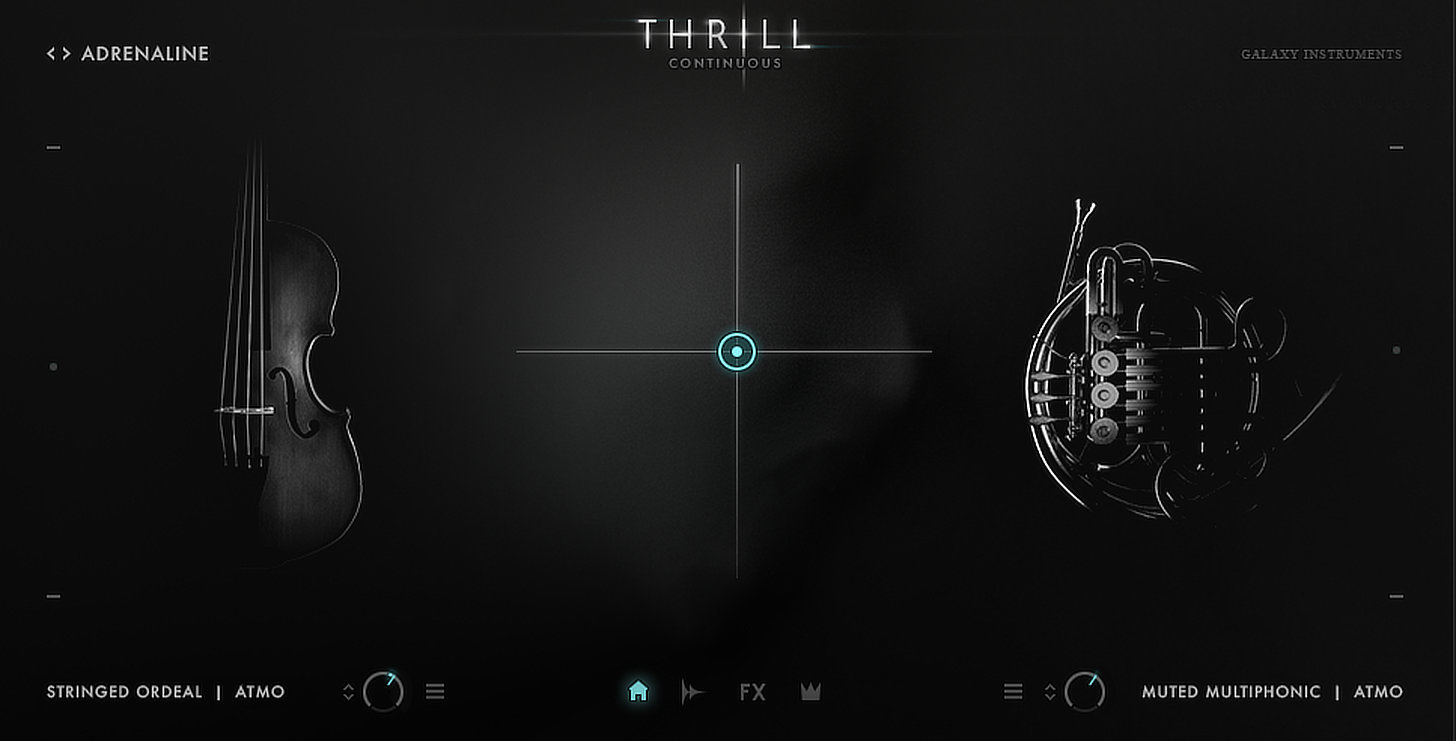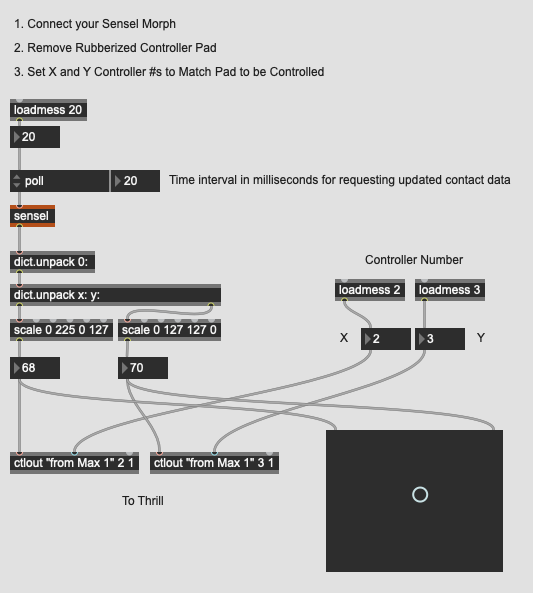 Other NI Favorites Include:
Rise and Hit – an outstanding instrument for generating transitions, whooshes and hits that allows for tempo-based durations.
Kinetic Metal – fantastic metallic textures in a steampunk-inspired GUI.
The Giant – a wonderful collection of prepared piano sounds that allows for layering of samples and convolution effects. Great for percussive and sustained textures.
The Grandeur – a solid grand piano library with controllable hammer, damper, pedal and string sounds.
Hybrid Keys – although I already have a ton of synths, this instrument is excellent at quickly combining sounds for unique results and definitely fits #12 in my list of criteria.
Spitfire makes incredible instruments and particularly excels in orchestral sounds. While I have many string libraries I often find myself reaching for Spitfire Studio Strings when I want a particular arrangement of strings. For instance, you can choose to have 16, 8 or 4 first violins and corresponding numbers for violin 2, viola, cello and contrabass. There is a full collection of articulations, round-robin choices, mic type & positioning, a powerful ostinatum section for creating rhythmic & melodic content using short articulations and a unique "tightness" control for tweaking the attack of the samples. I typically map dynamics, expression and vibrato controls to a MIDI controller which can greatly enhance realism when automated, giving every note and gesture a dynamic and timbral contour.

Other Spitfire favorites include:
London Contemporary Orchestra Strings – this string library has a few more contemporary techniques such as effects they refer to as: "twitchy," "granular trem," "granular to normal trem" and "slow wide vibrato" to name a few. Great for orchestral textures and special effects.
Spitfire Symphonic Brass and Spitfire Studio Woodwinds – similar to Studio Strings, these are robust libraries of configurable solo and ensemble brass & wind sections with a high degree of control.
Spitfire Chamber Strings – one of my favorite ensemble string instruments — great for quickly getting a string section together without having to build one from scratch.
While I have not had the opportunity to explore other ProjectSAM libraries, I cannot say enough about Symphobia. The Symphobia 1 library comes with many ensemble configurations including strings, winds, brass, and mixed ensembles. The interface, while appearing relatively sparse in terms of parameters, is surprisingly powerful and you can get a great sound immediately. Depending on the preset, you can access some very cool textures such as clusters, glissandi, rips and other contemporary effects. In addition to the instrument presets it comes loaded with several multis conveniently organized by genre. I am very anxious to explore more from ProjectSAM!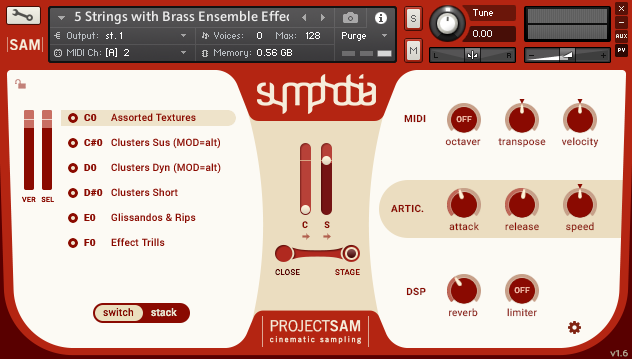 I recently acquired this beast by Sonuscore and can say without a doubt I will be using it a lot! It comes with a complete collection of orchestral sections including choir, keys, harp plus special string and brass effects that work great for transitions, stings and rich textures. Where The Orchestra 2 really shines is in the 80 multis that include a custom interface allowing for control of six instruments, three independent arpeggiators and two envelopes. Standard onboard effects include EQ, compression and reverb. The mixer view is convenient and far better than the typical multi view set-up in other Kontakt multis. The arpeggiator section can quickly generate rhythmic complexity and gratefully, there is an Export MIDI option that gives you access to the arpeggiator output as MIDI, a feature often sadly lacking in other instruments. The search matrix is smartly organized by instrument, meter, character and feel. If you're looking for a way to get rich orchestral timbres and rhythmic complexity in a matter of seconds, you cannot go wrong with this beautiful instrument by Sonuscore.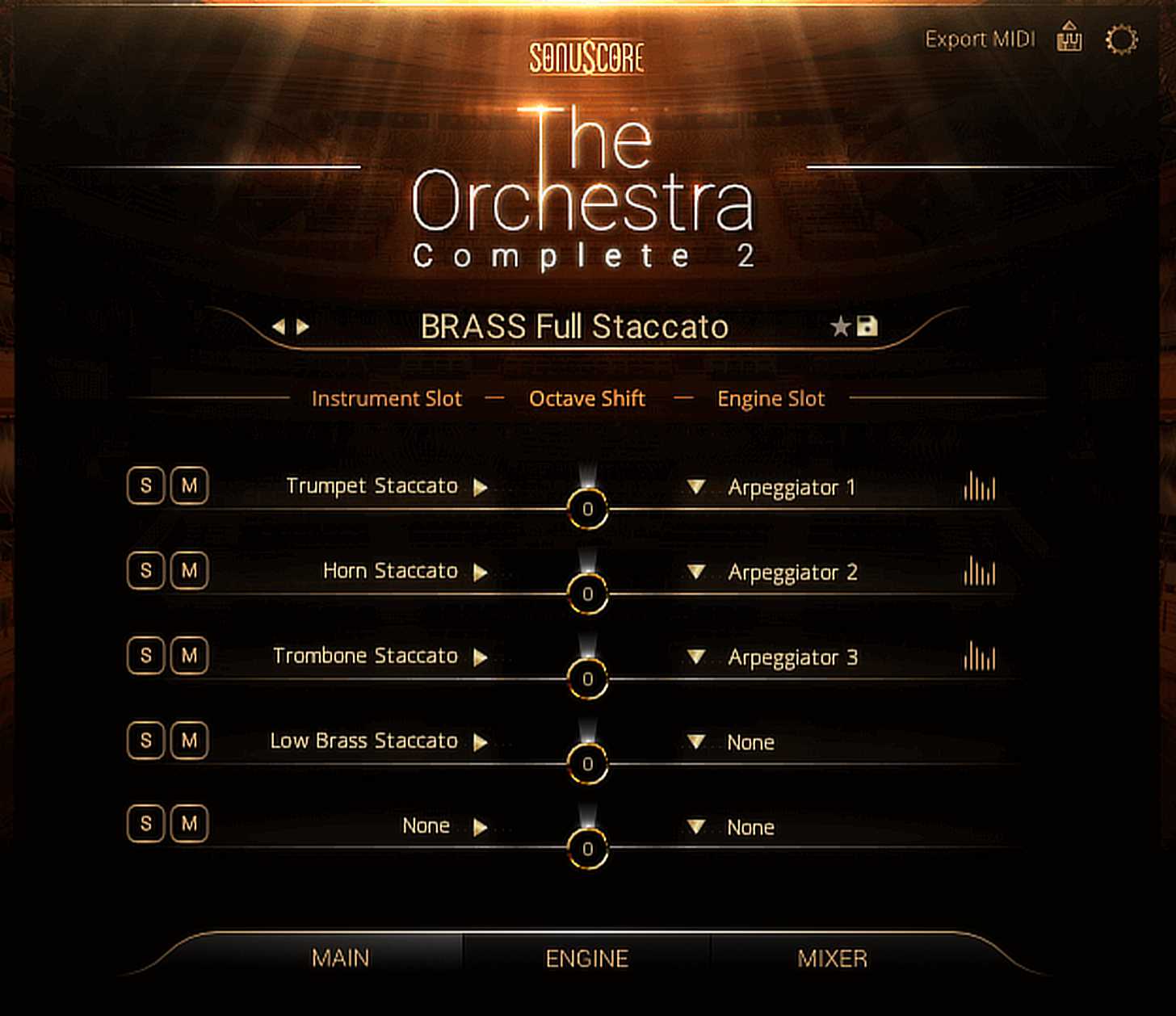 This is a unique orchestral ensemble string library that generates textures via various bowing-style effects and vintage emulation effects like tape delays and rotary speakers. It also includes a string patch sampled from a Roland JX 3P and a vintage harmonium.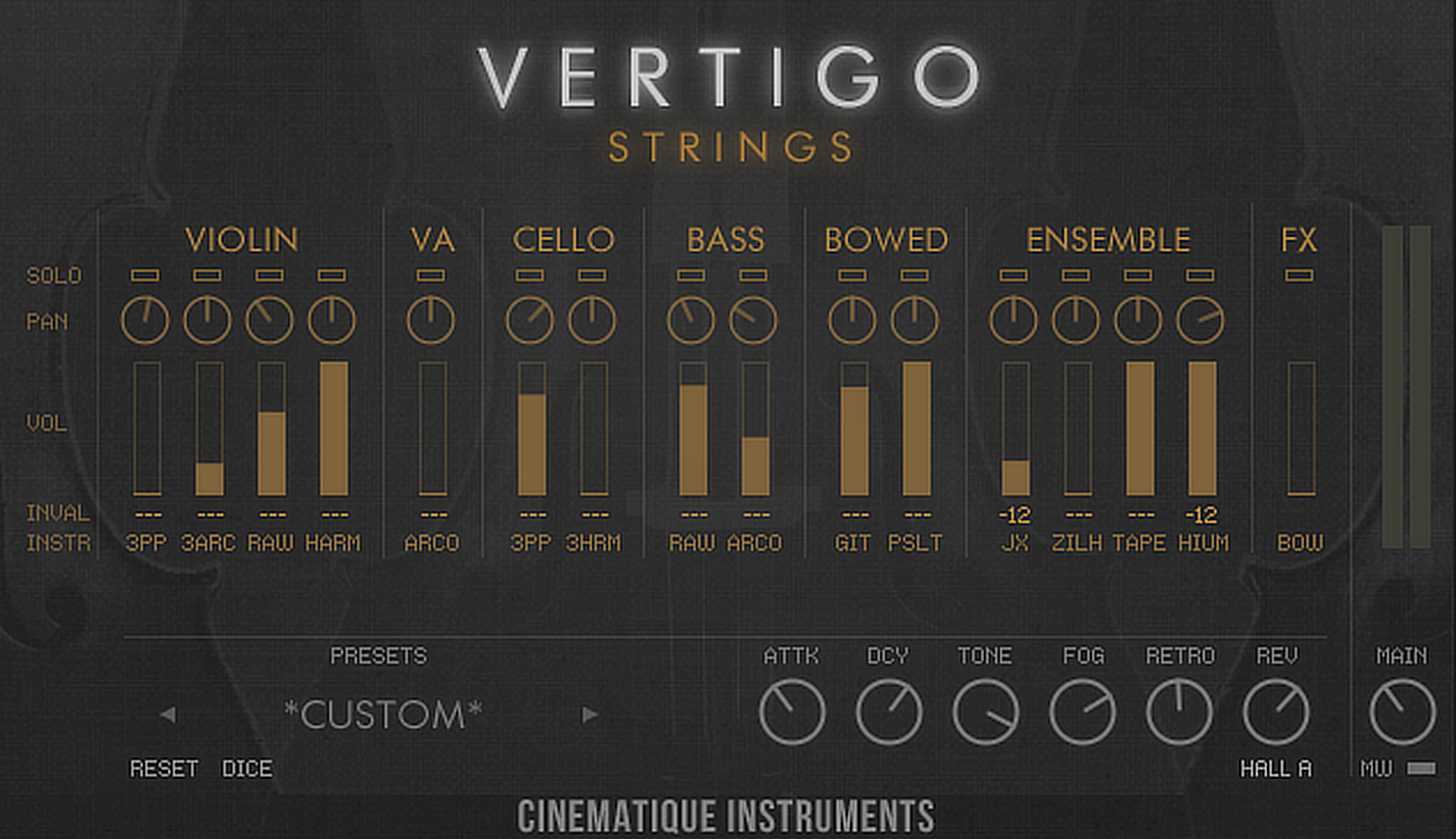 The great sounds from Front Row Violins by Kirk Hunter paired with a seemingly tactile response make the usefulness of this instrument immediately apparent. Choose from solo violin up to 16 players with a selectable vibrato control that includes Classical, Romantic, Baroque, Celtic, Lush, Western and solo styles. A dedicated duration control for staccato sounds is also a unique feature. A full selection of articulations and continuous controls for vibrato, dynamics, and expression are included to make this a really good choice for all your solo violin and violin section needs.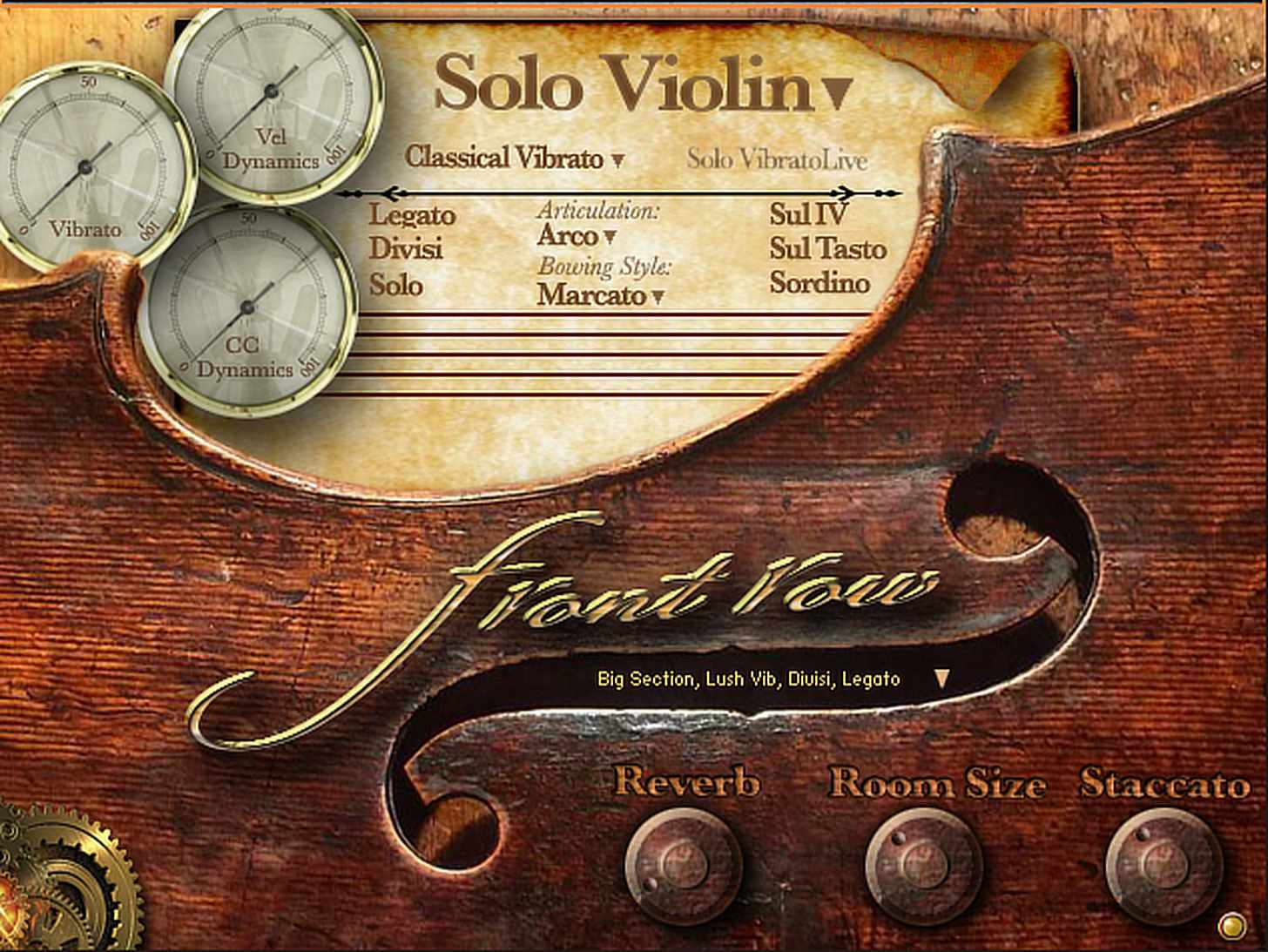 I really like Berlin Percussion, especially its collection of cymbals and cymbal effects. It is my go-to instrument for cymbal rolls and swells. It includes the full range of orchestral percussion — mallets, drums, unpitched metals and assorted toys. The thundersheet samples are particularly satisfying. There are plenty of mic and positioning options, round robins and dynamic choices that help to make this a pro-level percussion instrument. Noticeably missing is timpani, which is sold separately.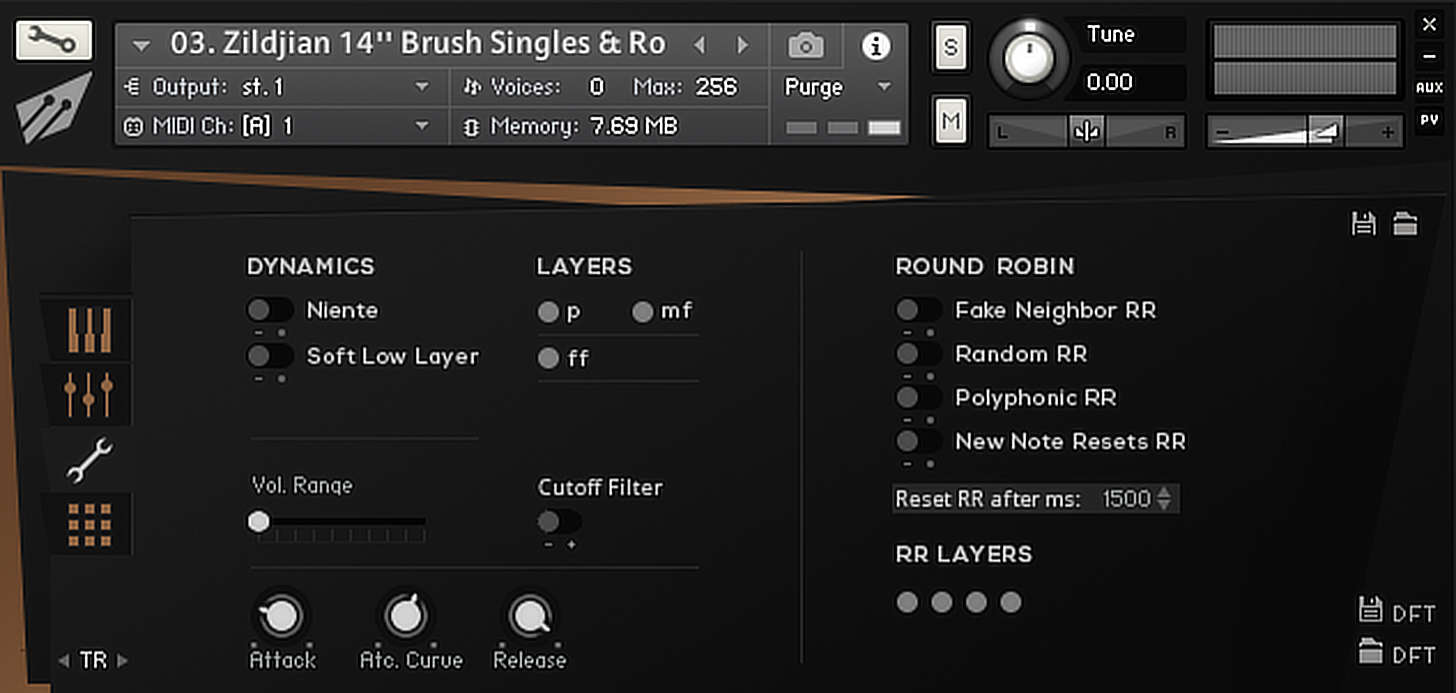 When it comes to brass, Cinebrass Pro is hard to beat. The full set of articulations, accessible mixer controls for various mic positions and velocity mapping controls that can be used in conjunction with a pedal control for durations make this a uniquely playable brass instrument that is a must-have. Instrument ensembles offer a wide range of groupings with special effect articulations and solo settings as well. The Monster Low Brass Cluster is delightfully aggressive!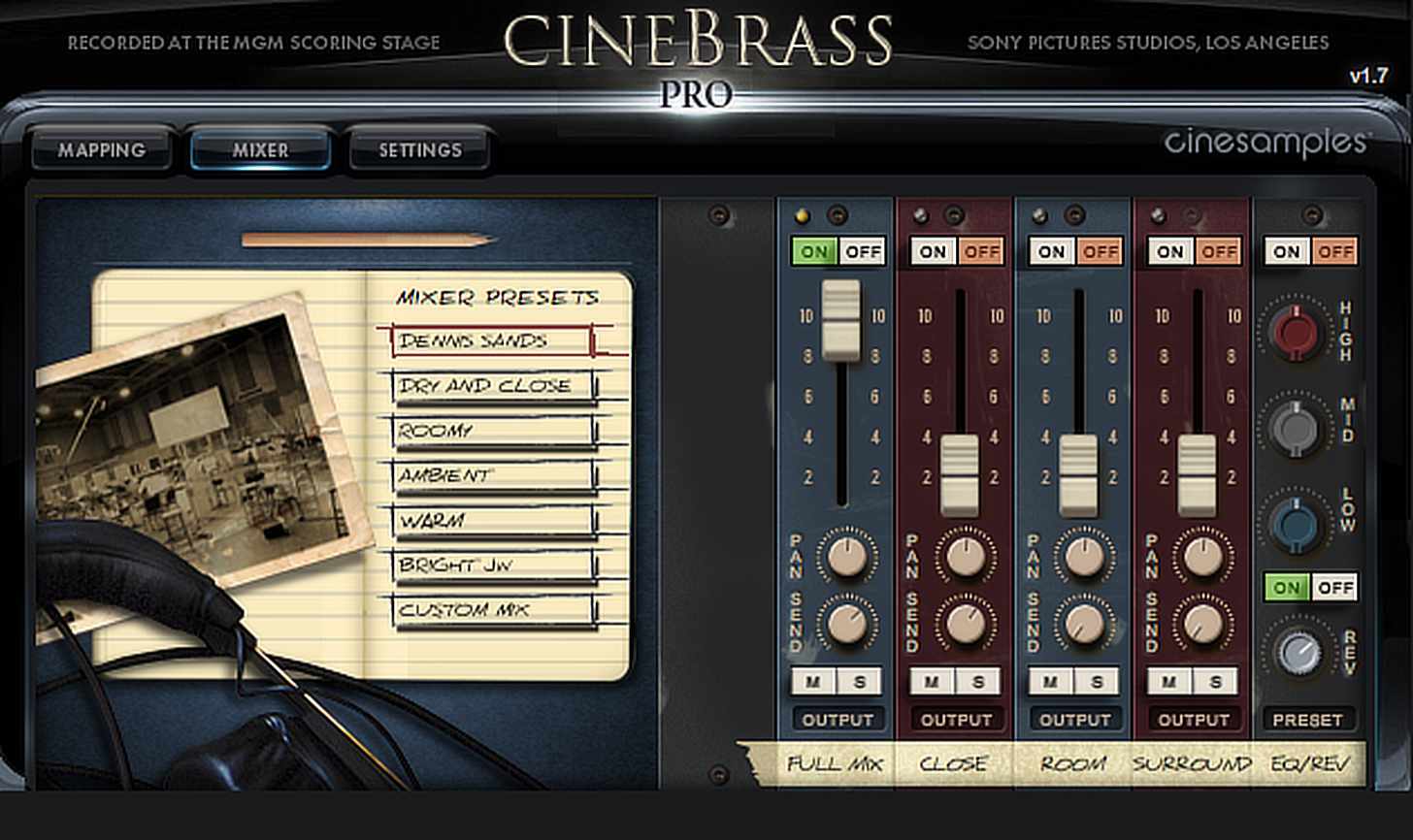 Cinebrass Descant Horn – also check out this instrument for some beautiful solo descant horn samples, "essentially a double horn combining the Bb and alto F horns […] with greater stability in the upper registers." (source)
This company makes a slew of great instruments and I've never been disappointed by any of them. They are well-known for Damage 1 and the recently released Damage 2. These powerhouse percussive instruments can generate angry rhythmic content, dramatic hits and transitions. An intuitive spatialization interface called the Stage view (seen below) lets you place drums in a 3D space taking advantage of front to back as well as left to right location. A similar concept is used in their Master Sessions Series mentioned below. It comes with a full suite of effects including the featured punish control, which seems to be a saturation control for generating harmonic distortion. It sounds sweeeeet!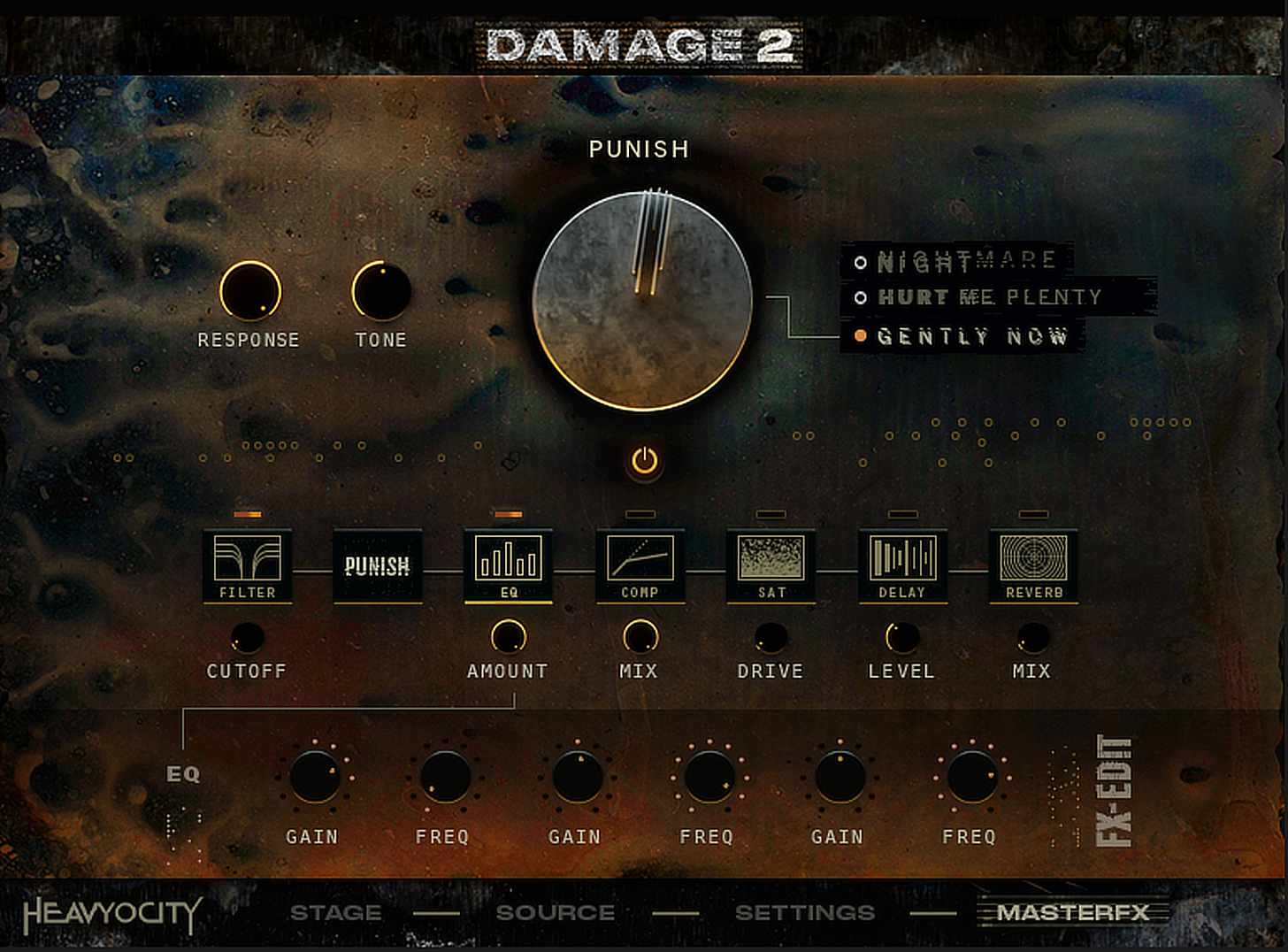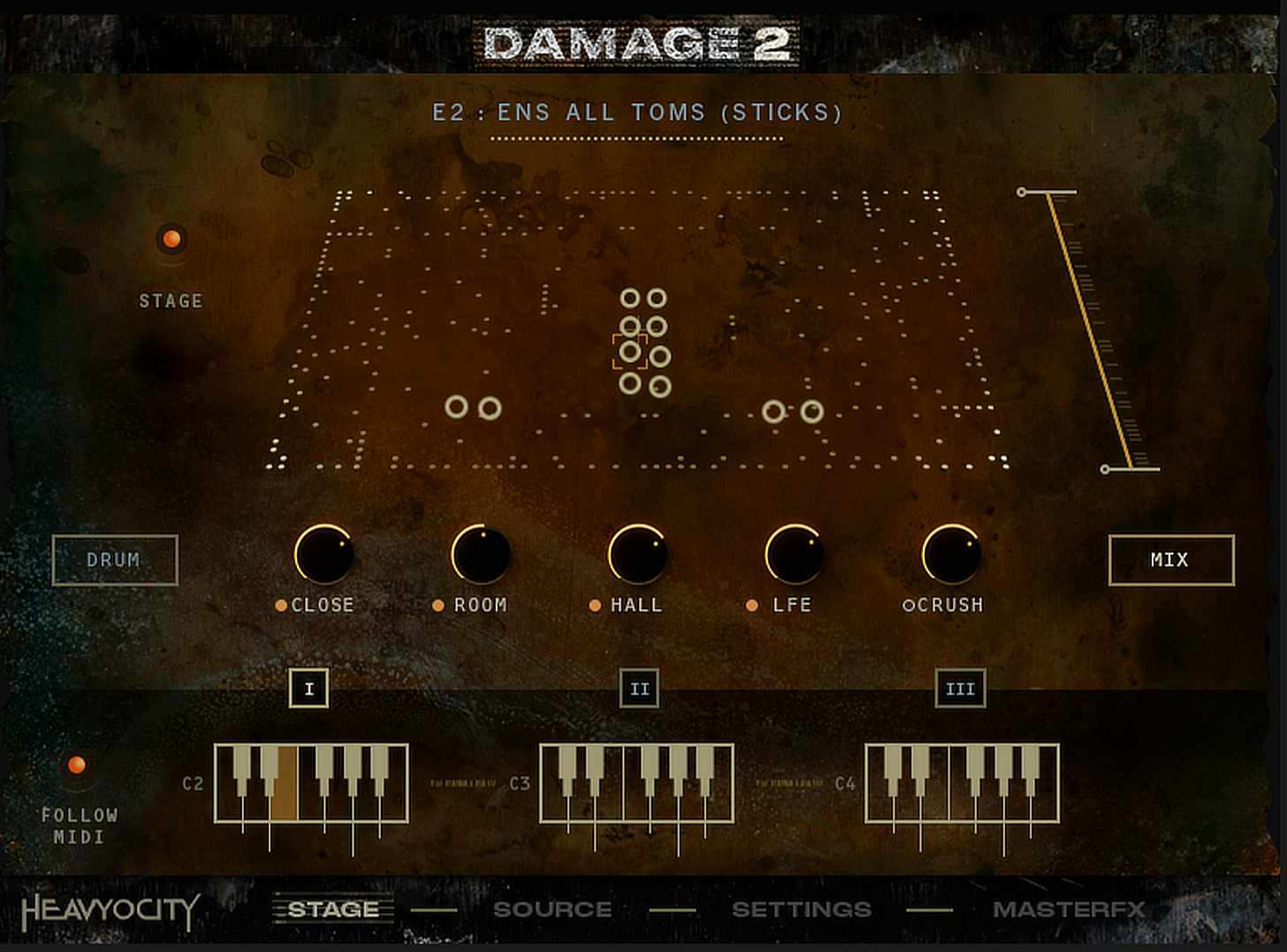 Other great instruments from Heavyocity include:
FORZO – traditional and hybrid brass sounds that are punchy and effective with great modulation and processing effects onboard.
NOVO – traditional and hybrid string sounds. A great choice when you want processed string textures.
Master Sessions: Percussion – a series of percussion libraries that include Ethnic Ensembles, Woods, Metals and Drums. All interfaces feature the Stage view, mentioned above, for spatialization and location of sounds, plus full-featured step sequencing, effects and mixing controls.
Gravity – perfect for stings, hits and transitions with a large selection of categorized presets.
Evolve and Evolve Mutations 1 and 2 – this is a series of loop-based sounds that are simply well-produced and highly usable in many contexts. In my experience, it's just hard to wrong with any Heavyocity product.
Symphonic Destruction – as the name implies, this library uses largely orchestral samples as raw material for heavy processing and mangling. There are also some amazing distorted guitars sounds — a surprising but welcome inclusion. As a guitar player myself, I am not typically impressed with guitar libraries. But these sounds, along with the magic of Heavyocity's intuitive GUI, had me playing around for a good long while.
The interface has some stunning graphics, and you can quickly achieve magnificent sonic results that are easily tweaked and customized. Existing fans of Heavyocity will appreciate the familiar interface layout. There are three categories for the sound design instruments including Designer, Braam and Loop. Each has a great collection of presets to start with and customize. The Braam instrument is especially satisfying. The eight Performer instruments include Traditional, Hybrid, Damages, Soundscapes, Traditional Pedals, Hybrid Pedals, Damages Pedals and Damaged Guitars.
Symphonic Destruction is packed with intense, angst-driven sounds that are perfect for scoring horror, suspense, action, mystery and similar genres. It's another superb offering by one of the best developers in the business.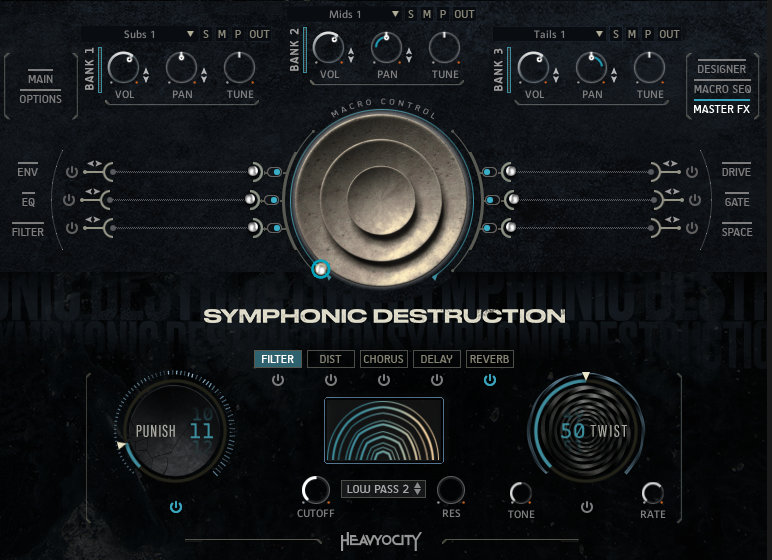 This company has grown by leaps and bounds in the last few years both in the quality and variety of their offerings which now include reference monitors and studio furniture besides their arsenal of highly creative processing effects. Their Kontakt instruments are particularly good.
Analog Strings is a hybrid string-based instrument capable of unusual timbres and textures. The graphic interface is an elegant example of how visuals and sound can be intertwined to give the user immediate and satisfying control over both worlds. The search matrix is intuitive and well-conceived allowing targeted access to five hundred presets.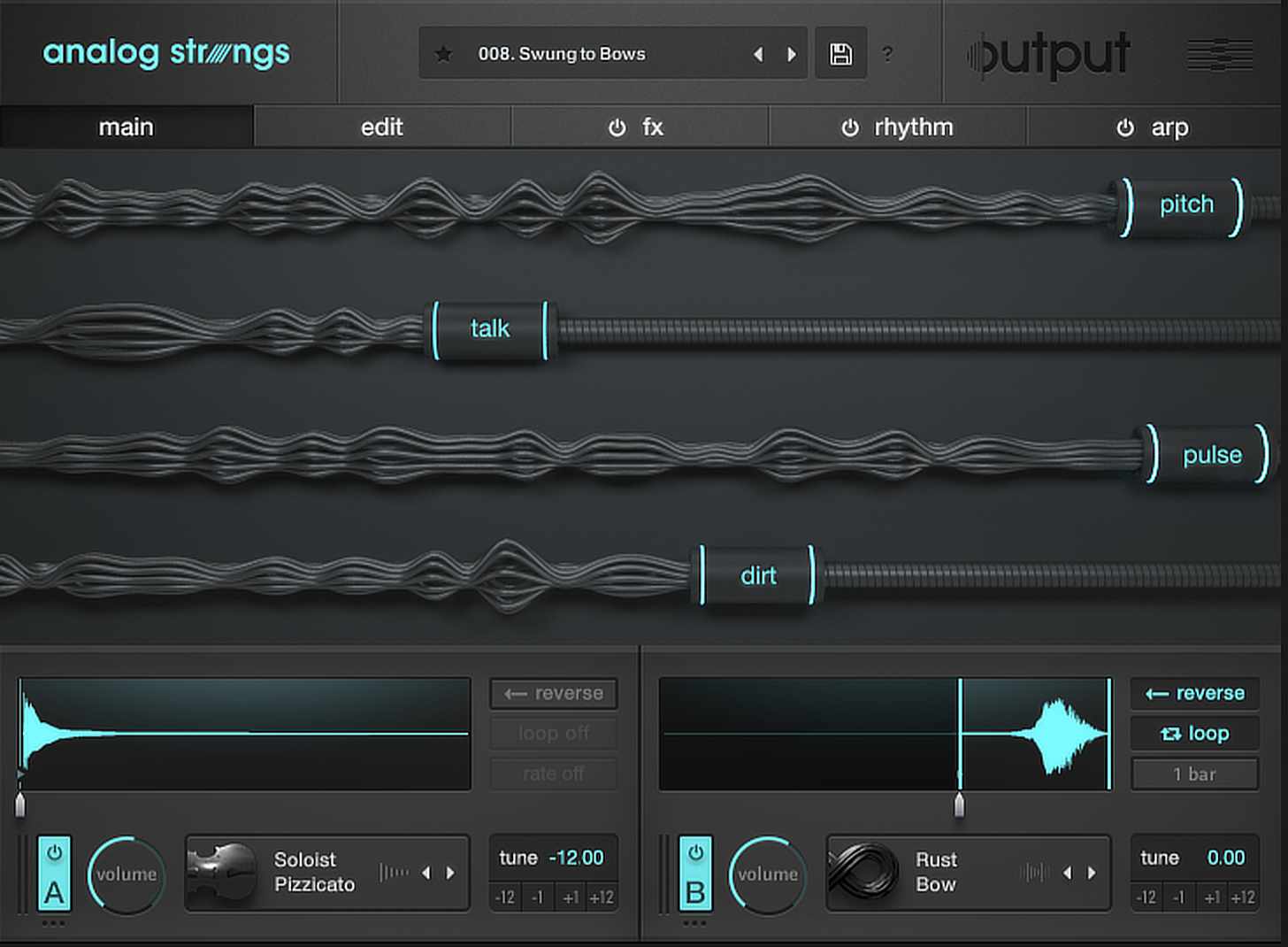 Other great instruments from Output include:
Analog Brass and Winds – similar in concept and design to Analog strings with a focus on hybrid brass and woodwind sounds.
Substance – my go-to Kontakt instrument for synth bass sounds. Powerful and thick sounds that can stand alone or provide support for the bottom end in general.
The Dronar Series from Gothic Instruments provide a great way to produce textures based on frequency range (low, mid, high). The instruments come with a nice selection of modulation and processing effects. The front page interface has just a few controls, yet you can attain a huge variety of sounds without ever opening the hood.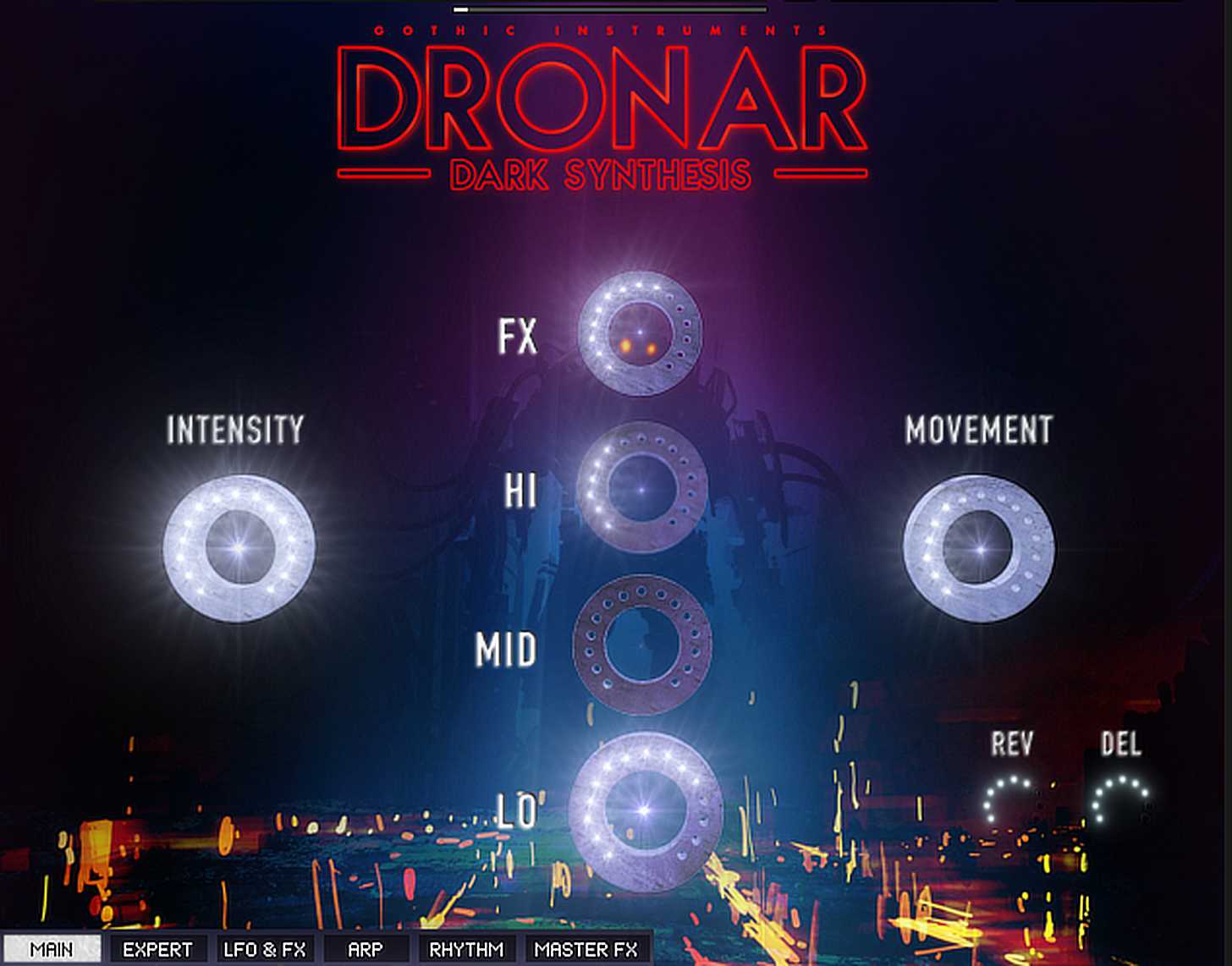 This is my first choice whenever I need some light percussion to accent a piece or reinforce the groove. It comes loaded with a robust collection of shakers, bells, woodblocks, claves, bottles, tambourines and various percussive devices. The interface includes three elegantly designed step sequencers that can adjust velocity and rhythmic subdivisions for each step. Pictures of all the instrument choices make it very easy to find the right sound, all of which can be auditioned on-the-fly. Everyone should give this thing a try!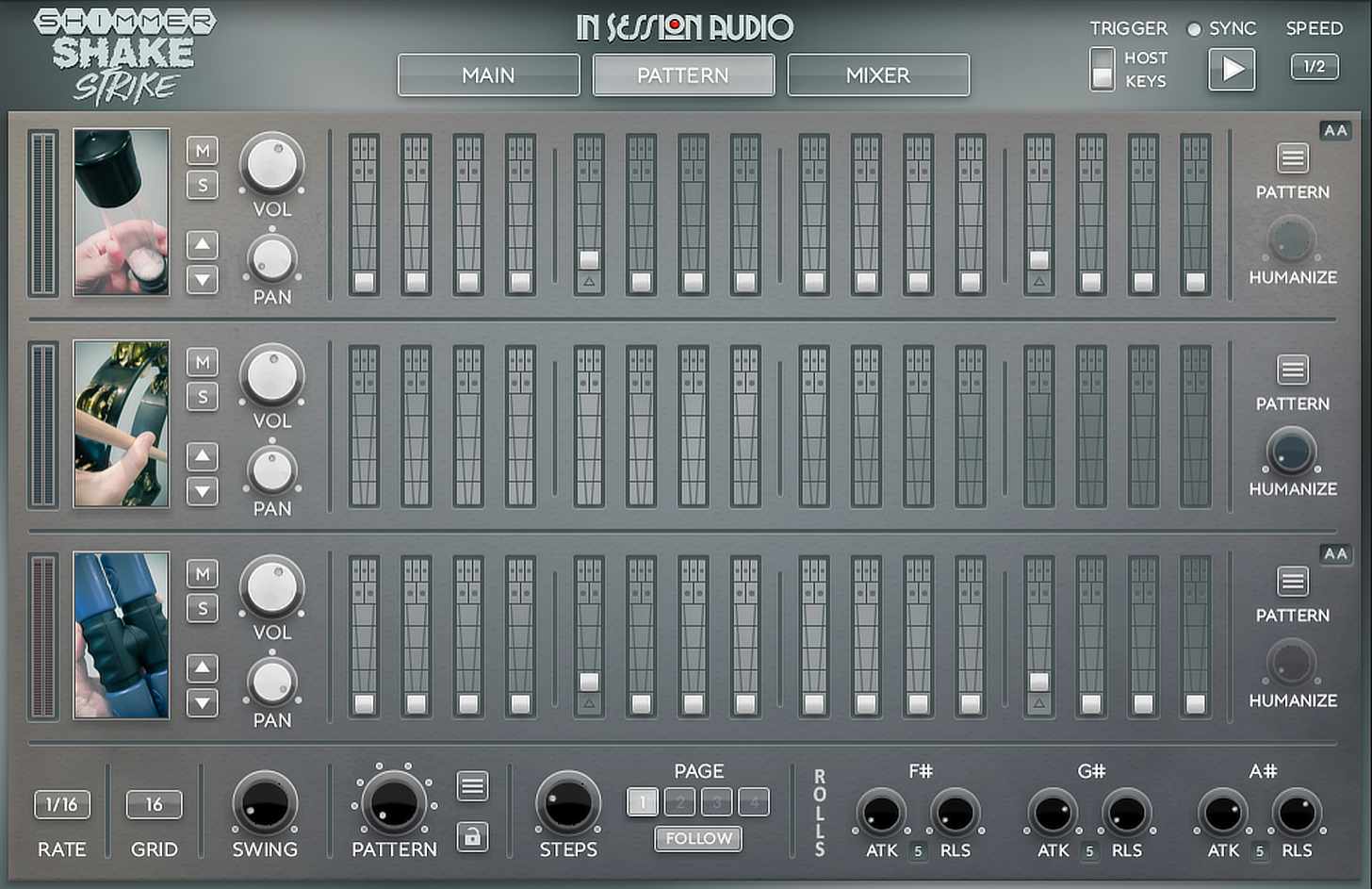 Sample Logic remains one of my favorite companies and their Morphestra 2 is just one of the many reasons. This a powerful morph-based design that allows the user to combine up to eight samples at a time. You can record moves made on the morph pad and the modulation and processing capabilities can create an infinite variety of unique sounds. The highly configurable randomization features make experimenting really fun! It's a sound design rabbit hole from which you may never emerge.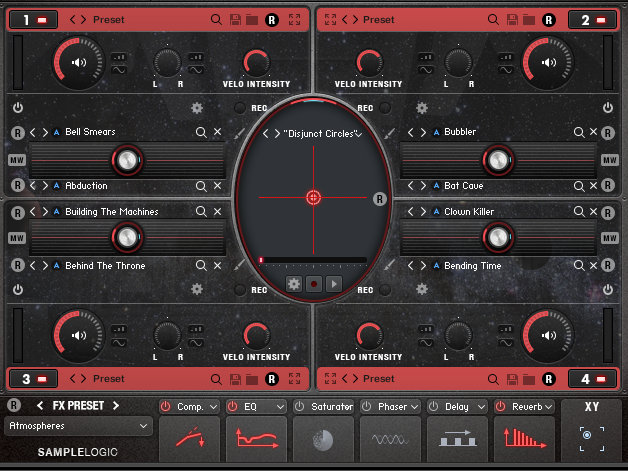 Other great instruments from Sample Logic include:
Modern Animated Percussion (M.A.P.) and Rhythmology – rhythmic devices based on sophisticated step sequencer implementation.
This boutique company offers a handful of unique libraries that use, as the name implies, simple uncluttered interfaces. I particularly like the sustained sounds in the Aboriginal Didgeridoo library. There's just one switch control available for verb, but sometimes you just want a great sound you can tweak elsewhere in your signal chain. Similarly, the Enzo Puzzovio Hammered Dulcimer and Hurdy Gurdy collections offer simple but effective interfaces. The Hurdy Gurdy Drone instrument has some very good organic sustained sounds worth hearing. The Horror Harp has some excellent textural and transient sounds organized in different instruments by excitement method (bows, knocks, plucks, strums, etc.). In contrast to the sound design-based libraries, the Rhea Hosanny Legato Viola is a lovely sounding, expressive instrument that is instantly playable with basic mod wheel gestures and a choice between progressive and full vibrato. Again, not a lot of parameters here, but as with all these libraries, the sounds are recorded beautifully and provide a solid foundation for additional processing should you desire.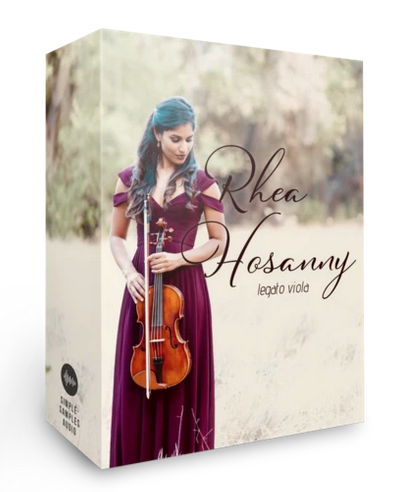 Final Thoughts
Let me re-emphasize that this list is not inclusive of all the great instruments currently available, nor is it any sort of ranking. My personal favorites change all the time based on my needs at the time and this list simply represents my current preferences. That said, I'd love to hear what others are using and general feedback is always encouraged
As you accumulate your own libraries you may also find yourself choosing the same instruments over and over again without thinking, and habitual choices can lead to stagnation. So whenever you have a break between projects, use that time to explore those lesser-used tools in your box. You may find some hidden jewels you didn't even know you had.
---
Check out my other articles, reviews and interviews
Follow me on Twitter / Instagram / YouTube