13 of the Best Choir Sample Libraries
Article Content
Choir and vocal sounds can evoke a wide array of emotions from heroic & epic to dark & disturbed. Available libraries range from organic and natural-sounding choirs to heavily processed vocal-based textures. You may find some decent and usable choir-based instruments as part of larger orchestral collections or as dedicated libraries. What follows is a list of the best collections I've come across. Note: all but one of these libraries (Eric Whitacre Choir), will require the full version of Kontakt.
Here are a few things you might look for when making your purchasing decision based on your particular needs:
Men's choir, women's choir or both
Children's choir (boys, girls or both)
Solo voices (male, female, what ranges)
Natural and organic sounding samples, heavily processed or both
Selectable syllables (how many choices), key switching
Performed phrases
Special vocal effects and gestures
Round robins and velocity sensitivity
Adjustable envelopes
Onboard effects processing
Selection of mic positions
Dedicated vocal library or part of a larger collection
Specific ethnic sounds: Western European, Elvish (rowdy Elven folk singing), etc.
Unique vocal styles
Choir Instruments Part of Larger Collections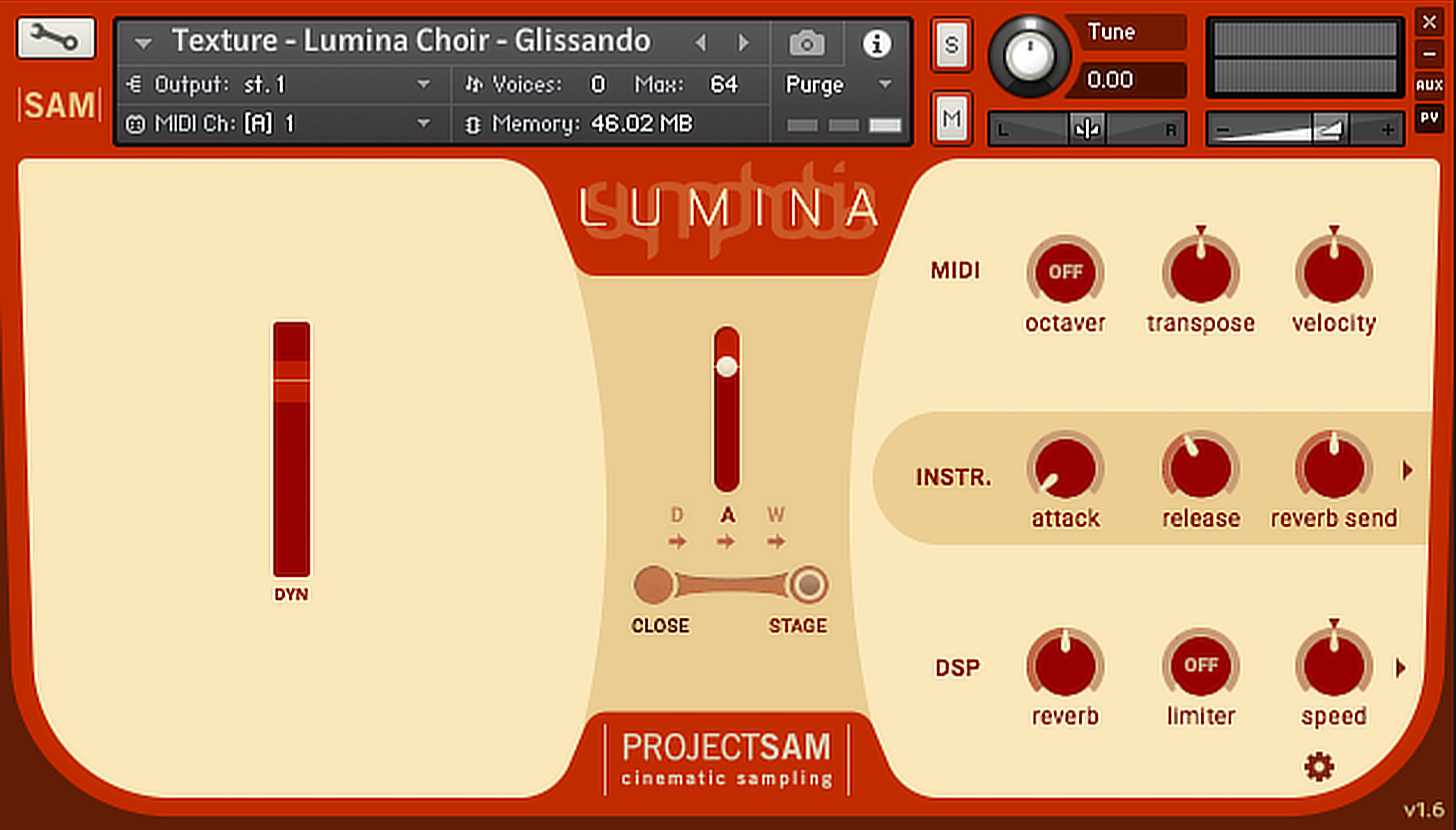 This is really a full-featured cinematic set of instruments that includes some really great sounding choir samples. Some are pre-orchestrated with other instruments, but others are purely choir samples. The Elven choir in the texture category is particularly nice, and the Elven harmonies instrument adds other instruments including bass synth, creating a rich smooth blanket perfect for pad sounds. There are also sweeping glissando and effects settings that can be useful for transitions and textures. The playable category puts the Elven and Lumina choir instruments at your fingertips to easily lay down harmonies or melodic lines. This category also has instruments that combine choir and orchestral sounds, including some pre-voiced chords.
What makes this an attractive choice for choir samples is that it comes with so many more instrumental sounds. It could be a great solution if you are looking to build or expand your other collections. ProjectSAM makes rock-solid libraries and offers amazing genre-specific settings that will inspire you immediately.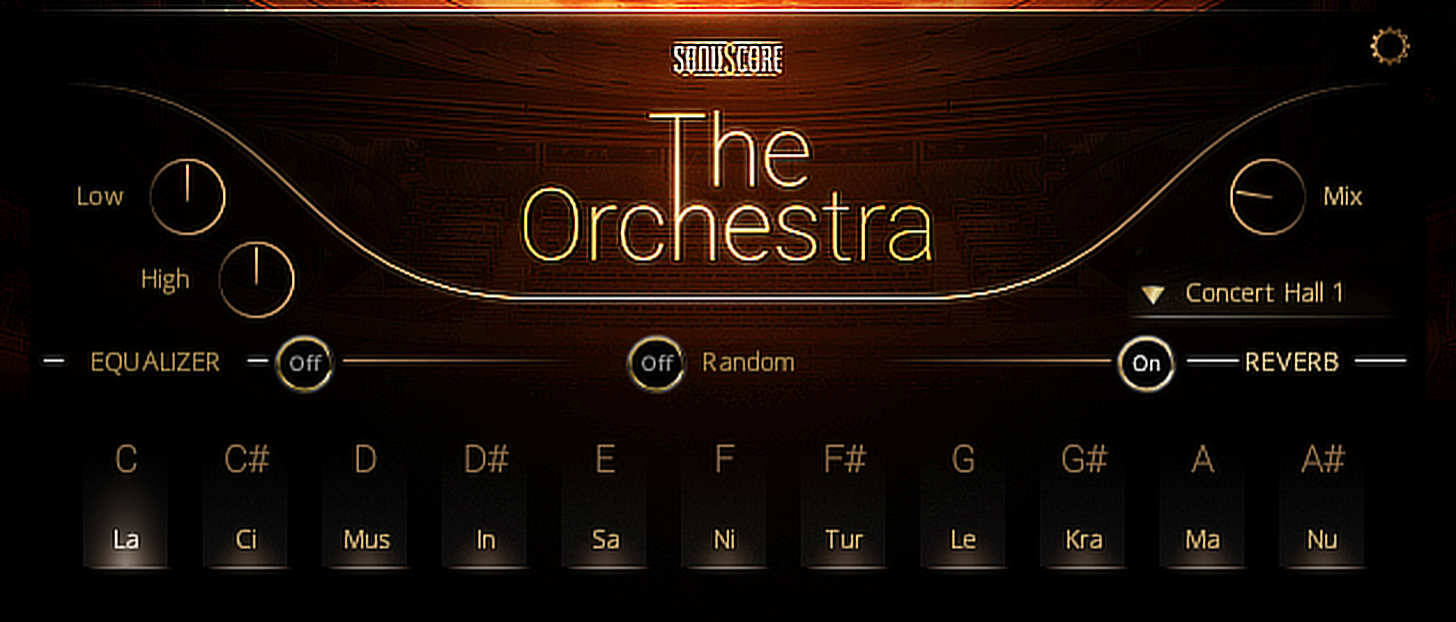 This is another orchestral library that includes some decent-sounding choir samples as a bonus category. Choir patches include: Elven choir sustain vowels, female choir staccato and sustain, and male choir staccato and sustain. The instruments also feature selectable syllables and vowels. The staccato instrument has a random button that will trigger a different syllable with every note. Very addictive!
You can also incorporate choir sounds using their amazing "orchestra complete" setting that allows for five sounds, any of which can be independently arpeggiated choir samples.
If you are looking to expand your orchestral library collection while adding some realistic choir sounds this would be a great choice.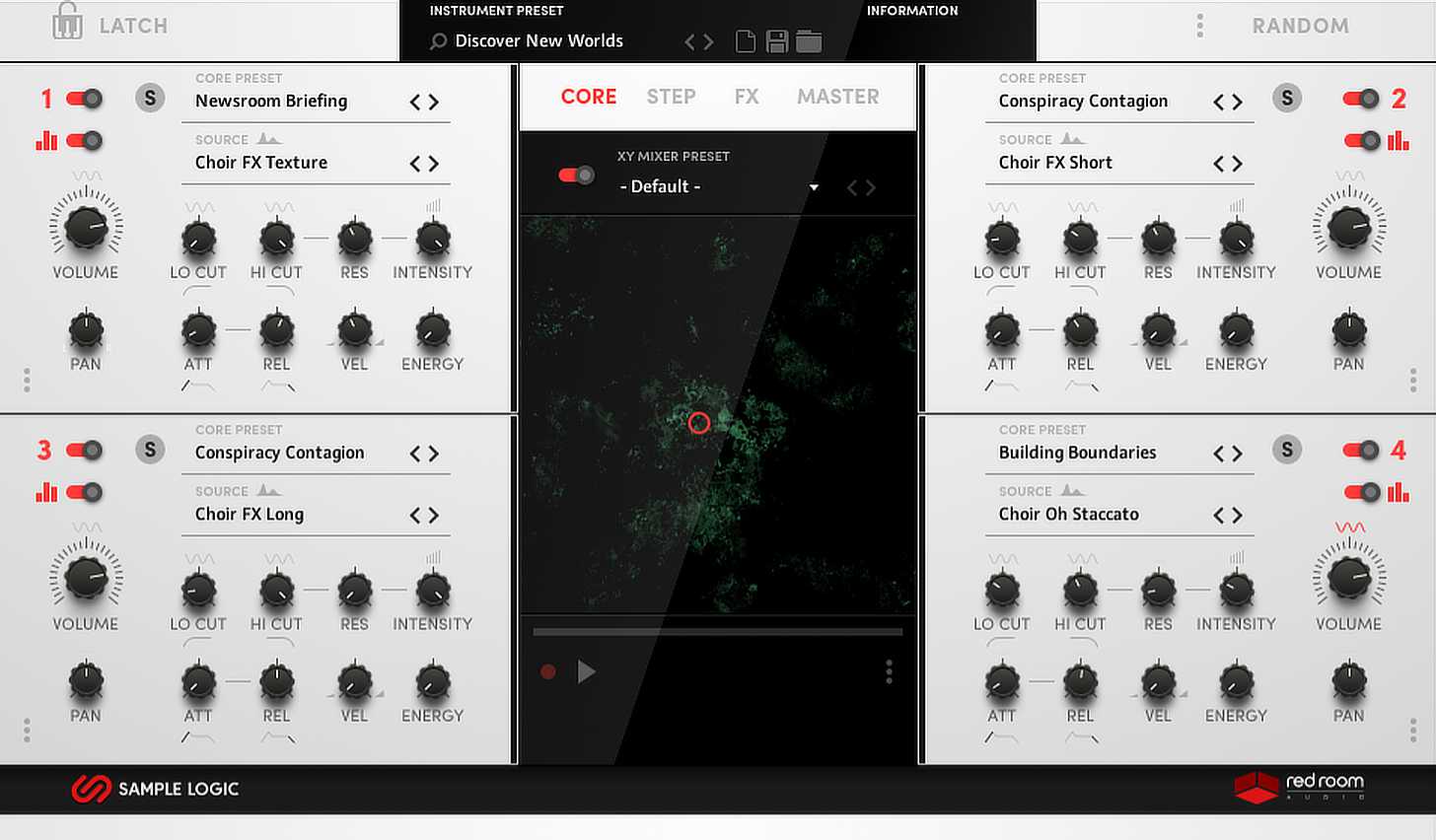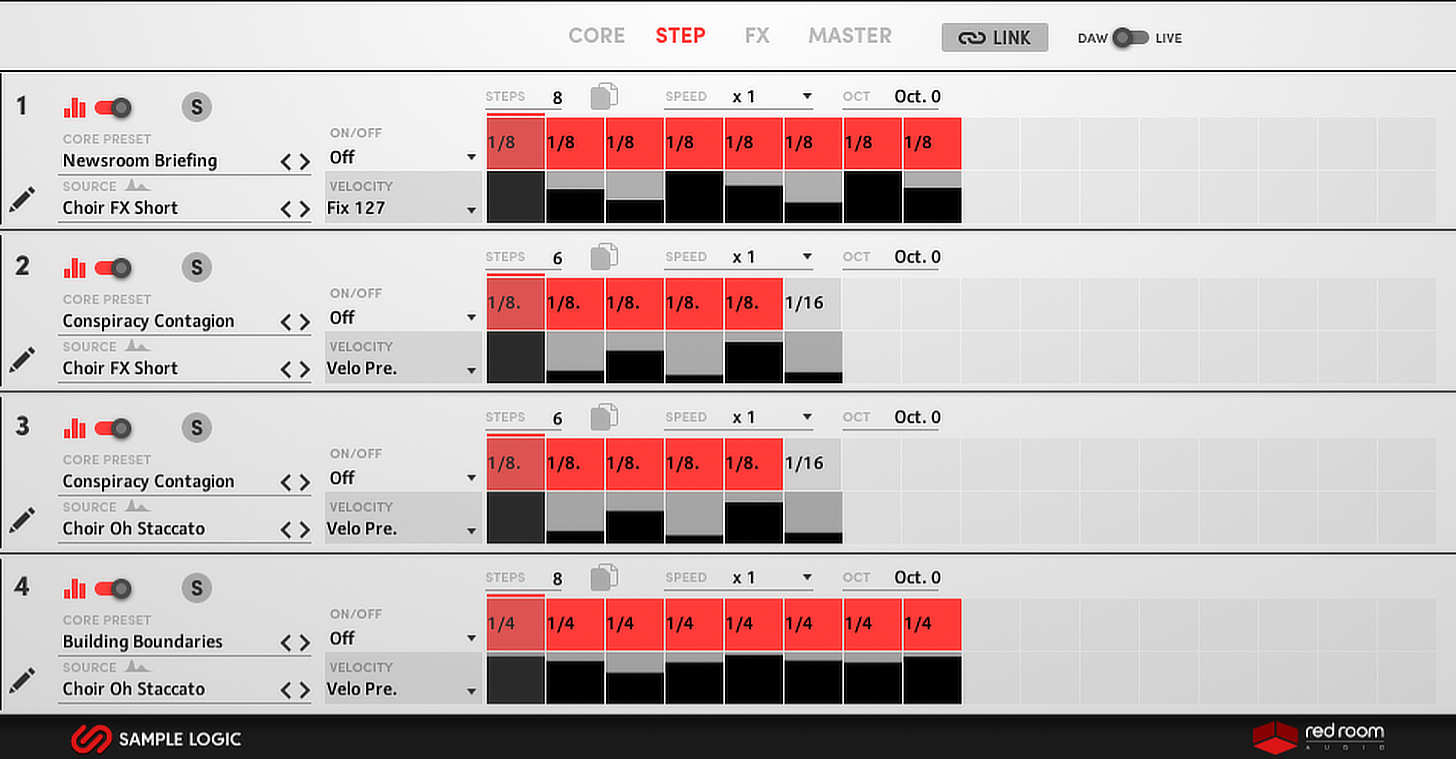 This library features the multi-core organization found in other Sample Logic collections. It allows for four independent sources which can be mixed via the recordable XY pad. Each core has its own step sequencer and effects chain. Although not a dedicated vocal-based instrument, it has several sources listed under the vocal category including choral syllables & articulations, modern church choir and heavily processed choices. If you've used other Sample Logic instruments like Morphestra, the layout will seem familiar and instantly usable. I am a big fan of Sample Logic libraries — they have great sounds and well-conceived interfaces. If you want some vocal-based content with a ton of control for some crazy processing, as well as access to a robust collection of manipulated orchestral sounds, this will fit your needs perfectly.


This is a unique orchestral library that has some really great choir-based instruments. As described by the developers – this is an "extensive collection of inspiring orchestral and choral textures, advanced articulations and dynamic gestures relating to the paradigm of time."
The choir instruments include men's choir, women's choir and mixed ensembles. As the name suggests, there is a distinct emphasis on textural and evolving effects, dynamic gestural effects and a nice catalog of contemporary vocal syllables and performative gestures that sound organic and natural. With some effects, individual voices temporarily emerge from the overall texture before being enveloped by the chaos of the group. The key switchable effects and multis can be used to easily create unique combinations of evolving vocalizations.
When you consider that these amazing vocal sounds are just part of this large collection of instruments it seems like a great choice to expand your existing palette of orchestral sounds while adding a solid selection of choir samples and extended vocal effects.


This is a full-featured orchestral library well-worth it just for the instrumental sounds, so the choir instruments are really icing on the cake. As with most instruments from Orchestral Tools, the main GUI page is kept simple with just a large dial in the center for dynamics and performative gestures. Digging deeper will expose controls for miking options, envelope controls and round robin choices. These are natural sounding samples that offer realism in a simple to use interface, allowing you to quickly lay down vocal accompaniment to any existing texture. There is a large collection of multis that take advantage of the powerful orchestral instrumental collection, and when combined with the choir samples you can achieve everything from monumental & heroic styles to dark & disturbed and all points in-between. There is an intensity in these samples that seems to emerge regardless of the particular instrument used. This is the fourth iteration of the Metropolis Ark series and each predecessor has focused on a certain character and emotional impact. After experiencing this version you will undoubtedly want to get all four!
Dedicated Choir Libraries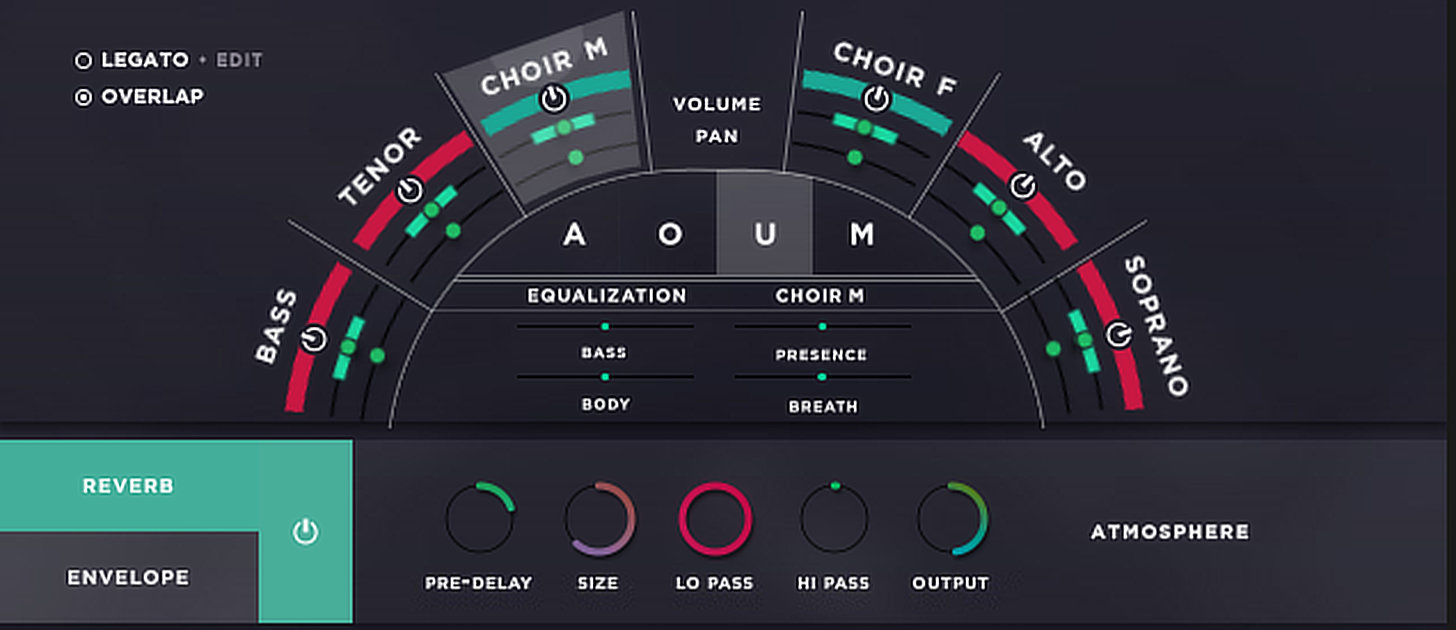 This is a dedicated choir-based library that is billed as a sound design tool that uses multi-samples of male and female choirs and solo voices. It comes packed with a nice collection of effects, modulation possibilities and hundreds of presets. When you start combining presets in the two sound engines the possibilities are endless for vocal-based textures, or you can use the performance patch for more traditional sounds with four-syllable choices. You can do a lot with this instrument, but it really excels at creating choir-based pads and processed vocal sounds.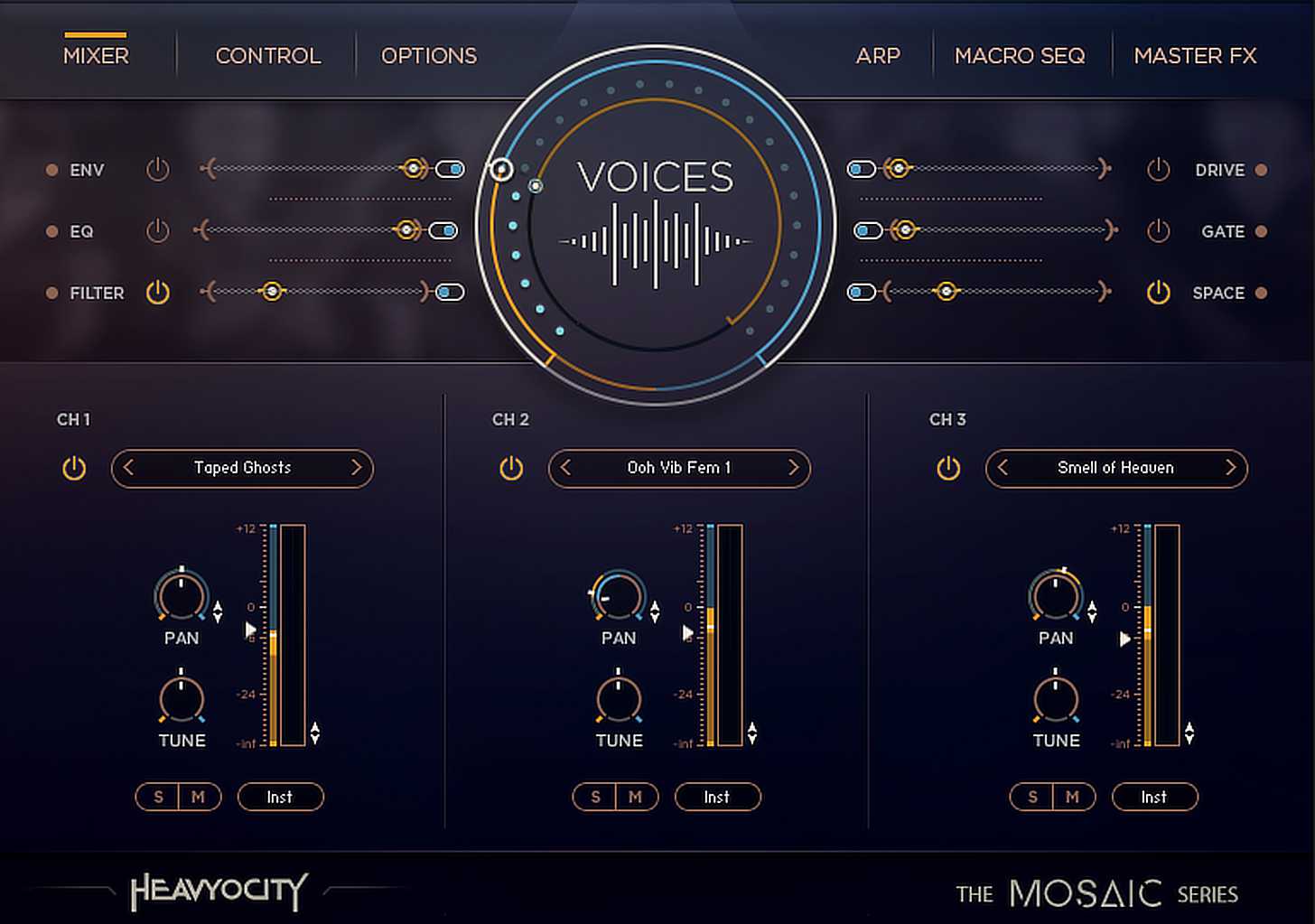 You get a great feeling about an instrument when you crack it open and the default sound is immediately satisfying. Mosaic Voices is impressive from the get-go. These are processed vocal beds and super-rich textures made possible by three source channels each with independent sequencers and envelopes. There's a huge number of source possibilities and a visual key mapping interface for layering control across the keyboard. The layout may remind you of other Heavyocity GUIs and is well organized and intuitive.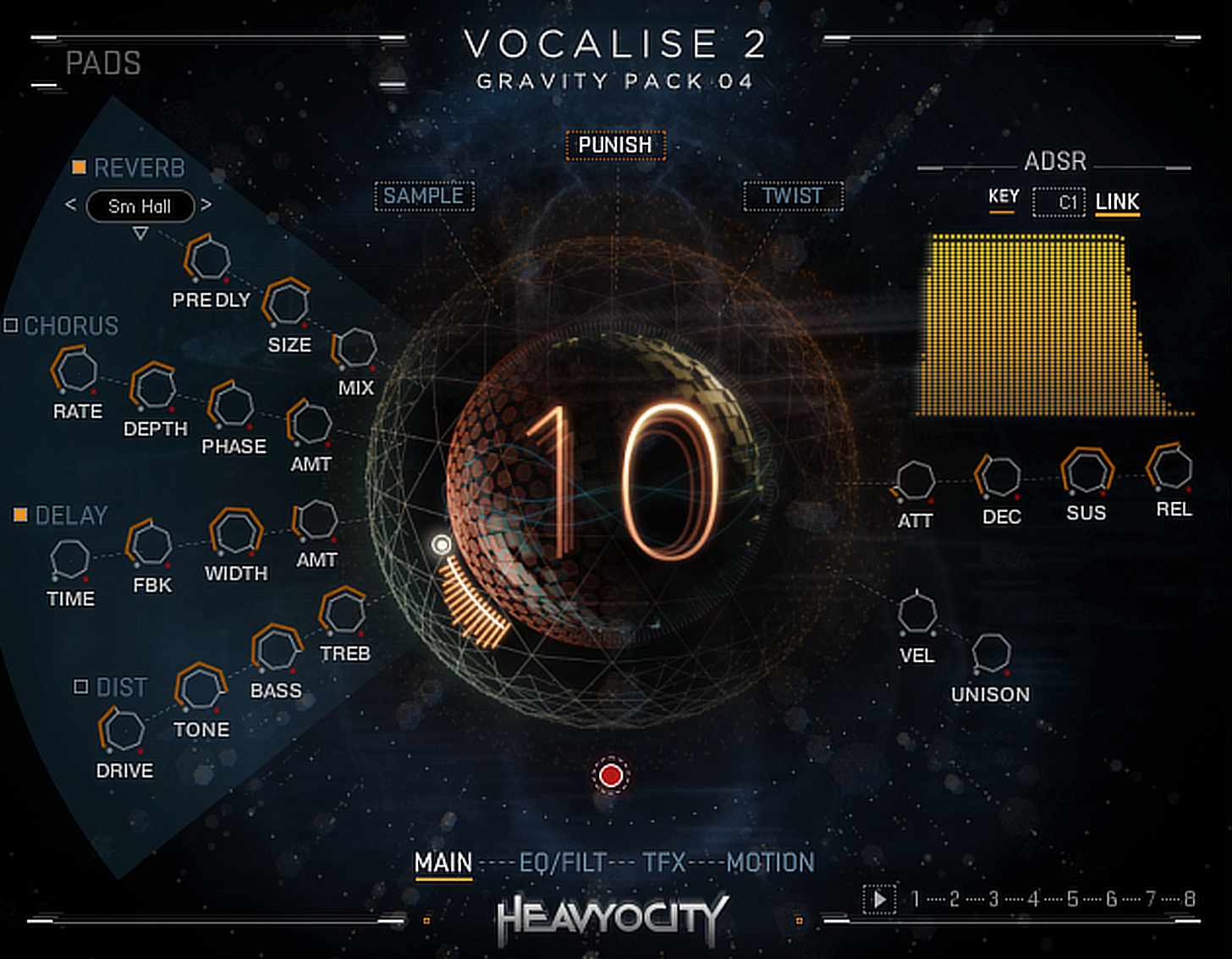 This is another beauty from Heavyocity that has a wide array of categorized presets including pads, performance settings, phrases, rhythmic pedals, soundscapes, remixed motifs and sustained vowels.
The phrase section has some beautifully performed melodic lines in a variety of minor keys. Even the organic vocal samples will benefit from Heavyocity's punish and twist effects settings. The pedal combinations sub-category is amazing for getting complex rhythmic and timbral vocal combinations up and running super fast. This thing is really fun to play!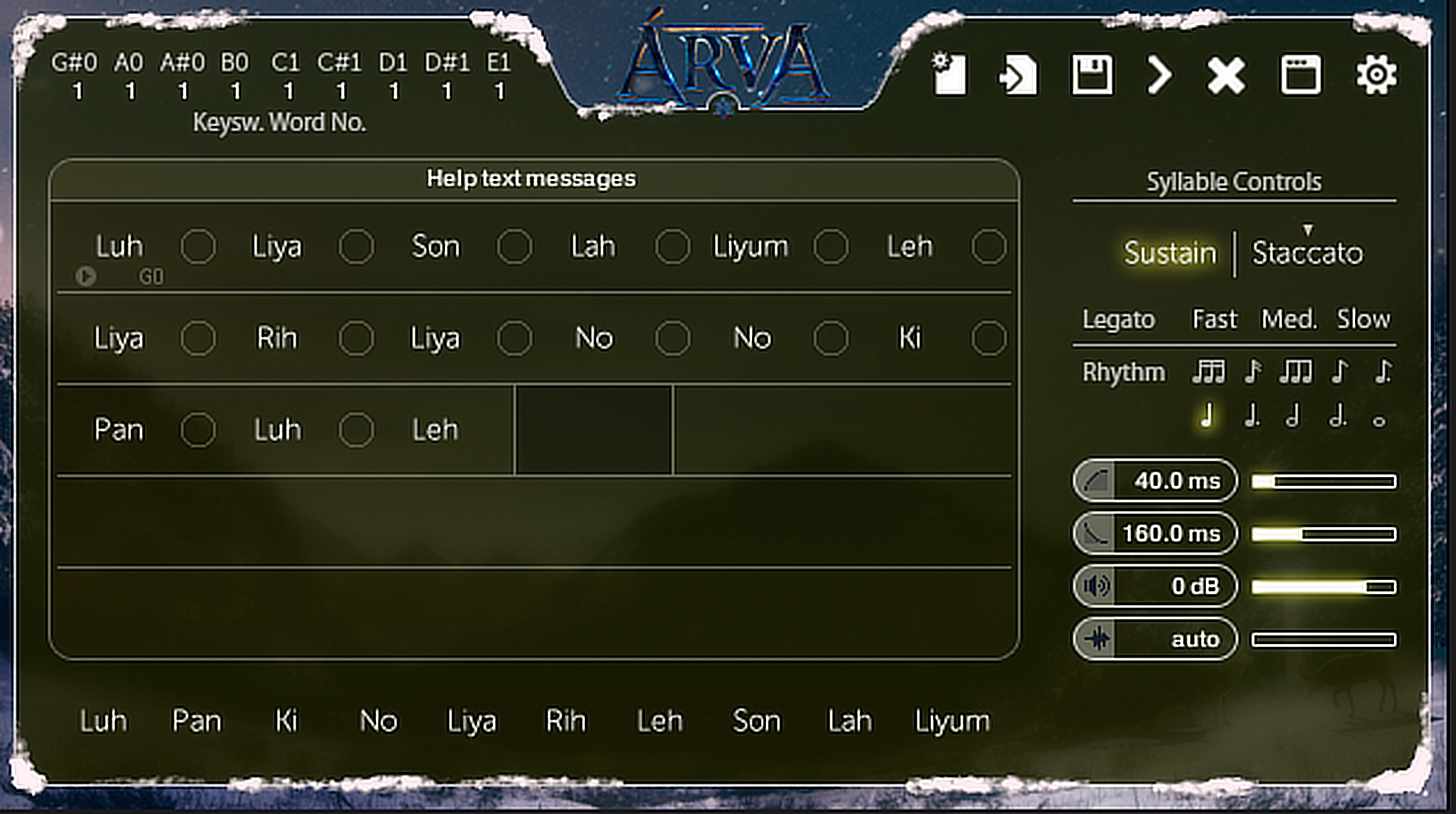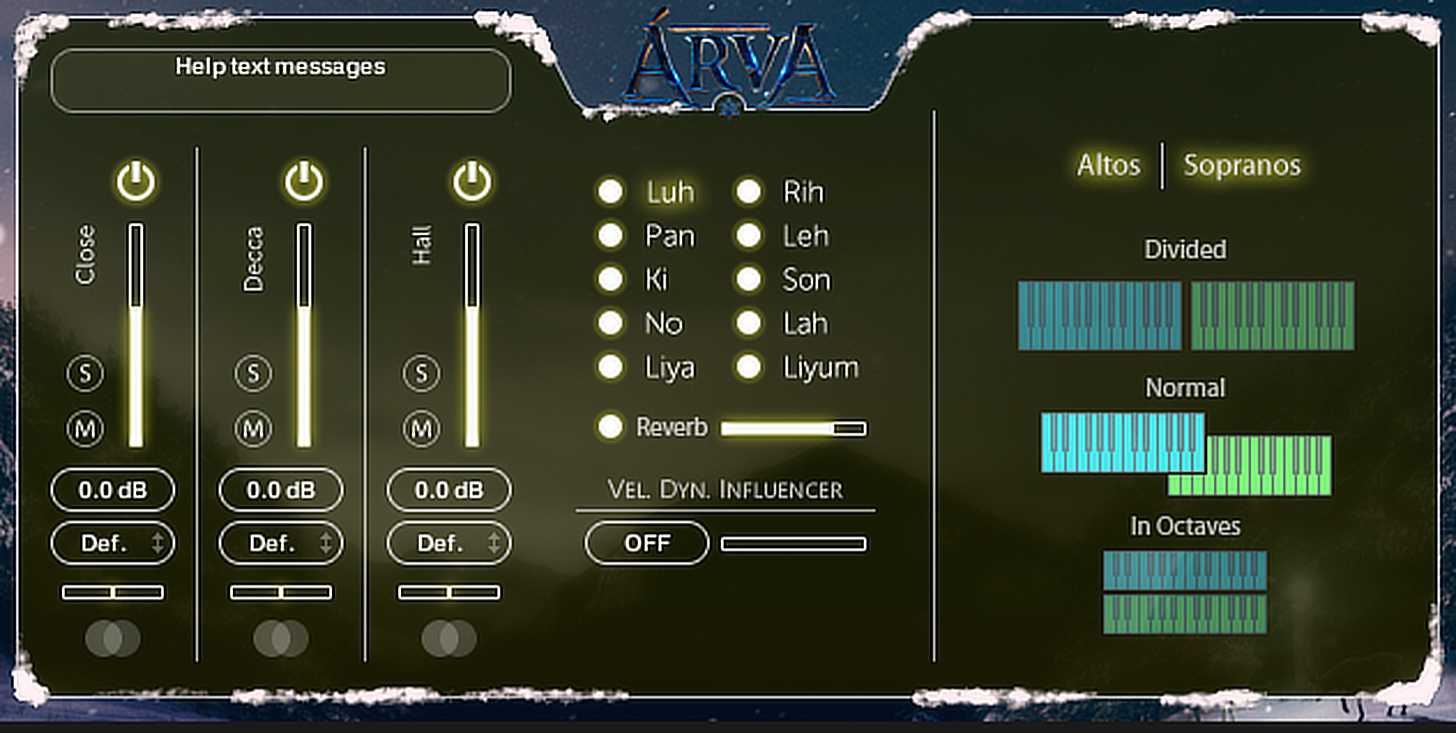 This is a beautifully realistic library that features boys and girls choirs and solo voices with selectable syllables. You can quickly change keyboard mapping with three clickable icons that alternate between divided, normal and octave settings. Instruments include attack & release settings, overlap, legato, and they come with onboard reverb. If you are looking for realistic children's choirs and solo voices this is a great choice!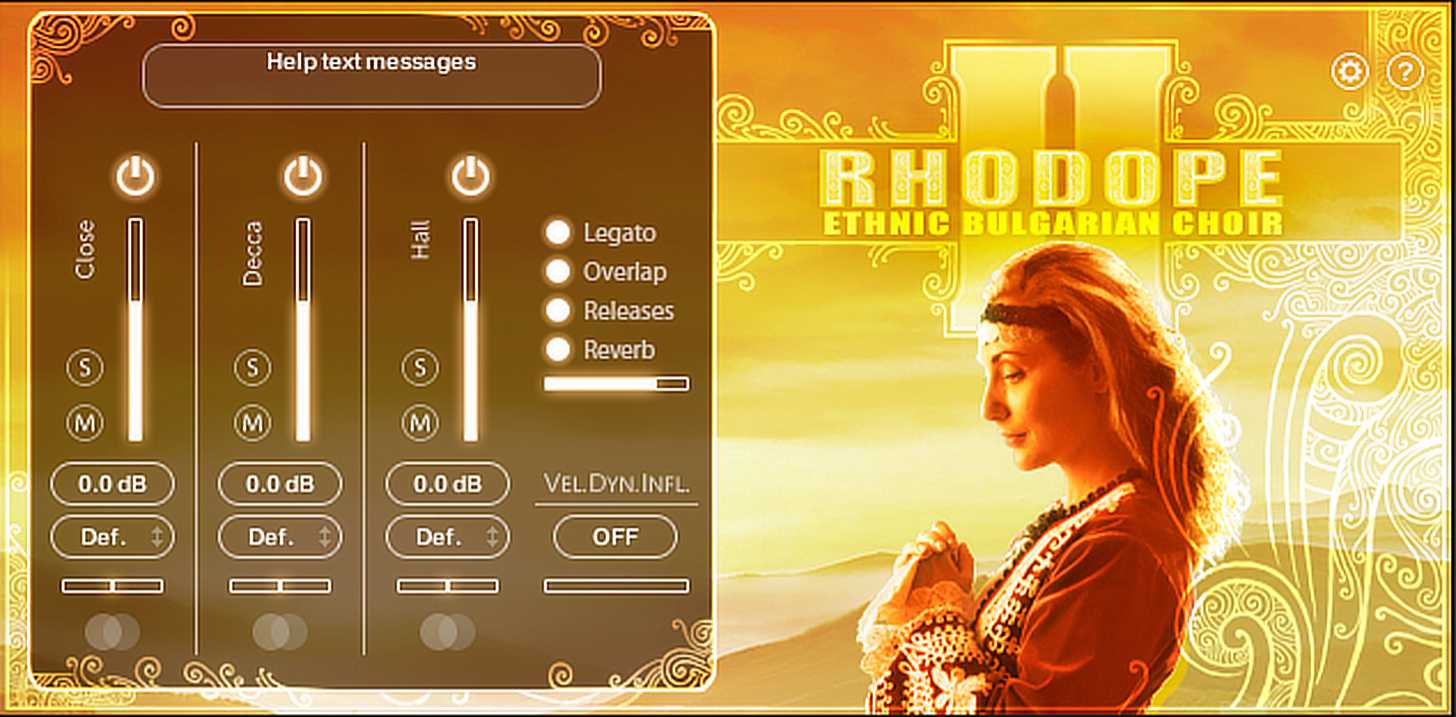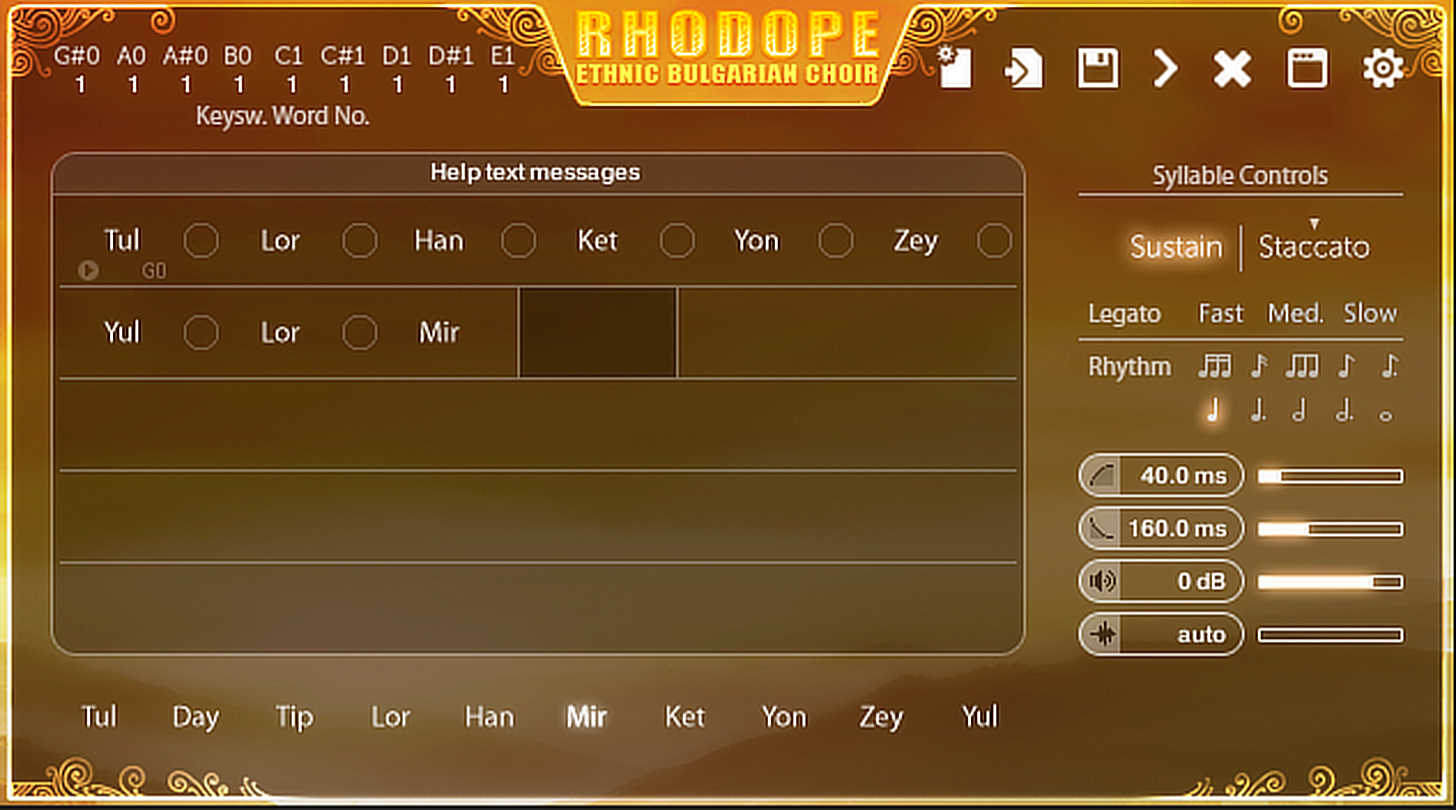 This library has some unusual vocal gestures as well as straight-ahead performance patches with long sustained syllables that seem to intensify and grow more aggressive the longer notes are held. You can build a series of syllables using what Strezov refers to as the Syllabuilder Engine which is also found in the Arva collection mentioned above. The "whispers and shouts" instrument offers some extreme velocity-sensitive dynamics that could be quite dramatic and effective in the right context. This library is a great source of female choir sounds in the style of Bulgarian singing, which relates to the tuning of the resonances in the vocal tract (source).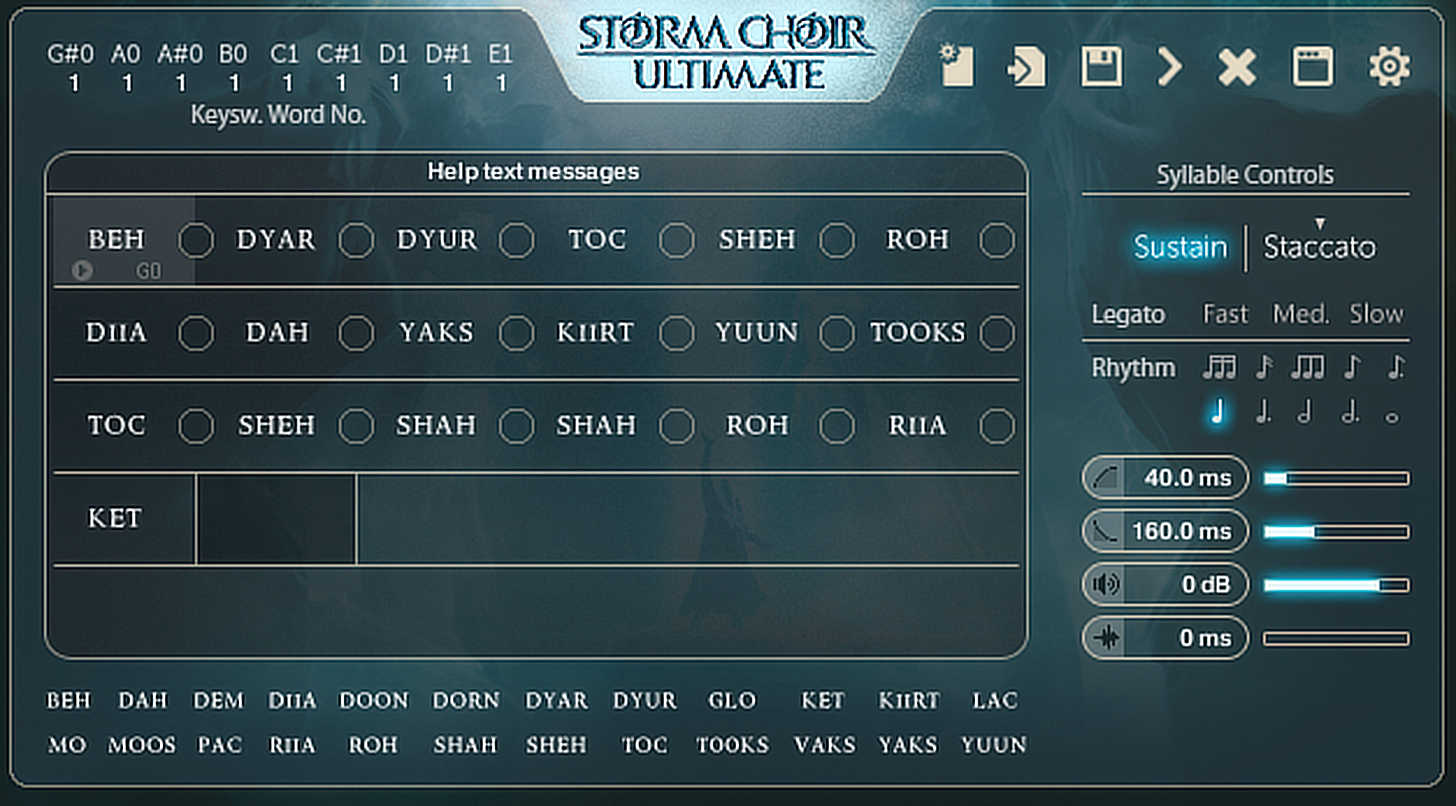 This is a larger vocal library that includes men and women's choirs, solo voices and an expanded palette of syllables. It is focused on traditional vocal style performances and ranges such as the solo bass (dramatic and profundo), soprano (lyric and dramatic), etc. It also includes some FX-based instruments for both men and women including clusters, whispers, shouts and glissandi.
For other great vocal collections from Strezov also have a look at the Wotan and Freyja libraries.
For natural-sounding choir and solo vocal samples, you cannot go wrong with these Strezov libraries. The samples are pristine and lush, and the Syllabuilder Engine is a fast and intuitive way to build phrases. The directness and single-page design of the interfaces make these instruments a pleasure to work with. You will love these sounds!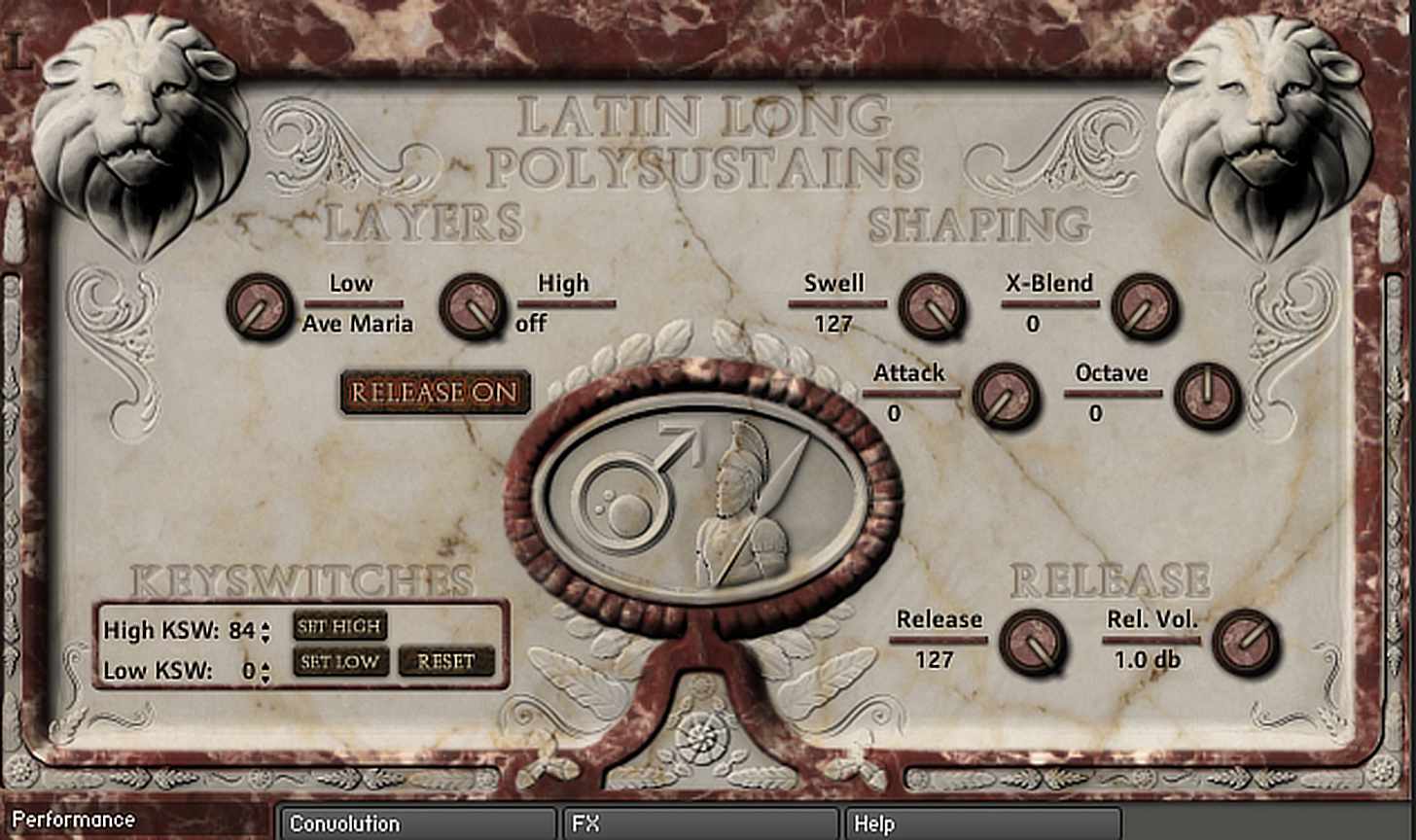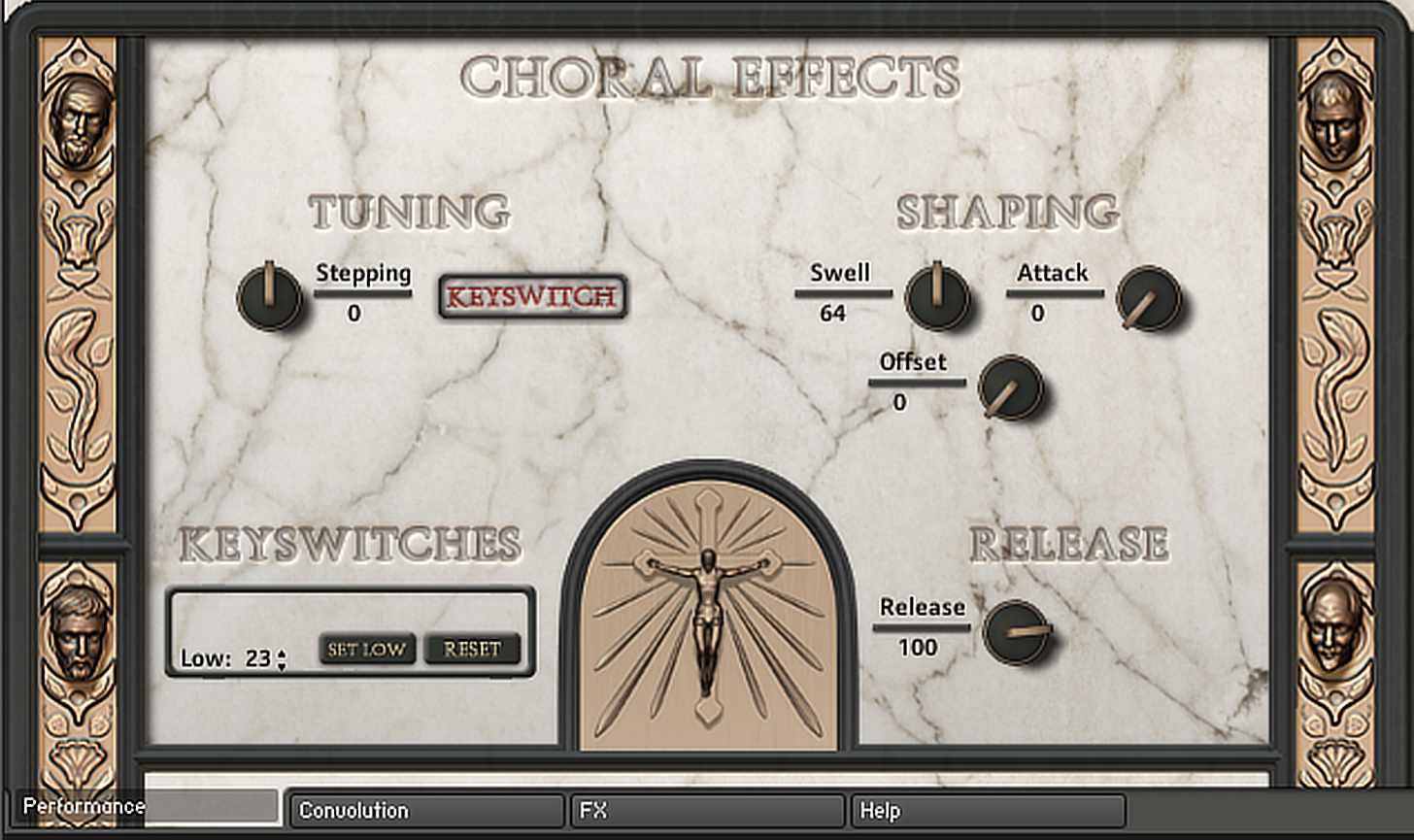 Soundiron's choir libraries are extensive and the Olympus Symphonic Choir is their flagship collection that includes the Mars Men's and the Venus Women's choirs as well as 8 soloists. These samples are beautifully recorded – thick and rich – everything you would hope for in realistic choir sounds. The instruments are divided into three main categories including combo, hall and stage. Each includes the following subcategories: choral effects, legato, marcato, poly fast, poly slow, soloists, staccato, sustains and whispers & drones.
There is also an ambience category that includes some of the most natural-sounding choral drones I've come across. Really gorgeous! The shaping sections in the instrument's GUI allow for envelope control and in some cases morphing between syllables, which is an extremely playable control.
I can't say enough about the realism of these samples, and the choral effects are well-conceived and performed. If you're a film composer, you will find everything you need in terms of organic vocal sounds perfect for literally any film genre.
Soundiron offers ten choir libraries in all including children's choir, Elvish choir and separate libraries for men's and women's choirs. They also have an impressive collection of eighteen solo voice libraries. It is clear they have dedicated a lot of resources in developing their vocal chops as a sample instrument developer and it shows. The Olympic Symphonic Choir is a robust collection of realistic choir sounds that will not disappoint.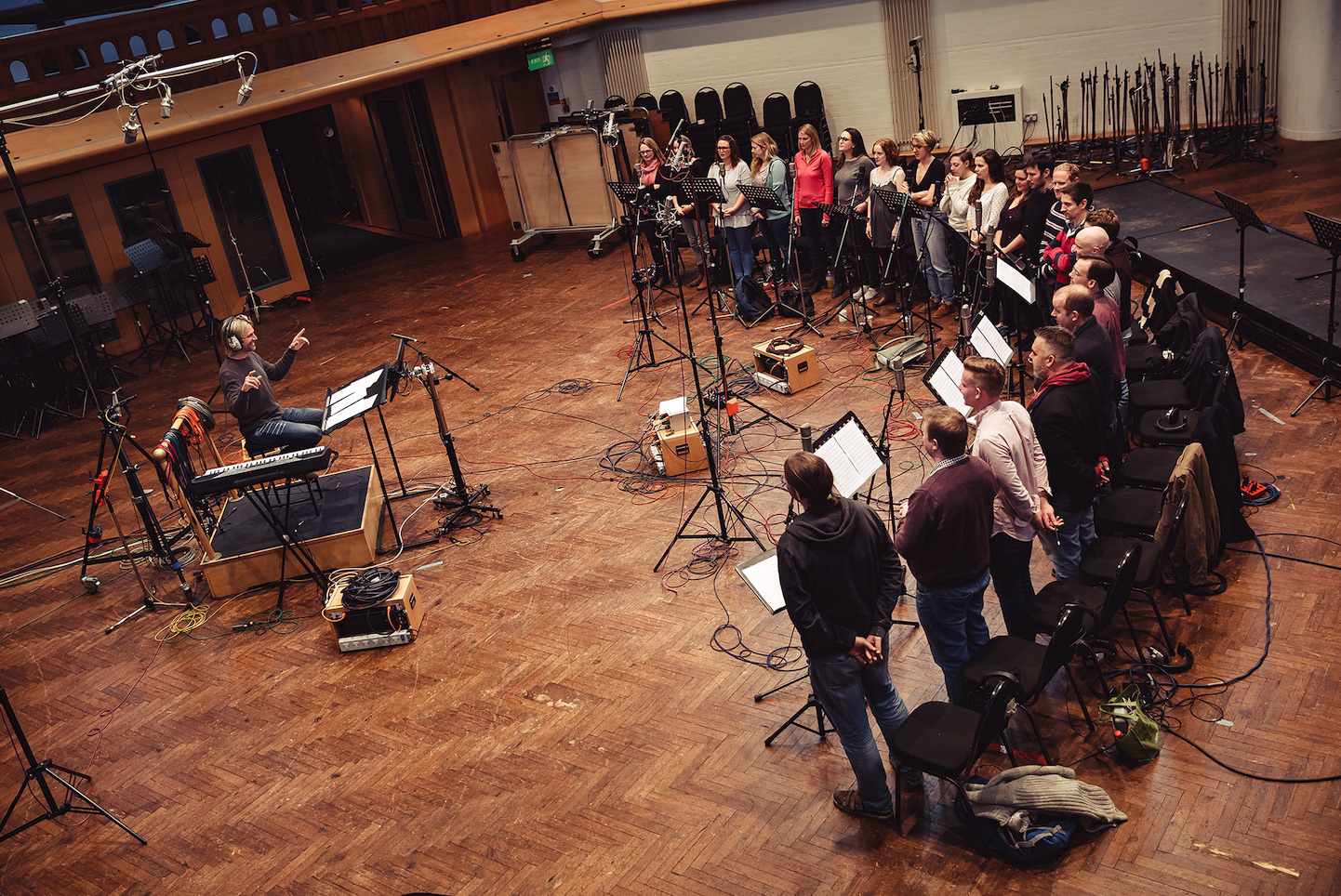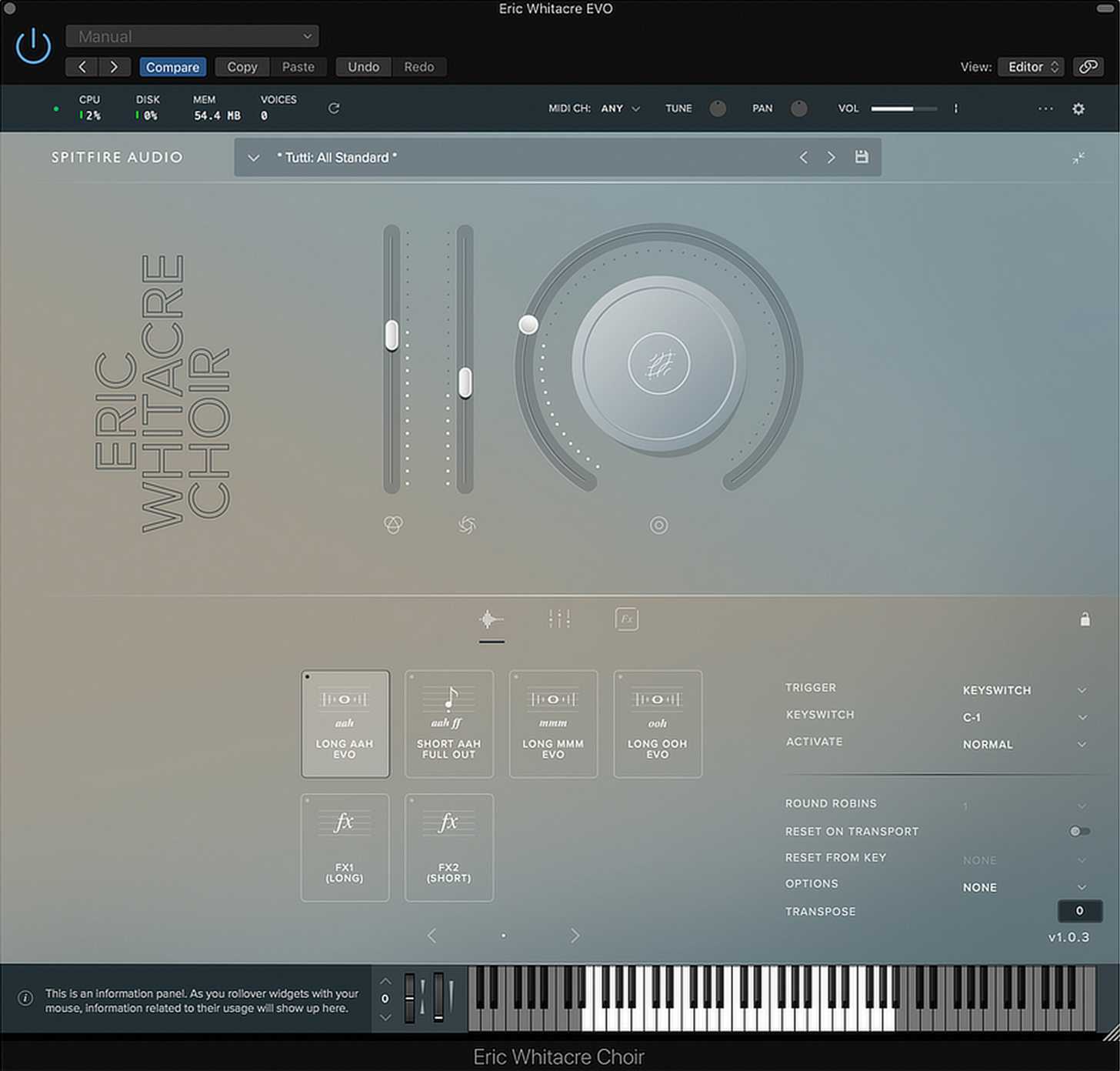 This library offers beautifully recorded choir samples conducted by Grammy Award winner Eric Whitacre. You can achieve the full spectrum of emotions with this collection suitable for any film genre or musical context. It includes dynamic swells, pitch clashes, aleatoric effects, various extended vocal techniques and even microtonal shifts.
As opposed to other products listed above, this is a standalone plugin that does not require Kontakt, and users of other Spitfire plugins will notice the similarities in GUI design. The controls allow for simple expression and shaping as well as more complex episodic, dynamic and rhythm gesturing.
The plugin is NKS ready, allowing it to integrate with Native Instruments Komplete Kontrol keyboards and software. Spitfire continues to put out fantastic content and raise the bar with every release, and the Eric Whitacre Choir is no exception!
Other Collections
The list above is not by any means exhaustive. I write about my personal experience with software but of course, as hard as I try, I haven't heard everything available. Below are some reputable developers that offer choir libraries in their catalogs that are certainly worth checking out.
---
Check out my other articles, reviews and interviews
Follow me on Twitter / Instagram / YouTube