8 Compressor Plugins That *Aren't* Modeled After Analog Hardware
Article Content
We recently published an article titled 7 Compressor Plugins Modeled After Analog Gear, in which we covered the most popular compressor emulation plugins. But why do we care which plugin best captures the sound of a 50-year-old compressor? Surely there must be new compressor plugins with innovative designs?
There are! And don't call me Shirley.
FabFilter Pro-C 2
FabFilter is a plugin manufacturer based in Amsterdam, who have been making mixing and mastering tools, creative effects and synthesizer plugins since 2002.
While many compressors on this list offer a unique feature works particularly well in specific situations, Pro-C 2 is well known for its versatility in any situation. It offers eight different program-dependent compression styles, each with their own unique sound and character:
Clean – An all-around, low distortion, feed-forward, program dependent style.
Classic – A vintage, feedback, very program-dependent style.
Opto – A relatively slow, very soft knee, more linear opto style.
Vocal – A very effective algorithm to bring vocals to the front of your mix. It works with automatic knee and ratio settings, so compressing your lead vocal is as easy as choosing the right threshold.
Mastering – Designed to be as transparent as possible, introducing as little harmonic distortion as possible, while still being able to catch those fast transients.
Bus – Especially great for bus processing, or for adding a pleasant glue to your drums, mixes or tracks.
Punch – Traditional, analog-like compression behavior, sounds good on anything!
Pumping – Deep and over-the-top pumping, great for drum processing or EDM.
Pro-C 2 also uses a surprisingly intelligent auto gain feature that accounts for attack and release time, as well as advanced sidechain controls with customizable EQ options. But the most useful feature might actually be the interface itself, which is downright gorgeous and visually displays compression in a whole new way.
Klanghelm DC8C 2
Klanghelm is a software company based in Berlin, Germany. The company's founder (and only employee), Tony Frenzel, is "not interested in emulating existing analog gear in the digital realm," and wants to "build stuff that's missing in the analog world."
Klanghelm has two free compressors available on their site — the MJUC jr, a variable-tube compressor, and the DC1A, a "character comp" that Frenzel describes as "the little brother of the compression monster DC8C 2."
The DC8C 2 is incredibly flexible and is described as clear, smooth, open and distinct. It offers clean, almost invisible opto or peak-style compression with no unwanted artifacts. But don't think of it as a one-trick pony — the DC8C 2 also offers two different saturation models for when you want to dirty things up a bit.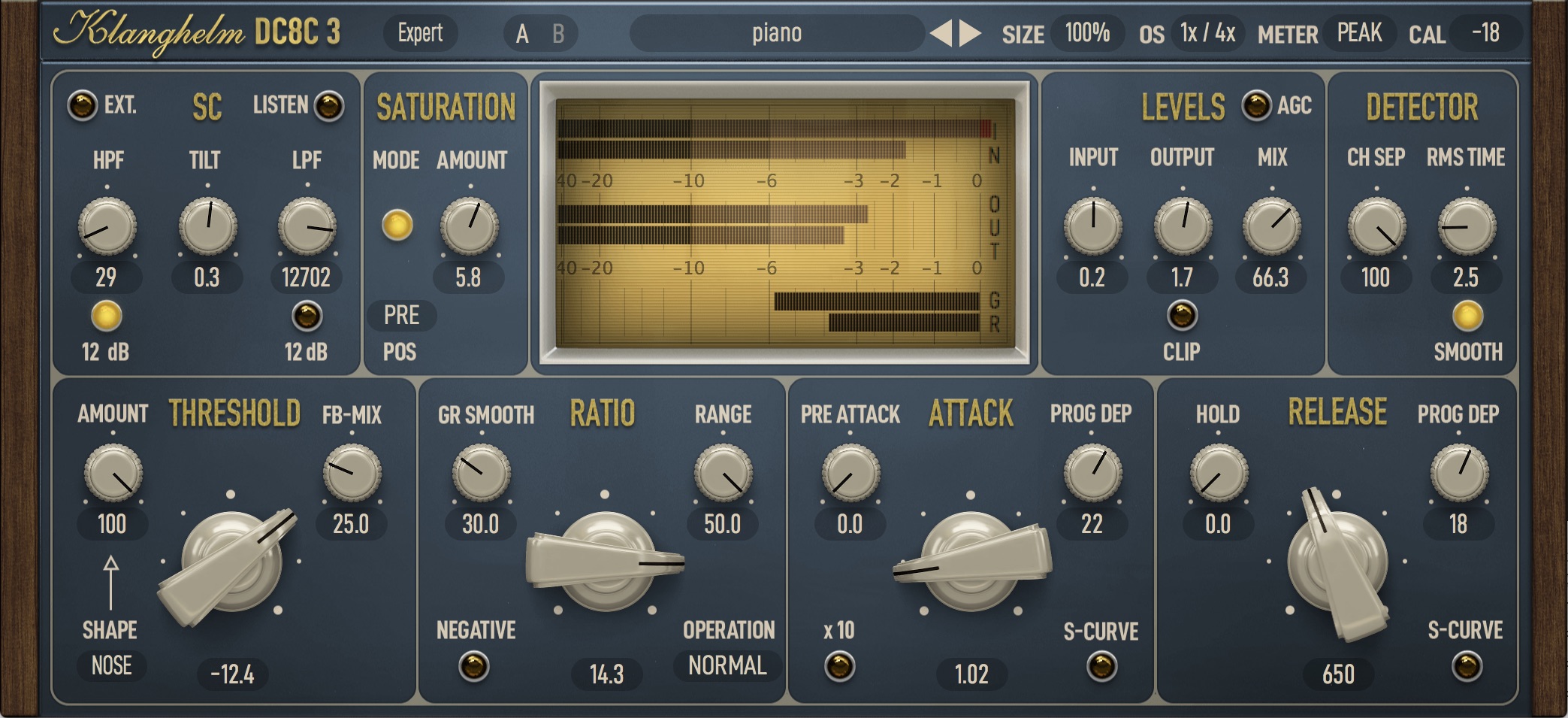 Kush Audio Novatron and UBK-1
Kush Audio is a boutique hardware and plugin manufacturer based out of LA. Their goal is to give artists and mix engineers more warmth and vibe in their music production. You may know The House of Kush from their wildly popular Clariphonic Mastering EQ, but they've also designed two truly innovative compressors.
The Kush Audio Novatron is "an analog-modeled compressor that borrows so many sonic properties from so many different classing hardware units that, ironically, it could only exist in the world of DSP."
It features separate transformer saturation controls on the input and output paths, as well as two optional tone circuits. The intelligent attack and release characteristics also "adjust the personality of the compressor" by cycling through analog compression circuits for FET, VCA, Variable-Mu (tube).
Kush Audio's UBK-1 is called a "movement and density compressor", and "embodies the philosophy that compression is not merely a form of dynamics control, it is the ultimate tool to create and shape the movement and groove of a sound."
It includes five unique compression curves, but no controls for attack, release or ratio. Instead, the UBK-1 includes controls for saturation, density and parallel processing.
Sonnox Oxford Dynamics V3
Sonnox got their start in the 1980s when they developed the first 'musical' sounding digital console — the legendary Oxford OXF-R3. A few years later when studios began using computers more regularly, Sonnox shifted their attention to developing the legendary Oxford EQ and Dynamics plugins.
Their latest Oxford Dynamics V3 plugin features everything you need to precisely sculpt the dynamics of your tracks, including an independent gate, expander, compressor, limiter, sidechain EQ and warmth functions. It's often described as musical-sounding, intuitive, transparent, and versatile.
Tokyo Dawn Labs TDR Kotelnikov
Tokyo Dawn Records (TDR) is actually a record label (although founder Marc Wallowy prefers the term "music unit") that started in Munich, Germany in 1997. After the label relaunched in 2009, TDR became known for their innovative sound stamp, which was thanks to their custom plugins.
One of their most popular plugins is the Kotelnikov compressor, which offers super-fast, natural sounding compression, and is best described as "stealthy." One of the most innovative features is the individual release controls for peak and RMS compression. When coupled with the advanced stereo linking options, these features make the Kotelnikov a perfect fit for the stereo bus.
The best part? Kotelnikov is totally FREE. There's also a deluxe "Gentleman's Edition" that includes the following features:
External sidechain input
Inertia timing mode
Continuously variable control over "low relax" slope
Left/Right sensitivity
Powerful frequency-dependent ratio function (FDR)
Yin/Yang modes (manipulates the compressor's own distortion behavior)
Equal loudness output gain trimming and bypass options
"Insane" quality mode
Waves Compressors
Waves are arguably one of the most popular plugin manufacturers in the world. Although they're probably best known for their analog emulation plugins, they've been releasing innovative custom designs since 1992. You simply can't have a conversation about proprietary compressor plugins without mentioning the Waves Renaissance Compressor, their vocal-centric Renaissance Vox, and the hybrid technology of H-Comp.
The Renaissance Compressor is often confused for an 1176 or LA-2A emulation due to the familiar sound from the Electro and Opto behavior controls, but it's actually a combination of the C1-Compressor/Gate and the famed L1 Ultramaximizer technologies. It combines a variable release mode with "character" and "behavior" controls to allow users to dial in the perfect type of compression.
For instance, "Opto-mode provides fast release times when the gain reduction is above 3dB, and progressively slower release times as gain reduction falls below 3dB. Electro-mode has the opposite characteristic. Electro-mode provides very fast release times when the gain reduction is less than 3dB and an overall slower behavior when gain reduction is above 3dB."
R Vox provides an easy-to-adjust, stripped down version to help users achieve great sound quickly. H-Comp, on the other hand, provides a more sophisticated approach and combines the modeled behavior of transformers, tubes, and transistors, together with the power and precision that only a plugin can provide.
What did we miss? Leave your favorite proprietary compressor plug-ins in the comments!