21 DIY Kit Sources for Pro Audio, Synth Modules & Instruments
Article Content
DIY electronics have been around since Heathkit was founded by the Heath Company back in 1947. They offered do-it-yourself kits for home audio equipment, televisions, radios and a plethora of other devices. Over the years the community has grown and morphed along with technology. In the PC world, it is not uncommon for people to build custom computers by assembling a collection of components based on their specific needs. There are DIY kits for just about anything. Here's a link to an article in Popular Science about "A DIY Submarine That Dives 30 Feet"  — or how about this working DIY nuclear Lab?
The obvious benefit of DIY projects is reduced cost. And this can be substantial depending on the product. Pro audio equipment is the perfect sector for DIY projects and the demand has been growing for some time. Available kits include guitar pedals, Eurorack and other format synth modules, 500 Series modules, and studio rack gear including preamps, compressors, eq's, power supplies, instruments and more. DIY Projects can be 50% to 85% cheaper than the fully assembled product.
Approaching a DIY project as sophisticated as building a microphone can be intimidating. You might be wondering if you need to be able to read or interpret a schematic or understand the difference between an inductor and a resistor or a diode. The answer is — it wouldn't hurt. But a well-designed and documented DIY kit should supply all the needed information for proper assembly without the need for in-depth knowledge of electronic circuit design.
One skill that is definitely needed, however, is the ability to solder in tight places. This takes a bit of practice but is not at all difficult with a good soldering iron and a few other helpful devices.
Tools & Supplies
Below is a list of tools and supplies you'll want to have on hand before embarking on your DIY experience. These are suggestions culled from Microphone-parts.com
Soldering Station
A quality Soldering Iron capable of 700 degrees is essential as is the right size and shape tips for the job at hand. I used to use a cheap Radio Shack iron that was always frustrating to me and never seemed to be consistently hot enough. Nor did it have a temperature indicator. I upgraded to the Hakko FX888D Soldering Station and have not looked back.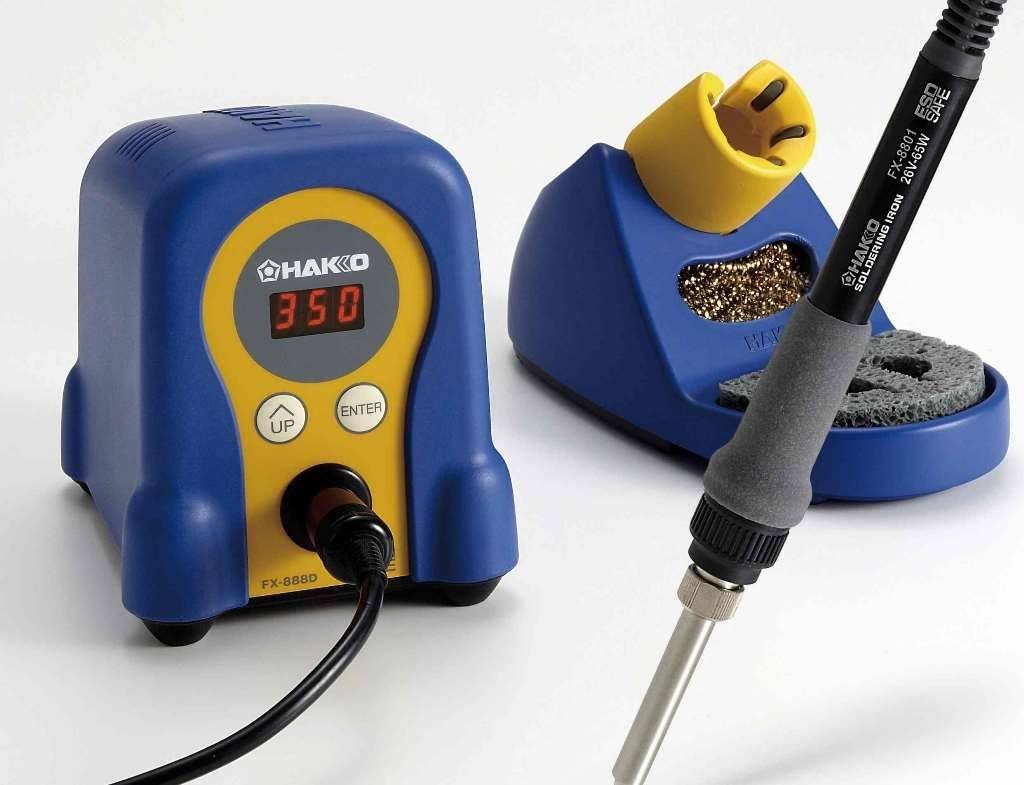 Alternate and Extra Tips
It would be a good idea to have a few tip choices on hand as well. The goal is to make contact with the surface and component lead simultaneously so they heat quickly and evenly.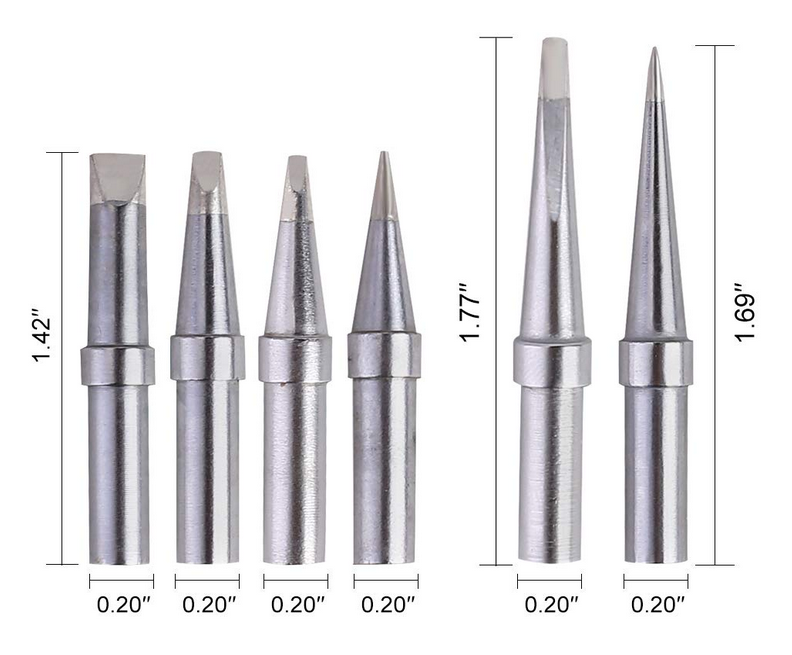 Solder
Solder should be rosin core and a 60/40 or 63/37 blend of Tin/Lead with a diameter of around (.031). There are many choices here including lead-free products, which seem to be somewhat frowned upon by experienced builders. Mic-Parts recommends Kester 44, but I ended up going with a 63/37 variation.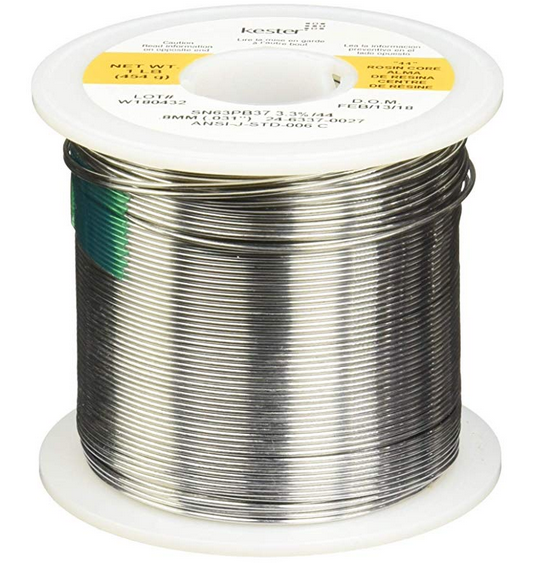 Desoldering Pump or Wick
Why would you need this? Because humans are fallible, a point I am reminded of almost daily. Soldering a component in the wrong place is inevitable and desoldering incorrectly can make a mess of things quickly. The pump uses a triggered suction to remove solder as it is melted. I haven't had much success with these devices so I prefer a Desoldering Wick or Braid. This is a braided copper strand that sucks up solder when placed over a PCB connected and heated. You may not think you'll need this, but I recommend you have one on hand just in case. It is not an item normally stocked at your local hardware store and having to order one will likely hold up your entire project.
Needle-Nose Pliers for bending component leads.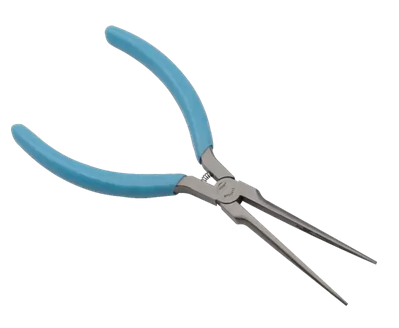 Cutters for cutting excess leads after soldering.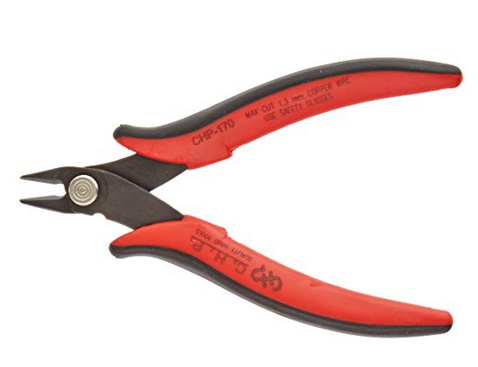 Fine Gauge Wire-Strippers for well, stripping fine gauge wire.

Small Screwdriver Set for assembling parts and adjusting component trimmers.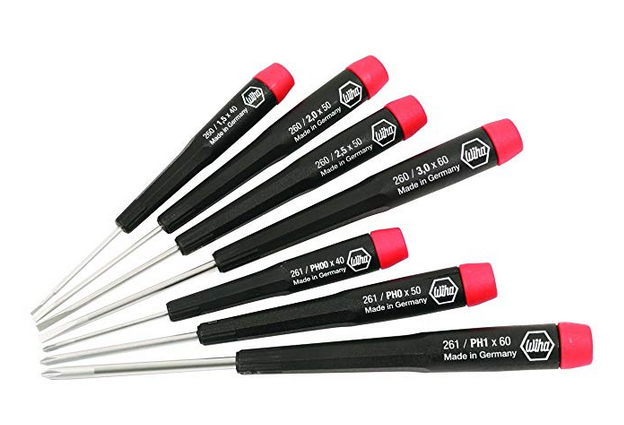 Jewelers Tweezers for handling especially small surface mount components.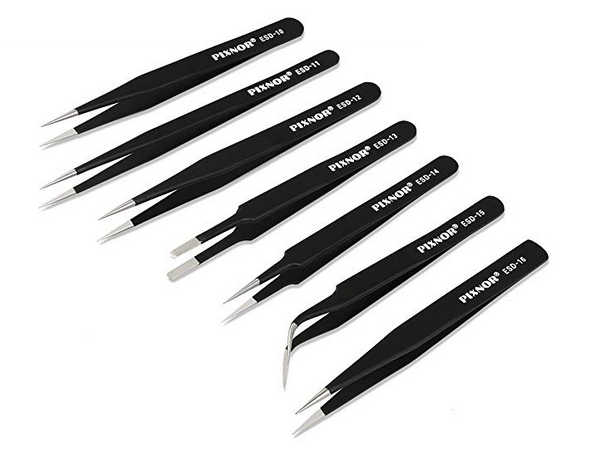 Helping Hand device with an attachable magnifying glass for holding circuit boards in place while soldering. This is absolutely essential for obvious reasons. The two-point device below may be sufficient for circuit board work, but the four-point device below that would be a much better option for holding the board and components as well since it is sometimes necessary to position the lead of a component in a very tight space. Remember, you only have two hands and both will be occupied with the solder and the iron.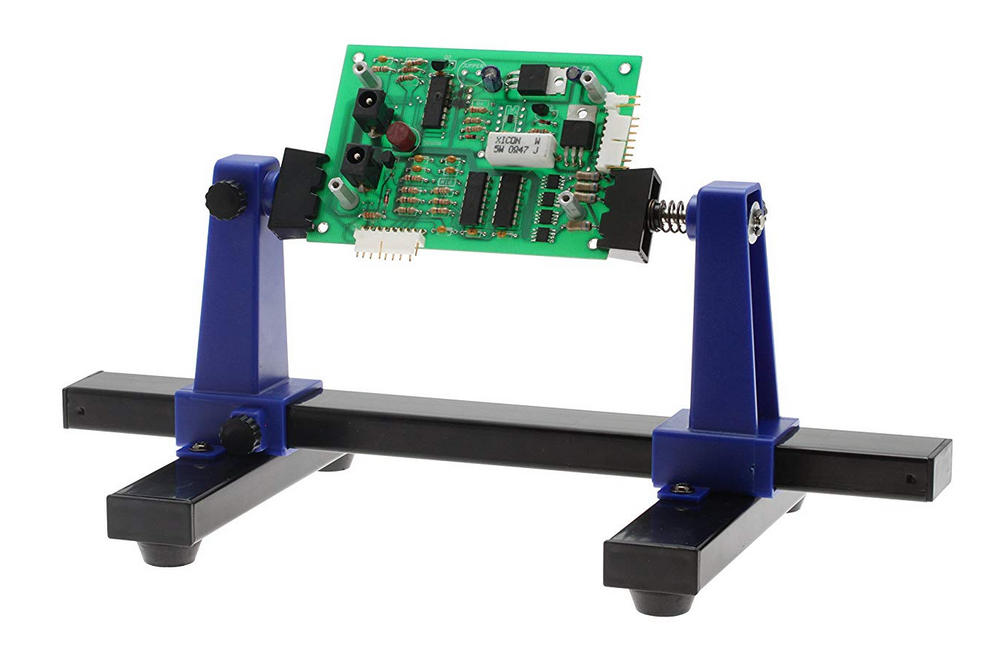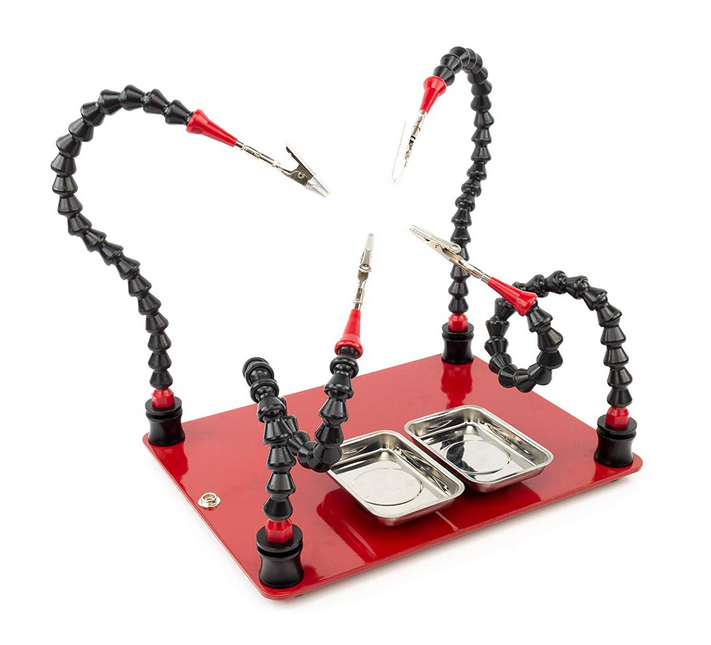 Multimeter
Some devices will require calibration with a multimeter. I have a cheap one that has worked fine. But it may be worth the investment for something better and more precise if you plan on doing a lot of projects that will require accurate measurements.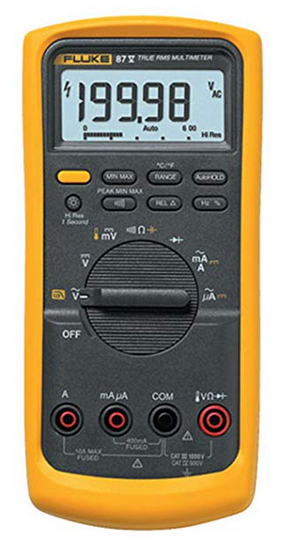 Jeweler's Loupe or Lighted Magnifying Glass
It can be nearly impossible to read the numbers or specs on a tiny component with the naked eye — so some sort of magnification is essential for this as well as soldering in tight places.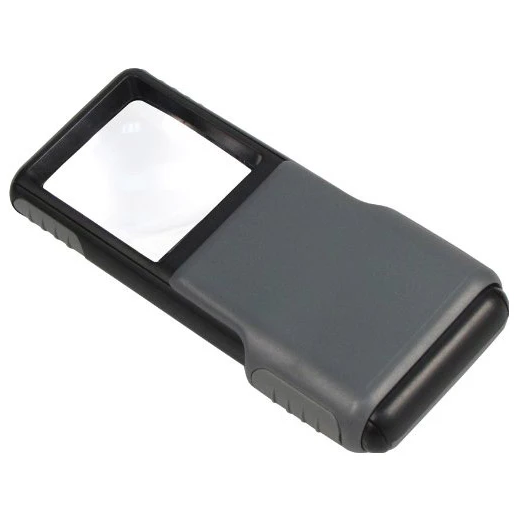 Flux Remover
99% Isopropyl Alcohol or dedicated PCB cleaner such as Techspray to remove flux residue from soldered connections.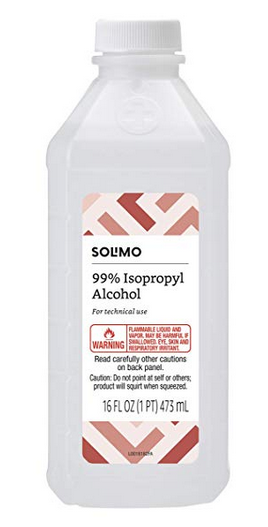 Kit Suppliers
I explored various companies currently offering DIY kits and below are the results of that research.
Microphone Kits
Microphone-Parts.com offers replacement capsules, circuit mod kits, accessories and full DIY microphone kits that come with all the parts needed to build a complete mic. The circuits and capsules are clones of well-known and respected microphones such as the Neumann U87, U47, TLM103 and KM84, AKG C414, Telefunken Elam 251 and the Schoeps CMC5.
You can also purchase any of these kits pre-assembled for an additional cost, around $200-250 — but where would be the fun in that. I decided to give the S3-87 Microphone Kit a try, which is a Neumann clone that offers a 3-way polar pattern switch and a -10dB pad switch. It also came with a shock mount, case and three interchangeable capacitors for variable high-frequency roll-off.
This was my first serious DIY attempt and I read somewhere this might not be a good project to start with if you have limited soldering experience. I still consider myself a novice (at pretty much everything) but I've never let my own incompetence stand in my way before, so I went for it.
The package arrived as promised with all components neatly packaged and organized by type and related value. I admit I was initially intimidated by the sheer number of parts but as I proceeded to follow the extremely clear instructions my confidence grew. The color images of the PCB and components helped enormously as I positioned and soldered each part.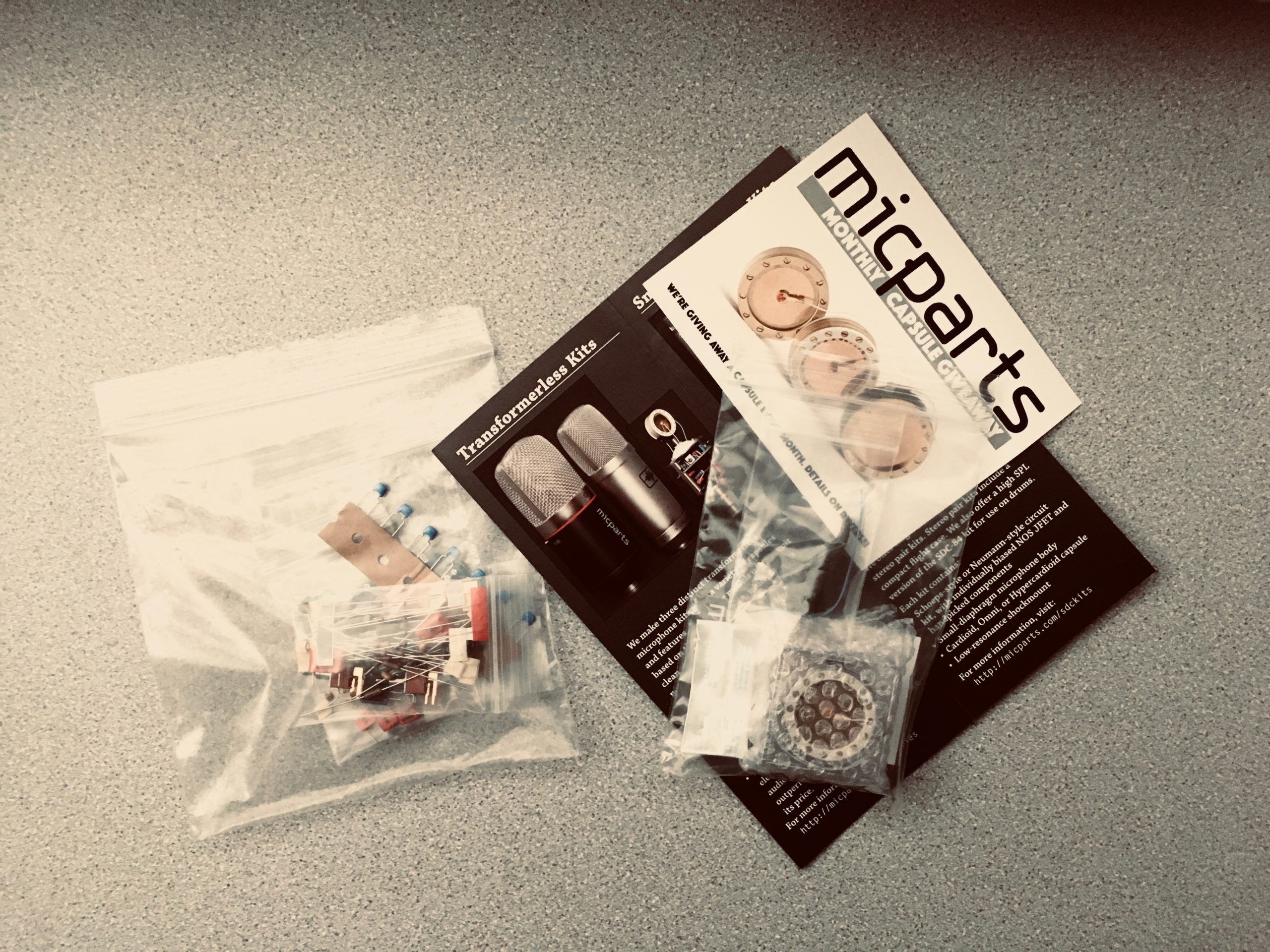 After soldering the 8th or 9th resistor perfectly I was beginning to get a bit over-confident. That's when I realized I had soldered something in the wrong place and was immediately brought back down to earth. Desoldering proved to be a nightmare and I ended up snapping the resistor in an effort to relocate it.
Luckily, Mic-Parts anticipates these sorts of mishaps and has a mechanism for ordering specific components for a nominal fee. I had a replacement in a few days. It's important to replace parts with the recommended tolerance, especially with high-fidelity and pro audio gear, so I thought it wise to get the replacement from the kit supplier.
I can't emphasize enough the value of the instructions and associated color images supplied by Mic-Parts. And their responsiveness to my part replacement need was the same day. Very impressive.
The end result was equally impressive. After roughly six hours (mostly due to my own ineptitude — an experienced DIYer probably could have done it in half the time) I now have a functioning U87 clone that sounds incredible and for a fraction of the price. I plan on doing an A/B comparison with the original in the upcoming months and will update this article when that happens.
For DIY microphones I highly recommend Microphone-Parts.com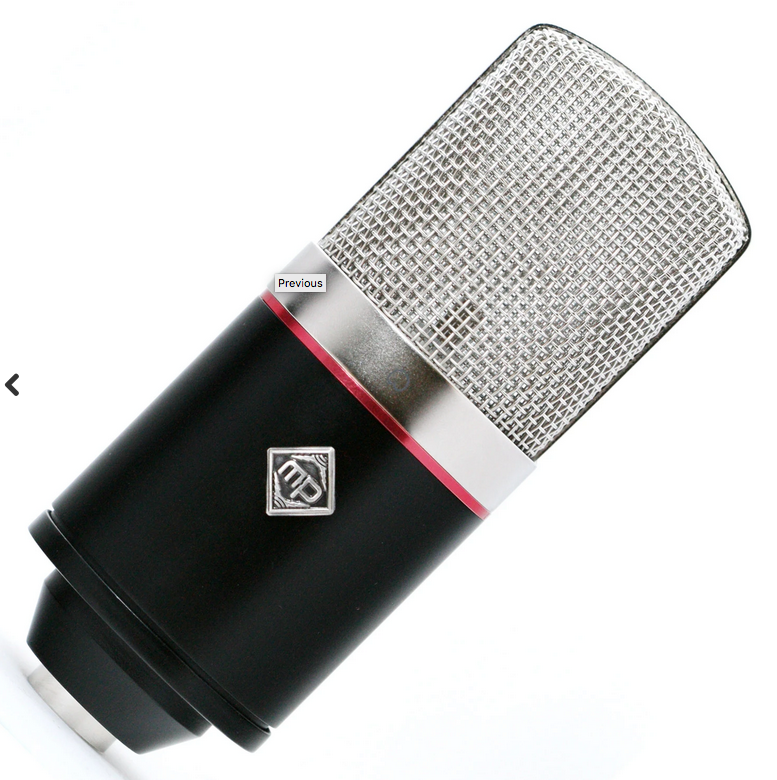 This company, as the name implies, focusses on ribbon microphones. Combination kits that include the preamp start at $425.
The founder of the company, Rick Wilkinson, states their "…mission is to offer a quality, USA-Made kit, at a price nearly the same as if someone were to order all the parts online and have them delivered."
Bumblebee sells DIY Ribbon microphones that seem like a very easy build based on the color assemble guide.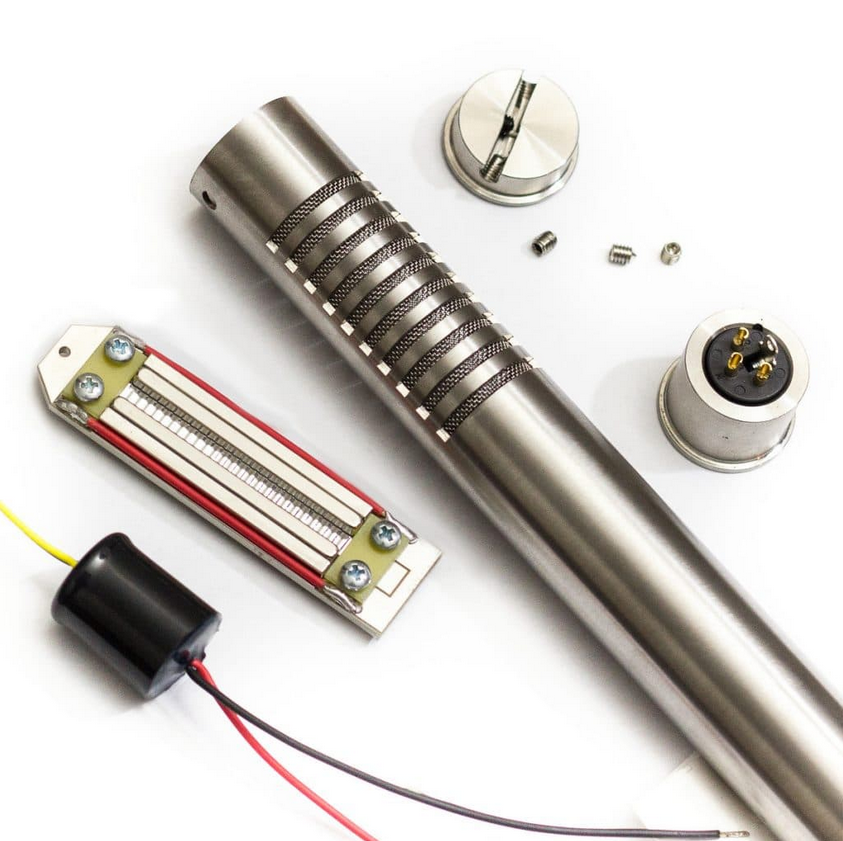 They also offer two DIY Direct boxes and a DIY Mic booster that makes a perfect companion for one of their ribbon mic kits.

Guitar Pedals
This company focuses on guitar effects pedals and offers 18 different kits. Kits can be viewed based on build difficulty levels ranging from one to five. They also offer a tube-driven spring reverb, reverb tanks and tube-based guitar amp kits.
The instructions seem quite clear with explicit detail and tips. They use color graphics and drawings for component identification and soldering point diagrams. They also include schematics and a troubleshooting document outlining testing procedures and voltage test points. Their website features demo videos and/or sound examples to help you choose a device.
The company was kind enough to send me The Persuader pedal kit as an example of what they offer. It uses an "FET preamp to push a cascaded triode vacuum tube (12AX7) into distortion" with a true bypass circuit.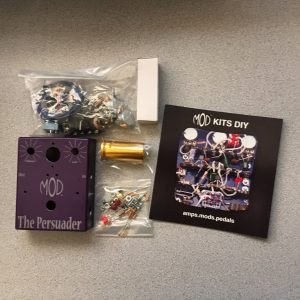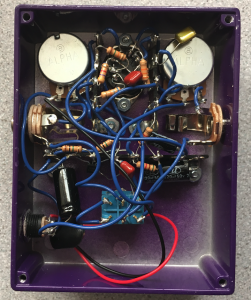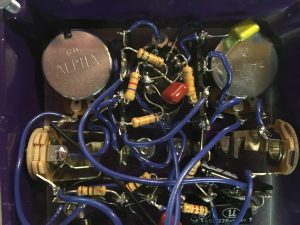 The build difficulty level is listed as four out of five (experienced). The assembly guide has greyscale graphic images as opposed to high-res color pics. While I initially thought these instructions might be harder to follow, I quickly got used to the style and the text was quite precise as it referred to a progressive series of diagrams detailing each connection.
The circuit didn't have PCBs like the mic build mentioned above. Instead, there were terminal strips where several connections might intersect. This presented a new challenge in terms of wrapping component leads and positioning things to be soldered.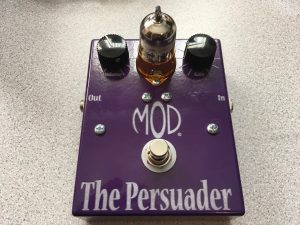 After a focussed three hours or so I had successfully completed the project. The challenges mostly involved positioning and soldering multiple components to the same connection point. Although PCB's usually have a lot of tightly-spaced connection points, there is usually just one component lead per hole to be soldered. It took a minute to get used to the terminal strips supplied by MOD Kits, but along the way, I developed some techniques that will make the next project go much quicker.
The Persuader turned out to be a welcome addition to my pedal array. It can produce effects ranging from a clean tube drive to a sweet crunchy sound. Really nice!
This company has almost 70 DIY pedal kits in a variety of categories. They come with basic, no-frills enclosures and circuits that emulate classics like the Ibanez Tube Screamer (TS-808) and the Electro-Harmonix Big Muff.
The prices range from $30 to $95 for pedal kits that include the enclosure.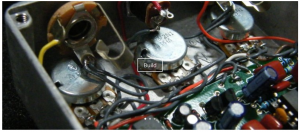 This site offers a stunning variety of pedal kits organized by effects type. You can find parts and kits to modify existing pedals as well. For example, the DS-1 Plexi Mod Pack allows you to modify a Boss DS-1 pedal. The site claims, "This mod will give your DS-1 tighter bass response and a crunchier tone reminiscent of a Marshall Plexi."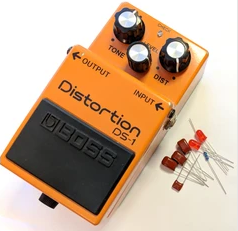 Synth Kit Distributors
Two popular sites that act mainly as distributors for kit manufacturers are synthCube and Modular Addict. These sites offer a huge repository of DIY synth modules from a slew of manufacturers as well as their own brands. Most products are also offered as fully assembled modules as well as kits. Or, you can purchase the PCB and panel alone and source the components yourself. In most cases, the full kit seems worth the price.
If you've always wanted to get into the Eurorack world but were put off by the investment, DIY could be the way to go. These kits cost a fraction of what typical modules go for and come with the added satisfaction of building it yourself.
DIY modules are also available in formats other than Eurorack such as 4U, Frac rack and others. Since there are so many manufacturers represented on the site I won't comment on the adequacy of the documentation since each will be different. You will have to determine which modules you'll need and make your own comparisons. If you are new to modular synthesis you may find it useful to check out my article, "The What, Why and How of Modular Synthesis" for some background information before getting started.
Synth Kits Direct
Some manufacturers whose kits are available on the distributor sites listed above also sell direct. Electrosmith is dedicated to DIY synth modules and is about to release a new product line that was introduced at NAMM. I have asked Product Specialist, Michael Corell, to send me a brief description and some images of the new line called Daisey and will update this article after the release date.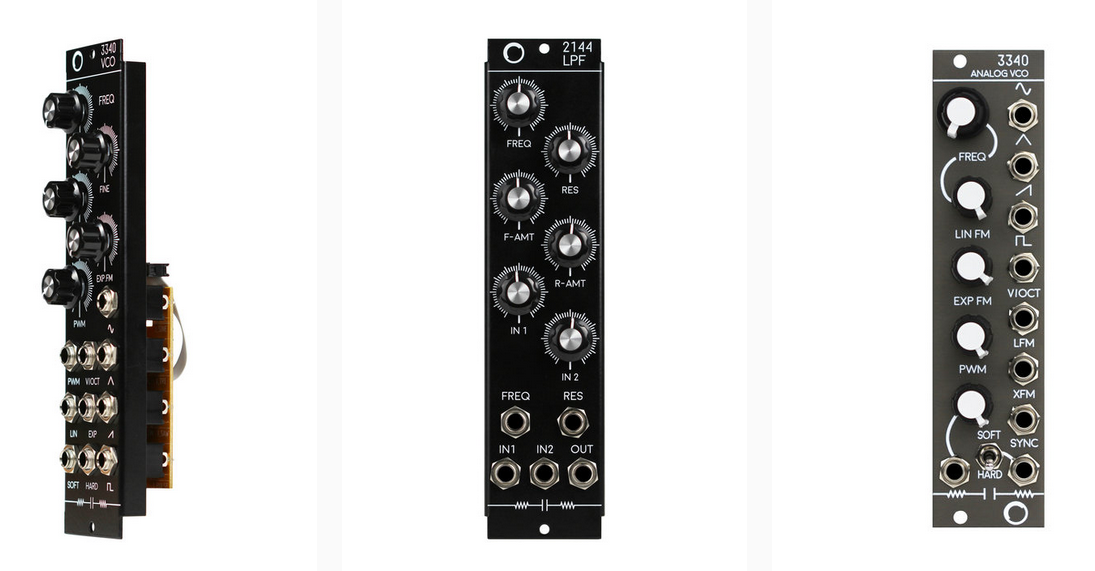 DinoPark DIY MakeKits are described as "Autonomous, modular Modelling Synthesizers". These are essentially hardware sound source modules that come loaded with emulations of three iconic synths: Moog Minimoog, ARP Odyssey, and Sequential Circuits Prophet. The circuit boards come pre-built and the user needs to assemble the housing, and install the connection jacks and control knobs. They also offer an optional 8 Encoder panel for immediate access to the "top eight" parameters of a given patch. They describe their DSP as emulating "…the very DNA of the original analog circuitry.  Because it features a super high performance dedicated DSP processor to do that math, DinoPark can emulate a variety of synthesizers and synthesis forms in the most minute detail."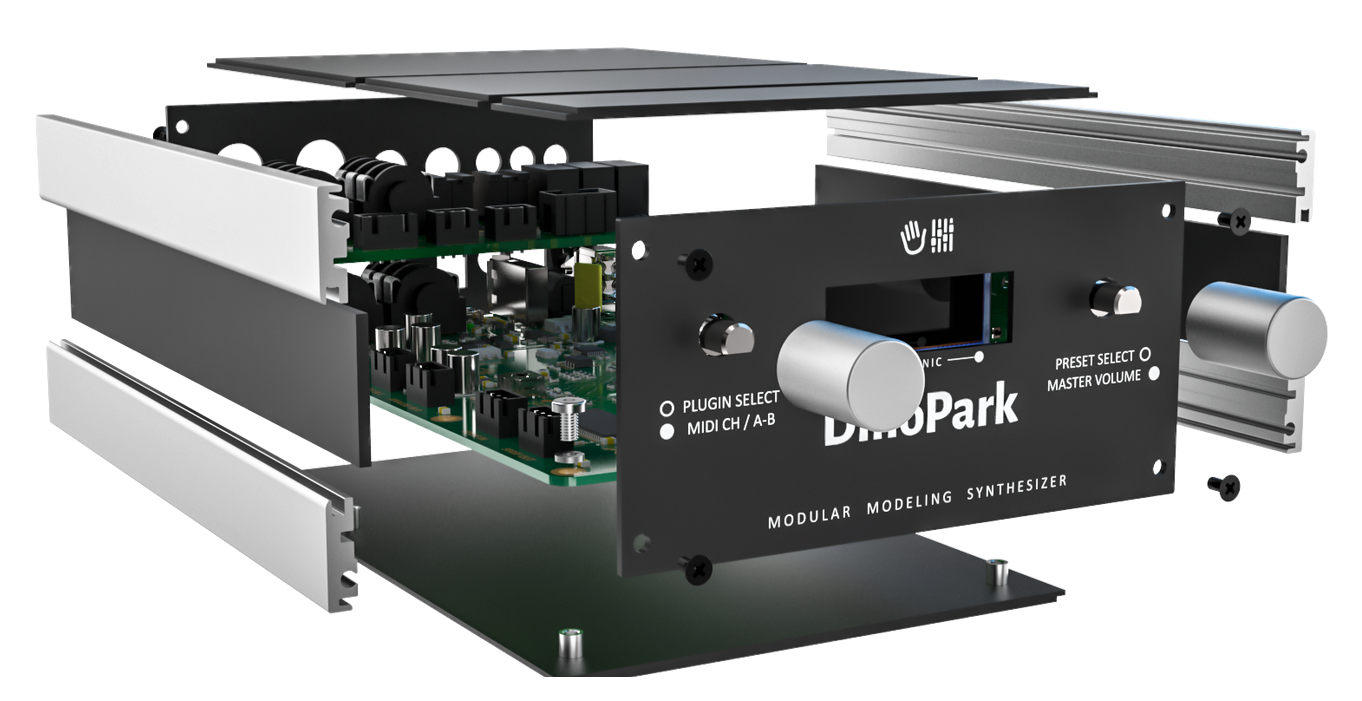 These are sleek and beefy looking devices that can turn a MIDI controller into a full-blown hardware synth. Or, you can integrate it into your DAW with their plugin editors available for PC and MAC.
MakeProAudio (MPA) also offers an array of customizable controllers and connection panels they call "tiles" to build your own boxes based on your needs. All that is needed is a screwdriver and imagination.
Pro Audio Kits
DIY Recording Equipment offers a variety of kits including two ribbon microphone kits, some 500 Series modules (compressor, EQ, Mic Pre-Amp) but their flagship line is something called the Colour Format that works within the context of the 500 Series racks. From the company website:
"Colour is a new format for analog audio gear designed for and by the DIY community. We took our favorite sounding analog circuits and put them on modules that are small, affordable, and swappable."
You can purchase "Colour kits", which can be built and inserted into their 500 Series modules which can hold up to three different circuits.
For anyone currently using 500 Series modules, this paradigm seems to be a great way to expand your processing capabilities at a fraction of the cost associated with pre-built modules from traditional sources.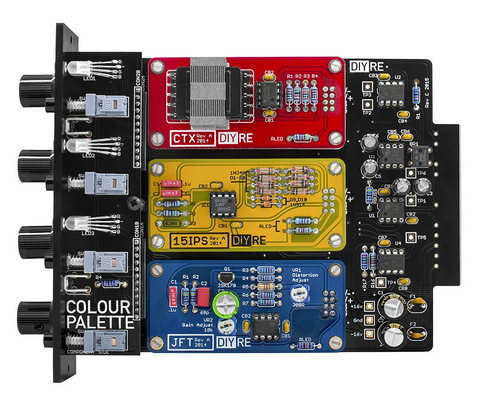 The company also offers some basic devices for DIY beginners such as a DI box, a passive re-amp kit and a passive line attenuator.
Hairball Audio sells 500 Series DIY modules and full rack gear including mic preamps and compressors as well as circuits pre-built or as DIY kits like op-amps, and a variety of parts.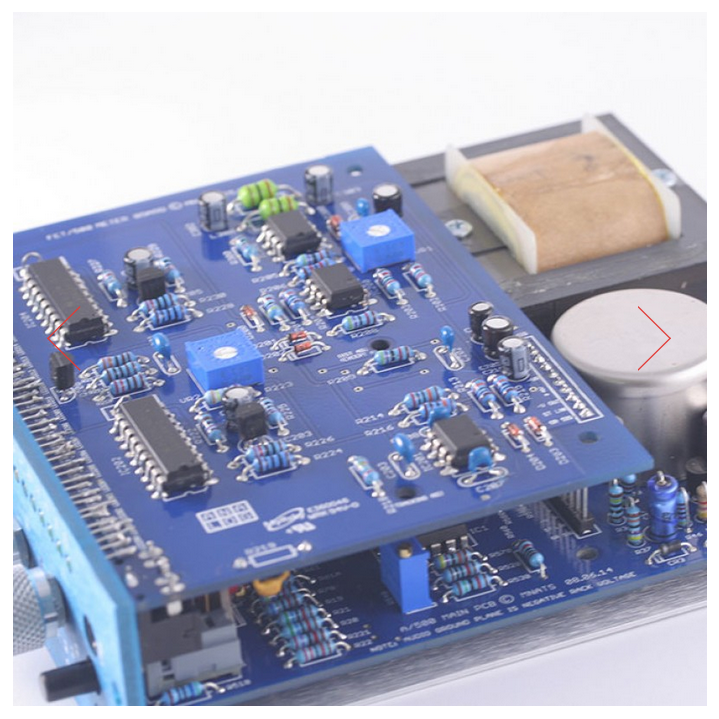 Their website offers many color images, tips, and testing procedures. They also sell fully assembled kits and the price differential underscores the cost savings of DIY.
As an example:
Lola Mic Pre-Amp Kit – $295
Lola Mic Pre-Amp Kit Assembled – $725
Classic Audio carries DIY 500 Series racks and modules, assembled modules and a slew of electronic components. They claim their DIY racks are 58% less expensive than a fully assembled rack, ranging from $46 to $95 per slot. They describe their VP312-VPR kit as "…essentially an exact recreation of the legendary API 312 preamp circuit that has become the benchmark for the API sound."
In fact, all of their modules emulate API gear in terms of look and circuitry. But they've made sure to include a non-affiliation disclosure on their site to prevent any confusion.
This Denmark-based company offers DIY rack mount gear for studio applications including high-end preamps, compressors and EQ's.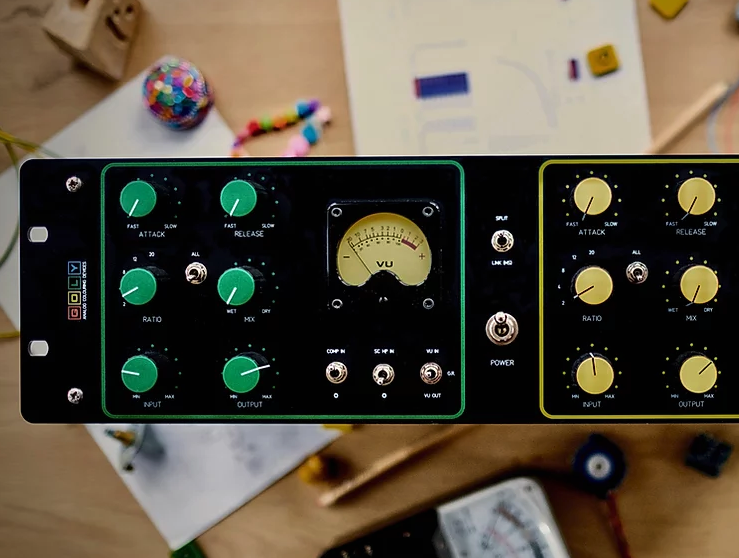 Instruction guides include very clear color photos but not much descriptive language. But as long as components and the PCB are readable that should not be an issue. Basic knowledge of component types and of course good soldering skills are definitely required. The kits come with everything needed except some extra wire and heat shrink tubing for insulating connections.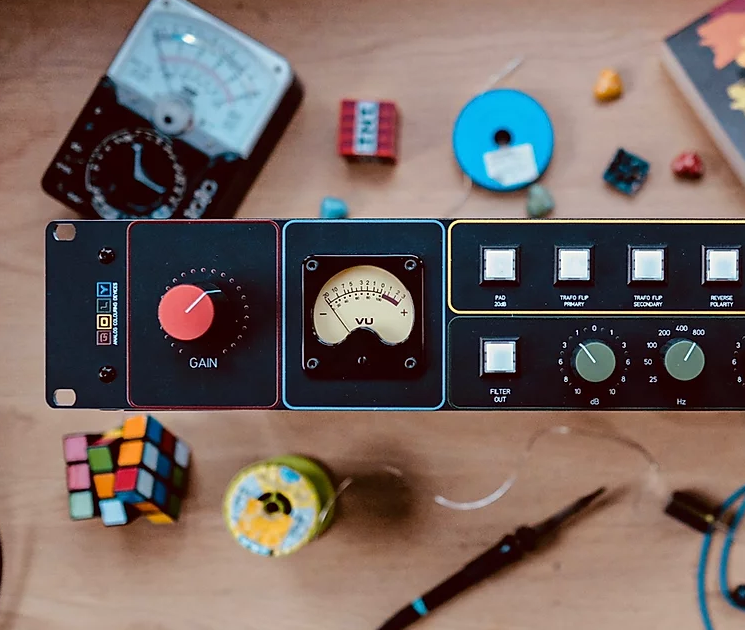 FiveFish Audio offers a line of DIY 500 Series pre-amp modules and a 1U rack case for installing two mic pres and a power supply. The build guides are super clear with high-res photos and step-by-step instructions.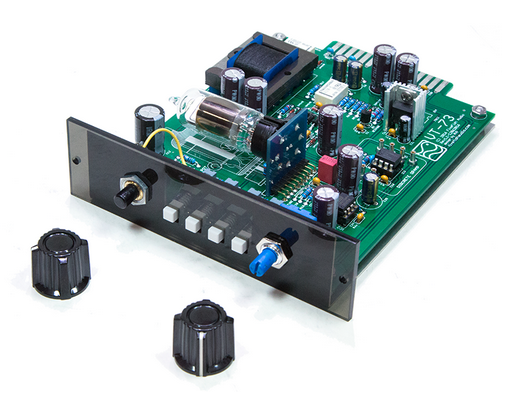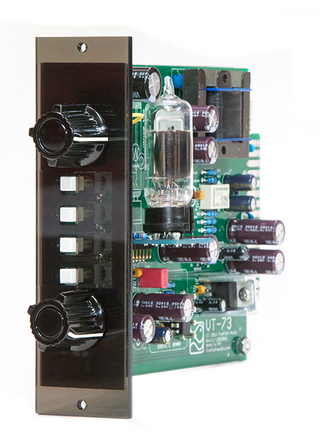 This company sells a variety of DIY kits including preamps, a DI circuit, and enclosures for their modules. Several of their project kits are recommended for experienced builders since they use surface-mounted components which can be difficult to solder for beginners. But the assembly guides do have color images and the products seem well-documented.

Sound Skulptor offers a wide array of 500 Series modules including compressors, EQ's, preamps and a tape simulator effect. They also sell single slot enclosures for about $150. The tube pre-amp MP566 seems particularly attractive. You could pick it up along with the enclosure and power supply for under $500 as a DIY kit. The assembly guide seems clear, explicit and well-conceived.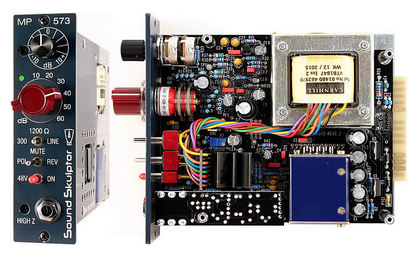 This company offers kits for 500 series modules that include PCB's, panels, potentiometers, switches and hardware. You will need to source parts kits from other companies such as Hairball Audio and Mouser.
The company provides a BOM (bill of materials) which is a detailed parts list with an associated distributor and alternative parts for each of their projects. Parts packages have been prepared at Mouser and Hairball Audio to make life somewhat easier. To determine the total cost for a project you'll have to do a little research. For example, the cost for building the U76A 500 Series kit which is based on the UA 1176 compressor, you will need to purchase:
U76A DIY Raw Kit (Don Classics) – $167
Don Classics U76A Parts Kit (Hairball Audio) – $175
U76A_BOM_rev1-02 Parts List (Mouser Electronics) – $201
Total = $543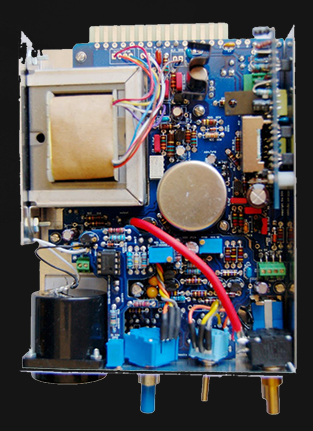 This company sells a variety of parts and components and is a distributor of MODKIT DIY Pedals mentioned above. They also offer guitar hardware, pickups, tubes, reverb tanks, books, schematics and a host of other items.
DIY Instruments
In addition to parts and assorted accessories, this company sells complete DIY kits for building your own guitar or bass. They offer an astounding array of kits including hollow body electrics and resonator guitars, double-neck guitars, traditional Fender and Gibson style solid bodies, several bass body-styles, 5-string basses and left-handed models. Since I've always wanted one, I decided to try my hand at building a 5-String Bass with Fender Jazz-style body.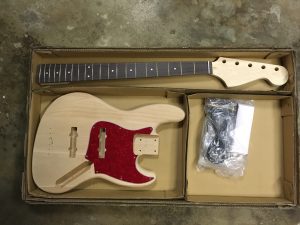 The kit arrived promptly packaged in a flat cardboard box with everything needed for the build. The body and bolt-on neck come unfinished so the customer would need to purchase the materials for finishing if desired. After about four hours (including a trip to the hardware store to replace and a couple of small screws I had stripped), I had a playable 5-string bass that the company sells for $170.
There were just a few ground wires to solder and some of the frets needed filing. I was in a hurry to finish it for this article so I didn't bother doing any custom surface finishing, but I may go back and do that now that I'm relatively satisfied with the result. The body is alder and the neck is maple with an engineered rosewood that is to be expected at this price point. The guide holes for the tiny screws to fasten the machine heads on the back of the headstock could have been a bit bigger — I ended up having to drill those out a bit after I stripped a couple of screws. The instrument will need an initial neck adjustment (truss rod is preinstalled), some filing on the nut to lower the strings, and the bridge needs to be set up for proper intonation.
I suggest finding a few YouTube videos that explain the process and giving it a try yourself as opposed to using a luthier. I'm not sure the price of the kit warrants the services of a guitar tech and it's a good opportunity to learn how to set-up a guitar or bass if you've never done it before.
I should say that I am a guitarist and would not pretend to call myself a bass player. I don't think a seasoned bass player would rely on a DIY bass as their main axe. But if you know enough to lay down some simple lines, you might like using some actual bass as opposed to synth or sampled bass as a way to add some grit to your productions. I know I'll be doing just that. Or maybe you just always wanted an unfinished guitar body to customize from scratch. Either way, this was really a fast and fun project.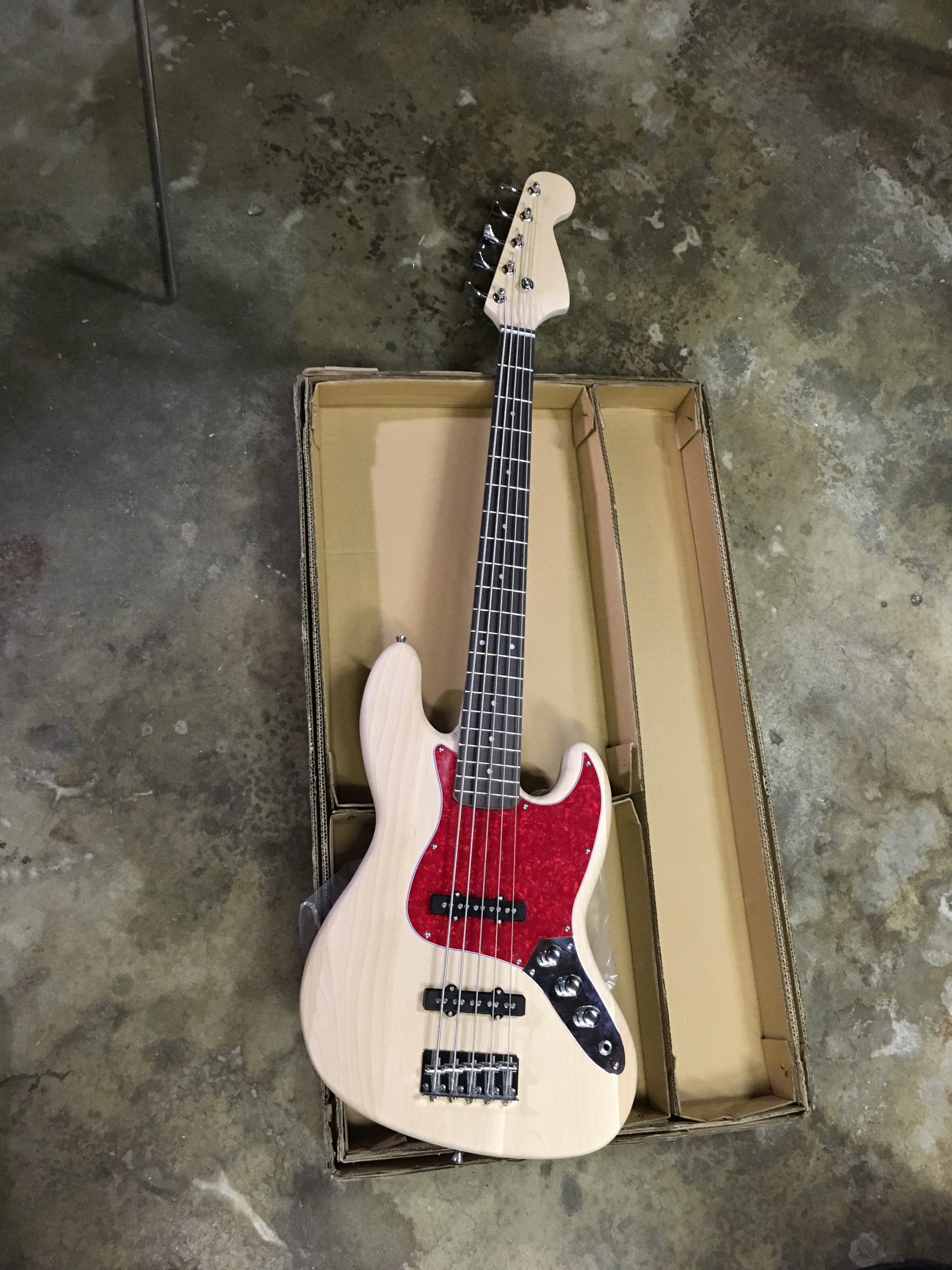 This company offers a slew of guitar and bass kits as well as an exhaustive collection of guitar parts and original manufacture replacement components. You can also build a unique kit by compiling various body styles, necks, finishes and hardware.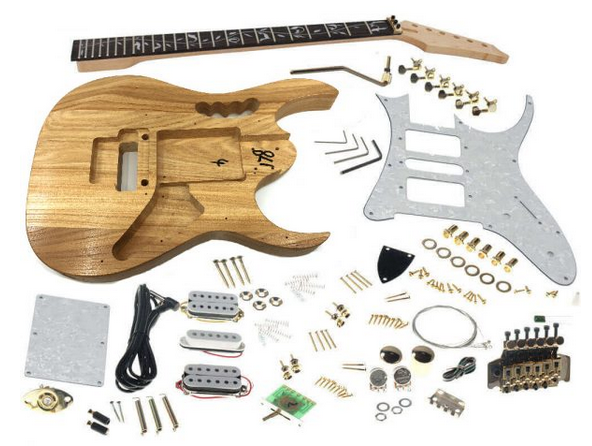 Additional tools
If you plan on tackling any of the DIY instrument builds like a guitar or bass you will need additional tools not mentioned in the beginning 0f this article such as:
Power Drill
Various Screwdriver Bits
Various Files
Feeler gauge
Tuner
Conclusions
As with any round-up, there are always more companies that could be included and this list is by no means complete. But hopefully, it will give the reader a better understanding of what types of DIY stuff is out there and where to start.
DIY audio is not for everyone and if you've never done any soldering you would be wise to start with something relatively simple and inexpensive. You need to make some initial investment into the proper tools (quality soldering iron, helping hands, etc.) and supplies. I suggest getting the best tools you can afford if you have any intentions of doing multiple projects.
It also helps to know a professional in the audio electronics business to help you through any problematic situations that may arise. I'll give a grateful shout-out here to my friend Louis Lopez at Toltec Sound who was forced to endure my cursing while responding with the patience of some sort of electronics life coach. He offered encouragement tinged with just the right amount of concealed patronization.
Aside from the obvious cost savings, there is definitely a feeling of satisfaction that comes with building your own devices. And it is nothing less than magical that assembling a handful of tiny innocuous parts can result in such an astounding array of sonic results.
Happy building!
---
Check out my other articles, reviews and interviews
Follow me on Twitter / Instagram / YouTube