How to Attract New Clients to Your Studio
Article Content
Have you ever felt that if you could just get your talent in front of enough people, you could really create a sustainable income doing what you love?
Well, I might be able to help.
Last year I implemented a marketing strategy that skyrocketed my engagement with artists and bands for my mixing services.
By following some pretty simple instructions outlined below, my hope is to help you find similar success for your own business.
Music Websites
Think about all of the websites designed to help artists and bands get their music out and gain exposure: Reverbnation, Noisetrade, Bandcamp, etc.
All of these have something in common: they link to social media extremely well and filled with bands and artists.
Networking
How often have you been given the advice to "get out to more shows or concerts" or to "walk up to people and start a conversation."
I don't disagree with any of those things, but gas prices are high and I really can't go to shows every week (I have a wife and 6 kids), let alone every day.
But, what I may do is spend a few minutes each day scrolling through say, Reverbnation, to find talented bands and artists that I could help take to the next level in their music career by offering my services.
Browse and Audition
Say you pull open Reverbnation:
Click browse at the top.
Fill out the info you'd like to search for. I'd recommend at least picking a country and a genre. Once you begin typing it should offer some options.
Pick a genre and sort by Popular or Relevance (keep in mind that the more popular the artist, the better the chance of them having an understanding of how making a record works).
Hit search!
Multiple Tabs
If you're on mac, hold Command (cmd) on your keyboard and click the artist names in the list to open them in their own tab. PC users hold Control (ctrl).
On the first artist's page, have a listen to their music! Dig their sound? The songs? Are they talented? Good!
If you like them and think you can help (produce/record/mix/master/whatever), look for their social media links. I had the best results reaching out on Facebook.
Connect on Facebook
Click their Facebook icon and it should open their Facebook page in a new window. Show some support by liking their page!
Then, message them with something along these lines: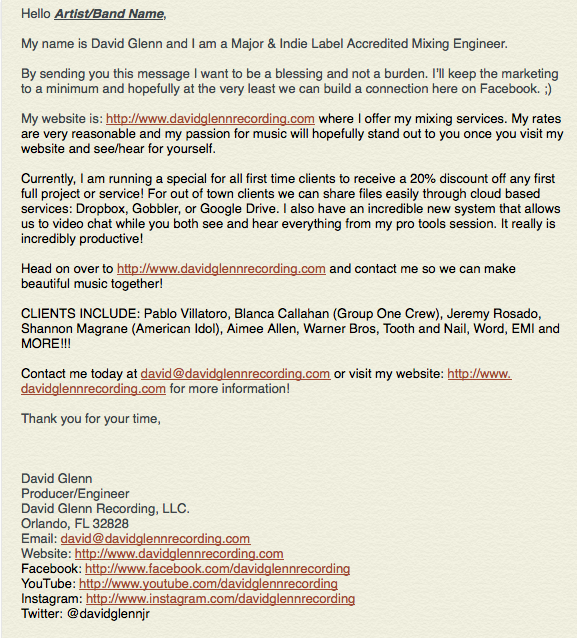 Feel free to take my general theme and use it for yourself. It will come across as more genuine if you use your own words.
Share Your Work
Don't forget to attach an MP3 of your latest and greatest work! Keep it short.
I took a handful of my latest mixes and faded them in and out to create a 45 second sample reel.
Attach this to your Facebook message and you'll give yourself a much better chance for success.
Follow Up
If you only send this one message you will see some responses. But nothing like the responses you'll see from a follow up message.
Give it a week or so and for anyone who has yet to respond to your initial message, put together a follow up message like this:

And that's it!
Just be you and make it about them and their music as much as possible!
Do you have any extra insight to this? Any questions? Share them in the comments!