10 Great Abbey Road-Inspired Plugins (+ Hardware)
Article Content
Abbey Road Studios, located in London, England, has a rich history as one of the world's most famous recording studios. The studio was originally opened in November of 1931 as EMI Studios, and rapidly became an in-demand destination for recording artists and producers. Over the years, the studio has been an integral part of the records made by some of the biggest names in popular music — from The Beatles and Pink Floyd to Kate Bush and Adele — while also serving as the facility where Oscar-winning film scores are recorded.
It's now been over 90 years since the studio opened, and Abbey Road is still a vital part of the music industry. It's widely regarded as one of the finest studios in the world. The studio has undergone numerous renovations and updates, but has retained its original character and charm. It is a testament to the studio's enduring legacy that so many artists continue to travel across oceans to make their records at Abbey Road, and it remains a beacon of excellence in the music industry.
The studio has evolved with the times, finding several ways to keep the Abbey Road name relevant in an ever-changing music industry. One such example is the studio's online mastering service, with which you can choose one of the staff engineers, interact with the engineer via the website's messaging service and receive a completed master within five business days. At the time of writing, the service costs $130, which is impressive given the talent of the engineers, quality of equipment used to generate the masters and of course the studio's reputation.
Additionally, Abbey Road has collaborated with makers of music production software, lending its name to a variety of plugins that emulate the equipment and musical instruments found within the studio.
Here's a rundown of the numerous plugins and hardware that are inspired by Abbey Road, including some of my lesser-known favorites.
Collaborations With Spitfire Audio
It makes sense that England's Spitfire Audio, who are responsible for some of the very finest sampled virtual instruments ever created, would partner with Abbey Road. Their collaboration has resulted in numerous software instruments of impeccable sound quality and functionality.
Film scores recorded in Abbey Road Studio One include Lord of the Rings, Harry Potter and many more. Thanks to Spitfire, who meticulously captured a 90-piece orchestra in this legendary space, composers can create scores that highlight the studio's pristine acoustics, celebrated sound engineers and diverse microphone collection. Strings, brass, woodwinds and percussion were all sampled with the utmost degree of care and integrated into a standalone interface.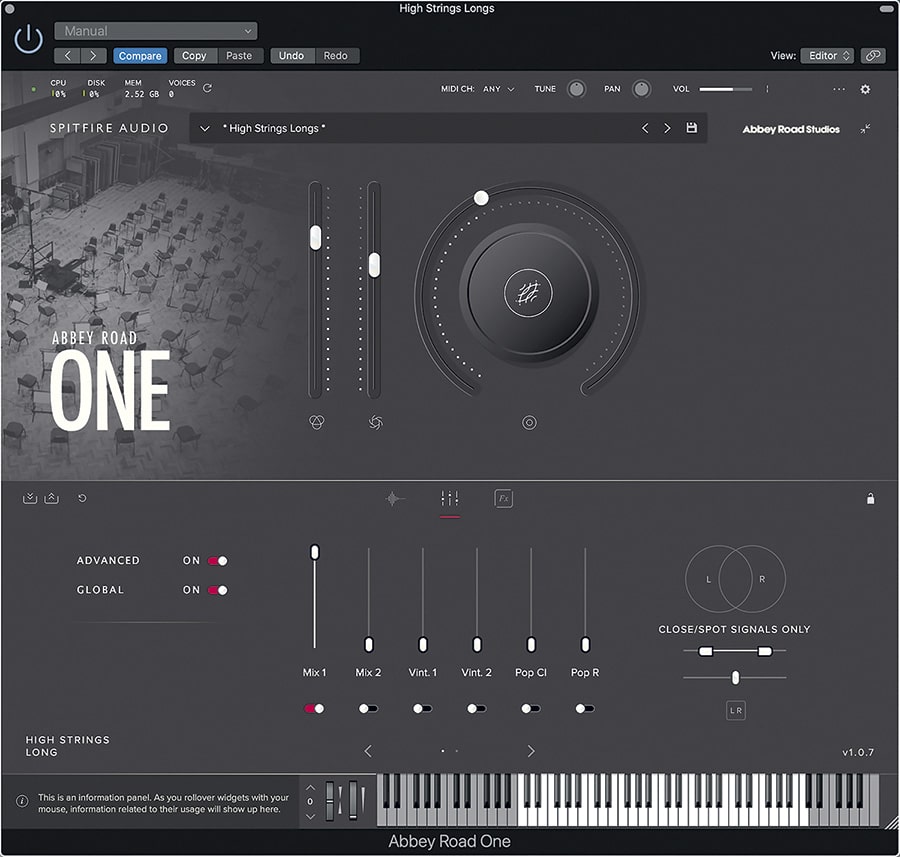 Abbey Road Two shifts towards individual players, recording five of the world's premiere string players. Capturing violins, viola, cello and bass with a combination of vintage and modern equipment, Abbey Road Two sounds both intimate and powerful, allowing composers to harness the unique sonic textures of this sought after recording space.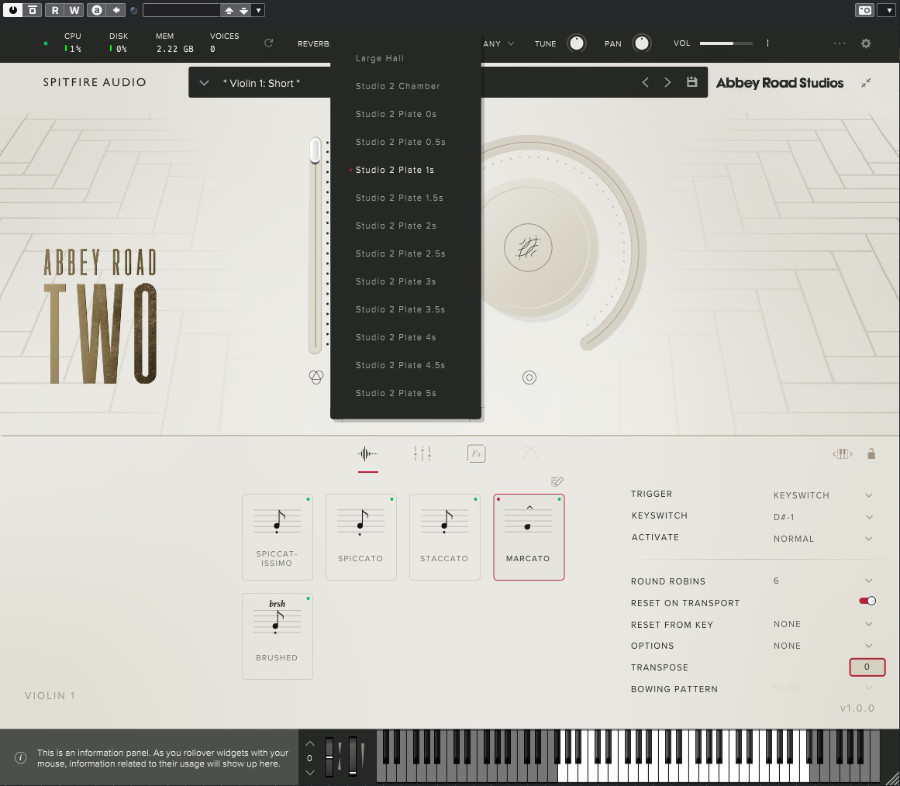 The studio's Challen piano, heard on several influential 60s pop records by The Zombies, Pink Floyd and The Beatles, was expertly captured by Spitfire in its home, Abbey Road Studio Two. The original instrument features brass tipped felt strips that can be placed between the hammers and strings, emulating the clear and percussive sound of a tack piano.
Spitfire sampled the instrument with and without the felt strips, so DAW-based composers can create music using the rich, warm tone of the unmodified Challen or the famously bright characteristics of the instrument, which was lovingly referred to as the "Jangle Box."
Also captured in Studio Two was the Steinway Vertigrand, nicknamed the "Mrs. Mills Piano." This piano found its way onto Beatles classics Penny Lane and With A Little Help From My Friends. The instrument features lacquered hammers, giving the piano a distinctively bright, metallic tone.
The piano was captured using three distinct setups — the close mics are a pair of German valve microphones that provide a full, rich stereo spread. The room setting uses a spaced pair of omnidirectional microphones that highlight Studio Two's warm acoustics. The vintage setting was created using a rare AKG D19 microphone and an all-valve tape machine.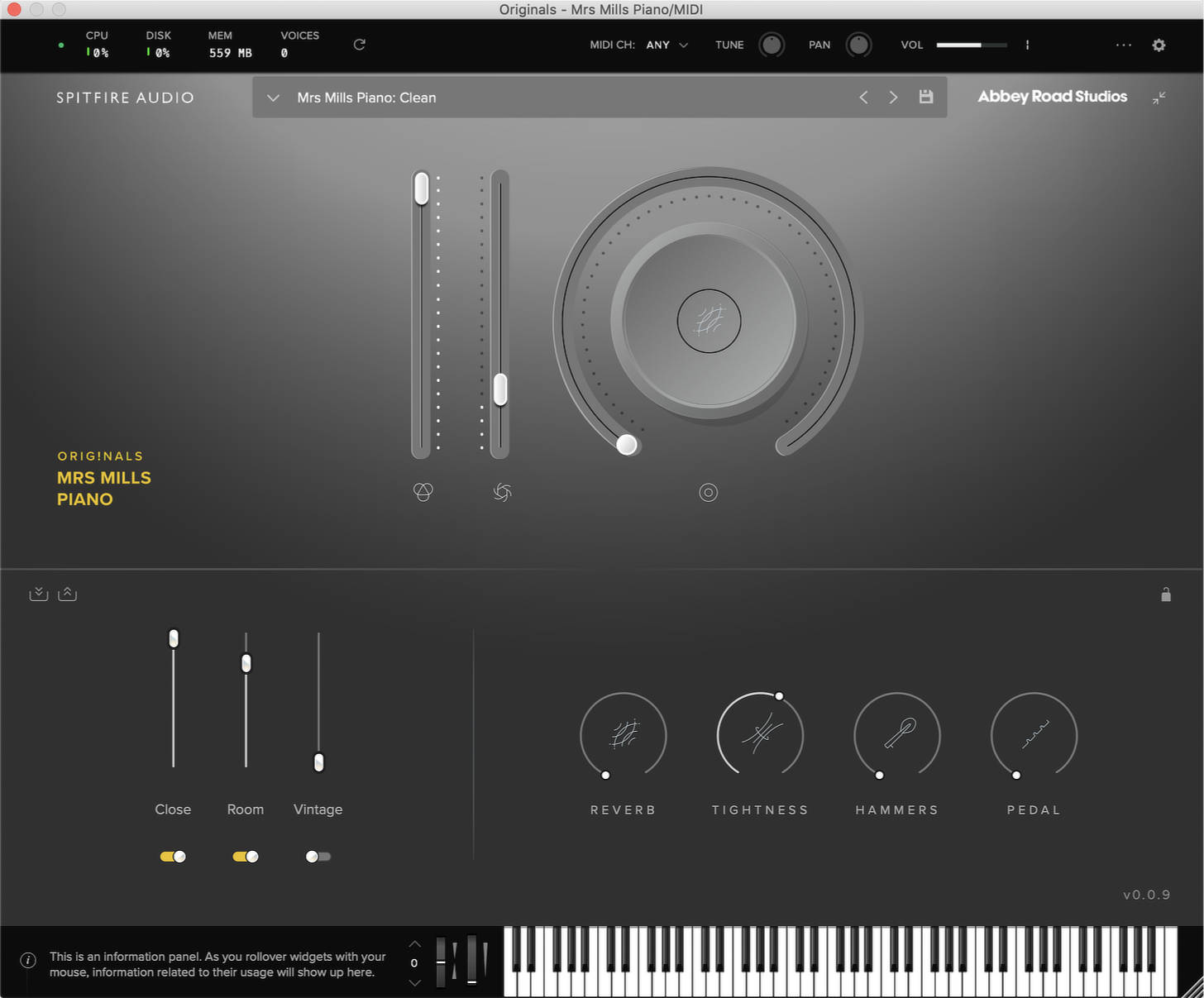 Collaborations With Other Companies
If you're looking to capture the essence of Abbey Road studios and you've got the budget to afford the unmistakable tone, clarity and fidelity of analog hardware, look no further than products by Chandler Limited. They offer products that take inspiration from hardware found within the legendary recording studio. Whether you're looking for preamps, equalizers, compressors, limiters or even microphones inspired by the EMI/Abbey Road legacy, Chandler Limited offers equipment with impeccable craftsmanship and sound quality.
I own the Chandler TG2 500 series preamp, which is also available as a stereo rack-mounted unit. The TG2 is a recreation of the TG12428 preamplifier found within Abbey Road Consoles in the late 1960s and early 1970s. I use it for everything from vocals, to guitars, drums, synths, strings and beyond. The sound is detailed, with a clear and musical low end, and the TG2 utilizes every square inch of its small footprint, packing lots of features into a single 500 series rack space including switches for mic/line and two impedance settings, buttons for phantom power & phase inversion, as well as knobs for course gain, fine gain and output level. If I'm recording an element that needs sonic coloration, the input can be driven to create a pleasing and useful saturation.
Other units include the RS660, a brilliant combination of the EMI RS124 & Fairchild 660 compressors, and the TG12345 Curve Bender equalizer, which draws heritage from the famed TG12345 recording console. The Curve Bender and Zener Limiter are also available in plugin form from Softube, and I use them often during mixdown and even mastering.
Emulating three passive treble equalizer modules used by Abbey Road engineers, the Brilliance Pack from Softube features simple and specialized tools that help bring clarity to higher frequencies. The GUIs are wonderfully retro, and I find that they add a pleasant brightness to tracks — stopping just short of becoming harsh. This helps elements cut through mixes emphatically, without seeming fatiguing.
The RS135 can add only 8 kHz, and there are two separate RS127 modules (one with an added transformer) that can boost or cut up to 10 dB at 2.7 kHz, 3.5 kHz and 10 kHz. Each can help on virtually any element in the proper context, but I really love them on acoustic guitar and for bringing presence to vocals.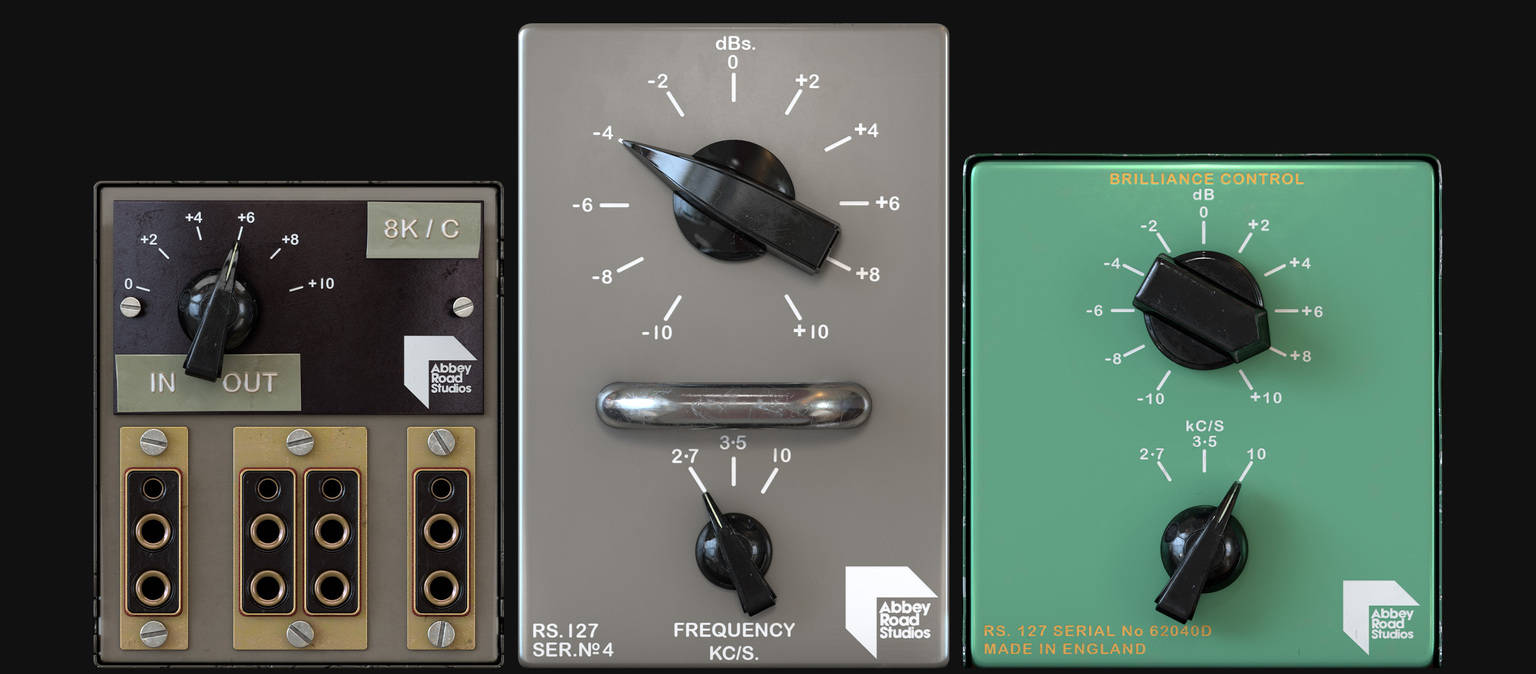 In collaboration with Abbey Road Studios, Native Instruments sampled classic drum kits using recording techniques from six distinct eras in recorded music production, allowing producers and engineers to capture drum sounds that have found their way onto countless records dating back to the 1920s all the way to today.
Vintage Drummer uses two ultra-rare kits featuring pieces from the 1920s-1940s, and was captured using period-accurate equipment combined with modern signal chains.
Recorded using techniques that revolutionized the popular music industry, 50s Drummer gives producers the drum sounds of early rock and roll, jazz, rhythm & blues and country. Two rare kits from Gretsch and WFL were sampled with equipment from the 1950s, resulting in a sound that is both cutting and powerful.
As rock and roll continued to transcend popular music in the 1960s, the steady backbeat of the drummer came more into focus than ever before. 60s Drummer captures the unbridled energy of the decade with meticulously captured samples of Gretsch and Ludwig kits.
As recording fidelity improved in the 1970s, the trends in drum recording moved towards a more intimate, dry sound. 70s Drummer features a Premier kit captured with this tight, punchy recording technique, while also featuring a Ludwig kit with a more open, roomy sound.
Music from the 1980s was known in part for the gated drum sound, which was achieved at first by accident. 80s Drummer uses period accurate equipment to harness this famous room sound, which envelops huge, powerful Slingerland and Yamaha kits.
Lastly, for the unparalleled impact and detail found in contemporary productions, Modern Drummer features pristine kits recorded using tried and true techniques, resulting in a virtual instrument ideal for creating drums for modern pop, rock, country and more.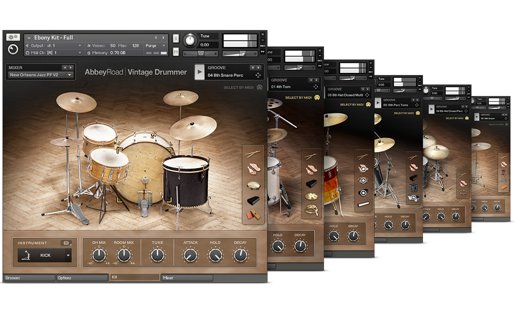 When it comes to signal processing, no plugin company has created more Abbey Road-inspired software than Waves. The entire collection features a dozen plugins including compressors, equalizers, saturators and more. My personal favorites include:
Abbey Road Vinyl, the super versatile vintage vinyl emulation tool that features two different turntables, three cartridges, the ability to change the tone arm position allowing for variable frequency response and distortion, as well as the charming noise, pops, crackles, wow and flutter that are a part of the vinyl sound. Abbey Road Vinyl works great on individual tracks or the mix buss. I mixed a hip-hop record recently and every song was mixed down with this plugin inserted and used to a degree.
J37 Tape, an emulation of the very machine used to create countless hits in the 60s and 70s. Features include three separate tape formulas, two tape speeds, controls for wow & flutter, as well as slap, feedback and ping-pong delay modes. The J37 works well to add analog characteristics to individual tracks, subgroups and the mix buss.
REDD Consoles are plugin reproductions of REDD 17, 37 and 51 consoles, which were hugely responsible for the sound of early Beatles records. The three separate consoles were meticulously recreated in collaboration with Abbey Road and feature a powerful EQ section, as well as a remarkable saturation when pushed hard. I'll drive one of the REDD consoles when I want a vocal track to cut through a mix.
Reel ADT, which simulates a process invented and used by Abbey Road engineers to double track vocals without having to, well, double track vocals. Kudos to Waves for creating a plugin outside the standard EQ, compressor and reverb fare. I can't think of another tool on the market that does what Reel ADT can. It works great on vocals obviously, but also shines on acoustic guitar and strings.