Storyblocks Audio: Unlimited, Royalty-Free Audio Downloads
Article Content
Array
(
    [0] => <p>[Editor&#8217;s note: This is a sponsored article for <a href="https://www.audioblocks.com/?utm_v=2&amp;utm_source=ProAudioFiles&amp;utm_medium=publication&amp;utm_campaign=AB-sponsoredpost---149&amp;campaign_date=2017-11-01&amp;utm_content=---PublisherSponsoredPost" target="_blank" rel="noopener noreferrer">Storyblocks Audio</a>]
    [1] => 
<h2>The Times They Are a Changin&#8217;</h2>
<p>If you've been producing music or working in post since the 90s, you might recall some of your go-to sample libraries from back in the day. Whether you were looking for snare one-shots or room tone, these samples came on disk in a variety of file formats and were priced from $40-60 (on the low end) to well over a thousand bucks.
    [2] => 
<p>You were lucky to find samples that fit your project and weren't overused or too recognizable. Music producers would recycle library samples or lift them from records which created potential copyright infringement issues if they chose to distribute the work.
    [3] => 
<p>With the advent of affordable workstations, more and more people began producing records, indie films and cat videos. The demand for sound effects, music and other types of royalty-free content grew sharply after distribution services like <a href="http://www.tunecore.com/" target="_blank" rel="noopener noreferrer">TuneCore</a> and platforms like MySpace and YouTube arose in the mid 2000s.
    [4] => 
<p>Being a sample library publisher must have been scary during this time as everyone and their mother was burning CDs and sharing with their friends. How did these companies stay afloat during these tumultuous times?
    [5] => 
<h2>"We&#8217;re the Netflix of <em>fill-in-the-blank</em>"</h2>
<p>In the spring of 2017, the number of Netflix subscribers <a href="http://money.cnn.com/2017/04/17/technology/netflix-subscribers/index.html" target="_blank" rel="noopener noreferrer">surpassed the 100 million mark</a>. The music industry is seeing growth after years of decline and many attribute Spotify and other streaming services as <a href="https://www.theguardian.com/business/2017/apr/25/2016-marks-tipping-point-for-music-industry-with-revenues-of-15bn" target="_blank" rel="noopener noreferrer">the savior of the music industry</a>. Creative industry heavyweights <a href="http://www.avid.com/media-composer/how-to-buy" target="_blank" rel="noopener noreferrer">Avid</a> and <a href="http://www.adobe.com/creativecloud.html" target="_blank" rel="noopener noreferrer">Adobe</a> have adopted the subscription model. Good on Adobe, this seems to be <a href="https://www.forbes.com/sites/greatspeculations/2017/06/22/adobe-stock-hits-record-highs-driven-by-creative-cloud-marketing-cloud/#2c6957dff112" target="_blank" rel="noopener noreferrer">working in their favor</a>.
    [6] => 
<p>For the price of an avocado toast and two pumpkin spice lattes, you get the world&#8217;s most popular suite of creative tools — <em>a no-brainer if you ask me</em>. The move to an "all-you-can-eat" subscription model is here to stay and has touched many sectors of the creative industry.
    [7] => 
<h2>I Want it All and I Want it Now!</h2>
<p>Content is King. Surely, you&#8217;ve heard this meme before. If you work in the creative/marketing/web world, it's your mantra, and if not — <em>it should be</em>. Humans have an insatiable appetite for videos, infographics, presentations, listicles, and "whoa, dude" images. Consistently publishing high-quality, informative, educational and engaging content is one of the best ways to drive traffic to your site, grow your audience and ultimately, sales.
    [8] => <div class="ad content-ad"><span>ADVERTISEMENT</span><div id="div-gpt-ad-1516673860578-0" style="width:300px; height:250px;"></div><script>googletag.cmd.push(function() { googletag.display('div-gpt-ad-1516673860578-0'); });</script></div>
<p>Having access to an endless well of quality, royalty-free content is a huge asset to creators. <a href="https://www.storyblocks.com?utm_v=2&amp;utm_source=ProAudioFiles&amp;utm_medium=publication&amp;utm_campaign=SB-sponsoredpost---149&amp;campaign_date=2017-11-01&amp;utm_content=---PublisherSponsoredPost" target="_blank" rel="noopener noreferrer">Storyblocks</a> clearly saw a gap in the market and decided to give people what they really want — unlimited access to high-quality music, sound effects, video and images.
    [9] => 
<h2>One-Stop-Shop</h2>
<p>&#8220;<em>The sound and music are 50% of the entertainment in a movie.</em>" &#8211; George Lucas
    [10] => 
<p>I'll be focusing on <a href="https://www.audioblocks.com/?utm_v=2&amp;utm_source=ProAudioFiles&amp;utm_medium=publication&amp;utm_campaign=AB-sponsoredpost---149&amp;campaign_date=2017-11-01&amp;utm_content=---PublisherSponsoredPost" target="_blank" rel="noopener noreferrer">Storyblocks Audio</a>, the music and audio library of Storyblocks. As an audio/music producer, when I watch videos with poor audio quality or cheesy sound effects and music, I usually drop to my knees with hands to the sky screaming "what were you thinking?!" It seems that some content creators still haven't learned that music elicits an emotional response from their audience. And remember, nothing distracts you from an otherwise good video like poor audio quality or inappropriate sound effects.
    [11] => 
<h2>Under the Hood</h2>
<p><img decoding="async" class="alignnone wp-image-35601 size-full" src="https://theproaudiofiles.com/wp-content/uploads/2012/03/Audioblocks_waveforms.png" alt="Storyblocks Audio: Unlimited, Royalty-Free Audio Downloads" width="972" height="521" srcset="https://theproaudiofiles.com/wp-content/uploads/2012/03/Audioblocks_waveforms.png 972w, https://theproaudiofiles.com/wp-content/uploads/2012/03/Audioblocks_waveforms-200x107.png 200w, https://theproaudiofiles.com/wp-content/uploads/2012/03/Audioblocks_waveforms-300x161.png 300w, https://theproaudiofiles.com/wp-content/uploads/2012/03/Audioblocks_waveforms-400x214.png 400w" sizes="(max-width: 972px) 100vw, 972px" />
    [12] => 
<p>In the dashboard of Storyblocks Audio, you'll be greeted by a page of audio waveforms. Rolling your cursor over or clicking on the waveform will start playback. I appreciate actually seeing the waveform rather than just having a play button. Perhaps you want to see how many sections a piece of music contains or how long a sound builds before reaching a climax. You can click around to various parts to audition the sound and the playback is snappy.
    [13] => 
<p>Files can be downloaded as 320 kbps MP3s or 24 bit, 44.1k WAVs which can be easily organized into folders and shared with other people on your team.
    [14] => 
<p>There's a number of different options for filtering your searches, including mood, genre, instrument, tempo and duration. You can choose from 30 music genres including cinematic, rock, electronic, jazz and many more. The inclusion of genres like "Playful and Comedic" and "Corporate" is a nice touch and helpful for someone tasked with adding music to the PowerPoint for your company's quarterly sales meeting.
    [15] => 
            <div class="ad content-ad content-ad-2"><span>ADVERTISEMENT</span></div>
            <script>
                window.addEventListener("load", () => {
                    if(window.innerWidth > 767) return;

                    window.setTimeout(() => {
                        var ta = jQuery.get(aqvars.ajaxurl, { action: "tpaf_adrotate", group: 1, aid: 22 });
                        ta.then(function(response) {
                            jQuery(".content-ad-2").append(response);
                        });
                    }, 0);
                });
            </script>
        
<p>Sound Designers will find everything from room tone to gunshots and everything in between. When typing a search, the autofill feature is awfully handy (a search for "footsteps" produces "footsteps on concrete", "footsteps on grass" and so on).
    [16] => 
<p>&nbsp;
    [17] => 
<p><img decoding="async" loading="lazy" class="alignnone wp-image-35603 size-full" src="https://theproaudiofiles.com/wp-content/uploads/2017/09/Audioblocks_collections.png" alt="Storyblocks Audio: Unlimited, Royalty-Free Audio Downloads" width="922" height="445" srcset="https://theproaudiofiles.com/wp-content/uploads/2017/09/Audioblocks_collections.png 922w, https://theproaudiofiles.com/wp-content/uploads/2017/09/Audioblocks_collections-200x97.png 200w, https://theproaudiofiles.com/wp-content/uploads/2017/09/Audioblocks_collections-300x145.png 300w, https://theproaudiofiles.com/wp-content/uploads/2017/09/Audioblocks_collections-400x193.png 400w" sizes="(max-width: 922px) 100vw, 922px" />
    [18] => 
<p>Storyblocks Audio also provides 24 curated collections, which makes the process of discovery that much easier. Collections such as "Heroic Theme Music", "Holiday Sound Effects" and "The Foley SFX Collection" give you an assortment of usable sounds for your project.
    [19] => 
<h2>The Elephant in the Room</h2>
<p>Once you download content from Storyblocks Audio, what are the limitations on how the content can be used? If you're an individual user and not a large production company, you can freely use the sound effects and music in your projects. They stipulate that "you can use our content in projects that have a production budget of up to $20,000" — which should cover most YouTubers and bedroom producers.
    [20] => 
<p>Storyblocks Audio asks that "you must incorporate the content into your own creative work." This means the files should be used as part of your project and not distributed purely on their own. So, don't download files from Audioblocks and upload them to Bandcamp, Spotify, etc. Add the content to your project and then distribute it on your platform of your choice.
    [21] => 
<h2>Final Thoughts</h2>
<p>For the amount of content available and unlimited downloads, the $99 yearly subscription is a steal. The value depends on how much you'll actually use the service, but if you're a busy content marketer, music producer or sound designer, you need a well-organized database, robust search features and a ton of sounds to choose from. Storyblocks Audio delivers all of that and more.
    [22] => 
<h2>Pricing</h2>
<p>There are a few different plans to choose from, and you have the option of paying monthly or annually, the latter being the best value.  Explore the pricing plans <a href="https://www.audioblocks.com/pricing" target="_blank" rel="noopener noreferrer">here</a>.
    [23] => 

    [24] => 
)

Chosen Position: 8
<div class="ad content-ad"><span>ADVERTISEMENT</span><div id="div-gpt-ad-1516673860578-0" style="width:300px; height:250px;"></div><script>googletag.cmd.push(function() { googletag.display('div-gpt-ad-1516673860578-0'); });</script></div>
<p>Having access to an endless well of quality, royalty-free content is a huge asset to creators. <a href="https://www.storyblocks.com?utm_v=2&amp;utm_source=ProAudioFiles&amp;utm_medium=publication&amp;utm_campaign=SB-sponsoredpost---149&amp;campaign_date=2017-11-01&amp;utm_content=---PublisherSponsoredPost" target="_blank" rel="noopener noreferrer">Storyblocks</a> clearly saw a gap in the market and decided to give people what they really want — unlimited access to high-quality music, sound effects, video and images.</p>
Chosen Position: 16
            <div class="ad content-ad content-ad-2"><span>ADVERTISEMENT</span></div>
            <script>
                window.addEventListener("load", () => {
                    if(window.innerWidth > 767) return;

                    window.setTimeout(() => {
                        var ta = jQuery.get(aqvars.ajaxurl, { action: "tpaf_adrotate", group: 1, aid: 22 });
                        ta.then(function(response) {
                            jQuery(".content-ad-2").append(response);
                        });
                    }, 0);
                });
            </script>
        
<p>Sound Designers will find everything from room tone to gunshots and everything in between. When typing a search, the autofill feature is awfully handy (a search for "footsteps" produces "footsteps on concrete", "footsteps on grass" and so on).</p>
[Editor's note: This is a sponsored article for Storyblocks Audio]
The Times They Are a Changin'
If you've been producing music or working in post since the 90s, you might recall some of your go-to sample libraries from back in the day. Whether you were looking for snare one-shots or room tone, these samples came on disk in a variety of file formats and were priced from $40-60 (on the low end) to well over a thousand bucks.
You were lucky to find samples that fit your project and weren't overused or too recognizable. Music producers would recycle library samples or lift them from records which created potential copyright infringement issues if they chose to distribute the work.
With the advent of affordable workstations, more and more people began producing records, indie films and cat videos. The demand for sound effects, music and other types of royalty-free content grew sharply after distribution services like TuneCore and platforms like MySpace and YouTube arose in the mid 2000s.
Being a sample library publisher must have been scary during this time as everyone and their mother was burning CDs and sharing with their friends. How did these companies stay afloat during these tumultuous times?
"We're the Netflix of fill-in-the-blank"
In the spring of 2017, the number of Netflix subscribers surpassed the 100 million mark. The music industry is seeing growth after years of decline and many attribute Spotify and other streaming services as the savior of the music industry. Creative industry heavyweights Avid and Adobe have adopted the subscription model. Good on Adobe, this seems to be working in their favor.
For the price of an avocado toast and two pumpkin spice lattes, you get the world's most popular suite of creative tools — a no-brainer if you ask me. The move to an "all-you-can-eat" subscription model is here to stay and has touched many sectors of the creative industry.
I Want it All and I Want it Now!
Content is King. Surely, you've heard this meme before. If you work in the creative/marketing/web world, it's your mantra, and if not — it should be. Humans have an insatiable appetite for videos, infographics, presentations, listicles, and "whoa, dude" images. Consistently publishing high-quality, informative, educational and engaging content is one of the best ways to drive traffic to your site, grow your audience and ultimately, sales.
Having access to an endless well of quality, royalty-free content is a huge asset to creators. Storyblocks clearly saw a gap in the market and decided to give people what they really want — unlimited access to high-quality music, sound effects, video and images.
One-Stop-Shop
"The sound and music are 50% of the entertainment in a movie." – George Lucas
I'll be focusing on Storyblocks Audio, the music and audio library of Storyblocks. As an audio/music producer, when I watch videos with poor audio quality or cheesy sound effects and music, I usually drop to my knees with hands to the sky screaming "what were you thinking?!" It seems that some content creators still haven't learned that music elicits an emotional response from their audience. And remember, nothing distracts you from an otherwise good video like poor audio quality or inappropriate sound effects.
Under the Hood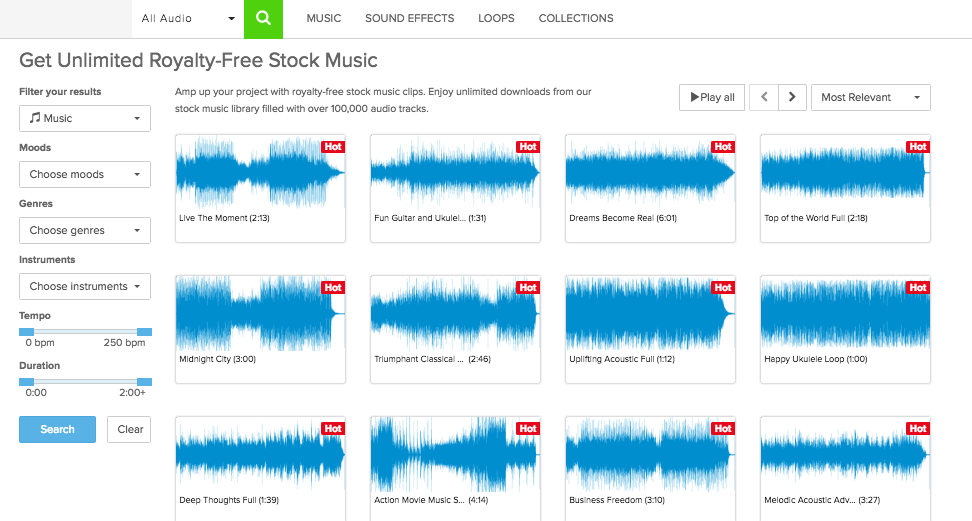 In the dashboard of Storyblocks Audio, you'll be greeted by a page of audio waveforms. Rolling your cursor over or clicking on the waveform will start playback. I appreciate actually seeing the waveform rather than just having a play button. Perhaps you want to see how many sections a piece of music contains or how long a sound builds before reaching a climax. You can click around to various parts to audition the sound and the playback is snappy.
Files can be downloaded as 320 kbps MP3s or 24 bit, 44.1k WAVs which can be easily organized into folders and shared with other people on your team.
There's a number of different options for filtering your searches, including mood, genre, instrument, tempo and duration. You can choose from 30 music genres including cinematic, rock, electronic, jazz and many more. The inclusion of genres like "Playful and Comedic" and "Corporate" is a nice touch and helpful for someone tasked with adding music to the PowerPoint for your company's quarterly sales meeting.
Sound Designers will find everything from room tone to gunshots and everything in between. When typing a search, the autofill feature is awfully handy (a search for "footsteps" produces "footsteps on concrete", "footsteps on grass" and so on).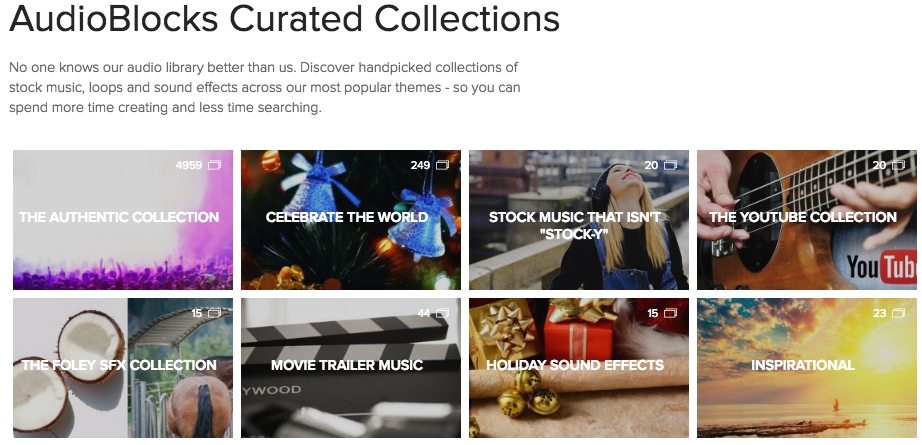 Storyblocks Audio also provides 24 curated collections, which makes the process of discovery that much easier. Collections such as "Heroic Theme Music", "Holiday Sound Effects" and "The Foley SFX Collection" give you an assortment of usable sounds for your project.
The Elephant in the Room
Once you download content from Storyblocks Audio, what are the limitations on how the content can be used? If you're an individual user and not a large production company, you can freely use the sound effects and music in your projects. They stipulate that "you can use our content in projects that have a production budget of up to $20,000" — which should cover most YouTubers and bedroom producers.
Storyblocks Audio asks that "you must incorporate the content into your own creative work." This means the files should be used as part of your project and not distributed purely on their own. So, don't download files from Audioblocks and upload them to Bandcamp, Spotify, etc. Add the content to your project and then distribute it on your platform of your choice.
Final Thoughts
For the amount of content available and unlimited downloads, the $99 yearly subscription is a steal. The value depends on how much you'll actually use the service, but if you're a busy content marketer, music producer or sound designer, you need a well-organized database, robust search features and a ton of sounds to choose from. Storyblocks Audio delivers all of that and more.
Pricing
There are a few different plans to choose from, and you have the option of paying monthly or annually, the latter being the best value.  Explore the pricing plans here.
Array
(
    [0] => <p>[Editor&#8217;s note: This is a sponsored article for <a href="https://www.audioblocks.com/?utm_v=2&amp;utm_source=ProAudioFiles&amp;utm_medium=publication&amp;utm_campaign=AB-sponsoredpost---149&amp;campaign_date=2017-11-01&amp;utm_content=---PublisherSponsoredPost" target="_blank" rel="noopener noreferrer">Storyblocks Audio</a>]
    [1] => 
<h2>The Times They Are a Changin&#8217;</h2>
<p>If you've been producing music or working in post since the 90s, you might recall some of your go-to sample libraries from back in the day. Whether you were looking for snare one-shots or room tone, these samples came on disk in a variety of file formats and were priced from $40-60 (on the low end) to well over a thousand bucks.
    [2] => 
<p>You were lucky to find samples that fit your project and weren't overused or too recognizable. Music producers would recycle library samples or lift them from records which created potential copyright infringement issues if they chose to distribute the work.
    [3] => 
<p>With the advent of affordable workstations, more and more people began producing records, indie films and cat videos. The demand for sound effects, music and other types of royalty-free content grew sharply after distribution services like <a href="http://www.tunecore.com/" target="_blank" rel="noopener noreferrer">TuneCore</a> and platforms like MySpace and YouTube arose in the mid 2000s.
    [4] => 
<p>Being a sample library publisher must have been scary during this time as everyone and their mother was burning CDs and sharing with their friends. How did these companies stay afloat during these tumultuous times?
    [5] => 
<h2>"We&#8217;re the Netflix of <em>fill-in-the-blank</em>"</h2>
<p>In the spring of 2017, the number of Netflix subscribers <a href="http://money.cnn.com/2017/04/17/technology/netflix-subscribers/index.html" target="_blank" rel="noopener noreferrer">surpassed the 100 million mark</a>. The music industry is seeing growth after years of decline and many attribute Spotify and other streaming services as <a href="https://www.theguardian.com/business/2017/apr/25/2016-marks-tipping-point-for-music-industry-with-revenues-of-15bn" target="_blank" rel="noopener noreferrer">the savior of the music industry</a>. Creative industry heavyweights <a href="http://www.avid.com/media-composer/how-to-buy" target="_blank" rel="noopener noreferrer">Avid</a> and <a href="http://www.adobe.com/creativecloud.html" target="_blank" rel="noopener noreferrer">Adobe</a> have adopted the subscription model. Good on Adobe, this seems to be <a href="https://www.forbes.com/sites/greatspeculations/2017/06/22/adobe-stock-hits-record-highs-driven-by-creative-cloud-marketing-cloud/#2c6957dff112" target="_blank" rel="noopener noreferrer">working in their favor</a>.
    [6] => 
<p>For the price of an avocado toast and two pumpkin spice lattes, you get the world&#8217;s most popular suite of creative tools — <em>a no-brainer if you ask me</em>. The move to an "all-you-can-eat" subscription model is here to stay and has touched many sectors of the creative industry.
    [7] => 
<h2>I Want it All and I Want it Now!</h2>
<p>Content is King. Surely, you&#8217;ve heard this meme before. If you work in the creative/marketing/web world, it's your mantra, and if not — <em>it should be</em>. Humans have an insatiable appetite for videos, infographics, presentations, listicles, and "whoa, dude" images. Consistently publishing high-quality, informative, educational and engaging content is one of the best ways to drive traffic to your site, grow your audience and ultimately, sales.
    [8] => <div class="ad content-ad"><span>ADVERTISEMENT</span><div id="div-gpt-ad-1516673860578-0" style="width:300px; height:250px;"></div><script>googletag.cmd.push(function() { googletag.display('div-gpt-ad-1516673860578-0'); });</script></div>
<p>Having access to an endless well of quality, royalty-free content is a huge asset to creators. <a href="https://www.storyblocks.com?utm_v=2&amp;utm_source=ProAudioFiles&amp;utm_medium=publication&amp;utm_campaign=SB-sponsoredpost---149&amp;campaign_date=2017-11-01&amp;utm_content=---PublisherSponsoredPost" target="_blank" rel="noopener noreferrer">Storyblocks</a> clearly saw a gap in the market and decided to give people what they really want — unlimited access to high-quality music, sound effects, video and images.
    [9] => 
<h2>One-Stop-Shop</h2>
<p>&#8220;<em>The sound and music are 50% of the entertainment in a movie.</em>" &#8211; George Lucas
    [10] => 
<p>I'll be focusing on <a href="https://www.audioblocks.com/?utm_v=2&amp;utm_source=ProAudioFiles&amp;utm_medium=publication&amp;utm_campaign=AB-sponsoredpost---149&amp;campaign_date=2017-11-01&amp;utm_content=---PublisherSponsoredPost" target="_blank" rel="noopener noreferrer">Storyblocks Audio</a>, the music and audio library of Storyblocks. As an audio/music producer, when I watch videos with poor audio quality or cheesy sound effects and music, I usually drop to my knees with hands to the sky screaming "what were you thinking?!" It seems that some content creators still haven't learned that music elicits an emotional response from their audience. And remember, nothing distracts you from an otherwise good video like poor audio quality or inappropriate sound effects.
    [11] => 
<h2>Under the Hood</h2>
<p><img decoding="async" loading="lazy" class="alignnone wp-image-35601 size-full" src="https://theproaudiofiles.com/wp-content/uploads/2012/03/Audioblocks_waveforms.png" alt="Storyblocks Audio: Unlimited, Royalty-Free Audio Downloads" width="972" height="521" srcset="https://theproaudiofiles.com/wp-content/uploads/2012/03/Audioblocks_waveforms.png 972w, https://theproaudiofiles.com/wp-content/uploads/2012/03/Audioblocks_waveforms-200x107.png 200w, https://theproaudiofiles.com/wp-content/uploads/2012/03/Audioblocks_waveforms-300x161.png 300w, https://theproaudiofiles.com/wp-content/uploads/2012/03/Audioblocks_waveforms-400x214.png 400w" sizes="(max-width: 972px) 100vw, 972px" />
    [12] => 
<p>In the dashboard of Storyblocks Audio, you'll be greeted by a page of audio waveforms. Rolling your cursor over or clicking on the waveform will start playback. I appreciate actually seeing the waveform rather than just having a play button. Perhaps you want to see how many sections a piece of music contains or how long a sound builds before reaching a climax. You can click around to various parts to audition the sound and the playback is snappy.
    [13] => 
<p>Files can be downloaded as 320 kbps MP3s or 24 bit, 44.1k WAVs which can be easily organized into folders and shared with other people on your team.
    [14] => 
<p>There's a number of different options for filtering your searches, including mood, genre, instrument, tempo and duration. You can choose from 30 music genres including cinematic, rock, electronic, jazz and many more. The inclusion of genres like "Playful and Comedic" and "Corporate" is a nice touch and helpful for someone tasked with adding music to the PowerPoint for your company's quarterly sales meeting.
    [15] => 
            <div class="ad content-ad content-ad-2"><span>ADVERTISEMENT</span></div>
            <script>
                window.addEventListener("load", () => {
                    if(window.innerWidth > 767) return;

                    window.setTimeout(() => {
                        var ta = jQuery.get(aqvars.ajaxurl, { action: "tpaf_adrotate", group: 1, aid: 22 });
                        ta.then(function(response) {
                            jQuery(".content-ad-2").append(response);
                        });
                    }, 0);
                });
            </script>
        
<p>Sound Designers will find everything from room tone to gunshots and everything in between. When typing a search, the autofill feature is awfully handy (a search for "footsteps" produces "footsteps on concrete", "footsteps on grass" and so on).
    [16] => 
<p>&nbsp;
    [17] => 
<p><img decoding="async" loading="lazy" class="alignnone wp-image-35603 size-full" src="https://theproaudiofiles.com/wp-content/uploads/2017/09/Audioblocks_collections.png" alt="Storyblocks Audio: Unlimited, Royalty-Free Audio Downloads" width="922" height="445" srcset="https://theproaudiofiles.com/wp-content/uploads/2017/09/Audioblocks_collections.png 922w, https://theproaudiofiles.com/wp-content/uploads/2017/09/Audioblocks_collections-200x97.png 200w, https://theproaudiofiles.com/wp-content/uploads/2017/09/Audioblocks_collections-300x145.png 300w, https://theproaudiofiles.com/wp-content/uploads/2017/09/Audioblocks_collections-400x193.png 400w" sizes="(max-width: 922px) 100vw, 922px" />
    [18] => 
<p>Storyblocks Audio also provides 24 curated collections, which makes the process of discovery that much easier. Collections such as "Heroic Theme Music", "Holiday Sound Effects" and "The Foley SFX Collection" give you an assortment of usable sounds for your project.
    [19] => 
<h2>The Elephant in the Room</h2>
<p>Once you download content from Storyblocks Audio, what are the limitations on how the content can be used? If you're an individual user and not a large production company, you can freely use the sound effects and music in your projects. They stipulate that "you can use our content in projects that have a production budget of up to $20,000" — which should cover most YouTubers and bedroom producers.
    [20] => 
<p>Storyblocks Audio asks that "you must incorporate the content into your own creative work." This means the files should be used as part of your project and not distributed purely on their own. So, don't download files from Audioblocks and upload them to Bandcamp, Spotify, etc. Add the content to your project and then distribute it on your platform of your choice.
    [21] => 
<h2>Final Thoughts</h2>
<p>For the amount of content available and unlimited downloads, the $99 yearly subscription is a steal. The value depends on how much you'll actually use the service, but if you're a busy content marketer, music producer or sound designer, you need a well-organized database, robust search features and a ton of sounds to choose from. Storyblocks Audio delivers all of that and more.
    [22] => 
<h2>Pricing</h2>
<p>There are a few different plans to choose from, and you have the option of paying monthly or annually, the latter being the best value.  Explore the pricing plans <a href="https://www.audioblocks.com/pricing" target="_blank" rel="noopener noreferrer">here</a>.
    [23] => 

    [24] => 
)

Chosen Position: 8
<div class="ad content-ad"><span>ADVERTISEMENT</span><div id="div-gpt-ad-1516673860578-0" style="width:300px; height:250px;"></div><script>googletag.cmd.push(function() { googletag.display('div-gpt-ad-1516673860578-0'); });</script></div>
<p>Having access to an endless well of quality, royalty-free content is a huge asset to creators. <a href="https://www.storyblocks.com?utm_v=2&amp;utm_source=ProAudioFiles&amp;utm_medium=publication&amp;utm_campaign=SB-sponsoredpost---149&amp;campaign_date=2017-11-01&amp;utm_content=---PublisherSponsoredPost" target="_blank" rel="noopener noreferrer">Storyblocks</a> clearly saw a gap in the market and decided to give people what they really want — unlimited access to high-quality music, sound effects, video and images.</p>
Chosen Position: 16
            <div class="ad content-ad content-ad-2"><span>ADVERTISEMENT</span></div>
            <script>
                window.addEventListener("load", () => {
                    if(window.innerWidth > 767) return;

                    window.setTimeout(() => {
                        var ta = jQuery.get(aqvars.ajaxurl, { action: "tpaf_adrotate", group: 1, aid: 22 });
                        ta.then(function(response) {
                            jQuery(".content-ad-2").append(response);
                        });
                    }, 0);
                });
            </script>
        
<p>Sound Designers will find everything from room tone to gunshots and everything in between. When typing a search, the autofill feature is awfully handy (a search for "footsteps" produces "footsteps on concrete", "footsteps on grass" and so on).</p>