Interview with Joe Mabbott of The Hideaway Studio
Article Content
Joe Mabbott is an engineer who has directly and indirectly influenced me in many ways.
I remember years ago in high school, blasting Atmostphere – Seven's Travels in my car, basking in sonic hip-hop bliss. It'd only be years later in class with Joe at McNally Smith College of Music, where I'd find out he actually mixed and recorded that album (among many others I enjoyed).
Joe is the owner/engineer at The Hideaway Studio and a faculty member at McNally Smith College of Music. He records and mixes some of the best and most respected artists in the Twin Cities, including but not limited to: Atmosphere, Brother Ali, Doomtree, Dessa, POS, Toki Wright, Heiruspecs… the list goes on.
Incidentally, Joe also sparked my whole idea for the Quiztones Frequency Ear Training App.
I recently caught up with Joe and asked him a few questions:

Career highlights?
Buying the studio that I managed and starting fresh. Owning my own studio was one of my "10 year goals" when I started working in this business. It happened in 8 years, so I was really happy it all fell in place the way it did. I felt a sense of accomplishment and panic all at the same time. Great feeling.
Defining moments as an engineer?
When I started getting recognized for the records I was recording and mixing. I was always in bands and making my own records with my own groups, but when I started getting asked to make records for people that hadn't heard the groups I was in at the time. But instead having heard records I worked on that had nothing to do with the scenes I was involved in as a musician.
How has being a drummer and musician helped you be a better engineer?
I think it helps have some type of musical background to better the flow of making records. The more you understand music in general I think the more you can communicate with artists and producers about the end goal or a recording. I'm not schooled in theory as well as I should be, but I feel I have a natural knack and ear for what works and doesn't work in creating music. I do have a good understanding of drums and what makes for a good drum sound, so it doesn't hurt to have the backbone be strong, that and I have a great drum tracking room, so that helps too. : )
What current and/or recent projects are you involved in?
Just finished mixing a bunch of records in the last month. 3 Full Lengths:
– Big Quarters "Party Like A Young Commie"
– Dessa " Castor, The Twin"
– Doomtree " No Kings"
– 3 EPs for Big Quarters, Prey For Paralysis, and Literali. Not sure what the titles of those records are yet.
Any other upcoming projects/releases you're excited about?
Started mixing the new Brother Ali record that is due by the end of September and a group called The Thank You Notes that I am recording, mixing, and co-producing. Pretty pumped about both these projects.
Tell us about the recent upgrades you did to the Hideaway Studio.
Earlier this year I completely remodeled and rewired my control room and set it up in a way that is much more user friendly for outside engineers. I'm making a push to open the studio up to the public more and welcome engineers and producers to come work out of a great room. I've held it too close and personal for the last 7 years. There's way too much cool gear and the space is where I want it now. It needs to be shared. Plus there's a bunch of new gear coming this year too… always new gear : )
If you could only keep 3 pieces of outboard gear what which they be? why?
That's like asking a parent which kid is their favorite. Not cool. But backed into a corner I would say my Empirical Labs FATSO. Ever since I bought this thing from my friend Bruce at Magneto Mastering, it's been used on every mix I've done. The way it makes drums sound is so good and meaty, I love it.
I just recently bought a Retro Instruments 176 and it shot past most of my compressors as the new go to. That thing sounds amazing on pretty much anything I've tried it on. It shines on Vocals and makes them sit exactly where you want them to. I need another one!
Third would be a tie between my 2 Cranesong pieces. The STC 8 Compressor and the IBIS EQ. Those 2 strapped across my mix buss equals awesome. Period.
Thoughts on ITB vs OTB mixing?
Big fan of both worlds. I'm kind of a gear head so I use a lot of outboard gear for tonality, but the speed and ease of Pro Tools is where it's at. I teach on large format consoles, but by no means do I think it's at all necessary to need a console to achieve a good mix. That being said I use a summing mixer by SPL that gets me out of the box a bit and I like the sound of that box a lot.
Biggest mistake you see newcomers make?
Expecting things to be handed to them and when they don't getting frustrated and giving up. There is no guarantee in this business. You're gonna have to work your ass off and if and when you're lucky enough to get any kind of break you need to know how to run with it.
Best piece of advice for up-and-coming engineers?
Work hard and be prepared to sacrifice. It takes a lot to get anywhere in this business but if you have the drive, dedication and the love for music, there's no telling where that can take you. I live music, have from day one. It's all I thought about and did when I was starting out. I've learned to balance things out now that I'm established, finding time for family and rest, but it seriously still takes a ton of energy and if you don't go at it full throttle someone else behind you will.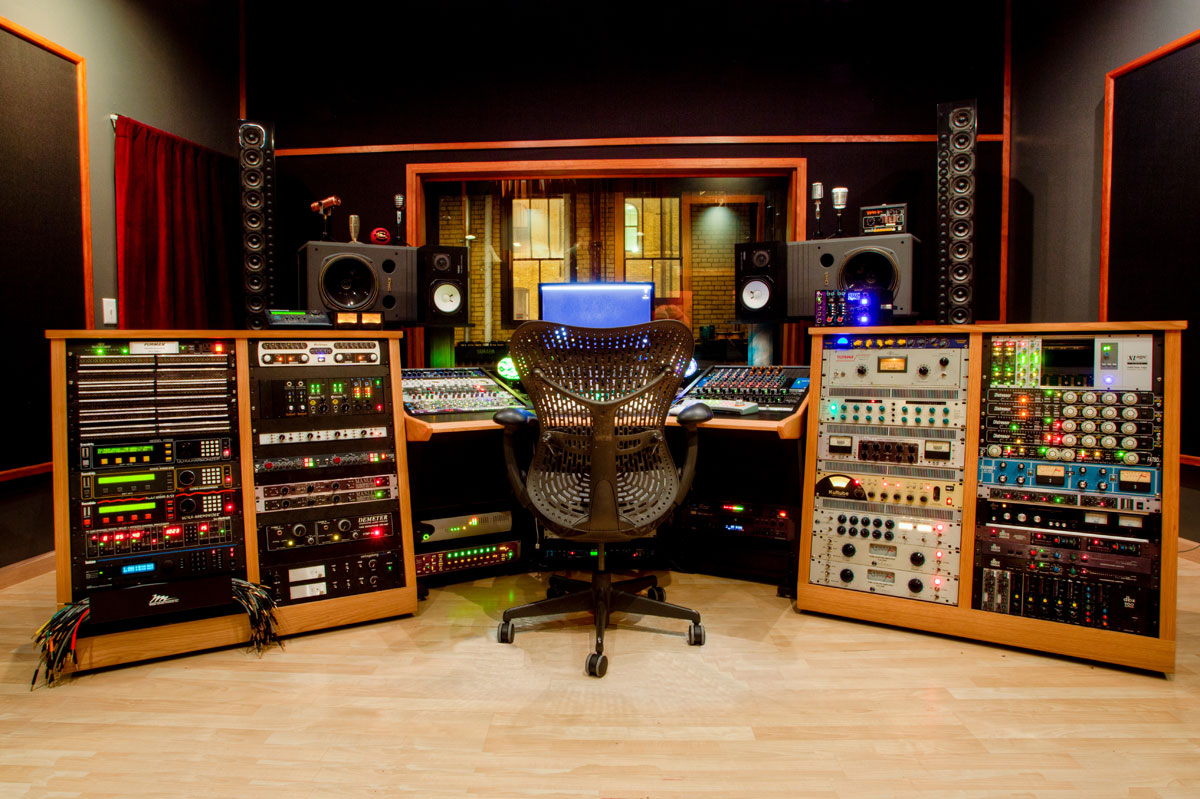 (The Hideaway Studio – Minneapolis, MN)
About The Hideaway Studio: Nestled along the Mississippi in Northeast Minneapolis, The Hideaway Studio is one of the Twin Cities' premier recording studios. The Hideaway was founded in 2004 by owner/engineer Joe Mabbott and quickly established itself as a home for local, national and international artists. Its comfortable yet professional environment has yielded hundreds of records from hip hop to punk rock to traditional Irish folk music and all points in between. With multiple tracking rooms, two control rooms, and a huge selection of the finest outboard gear, The Hideaway Studio is an extremely flexible recording facility that can meet most any budget.