Unlimited Streaming
140+ hours of in-depth mix courses
plus the multitracks for practice.
7-Day Free Trial
Get full access FREE for 7 days.
No commitment, cancel anytime.
Anywhere, Anytime
Stream every tutorial video in full 1080p HD on all of your favorite devices: desktop, tablet and mobile.
Start Your Free 7-Day Trial
Joining us again? Click here.
What people say about the tutorials on the site
@WeissSound I have learned so much from your Mixing Hip-Hop tutorial series. Definitely a worth while investment. Thanks for the knowledge!

— ProducedByBOD (@BOD_Productions) February 27, 2016
Not the type of guy to really use my page to endorse things but @proaudiofiles "Mixing Hip-Hop" tutorials have helped incredibly.

— Jay The Greater (@Jay_The_Greater) January 12, 2016
@davidglennjr Just bought your Mixing Drums. It is by far the best thing I've found. I'm going to buy a second one to just to say thanks!.

— Reece Hannigan (@ReeceJHannigan) June 28, 2015
Frequently Asked Questions
Which specific courses are included?
Every in-depth mixing course from Matthew Weiss and David Glenn is available on the site. You'll get full streaming access plus all the multitracks as soon as you start your free trial.
Matthew Weiss:
David Glenn:
Eric Tarr:
Phil Mantione:

Do I get multitracks to practice mixing?
Absolutely! You get instant access to all the course files including 10+ sets of multitracks that you can use to practice mixing alongside the tutorials.
Do the tutorials only apply to Pro Tools?
Nope! While our instructors use Pro Tools, the processes and techniques you'll learn are independent of any particular DAW and will directly apply to Logic, Ableton, Cubase, Reaper, Fruity Loops, Studio One and other similar platforms.
Should I join now or wait?
We definitely encourage you to join now while we're offering a free 7-day trial. This gives you full unlimited streaming access to every course on the site without spending a penny.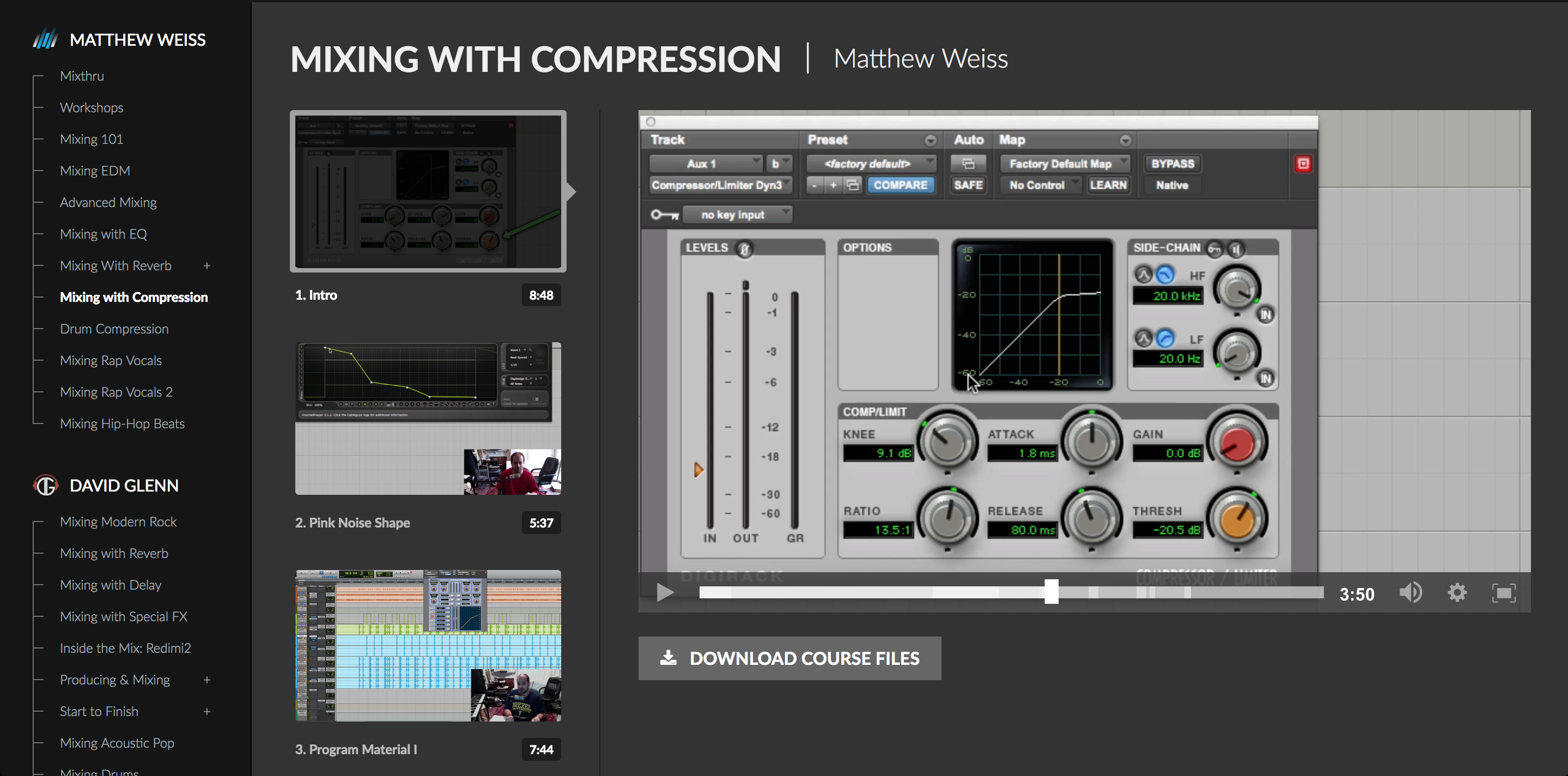 Start Your Free 7-Day Trial
Joining us again? Click here.